Rescue 116 helicopter struck island that wasn't in terrain warning database
The Irish Coast Guard rescue helicopter that crashed off the west coast of Ireland last month was commencing an approach to refuel when it struck terrain that wasn't in its enhanced ground proximity warning system (EGPWS) database, according to investigators.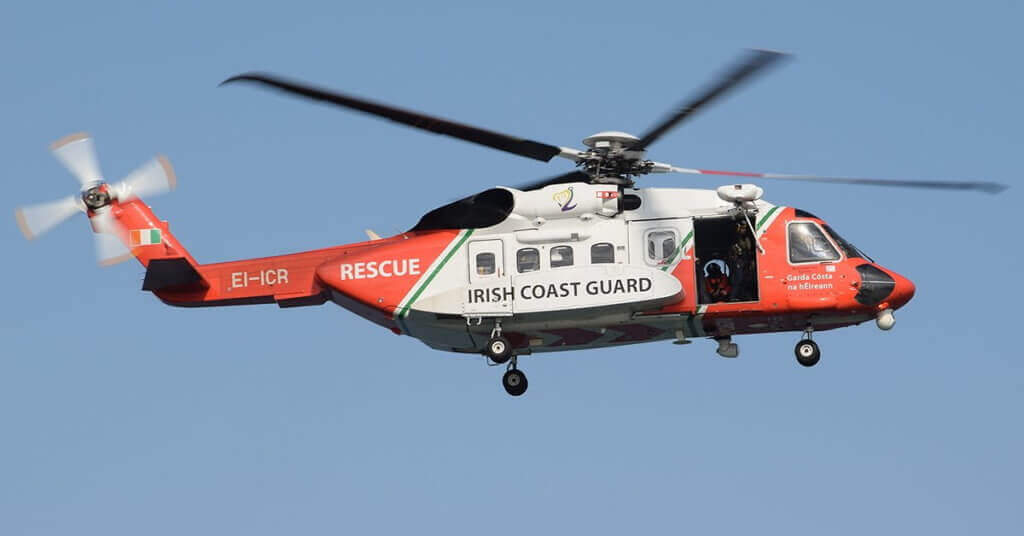 Four people were on board Rescue 116 when it crashed in the early hours of March 14 — pilot Capt. Dara Fitzpatrick, co-pilot Capt. Mark Duffy, and winch operators Paul Ormsby and Ciaran Smith. The bodies of Fitzpatrick and Duffy were recovered from the North Atlantic Ocean, but Ormsby and Smith are still missing after an extensive search.
The Sikorsky S-92 helicopter, operated for the coast guard by CHC Ireland, was on a mission to provide top cover to another Irish Coast Guard rescue helicopter when it disappeared near Black Rock, the largest of a group of rocks approximately nine nautical miles west of Blacksod Bay in County Mayo.
Now, in a preliminary report on the accident issued on April 13, Ireland's Air Accident Investigation Unit (AAIU) has drawn on cockpit voice and flight recorder data to reconstruct the sequence of events leading up to the crash, finding that the helicopter impacted terrain at Black Rock while approaching Blacksod Lighthouse to refuel.
The accident sequence was set into motion just before 10 p.m. on March 13, when another Irish Coast Guard S-92 — Rescue 118, based at Sligo in northwest Ireland — was called to evacuate an injured fisherman approximately 140 nautical miles off Ireland's western coast.
The Irish Air Corps was initially asked to provide top cover for the mission, but did not have an aircraft and crew available. So the request was passed on to the crew of Dublin-based Rescue 116, who accepted the tasking.
Rescue 116 departed Dublin shortly after 11 p.m. and headed west across Ireland, initially for Sligo Airport, where the crew planned to refuel before continuing offshore.
En route to Sligo, however, the crew requested a routing change from Dublin Air Traffic Control to instead refuel farther west at Blacksod Lighthouse, where Rescue 118 had taken on fuel a short time earlier.
Initially cruising at 3,000 feet above sea level, Rescue 116 climbed to 4,000 feet to cross mountainous terrain in County Mayo. When the aircraft was just past Blacksod, the flight crew commenced a descent, continuing west in order to follow a route that had been pre-established by CHC, "Approach Blacksod South" or APBSS.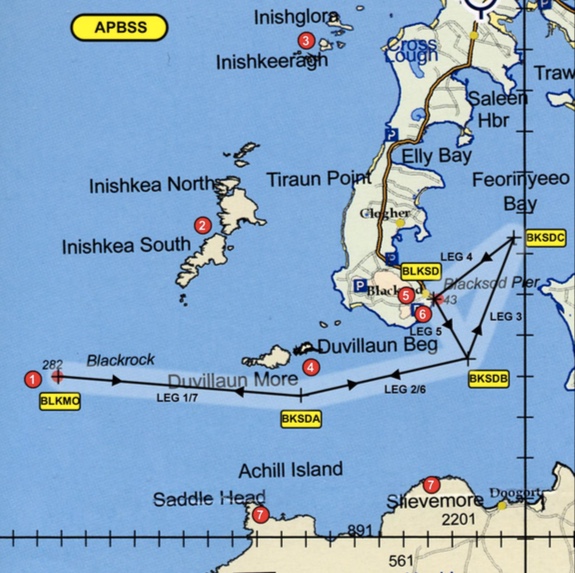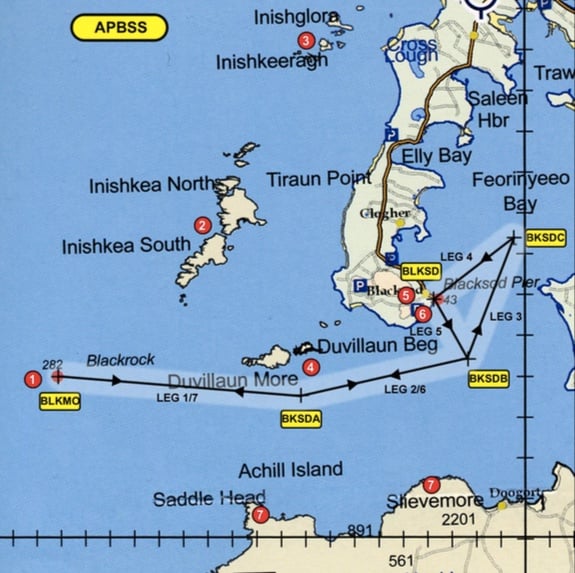 This series of GPS waypoints begins with the waypoint BLKMO, at Black Rock, where another lighthouse is located.
The flight crew had already programmed the APBSS route into their flight management system. They selected the automatic flight control system's search-and-rescue (SAR) "Approach 1" mode, which automatically transitions the aircraft down to 200 feet above the water at an airspeed of 80 knots. (The crew later reduced speed to 75 knots in anticipation of tailwinds farther along the route.)
Once established at a lower altitude, the flight crew programmed a direct course to the waypoint BLKMO to commence the arrival route to Blacksod.
The aircraft's cockpit voice recorder captured conversation indicating that neither pilot had been to Blacksod recently. Although CHC's route guide for APBSS included a separate page of text identifying a lighthouse at Black Rock with an associated height of 310 feet, neither pilot mentioned the presence of a lighthouse or terrain during their briefing of the approach.
The weather was poor, with Met Éireann, the Irish meteorological service, later estimating that winds at the time were gusting up to 35 knots, with visibility two to three kilometers (less than two miles) in mist and drizzle, and ceilings overcast at 300 to 400 feet. Sea conditions were forecast to be "very rough becoming high," equating to a Sea State of 6 to 7.
Although the lighthouse at Black Rock was determined to have been functioning at the time of the crash, the low meteorological visibility and ceilings would have greatly reduced its luminous range.
Cockpit voice recordings indicated that, as the aircraft approached Black Rock, Duffy was using weather radar to identify terrain features ahead. Approximately 26 seconds prior to the initial impact, the radar altimeter provided a callout of "Altitude, Altitude". Fitzpatrick identified the reason for the callout as "just a small little island… that's B L M O itself."
Thirteen seconds later, according to the report, a rear crewmember identified an island, probably through the use of the aircraft's Wescam MX-15i electro-optic/infrared (EO/IR) camera system. EO/IR imagery could be viewed at the winch operator's station, and could also be selected for viewing in the cockpit.
The rear crewmember directed the pilots to turn right, and a heading change was initiated using the autopilot's heading mode. As the report describes, "The rear crewmember then interjected, with increasing urgency, 'Come right now come right COME RIGHT.'"
Flight recorder data indicates that the aircraft rapidly pitched nose up during the two seconds prior to the initial impact. The last words recorded were Duffy's, saying, "We're gone."
The aircraft was equipped with a Honeywell MK XXII EGPWS with modified software for SAR profiles. Described by Honeywell as "a situational awareness tool . . . not to be used for navigation," the EGPWS uses both basic and "look ahead" modes to provide visual and aural alerts when terrain and obstacle clearance is not assured.
After the accident, however, Honeywell informed investigators that Black Rock was not in the terrain database for the EGPWS, and that the lighthouse at Black Rock was not in the obstacle database.
"Honeywell's terrain data is sourced from our supplier," the company told the AAIU. "It is a digitized topographic map derived data set. It does not include Black Rock. We have looked at alternate sources . . . while Black Rock is present in these alternate data sets, the actual altitude of Black Rock is considerably higher than what is indicated in these alternate data sets."
When contacted by Vertical for comment, a Honeywell spokesperson said that the company is unable to respond to media inquiries during an active investigation. The AAIU report notes, "The investigation is continuing to engage with Honeywell and other parties/agencies to reach a full understanding of this issue."
In the meantime, the AAIU has made an interim safety recommendation to CHC Ireland that it "should review/re-evaluate all route guides in use by its SAR helicopters in Ireland, with a view to enhancing the information provided on obstacle heights and positions, terrain clearance, vertical profile, the positions of waypoints in relation to obstacles and EGPWS database terrain and obstacle limitations."
In a statement on April 13, CHC reported that "a review of all route guides in use is well underway as part of our internal action."
The company added, "It is worth stressing that this is an initial report and it does not identify the root cause of this tragic accident. Speculation as to the root cause is unhelpful to the process and potentially hurtful to the families and friends of those involved."
The AAIU also found that the locator beacons and GPS antennas on the flight crew's lifejackets may have been too closely spaced for the beacons to function effectively, and recommended that the lifejacket manufacturer, RFD Beaufort Ltd., review and update the installation provisions for these beacons.