Massive airlift operation rescues hundreds of cruise ship passengers in Norway
Nearly 500 cruise ship passengers were evacuated by helicopter in a dramatic rescue operation in Norway this weekend.
According to Viking Cruises, 479 passengers were airlifted from the Viking Sky before the vessel was able to transit to Molde, Norway, where it docked safely with its remaining 436 guests and 458 crewmembers at 4:30 p.m. local time on Sunday, March 24.
The Norway Joint Operations Center (Hovedredningssentralen, or HRS) tweeted that the vessel issued a mayday call from Hustadvika Bay on the afternoon of March 23, reporting engine problems in bad weather that was driving it toward the shore.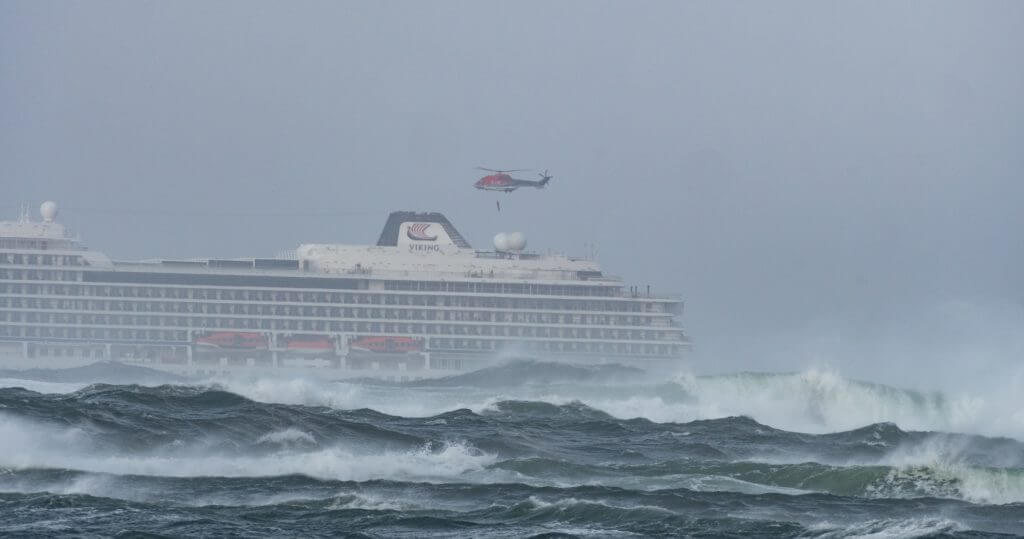 HRS dispatched five helicopters and a number of vessels to the scene to begin evacuating passengers. The Associated Press reported that rescuers were working in "extremely difficult circumstances," with wind gusts up to 38 knots (43 miles per hour) and waves over eight meters (26 feet).
CHC Helicopter Norway contributed four helicopters to the rescue effort: two all-weather search-and-rescue-configured Sikorsky S-92s and two Airbus AS332s. According to a CHC spokesperson, HRS requested the company's assistance at 2 p.m. on March 23.
"Within 30 minutes, our first aircraft arrived to begin hoisting passengers off the cruise ship. We were able to hoist 15 passengers off the ship per mission," the spokesperson wrote in an email to Vertical.
"Our crews are experienced and trained to fly in all weather conditions and we monitored crew duty times to make sure we are able to keep the teams supporting the effort well-rested. In total, six crews from our Florø, Heidrun, Statfjord and Sola bases took part (12 pilots, six hoist operators, seven rescue swimmers, one system operator, two engineers providing support on the ground and additional support from our global operations center in Dallas, Texas)."
CHC confirmed that a Norwegian Sea King helicopter also took part in rescue operations, while a Leonardo AW139 air ambulance helicopter was used to fly injured passengers from the receiving area onshore to area hospitals. According to a statement issued by Viking Cruises on March 24, "Currently we understand 20 people suffered injuries as a result of this incident, and they are all receiving care at the relevant medical centers in Norway, with some already having been discharged."
The Viking Sky wasn't the only vessel that ran into trouble during the storm. At one point during the cruise ship evacuation, two helicopters were diverted to rescue a reported nine crewmembers from the Hagland Captain cargo ship, which also lost engine power.
Eventually, the Viking Sky regained enough power to travel to Molde, accompanied by two offshore supply ships and one tug assist vessel.
Per Andre Rykhus, general operations manager, Norway for CHC Helicopter, stated, "I am really proud of the CHC team behind this huge effort during the rescue operation. Their ability to quickly collaborate with the HRS team ensured we provided a well-organized and effective air operation that helped keep these passengers safe in challenging conditions."