EHA urges members to use European grants
The European Helicopter Association (EHA) is encouraging its members to apply for European grants to help modernize their operations. Several schemes are available and, while some operators have made the most of them, they remain underused by the rotorcraft industry. According to consultancy firm AB Corporation, this year may be a good time to apply, as the majority of the funds for the 2014-2020 period are still to be allocated.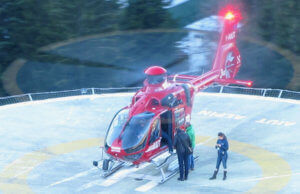 To help raise awareness of the opportunities, the EHA organized an "info day" in Brussels on June 6 detailing how to obtain the European Union funding. Member of the European Parliament Rosa d'Amato, who participates both in the Regional Development and the Transport and Tourism Committees, stressed in an opening video that one goal for these budgets is to level the playing field. An operator in a remote area should have the same opportunities as any other, she said.
The EU's budget, known as the multiannual financial framework (MFF), amounts to €963 billion ($1,008 billion) over the current seven-year period and is fed mainly by percentages of the VAT and each member country's gross national income. Parts of it can support projects in heliport and air navigation infrastructures, aircraft equipment (be it line-fit or retrofit), operational staff training and the development of new procedures.
Between 20 to 100 percent of eligible costs can be covered. Under the previous MFF (2007-2013), a helicopter emergency medical services (EMS) organization in the Spanish region of Andalusia was awarded 80 percent of the estimated €5.5 million required to improve its network of heliports. The plan was devised to facilitate helicopter access to far-off municipalities and hospitals.
More recently, in Foggia, Italy, operator Alidaunia was awarded €1 million (31 percent of the total cost) to build a maintenance facility. It includes a simulator, tools, a new taxiway and the hiring of seven people.
These two projects were supported under the European Regional Development Fund (ERDF) scheme, part of so-called indirect funds – meaning regions are in charge of allotting them. Helicopter-related undertakings may fit if they meet priorities like research and innovation, competitiveness of small and medium enterprises and transition to a low-CO2 emission economy. The ERDF has a €32.5 billion budget dedicated to the transport sector. As of June, about three quarters of the ERDF's total budget was still available.
EU direct funds are awarded after a competitive process, which starts with a call for proposal. The call is devised to realize an action in accordance with EU objectives. Helicopter firefighting operations, for instance, may benefit from direct funds.
Among the requirements is the creation of a consortium involving at least two countries. The European Commission (EC) regularly organizes info days, which are occasions for a potential bidder to meet a partner. After a six- to nine-month evaluation, the EC tells the bidder how to improve its proposal, if needed, and resubmit, Bruno Goffi, CEO of consulting firm AB Corporation, said.
Consultants can help build a case — of particular use for those companies unfamiliar with EC procedures. Such specialists have lobbying skills and a presence in Brussels. However, a project may succeed without the support of a consultant, according to Carmen Aguilera, GSA's Aviation & H2020 Coordinator. GSA is the European Global Navigation Satellite Systems Agency and its forms are easy to fill and no longer than seven to 10 pages, according to Aguilera.
GSA has been promoting the use of Europe's GPS augmentation system, the European geostationary navigation overlay service (EGNOS) — equivalent to the U.S. WAAS. Approved for civil aviation since 2011 and despite obvious benefits, it has struggled to gain acceptance.
EGNOS capability is available in line-fit or retrofit for a number of helicopter types, Aguilera pointed out. Eleven operators ¾ mainly in EMS and offshore oil-and-gas — are equipped or are in the process to equip. "EGNOS is an enabler for IFR [instrument flight rules] rotorcraft operations — low-level area navigation (RNAV), point in space (PinS), curved approach, direct approach with vertical guidance and simultaneous non-interfering operations," said Aguilera.
In Europe, GSA has supported the creation of 23 PinS. A typical use is for a helicopter returning to a hospital helipad. It flies IFR (thus allowing all-weather operations) on a low-level route. The IFR route ends at a PinS — defined with GPS coordinates — near the hospital. A short visual segment links the PinS to the helipad. The final segment, which would be too costly to convert into an IFR approach, can be flown even in marginal visibility conditions.
In aviation, GSA has set up three funding tools to foster the adoption of EGNOS (as well as Galileo, Europe's counterpart to the U.S.-built GPS). In 2015, the Aviation Grant program spread €6 million over 14 projects. The next €6 million call is scheduled for October. A maximum 60 percent of a project's cost can be funded with the program.
At Caproni airport, Italy, GSA has supported the creation of performance-based navigation (PBN) procedures based on EGNOS for helicopter EMS operations.
The first phase has involved the creation of four PinS for a route between Trento airport and one hospital. In a second step, PBN procedures using EGNOS will be implemented for all EMS helipads in the Trento province.
In Norway, EMS operator Norsk LuftAmbulanse obtained the European industry's first operational approval for RNP 0.3, meaning its helicopters can follow a route with a 0.3-kilometer (0.16-nautical mile) precision. Airbus upgraded three Norsk LuftAmbulanse H135s to the standard.