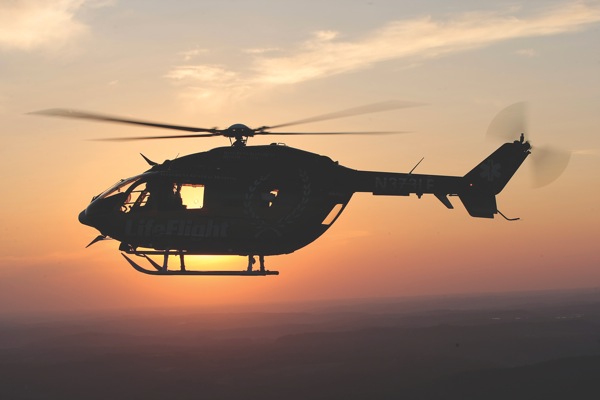 Only time will tell This often-heard statement conveys a truth that no manufacturer or salesperson can ever deny: the true success of a product can only be accurately determined by history. For the Eurocopter EC145, a look into its brief yet productive life suggests the model has not only met, but also exceeded the demanding requirements found in the working class, light-twin helicopter world.
On April 30, 2012, 10 years to the month since the introduction of its first production EC145, Eurocopter celebrated the delivery of its 500th EC145 (see p.23, Vertical, June-July 2012); it was sold to Transportes Aereos Pegaso, Mexicos largest offshore operator in the Gulf of Mexico. In all, the EC145 now has over 100 customers in some 38 countries. The highlight on the military side has been the delivery of over 200 of an expected 345 UH-72A Lakotas to the United States Army (the halfway point on those 345 units was reached last year, see p.18, Vertical 911, AMTC 2011).
On the occasion of the 10th anniversary of the EC145, Vertical 911 visited with three select operators one in each of the emergency medical service (EMS), law enforcement/parapublic and military sectors to learn how the EC145 and UH-72A have been fulfilling their missions and indeed whether time has begun to tell. The responses we gathered indicate that this model line is likely on its way to leaving an enduring helicopter legacy.
On the Shoulders of a Giant
Based on the BK-117 C-1, the EC145 (or BK-117 C-2) is a multi-role utility helicopter that was designed to optimize space, ergonomics and the human-machine interface. The EC145 incorporates several noteworthy features, including an open, pillar-less cabin capable of seating up to eight passengers; a high-masted, hinge-less (or rigid) rotor system; and an all-glass central panel display system cockpit. Combine that with twin Turbomeca Arriel 1E2 turboshaft engines that produce 700-plus shaft horsepower each, a near-4,000-pound useful load in standard configuration, high rotor clearances, side- and rear-loading doors, and an optional electric hoist, and you have a stable, versatile platform that has, not surprisingly, found a home in such demanding operational roles as EMS, search and rescue (SAR), and law enforcement.
The models predecessor, the rugged and durable BK-117, was itself long-known and recognized for its versatility plus its large cabin and unique three-masted tail and was an icon of the EMS and international SAR industries. Consequently, when Eurocopter sat down to design its replacement, the company specifically sought to create a helicopter that was every bit as functional and versatile as the 117, but also one that better addressed flight safety through improvements in visibility, pilot workload and technology.
These very attributes are what attracted Stanford Life flight crews and administrators to the EC145 five years ago, when they began seeking a replacement aircraft for their own aging BK-117.
Its basically a BK-117 on steroids, said Sandy Correia, flight nurse and outreach coordinator for the 28-year-old EMS program, and president of the Air & Surface Transport Nurses Association. Operating as part of the world-renowned Stanford Medical Center (about 30 miles south of San Francisco, Calif.), Stanford Life Flight specializes in both emergency scene calls around the Bay Area and central California coast, and moving patients from smaller, outlying hospitals to its medical center for specialized care and procedures.
One thing we specialize in that many other flight programs dont is moving patients who are on balloon pumps, a highly specialized piece of equipment that helps patients who are in heart failure or who are in need of heart surgery, said Correia. Balloon pump patients involve the added complications of multiple medication infusions, numerous intravenous pumps and ventilators, and they occasionally require additional personnel to assist in their management. The 145 allows us to carry an extra nurse, in addition to the 90-pound balloon pump device and other extraneous equipment. Not many programs in California are able or equipped to be able to do this.
The Life Flight EC145, provided by Air Methods Corp., is configured to transport two littered patients, who are loaded through the rear-opening clamshell cargo doors. Crews can also quickly reconfigure the cabin to carry an isolette, a specialized incubator to transport infants and pre-term babies. A liquid oxygen system, meanwhile, allows the crew to supply uninterrupted oxygen for long transfers the program occasionally handles missions that extend a few hundred miles into the hinterlands of California, to places as far north as the Oregon border, and as far east as Nevada.
Based at the foot of the Santa Cruz Mountains, where frequent fog and other coastal weather influences complicate operations, and only about 20 miles from one of the busiest international airports in the world, possessing an aircraft with a smooth pilot-aircraft interface and a simple pilot workload has always been a key requirement of any Life Flight aircraft. Said Correia, We fly single-pilot and frequently operate IFR [instrument flight rules], so pilot workload is a big deal to us. Our pilots absolutely love the avionics.
Among the workload-reducing avionics on the EC145 is the first limit indicator (FLI), which is part of the vehicle and engine management display. The FLI incorporates six basic engine parameters three per engine into one gauge that automatically indicates the first limit the aircraft will reach during any given period of flight. This means the pilot only need monitor that one gauge, instead of six, during takeoffs, landings and other high-demand flight profiles.
Other pilot-friendly cockpit features include engine twist grip controls on the collective pitch lever, a three-axis autopilot, dual Garmin GNS 430 GPS/nav/comm units or a GNS 430/530 combination, and glass cockpit multi-function/primary function displays. The cockpit is also night-vision-goggle compatible, making it ideal for EMS and SAR operators who regularly operate in and out of unimproved and confined operating areas at night.
Wide Open Spaces
For a take on the EC145 in the parapublic mission, we sat down with the Texas Department of Public Safety (Texas DPS), which in 2008 obtained its first EC145, adding it to a fleet that featured 13 Eurocopter AS350 AStars and seven Cessna fixed-wing ships. For what we do, the EC145 works out really well, said Tim Ochsner, assistant chief pilot for the Texas DPS. When asked which aspect of the aircraft the organization most appreciated, he quickly replied, Its versatility and space. Its a fairly simple aircraft to fly and can perform a wide variety of missions for us. Its truly a multi-mission aircraft.
Accordingly, the Texas DPS has outfitted its EC145 with an L-3 Wescam camera and sensor turret, a Spectrolab SX-16 Nightsun searchlight, a Goodrich electric hoist, multiple rappel and fast-rope stations, and a dual-electric cargo hook system (for fire bucket operations). The spacious rear cabin area, meanwhile, is quickly and easily reconfigurable for those multiple missions, and the large, flat floor is noticeably free of encumbrances. Running from the cockpit clear back to the outward-swinging clamshell doors is a rail system integrated into the floor that allows for the insertion or removal of two 12-inch CRT multi-mission monitors that are used for clandestine video surveillance and tactical flight officer training. These same rail systems, which are built into all EC145s, can also be utilized to secure removable, sliding seats or other equipment as needed. And, the models flexible passenger configuration options allow for high-density tactical troop seating or VIP and dignitary seating, the two options the Texas DPS selected for its aircraft.
Interestingly, there is one cabin configuration the Texas DPS doesnt use as much as it had originally planned on. Said Ochsner: We actually dont use the CRT monitors in the rear as much as we expected, because the aircraft is so much easier to fly than we thought it would be and we dont really need a second pilot. This allows us to keep the tactical flight officer up front and also allows us more endurance, or the option of bringing along additional personnel when needed.
Those additional personnel can include SWAT teams, which can deploy up to four officers at a time via the rappel through the sliding doors on both sides of the EC145s cabin. Those doors are a seemingly simple feature that provide a key capability for inserting officers during time-critical or high-risk missions.
Another simple, but well-thought-out feature sees the flight control cables run through the center pillar of the front windscreen, rather than through a vertical pillar positioned between the pilot seats, as is more traditional. This, in combination with large cabin windows and no visible obstructions in the cabin, makes for that wide-open space the Texas DPS values. The large, rear-hinged clamshell doors and two sliding side doors then allow multiple options for accessing that space.
One particular option for loading the cabin is the Goodrich electric hoist, which is capable of lifting 600 pounds (272 kilograms). Mounted to the right side of the aircraft above the sliding door, immediately behind the pilots seat, this position allows the pilot a greatly improved view of the rescue operation and facilitates simpler communication with the crew chief or hoist operator. Plus, the wide door opening means two rescue personnel can comfortably sit side-by-side on the floor on the same side as the pilot as the aircraft circles an incident.
Finally, the rigid rotor system allows for a wider center of gravity and more stability when hovering. Even with four people operating from the same side of the aircraft (pilot, hoist operator, rescuer and victim), the EC145 performs admirably and predictably. We havent had any center of gravity issues beyond watching where we place people in the cabin and not getting too tail-heavy, said Ochsner.
Within the Texas DPS, the versatile, stable EC145 is utilized for patrol, SWAT team missions, VIP transport and border security. The aircraft is able to do a lot more for us than we thought, said Ochsner. The pilot workload is less than we expected, especially with the three-axis autopilot. Its actually less workload for our pilots than the AStars. And theres plenty of power. . . you pull and it will perform. You are able to do a lot more than you think. And it is really a versatile aircraft. It is quite an asset for our program.
Standing Guard
The military highlight for the EC145 was its selection in 2006 as the U.S. Armys new light utility helicopter. The military version of the 145, named the UH-72A Lakota, made history when it became the first off-the-shelf, civilian-built helicopter to be purchased by the U.S. military. Officials stated that the decision to select the EC145-based airframe for that role had much to do with cost savings, lessening pilot fatigue and expediency of procurement.
With 200+ Lakotas having now been delivered, the UH-72A is currently operating from 31 locations around the globe, including the Austin Army Aviation Support Facility (AAASF) in Austin, Texas, where the new ships are taking over for 15 Bell OH-58 Kiowas. (The AAASF houses part of the Texas Military Forces, or TXMF; the TXMF comprises both branches of the Texas National Guard, plus the Texas State Guard.)
The Lakotas have been outfitted for a number of missions for us, including medevac, search and rescue, counter-drug operations, general support, and border security, said Lt.-Col. Michael Dye, AAASF commander. Here in Texas, we also have to be prepared for firefighting missions and hoist-rescue missions in swift-water flash floods and hurricanes. Its really a diverse mission profile.
The mission and objective of the Army-specified Lakota is to replace aging Bell UH-1 Hueys and OH-58A/C Kiowas, and selected Sikorsky Black Hawks, performing the varied and diverse missions of stateside operations and various international non-combat military roles. This would free up the larger and more expensive Black Hawks for the deployment overseas for active military operations, and allow the older and less-capable Hueys and Kiowas to retire (see p.34, Vertical 911, Spring 2010; and see p.40, Vertical, Dec11-Jan12).
The Lakota actually performs many of our missions better than the Black Hawks, due mostly to its smaller size, said Chief Warrant Officer 3rd Class Gary Richardson, an AAASF Lakota and Black Hawk pilot. The UH-72A is smaller, more agile [than the Black Hawk], and is very stable during hoisting. It also delivers much less rotor wash than the Black Hawk, which makes operations for ground personnel and rescuers much easier.
For Texas crews that live and work in the area widely known as Flash Flood Alley (a path that stretches from Dallas in the north-central part of the state, to Austin and San Antonio in the south-central parts), some of these rescues will arise because of the frequent, severe and sudden flash floods that occur each year more flash flood rescues are performed annually in this area of Texas than anywhere else in the nation. Victims of these floods are often trapped by fast-rising water and are left clinging to vehicle rooftops or hanging onto trees or branches. Fortunately, the EC145s agility, stable operating platform, lower rotor wash, and ability to minimize pilot workload and fatigue makes it well-suited to helping crews succeed in such difficult environments.
To help fulfill its rescue mission role, all active National Guard aircraft, including the TXMF UH-72A Lakotas, have been equipped with Goodrich electric hoists, and can carry two littered patients at a time. For its other mission roles, the cabin can be reconfigured with seats for transporting personnel or troops. And, three of Austins UH-72As are presently being outfitted with a mission essential kit for border patrol, drug enforcement and homeland security missions along the southern Texas border. These aircraft will have the added capabilities of forward-looking infrared; a moving map display; a command center equipped with additional radios, maps and a computer workstation; and a Nightsun spotlight.
Given its inherent versatility, stability and durability, its probably no surprise that the Lakota has helped contribute to the high mission-success rate of TXMF units, and allowed them the ability to regularly and successfully operate in some of the most demanding weather and environments possible. In fact, it may be within this varied operational profile that the EC145 line has shined most of all and gotten the chance to fully show off its diverse abilities, safety, performance and cost-effectiveness. Sgt. J.W. Aytes, a Texas Military Forces crew chief and hoist operator, probably summed it up best when he said: The Lakota makes my job easy.
T-Time
Not satisfied to rest on its laurels, at Heli-Expo 2011 Eurocopter introduced the EC145 T2 (see p.18, Vertical, Apr-May 2011), an upgraded and more robust version of the EC145.
Visually, the most notable difference with the T2 is the incorporation of Eurocopters distinctive Fenestron shrouded tail rotor, an upgrade that enhances anti-torque control efficiency, lowers noise and vibration levels, and reduces power demand in forward flight. The enclosed tail rotor system also increases safety for ground crews that have to operate in and around a running aircraft, most notably in EMS and SAR operations. The new aft end further utilizes new composite blades; a redesigned tail gearbox with lower associated maintenance costs; and a damage-tolerant, all-composite tail boom.
Less visible on the T2 is the incorporation of new Arriel 2E turboshaft engines and dual digital FADECs (full-authority digital engine controls), a combination that will allow for a striking 25 percent average increase in flight performance characteristics, according to Jeffrey Dronen of American Eurocopter. Significant improvements to the aircrafts one-engine-inoperative performance will also be seen. Overall, said Dronen, The EC145 T2 will offer significantly improved performance, increased flight safety . . . improved maintainability and lower operating costs.
Some of these improvements Dronen mentioned will come from a new modular avionics suite that incorporates three large primary displays, a standard four-axis autopilot and a state-of-the-art human-machine interface.
Great interest in the EC145 T2 has been reflected since the unveiling at Heli-Expo 2011, said Dronen, leading to an impressive order book for this new model, in particular by the EMS and SAR operators. The largest purchase agreement up to now has been signed by the German air rescue organization DRF Luftrettung, for 25 helicopters. Furthermore, Inaer Aviation Group has placed an order for 10 EC145 T2 helicopters for EMS activities.
And, as with the original EC145, Dronen said the T2s versatility should allow it to perform and be equipped for a wide variety of missions, including the traditional law enforcement, parapublic, SAR and HEMS roles, and such commercial missions as VIP/business, utility and offshore (including, he said, wind-farm operations).
A Look Back, to Look Forward
History has the unique gift of separating greatness from rhetoric, and performers from pretenders. Yet, only 10 years into its existence mere adolescence in the realm of aviation the EC145 has demonstrated that it doesnt need history to prove its worth; it only needs the opportunity to perform.
Noted for their versatility, adaptability, performance and safety enhancements, the EC145 and its military twin, the UH-72A Lakota, have become valuable additions to EMS, SAR, law enforcement/parapublic and non-combat military operations. And, with the market entry of the upgraded and improved EC145 T2 now imminent, one can probably safely extrapolate the EC145s prior successes to predict the future.
David Krussow spent seven years as a flight nurse, crew chief and rescue swimmer with STAR Flight of Austin/Travis County. He has served 15 years in emergency service and is experienced as a helicopter rescue and firefighting instructor with Texas A&M University/Texas Engineering Extension Service. David presently works with CalFire in Auburn, Calif.