Zip Aviation purchases VIP-configured Bell 407GX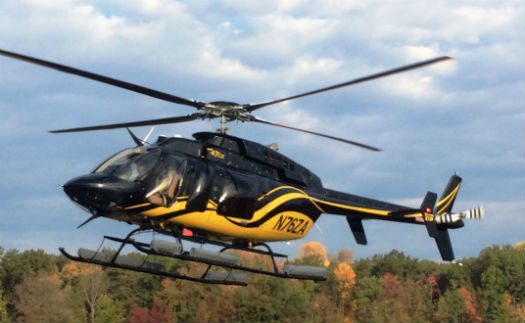 Zip Aviation has purchased a 407GX from Bell Helicopter for VIP transport, charters, tours and aerial surveys. Bell Helicopter Photo
Bell Helicopter has reached an agreement with Zip Aviation for the sale of a Bell 407GX to be used for corporate transportation, charters, tours, transfers and aerial surveys. The aircraft will be equipped with a Quiet Cruise kit for reduced noise levels in cruise flight.

"The Bell 407GX is perfect for our corporate transport needs," said Itai Shoshani, owner of Zip Aviation. "We chose the aircraft because of its reduced noise level and smooth flight performance to be considerate of nearby New York residents."

The 407GX Quiet Cruise kit communicates with the engine's FADEC to adjust the rotor speed, significantly decreasing external noise in cruise flight, resulting in a reduction of decibels that will reach the community below.

Zip Aviation offers a wide range of helicopter services for New York City and surrounding areas including, tours, charters, VIP transport, location scouting, aerial photography, airport connections and more. The helicopter will join the company's current fleet of Bell 407s and Bell 206B Jet Rangers operating charters and tour missions.

"We are honored Zip Aviation has continued to choose Bell helicopters to support their mission needs," said Anthony Moreland, managing director in North America. "The upgraded avionics and performance of the Bell 407GX will allow their customers to enjoy a safe, high-performance aircraft with the ability to transport customers and VIPs comfortably and efficiently throughout the nation."

Built on the proven performance and reliability of the Bell 407 platform, the Bell 407GX features the Garmin G1000H flight deck, providing critical flight information at a glance for greater situational awareness and increased safety. The flight deck's high resolution LCD screens host primary flight and multi-function display information, including Helicopter Terrain Awareness Warning System, Helicopter Synthetic Vision Technology, Traffic Information Systems and more. The 407GX also features a tail rotor camera, allowing the pilot a clear view of the tail during take-offs and landings.