Sikorsky presents Crestwood Technology Group with Supplier of the Year Award
Crestwood Technology Group (CTG), was recently selected by Sikorsky, a Lockheed Martin company, as 2016 Suppler of the Year for the S-76 helicopter program.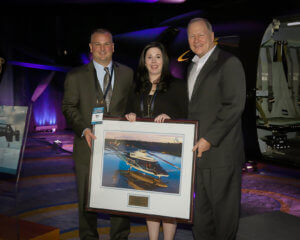 At a ceremony held in West Palm Beach, Florida, Sikorsky president Dan Schultz and senior vice president of operations John Palumbo presented awards to each of the helicopter manufacturer's seven programs. In total, 22 top suppliers were honored for their 2016 performance. The award recognizes CTG's continued support and commitment to providing Sikorsky with innovative, cost efficient and quality driven supply chain solutions.
"This is a momentous achievement for CTG," said Mike Boyd, chief of sales. "It takes dynamic teamwork and a dedicated company-wide approach to consistently deliver a product that meets Sikorsky's stringent quality standards. This award is an acknowledgment of our employees' dedication and hard-work."