Pittsburgh Institute of Aeronautics marks completion of $1.3M expansion of Youngstown Campus
One of the top-rated trade schools in the United States is thrilled to begin its next chapter.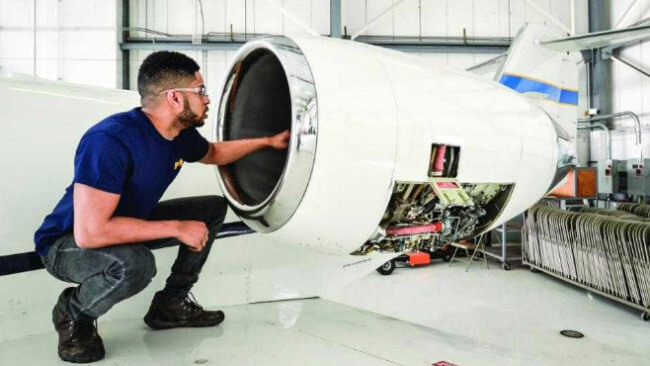 On Wednesday, Sept. 20, Pittsburgh Institute of Aeronautics (PIA) will host the expansion ribbon-cutting ceremony for its highly-rated Youngstown-Warren branch at YNG Hangar 3, located in Youngstown, Ohio.
In 2016, PIA invested $1.3 million in its purchase of the site and construction of a new two-story teaching facility at its Hangar 3 site. This new facility includes electrical and welding classrooms, an aeronautics lab, a conference facility, administrative offices, and a student resource center with a computer lab. The adjacent hangar features specialized shop areas for aircraft propulsion systems, electricity, sheet metal, hydraulics, instruments and controls, composite materials, non-destructive testing, welding, and painting.
Plans for the project were developed with the Michigan-based Sidock Group, Inc., an architect, engineer and project manager who specializes in the heavy industrial and aerospace industries.
This project, led by interests in Michigan, Ohio, and Pennsylvania, unites several so-called "Rust Belt" businesses in pursuit of a forward-thinking goal: providing educational excellence in one of the fastest-growing employment sectors in America.
"Our expansion is a continued expression of the Youngstown region's strong history in aviation," said Suzanne Markle, president and CEO of the non-profit PIA. "Our investment in our facilities and our students is in response to strong career demand. We look forward to the opportunity to serve new students and prepare them with the entry-level technical skills we know our employers seek."
According to the 2016 Boeing Pilot and Technician Outlook, between 2017 and 2035 the aviation industry will need to supply more than two million new aviation personnel — including 679,000 maintenance technicians worldwide.
Since 2006, PIA's Youngstown Branch campus has been training certified and work-ready aviation maintenance technicians with a 16-month diploma program in Aviation Maintenance Technology. With an impressive 94 percent placement rate and a student-focused average ratio of 10 students for every instructor, the Youngstown-Warren campus was honored as a 2016 School of Excellence by the Accrediting Commission of Career School and Colleges (ACCSC). PIA looks forward to seeing the growth impact this renovated facility will have on the success of its students.