Army helicopters help fight forest fire
A wildfire that reached the Mokuleia Forest Reserve scorched about 450 acres of land and came within less than a mile of some of the world's most endangered trees before it was extinguished on June 10.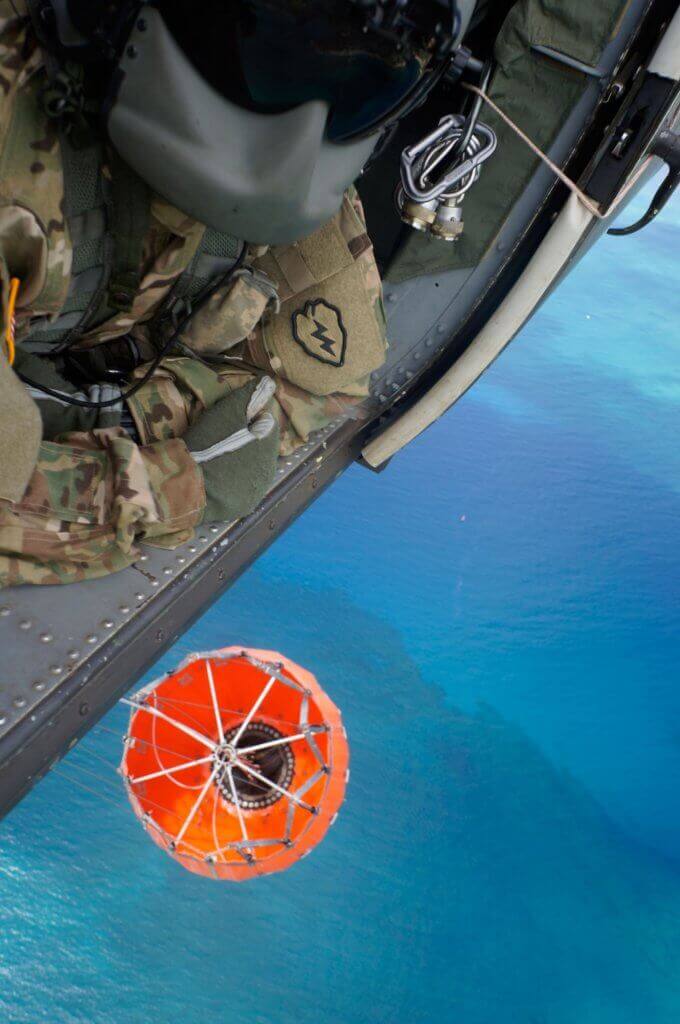 The mehamehame trees, also known as the "redwoods of the Hawaiian forest," are endemic to Hawaii and considered critically endangered. The Waianae Mountain Range is the only place where they are found on Oahu.
"There are less than 30 mehamehame trees remaining in the world," said Kapua Kewalo, the natural resources manager for U.S. Army Garrison-Hawaii. "And they are male and female trees, meaning that they need to get together to make keiki. With such a small gene pool as it is, every single one of those remaining trees is invaluable."
Charles Gibbs, chief of the U.S. Army Hawaii's Wildland Fire Division, said fire officials managed to put down the blaze before it reached any endangered native plants.
Two UH-60 Black Hawk helicopters from the 25th Combat Aviation Brigade, 25th Infantry Division (ID), each capable of dropping 660 gallons of water at a time, were called to the scene to help battle the blaze. The 25th CAB also deployed a Chinook helicopter capable of dropping 2,000 gallons of water at a time.
Firefighters from the Army's Wildland Fire Division helped to secure the fire's boundaries and to call in the water drops.
"As a member of the Oahu community, the 25th CAB takes great pride in being able to assist the surrounding area in times of crisis," said Maj Robert I. Sickler III, the 25th CAB executive officer. "We are happy that we could help during these wildfires."
Firefighters from the Honolulu Fire Department were also fighting the fire. It and the state contributed smaller helicopters to drop buckets of water on the fire.
The quick pooling of state and federal resources was possible due to a mutual aid firefighting agreement between the Army and the state's Division of Forestry and Wildlife.
Although no endangered native plants were destroyed in the fire, Kewalo pointed out that some non-endangered native plants were destroyed. These included some wiliwili and lama trees, both culturally significant to Native Hawaiian cultural practitioners.
While there is enough remaining stock of those trees, she emphasized that the fire now widens the boundaries for hardier non-native plants that will likely re-populate the scorched area and create more fuel for future fires.