TSB blames organizational & regulatory failings for 2013 Ornge crash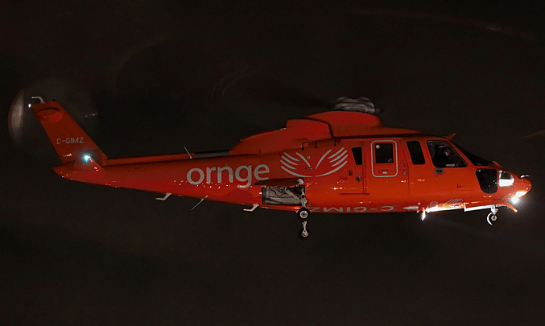 The Transportation Safety Board of Canada (TSB) has blamed organizational and regulatory failings for the fatal crash of an Ornge-operated Sikorsky S-76A in Moosonee, Ontario, and said its investigation into the incident had revealed "safety deficiencies" that needed to be addressed in Canada's aviation system.
The TSB revealed its findings this morning as it released its long-awaited report into the crash. The wide-ranging report concluded that the crew wasn't operationally ready for the flight having failed to receive sufficient and adequate training, and that Transport Canada knew that Ornge — Ontario's air ambulance provider — was struggling to comply with regulations and company requirements.
"Despite clear indications that Ornge RW [rotary-wing] lacked the necessary resources and experience to address issues that had been identified months before the accident, [Transport Canada's] approach to dealing with a willing operator allowed non-conformances and unsafe practices to persist," said Daryl Collins, the TSB's lead investigator on the accident.
The crash took place in the early hours of May 31, 2013, as the crew — captain Don Filliter, first officer Jacques Dupuy, and flight paramedics Chris Snowball and Dustin Dagenais — responded to a request for an emergency medevac flight for a patient in Attawapiskat, Ontario. At 11 minutes after midnight, the helicopter took off under night visual flight rules (VFR), and as it climbed through 300 feet into the darkness, Dupuy began a left-hand turn while the crew carried out post-takeoff checks.
During the turn, the aircraft's angle of bank increased, and an inadvertent descent developed. As he completed the post-takeoff check, Filliter identified the excessive bank angle and Dupuy indicated that he would correct it. Seconds later, Filliter recognized that the aircraft was descending and called for Dupuy to initiate a climb. However, it was already too late for the aircraft to recover, and it struck the ground, killing all four on board.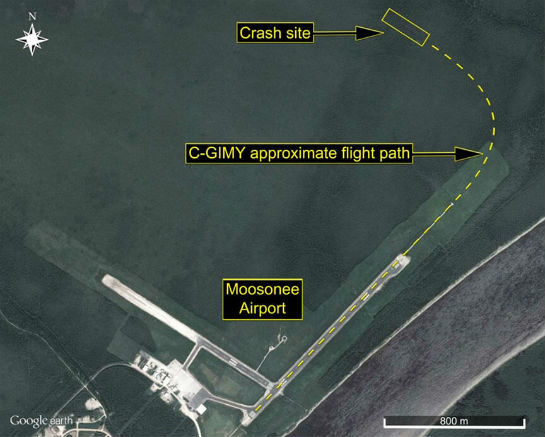 "It is critical that pilots who conduct night VFR flights, particularly in sparsely settled areas, possess strong night- and instrument-flying skills," said Collins. "As the crew turned toward Attawapiskat that night, they were turning into an area of total darkness, devoid of any ambient or cultural lighting — no town, no moon, no stars. With no way to maintain visual reference to the surface, they would have had to transition to flying by instruments. Although both pilots were qualified according to the regulations, they lacked the necessary night- and instrument-flying proficiency to safely conduct this flight."
However, Collins said the causes of the accident extended far beyond the cockpit, with Ornge failing to ensure the crew was operationally ready for the flight. Further, he said Ornge's standard operating procedures didn't address the hazards specific to night operations, and that this was compounded by having insufficient and inexperienced personnel in key positions. This "led to some company policies being bypassed and, ultimately, a sub-optimal crew pairing that night."
Kathy Fox, TSB chair, said the investigation had identified deficiencies in Canada's aviation system, and revealed 14 recommendations designed to address them.
"It's not often that we make so many recommendations at the conclusion of an investigation, but in this case, it's a sign that what went wrong that night went far beyond the actions of this crew," she said. "They weren't operationally ready for the conditions they faced that night — that's true. But they never should have been put in that situation. The system in which they were operating let them down that night."
In a statement issued following the release of the report, Ornge president and CEO Dr. Andrew McCallum said the organization had cooperated fully with the TSB throughout the investigative process.
"Immediately following the accident, we initiated a full review of our safety processes, procedures and technology and took steps to minimize risk," said McCallum.
He said these steps included retiring the S-76A from the Ornge fleet (replaced with the Leonardo Helicopters AW139); introducing night vision goggles in its fleet (due to be fleet-wide by the end of 2017); introducing a proficiency flying program that requires pilots to complete specific exercises and flight time with a 90-day period; and adding key personnel with extensive rotary-wing experience to Ornge's aviation management team.
"With the investigation now complete, we will review and study the recommendations and findings outlined in the report carefully as we strive to be industry leaders in safety," said McCallum.
TSB Recommendations
The TSB's recommendations target three broad areas: improving the equipment onboard aircraft; changing the rules by which pilots operate, and how and when they are qualified to fly; and how Transport Canada oversees the system.
"In taking over its aviation operations, Ornge RW was undertaking a significant and challenging transition," said Fox. "Its willingness to operate safely and within regulatory requirements exceeded its capacity to do so. Which led us to ask: When Transport Canada has significant concerns about an operator, as was the case with Ornge RW, when and how should the regulator intervene? When is enough, enough?"
The TSB's first three recommendations address this issue, calling on Transport Canada to require all commercial air operators to implement a formal safety management system (SMS); conduct regular SMS assessments to evaluate the capability of operators to effectively manage safety; and adapt its surveillance policies, procedures and inspector training to ensure that its oversight activities, including enforcement, are commensurate with an operator's capability — rather than willingness — to identify and fix problems.
The fourth and fifth recommendations call on Transport Canada to amend its regulations to ensure that visual references are clearly defined for night operations, and that pilots maintain instrument proficiency (currently, some pilots are still considered current even if they haven't conducted any instrument flying for up to 12 months).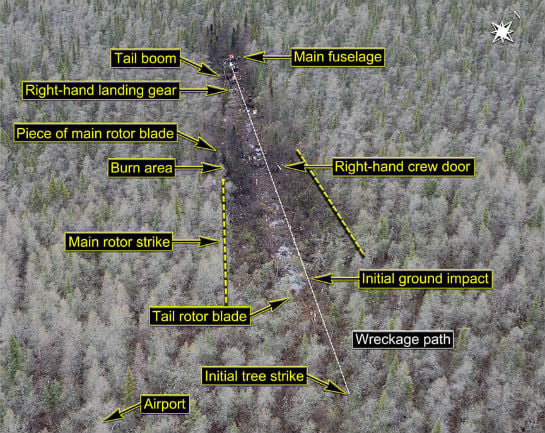 The TSB revealed that captain of the accident aircraft — Filliter — had passed his proficiency check two months before the accident, but that the evaluator had expressed concerns about the Filliter's limited instrument experience and ability to operate in a multi-crew environment, and recommended he first gain experience in a first-officer capacity. However, as the standards for the proficiency check didn't differentiate between captain and first-officer skills, Filliter flew as a pilot-in-command without additional training or supervision. The TSB's sixth recommendation calls on Transport Canada to revise the pilot proficiency check standards to clearly distinguish between and assess the competencies of captains versus first officers.
The seventh recommendation is to have Terrain Awareness and Warning Systems required on all helicopters.
Recommendations eight through 14 are aimed at improving another technology — the onboard emergency locator transmitter (ELT) — to improve search-and-rescue (SAR) capabilities in the event of future accidents. (The TSB said no signal was received from the accident aircraft's ELT, but that this wasn't a factor in the accident outcome.) The recommendations call for improved ELT construction standards to increase their survivability in a crash, and to ensure ELT transmissions are able to be detected by the international SAR satellite system.
"Although Ornge RW and Transport Canada have taken significant steps since the accident, we feel much more must be done," said Fox. "If implemented, the 14 recommendations we make today will have a profound impact on Canadian aviation, making flights safer for passengers, for crews, for those who fly at night, and for those who fly by instruments. Our recommendations will help ensure that the right equipment is on board, that pilots are suitably prepared, and that operators who cannot effectively manage the safety of their operations will face not just a warning, but a firm hand from the regulator that knows exactly when enough IS enough, and is prepared to take strong and immediate action."