Sikorsky making strides with Matrix autonomous technology
Work is continuing apace at Sikorsky Innovations on its Matrix Technology to enable autonomous and optionally piloted flight, as the manufacturer pursues both commercial certification and military qualification for the system.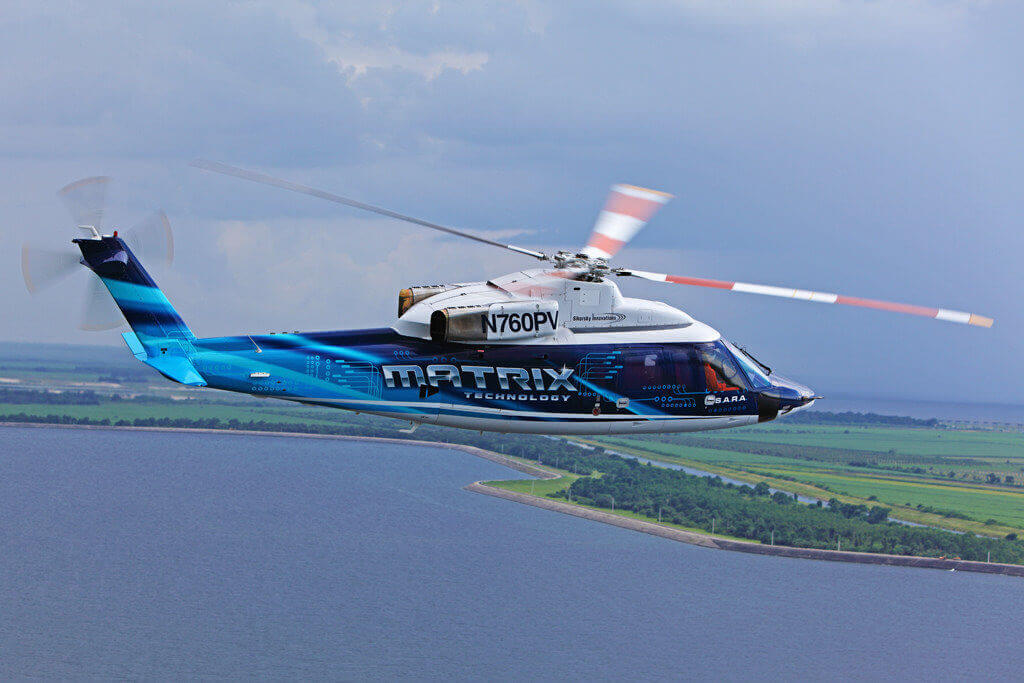 "We want to fundamentally reinvent how helicopters and even [fixed-wing] aircraft are flown," said Chris Van Buiten, vice president of Sikorsky Innovations, during a media briefing at Lockheed Martin's Grand Prairie, Texas, facility on May 8.
"Our goal is to make flying fundamentally safer. Three quarters of accidents in helicopters today are controlled flights into terrain. . . . We think that autonomy systems on board the helicopter collaborating with the flight crew can eliminate the bulk of those accidents."
Sikorsky announced the launch of the Matrix Technology program in 2013. While it has been maturing it on two products: the Sikorsky Autonomy Research Aircraft (SARA) — a customized S-76B, and an optionally piloted UH-60A Black Hawk, it hopes to ultimately use the technology to augment pilot operations across its product line.
With funding from the Defense Advanced Research Projects Agency's (DARPA's) Aircrew Labor In-Cockpit Automation System (ALIAS) program, Sikorsky utilized its Matrix Technology to complete a 30-mile autonomous flight with SARA in May 2016, highlighting the ability to plan and execute every phase of an autonomous mission with a tablet device.
This was then followed with a second phase of the ALIAS program that involved integrating the Matrix Technology — as part of an autonomy kit that fit under the cabin floor — in both SARA and a Cessna 208 Caravan fixed-wing aircraft.
In January, DARPA announced it had selected Sikorsky to continue with phase three of the program, which will see the manufacturer enhance the system's ability to adapt to different missions and aircraft types, and switch between modes enabling flight with two, one, or no pilot or pilots.
Van Buiten said such a system would expand operational flexibility, improve safety, and reduce costs. "[The aircraft] can fly with two crew when you need it — lots of passengers in the back, complex mission — or one crew when it's simple, or no crew when it's outrageously boring and the aircraft can just run all day," he said.
"We'll enable the helicopter to take on new missions, [and] we'll enable it to execute emergency procedures beyond human capability."
When used in a "two-crew" mode, the automation allows the pilots to perform the most complex missions — such as a night landing in an obstacle-rich environment for an EMS pilot, or a nighttime assault for a military pilot — to be performed more safely, by fundamentally reducing the pilots' workload.
For a less demanding mission, such as a visual flight rules flight during the day, the "one-crew" mode could be used to minimize crew costs, with the operator perhaps controlling the aircraft through a tablet either from the cockpit or the cabin.
Finally, the "zero-crew" mode could be employed for the very simple operations, or for use in areas where it's too dangerous for people to fly — such as flying in a radioactive environment like above the Fukushima nuclear plant.
Van Buiten said the use of a tablet to control a helicopter amounted to a "reinvention" of the cockpit, enabling a non-pilot to fly SARA with just 10 minutes of orientation.
"You put in large fundamental commands, and it sorts out all the details," he said. "The tablet is just the interface between the human and the autonomy system on board the helicopter, and it enables the helicopter to fly all the different trajectory elements and mission elements that the helicopter is capable of."
However, when pressed for a certification timeline for system, Van Buiten admitted it was likely to be several years away, due to the technical, cultural and regulatory challenges the manufacturer needs to overcome.
"It's not going to happen overnight," he said. "Certification of new flight controls in a helicopter can easily be a four-year/five-year kind of journey. So pile on some additional cultural and regulatory challenges, new rulemaking — this isn't going to happen overnight. But it's a change worth pursuing."
Van Buiten said the certification process is made particularly complex due to the system having multiple sensors going into multiple redundant computers. "It's kind of the challenge you get into when pursuing certification qualification of these systems," he said.
"For us, we're setting the bar high. Our vision for certifying a single pilot helicopter would mean if the pilot is incapacitated, and there's 12 passengers in the back, everyone lives. The helicopter executes a landing where it is, or decides if it's safer to return to base, or it might even complete the mission. That's going to be our criteria for single pilot functionality. That'll be a whole new space for aviation."