L.A. County Fire to acquire new Black Hawks
The Los Angeles County Fire Department (LACoFD) will be adding two new Sikorsky S-70i Black Hawks to its fleet at a cost of around $29.4 million.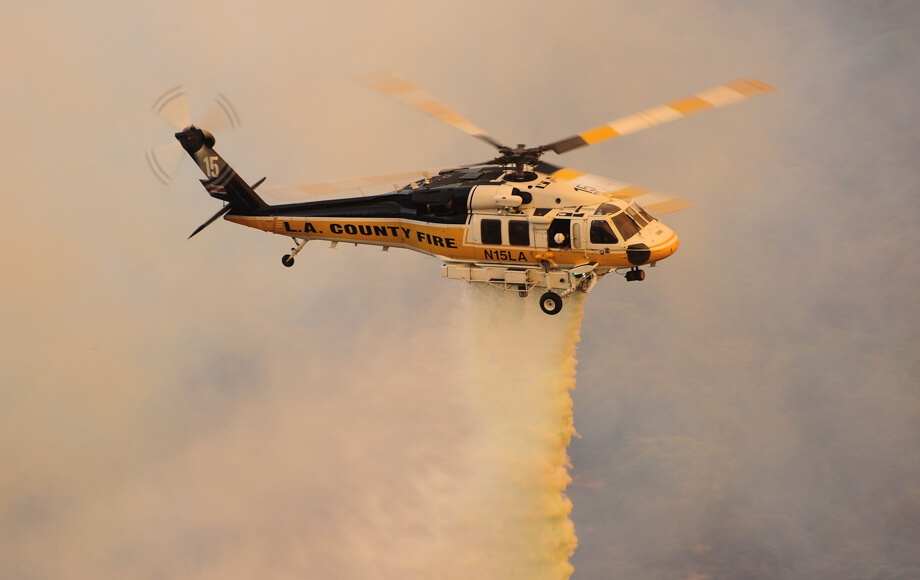 The L.A. County Board of Supervisors voted unanimously to approve the sole-source acquisition on July 11, KHTS News reported. The decision follows a comprehensive assessment of the fire department's current aircraft program, which was commissioned in the wake of destructive fires in June and July of last year.
The new Hawks will supplement the three existing S-70A Firehawks in the LACoFD's fleet. In a letter supporting the acquisition, fire chief Daryl L. Osby called the S-70, which is capable of delivering up to 1,000 gallons of water, "the most effective firefighting and multi-mission aircraft available."
The LACoFD also operates five Bell 412 helicopters capable of delivering up to 360 gallons of water per drop. A sixth Bell 412, "Copter 10," was destroyed in August 2015 when the pilot ran out of fuel during a brush fire containment mission and autorotated the aircraft to a hard landing.
In its assessment of its aircraft program, published in October 2016, the LACoFD reported that "due to the aging of the fleet and the loss of Copter 10, LACoFD has been faced with a fleet availability of just 55 percent, which has limited the ability to staff two or more S-70 Firehawks."
That report recommended that the department identify a target capability of staffing five S-70 Firehawk helicopters on high fire danger days. It further recommended that the county take advantage of "substantial cost savings" offered by Sikorsky to systematically replace and augment its existing fleet of S-70A Firehawks with new and more capable S-70i aircraft, the export variant of the UH-60M Black Hawk.
In a subsequent report, the department outlined an aircraft replacement and finance plan. Under its proposal, approximately $8.10 million of the purchase price for the new S-70i helicopters will come from the county's Helicopter Accumulated Capital Outlay Fund, while the remaining $21.3 million will be financed through the Los Angeles County Capital Asset Leasing program.
Helicopter mission equipment conversion work will be obtained through a competitive solicitation process in accordance with the county's purchasing and contracting policies and procedures.
Although the LACoFD considered acquiring military surplus UH-60A Black Hawk helicopters in lieu of new aircraft, it determined that doing so would only "exacerbate the organization's challenges faced with its existing aging fleet" — including increasing operating costs, decreasing parts support, and antiquated systems and reduced systems capabilities, according to the department's assessment.