'Internal factors' and market challenges hit Leonardo's 2017 profits
Indiscipline from its customer sales teams and production processes, underperformance in military sales, and challenging market conditions caused Leonardo Helicopters' profit margin to tumble to a "high single digit" number in 2017, the company has revealed.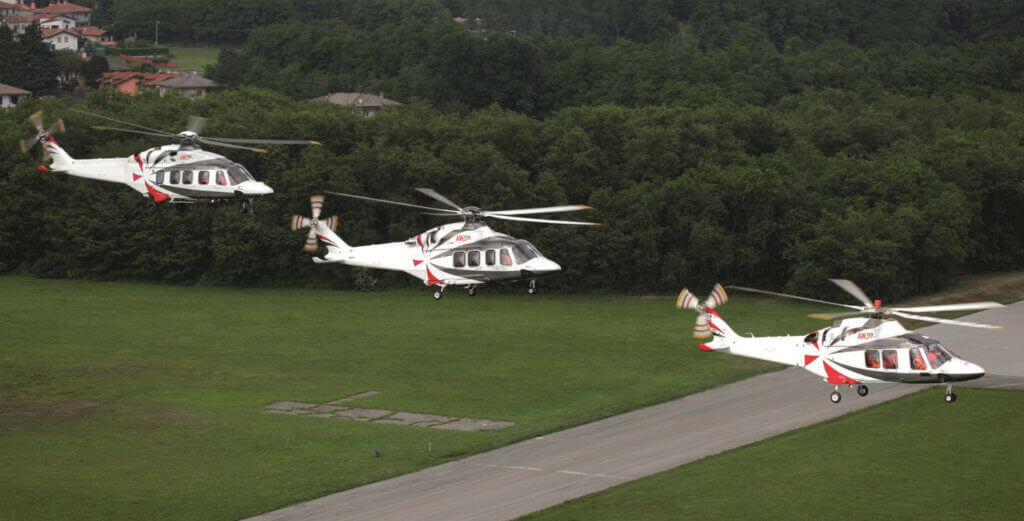 The challenges faced by the company were detailed during the unveiling of a new five-year industrial plan by its parent company, Leonardo, in Vertigate, Italy, on Jan. 30.
Without revealing specific figures for 2017, the company said the helicopter division's revenues and profits were down from 2016, which itself had represented a steep decline from 2012 in revenue (4.2 billion to 3.6 billion euros) and profit (0.48 billion to 0.43 billion euros).
The company appointed Gian Piero Cutillo as managing director of its helicopter division in October 2017, and he said he quickly saw the cause of the problems the manufacturer was facing.
In addition to global civil helicopter market decline of 45 percent from 2012 — from US$5.6 billion to US$3.1 billion — Cutillo said a lack of sales discipline was causing major issues for the company's planning and production.
"We were competing for business in a very competitive market and we lost discipline, offering too much flexibility on configurations, accepting really late configurations and short lead times," he said. "All these led to our biggest issue, the impact on our production planning and processes… [which was] affecting both volumes and profitability."
Cutillo said the result was that the helicopter division's manufacturing process had effectively been switched from a "push" model, in which the aircraft were meeting strong demand on their exit from the production line, to a "pull" model, where market demand was the key driver. The result was that the company's "production visibility" fell from 18 months to just six months.
"I saw straight away that our production and demand plans were not aligned properly, so immediately we started installing the discipline and rigor needed," he said.
Leonardo has launched a new integrated planning and control model, and production flow and supply chain logics have changed, Cutillo said. He added that a new simple rule was at the heart of this: "You cannot change the configuration when the helicopter is on the final assembly line."
The company also highlighted the financial impact of having a much younger fleet mix, with the recent introductions of the AW189 and AW169 to the market.
"Younger products have lower margins in early stages," said Cutillo. "[There is an] economic impact from [a fleet] mix shift to younger products."
A final internal problem was on the military side of the market, where Cutillo said the company had underperformed with "order slippage, and some errors in the tender process on some military campaigns."
However, Cutillo said he maintained Leonardo's helicopter division was strong, and referenced its gain in market share — to more than 30 percent of the civil market — during the overall industry decline.
"We don't think there is any structural problem with this business or with the industry we operate in," he said. "We have a world class business by any analysis. One thing really stands out, and that is our product strategy has been, and continues to be, absolutely correct. We have a range of products that the market wants and we are in the right part of the market."
The company anticipates steady growth in the civil helicopter market over the next few years, taking it from an estimated US$3.2 billion today to $4.3 billion in 2022. It believes the intermediate and medium categories of aircraft — of which it claims a 50 percent market share through its AW169, AW139, and AW189 — will be the main driver of this expansion.
With this in mind, the helicopters division believes it will return to "double-digit" profitability by 2020.
The helicopters division represented 30 percent of the parent company's revenue in 2016, with defence and electronics representing 45 percent and aeronautics 25 percent.
In its new industrial plan, the parent company unveiled the launch of "Leonardo 2.0," which it said would accelerate the new operating and organizational model it has been implementing over the past few years to strengthen the company's business structure and enhance its commercial approach.
In its industrial plan, Leonardo said its product portfolio was currently too diversified, and that it would be completing "select disposals and acqusitions" to focus on its core businesses.