Heli-Lynx delivers VIP H125; aims to reboot FX program
Heli-Lynx has delivered its latest completion, a heavily customized VIP Airbus H125 to a private customer, as the company establishes a new direction under new ownership.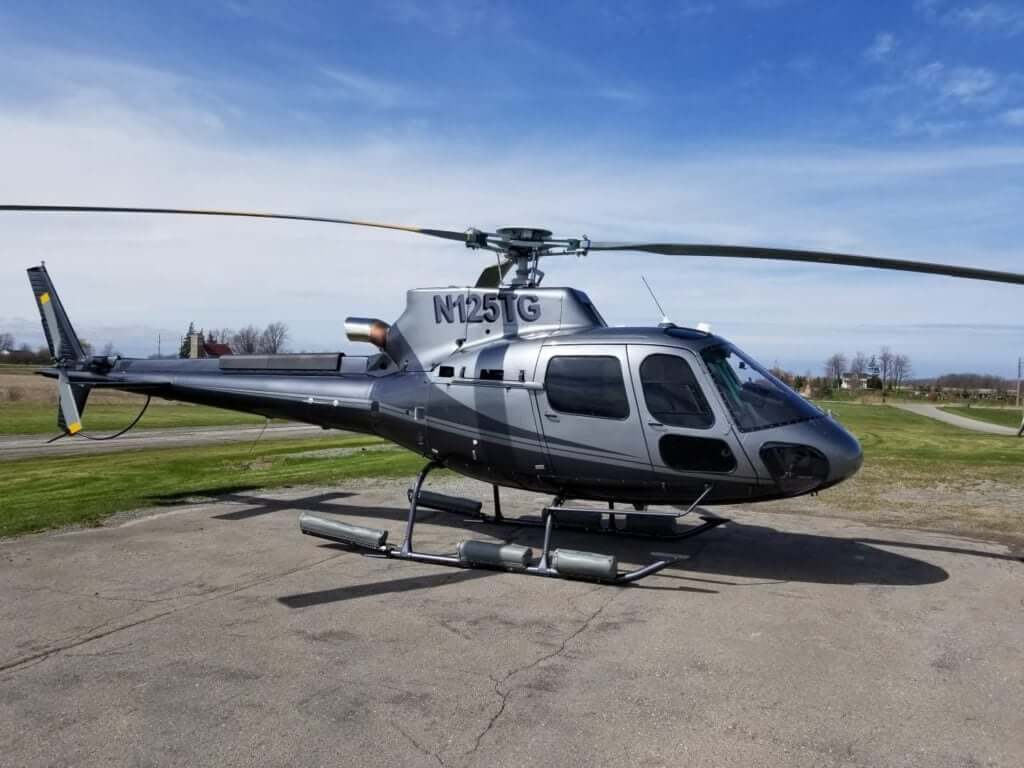 The completion and maintenance, repair, and overhaul specialist, based in Stoney Creek, Ontario, was purchased by Rob Tyler and Bill Kurtin on Jan. 1, 2019. The daily operations of Heli-Lynx will continue to be led by Bentley Thistlewaite and Matt Trahearn, with the company planning to expand its business around the VIP sector, offering customized completions, maintenance, and support for private and commercial operators. It is also rebooting the "FX" program, which changes the AS350/H125's electrical systems and engine for reduced maintenance and operating costs.
While the recent delivery, to Ted Groesbeck, a businessman based in Texas, was the completion of an order placed before the change in ownership, Tyler said it was an example of the course the company would like to set.
"That's the direction of the custom VIP ships that we want to see, we want to produce, maintain and support; we want to promote helicopters for the private owners, and we want to expand Heli-Lynx's offering," Tyler told Vertical.
The customization of the H125 was a four-month project. Starting from the exterior, Heli-Lynx created a paint scheme with two tones of grey, meeting in a dynamic arc with clean stripes along the length of the aircraft.
"I showed Ted pictures of things I thought would suit his personality," said Tyler. "Some were a bit too bold; some were a bit too plain, and just from his feedback I got a happy medium for an elegant ship that wasn't too bright or bold. We then worked with the colors to get the proper blend so that we could match the exterior look with the interior look."
Inside, the avionics were boosted with a Garmin GTN750, G500 and GTN650, a Genesys Aerosystems autopilot, a terrain awareness warning system, a radar altimeter, traffic collision avoidance system, and satellite weather and music.
The interior is fitted with luxury materials, including carbon fiber trim, leather lined doors, and tinted windows. The customized seats were made with perforated leather to keep the occupants cool when flying in hot conditions, which will be made easier with its enhanced air conditioning system. Heli-Lynx also installed sound insulation to keep noise in the cabin to a minimum.
Finally, the aircraft is outfitted with emergency floats for safety when flying over water.
"I'm totally thrilled with the helicopter," Groesbeck told Vertical. "Bill and Rob are helicopter guys. They know this business and they know what people expect, and they work with a lot of high net worth people who are spending a lot of money. And I could just tell from speaking with them they were fully committed to making sure the project went right."
Groesbeck said he would be largely using the aircraft for flying himself, his wife, dog, and friends, and wanted it to look great — and feel comfortable.
"I couldn't be happier with the look that Rob was able to obtain with the paint job and the finish out and the quality and the comfort," said Groesbeck. "This is the kind of helicopter that, for people that know quality, when they get up to it, run their hand over the paint, look at the interior fit and finish — those are the guys who are going to go, 'This was done right.' "
Tyler said VIP completions are a growing area for the Heli-Lynx. "We're working with Four Seasons Aviation and HelicoStore in Quebec to try to promote helicopters in general in the Greater Toronto area, and expose helicopters to people who otherwise haven't thought about how this mode of travel could enhance their life," he said.
The company believes the FX program, which installs new electronics and a Honeywell LTS 101-series engine in the AS350/H125 to create the AS350FX1/FX2, will have a part to play in growing this sector.
"The FX program basically replaces the engine . . . with an engine that has no calendar limit, resulting in longer times between required overhauls," said Tyler. "This is appealing to private owners and commercial operators who don't fly enough to get the value out of a time-limited engine, as it is significantly more cost effective to run and maintain."
HeliLynx has produced over 50 FX aircraft under the supplemental type certificate it owns for the conversion, and these are in operation around the world. The company is assembling a team to advance the program, and is already building an aircraft on spec.
Tyler said there was a lot of interest in the FX program in New Zealand, where a lot of the aircraft are already flying, and added that they may even expand the program to the H130.
"We're studying the viability of it and what we can expand on with the existing STCs we have now," he said.