CH-53K helicopter program delayed by technical issues
Technical problems have put the Sikorsky CH-53K "King Stallion" program behind schedule, but parent company Lockheed Martin maintains it can still meet the target for first operational deployment of the heavy-lift helicopter in 2023-2024.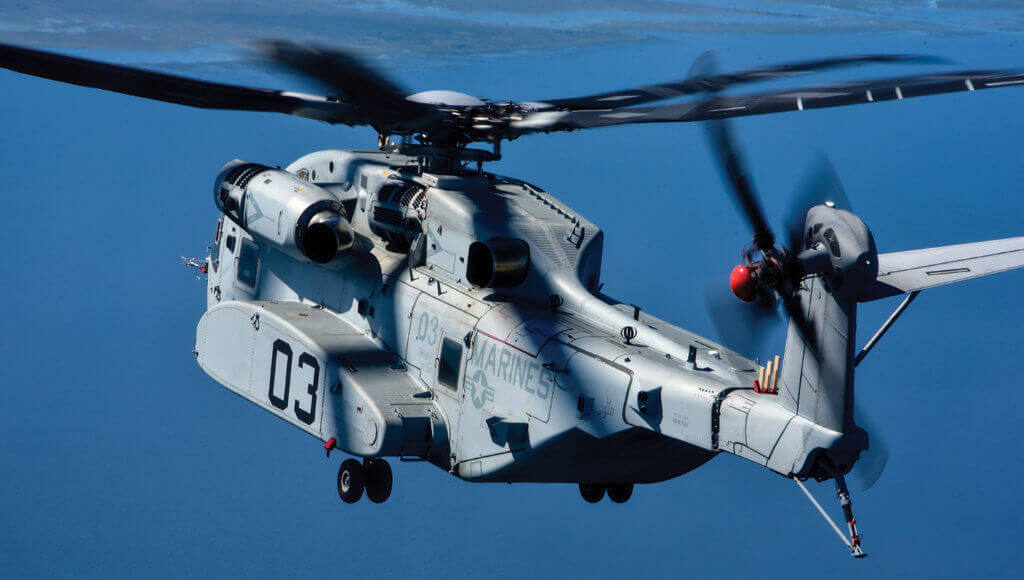 Bloomberg reported on Dec. 19 that the $31 billion program for the U.S. Marine Corps will likely miss a key milestone — initial combat capability by the end of 2019 — due to technical flaws discovered during testing. Development flight testing is now expected to continue through May of next year.
In a statement provided to Vertical, Naval Air Systems Command spokesperson Greg Kuntz confirmed that "discovery of technical issues later than expected and inadequate rate of their closure resulted in a flight test efficiency rate that was less than projected."
As of early January, "we are evaluating requirements to the program but have not yet made a formal determination on IOC [initial operational capability] or IOT&E [initial operational test and evaluation] dates," he stated.
According to Bloomberg, the technical flaws include "exhaust gas sucked back into the engine, limited service life for parts for the main rotor gearbox, deficiencies with the tail rotor and driveshaft and late deliveries of redesigned parts."
However, Sikorsky CH-53K program director Bill Falk said that "the current technical issues are solvable and resolutions are in process." For example, with respect to the exhaust gas re-ingestion issue discovered during flight testing, he said that Sikorsky engineers are "confident" they have a solution to correct the issue with minimal impact on ongoing flight tests and production.
"We have completed prototype designs, 3D printed prototypes and have identified suppliers for rapid prototyping," Falk told Vertical. "We anticipate a demonstrated solution in 2019 that will be incorporated into production aircraft build."
Meanwhile, he said, Sikorsky and Lockheed Martin continue to advance their efforts with two potential sources for thin wall castings. As noted in a report to President Trump last year, the single U.S. supplier of large thin wall castings for rotary-wing gearboxes filed for bankruptcy in 2016, impacting the CH-53K as well as the Boeing AH-64E Apache and Bell-Boeing V-22 Osprey programs.
Because of the critical nature of these castings, Trump signed a presidential determination that allows the Department of Defense to make special investments in suppliers under the Defense Production Act.
"We continue to work with our military customers to invest in strengthening our existing supply chain and to explore multiple sources for components to build the King Stallion aircraft," Falk said.
Despite the program's struggles, Falk said the CH-53K had a successful summer of flight testing, nearly doubling its flight rate and achieving significant accomplishments in high-altitude, degraded visual environment, electromagnetic environmental effects and continued envelope expansion testing, in addition to flights behind an aerial refueling tanker. To date, the program has achieved over 1,200 flight hours.
According to Falk, flight test objectives for 2019 include shakedown testing for propulsion, handling qualities and flight controls; and airworthiness testing for propulsion, avionics and aeromechanical stability. Other priorities include expanding the aircraft's operating temperature and capabilities envelopes, and shipboard integration.
Sikorsky has delivered two aircraft to the Marine Corps. One is at Marine Corps Air Station New River, North Carolina, for logistics demonstration, "where the maintainers are meticulously taking the aircraft apart and putting it back together," Falk said. The second was delivered in October for ballistics testing at China Lake, California.
The Marines intend to purchase a total of 200 CH-53K helicopters, the successor to the CH-53E Super Stallion. Although visually similar to the E model, the CH-53K is a clean-sheet design that will carry three times as much as the Super Stallion in hot and high conditions.