Blockbuster deals on first day of Heli-Expo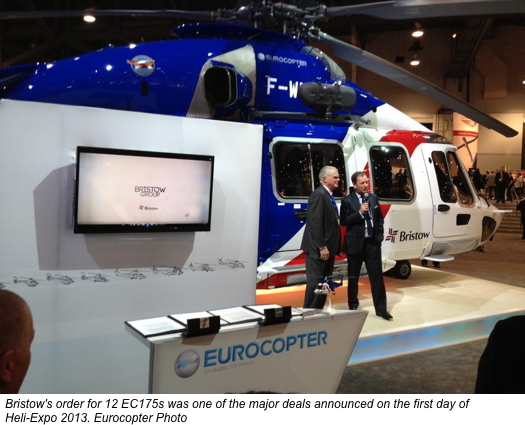 Eurocopter, Sikorsky Aircraft Corp., Milestone Aviation Group and Bristow Group all enjoyed a landmark first day of Heli-Expo 2013 in Las Vegas, Nev., with the manufacturers each signing separate major deals with Milestone and Bristow. The deals involved the stars of the manufacturers' show booths, both of which were appearing in Bristow liveries: Sikorsky's now-publicly unveiled S-76D and Eurocopter's EC175 (during a stop in its North American tour), along with the enduringly popular Sikorksy S-92 and Eurocopter EC225. Once again, the ability of the offshore oil-and-gas industry to generate blockbuster numbers was on full display.
Bristow, which has worked in the offshore transport industry for more than 50 years, signed an agreement with Eurocopter for up to 12 of the soon-to-be-certified EC175, and announced an agreement with Sikorsky for up to 26 S-76Ds. Deliveries of the EC175 are expected in 2015, while the S-76Ds are scheduled to begin arriving later this year.
"This agreement represents the S-76D helicopter's introduction into operations in the Gulf of Mexico and other international arenas later this year, and it also further strengthens the more than 40-year relationship between the Bristow Group and Sikorsky Aircraft," said Sikorsky president Mick Maurer.
Bristow Group president and chief executive officer Bill Chiles said the S-76Ds will join Bristow's worldwide fleet of more than 500 aircraft. "Without question, the intensive offshore oil and gas transportation mission requires a reliable aircraft that is ready to work an aggressive schedule and the S-76 has continuously proven itself in that role."
Eurocopter president and CEO Lutz Bertling said the EC175 order represented "another important endorsement," for the EC175, which last year validated improved performance figures of a recommended cruise speed of 150 knots and maximum cruise speed in excess of 165 knots.
Chiles said the new-generation helicopter provides significant capabilities with its 16-seat configuration. "Bristow has followed the development of the EC175 closely since we signed a memorandum of understanding in 2008, and are now excited to confirm the addition of this aircraft type into our global fleet."
Milestone, the helicopter leasing company, placed orders with Eurocopter for 14 EC225s (in addition to the 16 EC225s the company ordered last year), as well as for five EC175s; and then announced an agreement with Sikorsky for 23 S-92s and seven S-76Ds, with options for an additional 14 S-92s and 10 S-76Ds. The new deal with Eurocopter brings Milestone's total EC225 order book value to more than $891 million (€675 million), while the list price of the EC175 acquisition is about $92 million (€70 million).
"Despite the current challenges the [EC225] is facing, we are confident that Eurocopter and the EC225 will overcome them," said Milestone chairman and co-founder Richard Santulli. "This helicopter is a fantastic asset that will be a mainstay of the offshore oil-and-gas and search and rescue markets for decades to come. With the EC175, our customers will benefit from the high-performance, range and payload capabilities of this exciting new aircraft." Regarding the Sikorsky orders, Santulli said he believed there would be a tremendous demand for the machines from operators around the world. "The S-92 and S-76D are both great helicopters and workshorses of the offshore oil and gas industry," he said. Deliveries of the Sikorsky aircraft are scheduled to begin this year and continue through 2017.
"The global appetite for oil continues to drive significant growth in demand for offshore oil helicopters and operators, and no one has fueled the offshore oil helicopter market sector with more financial capital in the last two years than Milestone," said Robert Kokorda, Sikorsky's vice president of sales & marketing.
Founded in 2010, Milestone has more than 79 helicopters leased to date, valued at more than $1 billion.
Eurocopter's Bertling said Milestone's EC175s and EC225s would be configured to the requirements of its operating partners for use in duties such as crew change missions to offshore oil and gas platforms, and search and rescue. "This order further develops our partnership with Milestone and demonstrates the confidence our longstanding partner places in Eurocopter's Super Puma family and our new EC175," said Bertling.
The two companies also signed an innovative agreement for cooperative marketing of Milestone's growing helicopter portfolio, backed by Eurocopter's comprehensive Parts-by-the-Hour (PBH) support services.
Eurocopter said the agreement would enable it to provide its customers and operators commercial access to Milestone's inventory of helicopters with all of the financial benefits that comes with leasing – along with the resources of Eurocopter's PBH program; while Milestone said it would be able to offer its client base with access to the full capabilities of Eurocopter's PBH services coverage.
"Eurocopter is committed to innovation in all aspects of our industry, and this new accord with Milestone marks an important step in meeting the needs of this our partner and its lessees operating Eurocopter aircraft globally," said Fabrice Arfi, Eurocopter's Vice President for Business Development.
The newly-ordered EC175s and EC225s will join Milestone's expanding fleet of 28 Eurocopter-built rotorcraft, currently composed of the EC130, EC135, EC145, EC155 B1, and AS332 L2 types.
"Our new agreement ensures top-level support for Milestone's leasing customers with the comprehensive capabilities of Eurocopter's PBH program, while also preserving the value of our assets through a direct working relationship with the aircraft manufacturer," said Milestone chief operating officer and co-founder Matt Harris.