Bell V-280 Valor prototype achieves ground testing at 100 percent rotor RPM
The Bell V-280 Valor prototype aircraft has successfully achieved ground run testing at 100 percent rotor RPM, Bell has announced.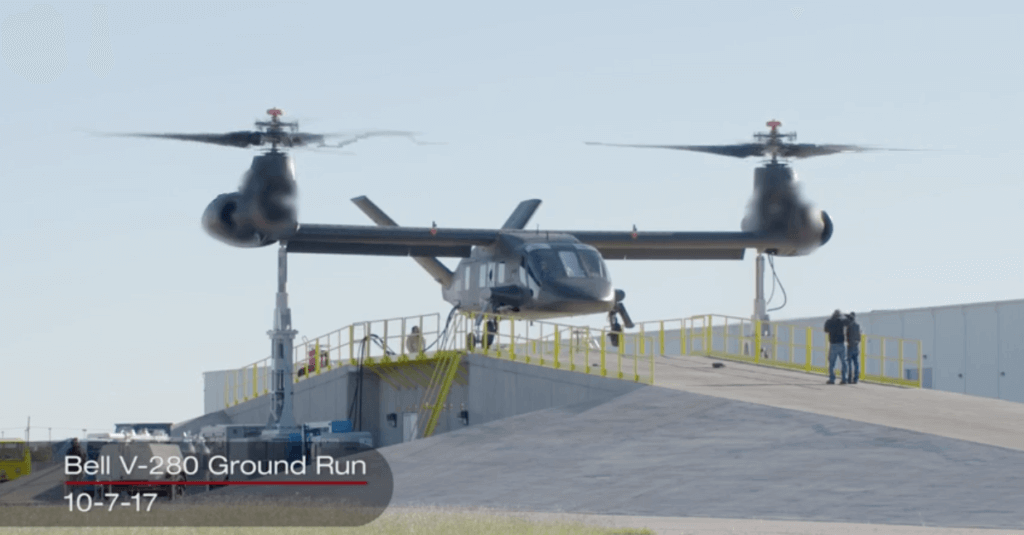 The aircraft will continue ground run testing at the Bell Helicopter Amarillo Assembly Center, where it will undergo a series of functional tests running all aircraft systems and flight controls in preparation for first flight this fall.
The "third-generation" tiltrotor is Bell's submission for the U.S. Army's Joint Multi-Role Technology Demonstrator (JMR-TD) program, a precursor to the Future Vertical Lift (FVL) program to identify a replacement for the service's existing medium-lift helicopter fleet of Sikorsky UH-60 Black Hawks and Boeing AH-64 Apaches.
The Valor will be joined by the Sikorsky-Boeing SB-1 Defiant – a high-speed rigid rotor coaxial rotorcraft based that utilizes Sikorsky's X2 technology – in competition for the program. The Army's requirements for the demonstrator call for hot and high hover performance (at 6,000 feet and 95 F), and the ability to self-deploy 2,100 nautical miles at a speed of at least 230 knots.
Powered by two 5,000-horsepower General Electric T64-GE-419 engines, the V-280 has a triple-redundant fly-by-wire control system, and is designed to carry two pilots, two crew chiefs, and 11 to 14 passengers at a cruise speed of 280 knots and a combat range of 500 to 800 nautical miles.