Bell completes build of V-280 Valor prototype
Bell Helicopter has completed the build process on the prototype V-280 Valor, and the program team is now preparing for initial ground run at its Amarillo Assembly Center in Texas, the company has announced.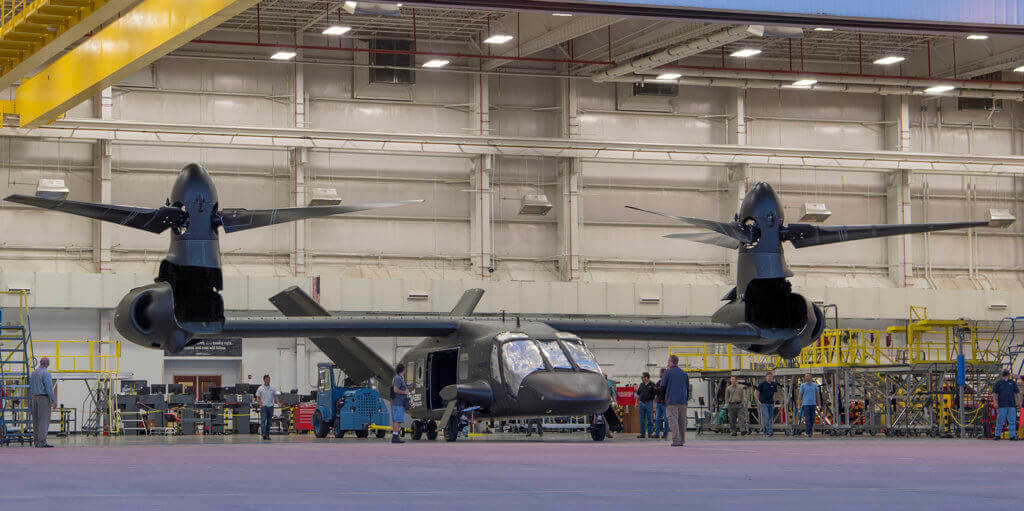 The "third-generation" tiltrotor is Bell's submission for the U.S. Army's Joint Multi-Role Technology Demonstrator (JMR-TD) program, a precursor to the Future Vertical Lift (FVL) program to identify a replacement for the service's existing medium-lift helicopter fleet of Sikorsky UH-60 Black Hawks and Boeing AH-64 Apaches.
The Valor will be joined by the Sikorsky-Boeing SB-1 Defiant – a high-speed rigid rotor coaxial rotorcraft based that utilizes Sikorsky's X2 technology – in competition for the program. The Army's requirements for the demonstrator call for hot and high hover performance (at 6,000 feet and 95 F), and the ability to self-deploy 2,100 nautical miles at a speed of at least 230 knots.
Powered by two 5,000-horsepower General Electric T64-GE-419 engines, the V-280 has a triple-redundant fly-by-wire control system, and is designed to carry two pilots, two crew chiefs, and 11 to 14 passengers at a cruise speed of 280 knots and a combat range of 500 to 800 nautical miles.
"This is a clean sheet tiltrotor, applying lessons learned from previous generations of tiltrotor to create groundbreaking simplicity and deliver transformational, affordable technology to alter the course of vertical flight," Bell stated in a media alert announcing the completion of the build process. "We remain focused on providing exceptional flexibility in an advanced aircraft with reduced weight, complexity, and cost that offers the military with unmatched range, speed and payload capabilities on the battlefield."
Bell said it will release further updates on the program shortly, with the prototype scheduled for a first flight this fall.