Bell 407, 429 & 412EPI receive expanded performance approvals
Three popular Bell types have received certification for expanded performance specifications from various regulatory authorities, the manufacturer has revealed.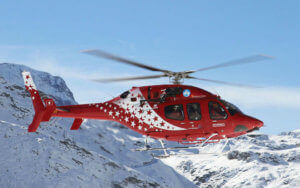 Among the approvals is Federal Aviation Administration (FAA) and Transport Canada certification of the light twin Bell 429 at an external gross weight of 8,000 pounds (3,629 kg) — an increase of 500 lb. (226 kg) from the previously-certified figure of 7,500 lb. (3402 kg). Bell said it expects the European Aviation Safety Agency (EASA) to validate the certification approved by the TCCA, but did not provide a timeframe for the validation.
The FAA approval does not, however, affect the regulator's long-standing position against Bell's request to increase the 429's maximum gross weight in the United States from 7,000 to 7,500 pounds. The newly-announced expansion only impacts the external gross weight.
Transport Canada approved the maximum gross weight increase for the Bell 429 in January 2012, and this was followed by approvals from regulatory agencies around the world. The FAA, however, ruled that granting the increase — which required an exemption from section 27.1 (a) of the Code of Federal Regulations — would give the Bell 429 a competitive advantage.
Bell also announced that the Bell 412EPI has received FAA certification at an increased internal and external gross weight up to 12,200 lb. (5534 kg) — up from 11,900 lb. (5,398 kg).
Finally, Transport Canada has certified a weight increase for the Bell 407 cargo hook, from 2,646 lb. (1,200 kg) to 3,100 lb. (1,406 kg).