Air task force breaks from Op Nanook to rescue kayakers
Two Bell CH-146 Griffon helicopters rescued three American kayakers on the morning of Tuesday, Aug. 30, after the trio mistook the Wheaton River for the Watson River in the Yukon and wound up far from their vehicle.
The three experienced paddlers from Skagway, Alaska, told CBC they "got turned around" on the wrong river from the one they had intended to kayak and spent a night on high ground near the banks of the Wheaton, about 60 kilometers south of Whitehorse.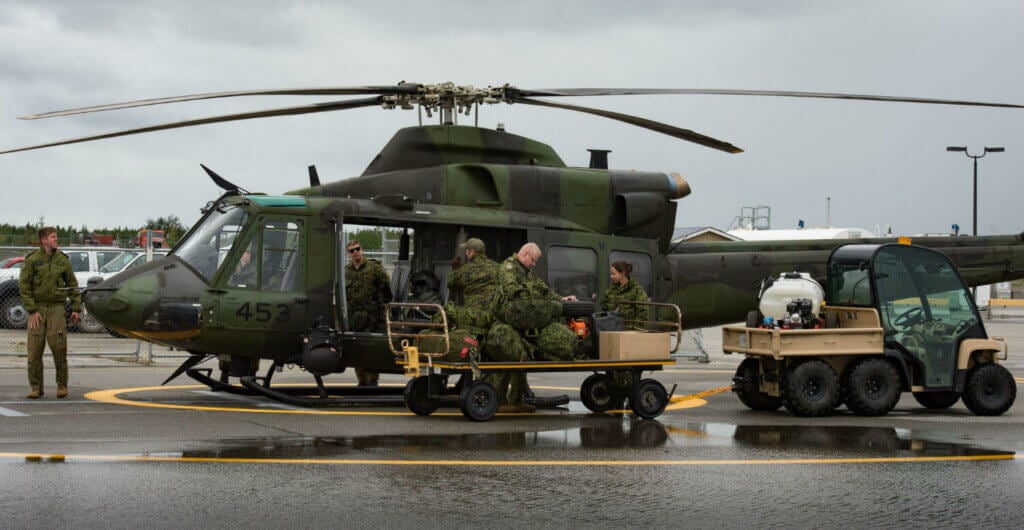 Royal Canadian Mounted Police (RCMP), private pilots and volunteers from Yukon Search and Rescue searched the banks of both rivers for as long as possible on Monday, before requesting the assistance of the Canadian Armed Forces.
Normally, the Joint Rescue Coordination Centre (JRCC) in Esquimalt, British Columbia, would have tasked a CC-115 Buffalo aircraft or a CH-149 Cormorant helicopter from 442 Transport and Rescue Squadron at 19 Wing Comox to conduct the search.
But the Griffon aircrews were in Whitehorse participating in Operation Nanook, an annual northern sovereignty exercise conducted by the Canadian Armed Forces, and were able to step outside the exercise and respond.
LCol Martin Pesant, the commander of the air task force on the exercise, said the helicopter aircrews were alerted by the RCMP on Monday night that a request for assistance might be issued, so they were already prepared to take off Tuesday morning when the tasking was received from the JRCC.
"We knew it was probably coming," said Pesant in an interview with Vertical. "Within 11 minutes of receiving that task [at 9 a.m.], we were taking off…and within an hour and 15 minutes they were back on the ramp here."
Though the rescue was outside of Op Nanook, it reflected many of the taskings the two Griffons from 408 Tactical Helicopter Squadron (THS) in Edmonton and two CH-147F Chinooks from 450 THS in Petawawa, Ontario were performing as part of the exercise. Supporting Task Force Nanook, the air task force had been moving emergency responders and equipment; patrolling roads, bridges and infrastructure; and searching for lost civilians as part of a simulated earthquake scenario.
"Rescue is certainly one aspect of it," said Pesant, the commanding officer of 438 THS, an air reserve squadron based in St. Hubert, Quebec. "We [were] moving emergency teams, other government agencies, the RCMP. Within the scenario, we were moving subunits of the militia [reservists] — medics, military police, engineers. It is the scenarios we would do in real life if this actually happened. We would rapidly deploy into the location and use all of our assets to support the government in place."
Op Nanook, which has been held in various locations across the North since 2007, tests the military's ability to project sovereignty across the vast region and interoperate in often difficult conditions with allies, other federal government agencies, provincial and municipal governments, and local first responders.
The two scenarios for Op Nanook 2016, which was to conclude on Friday, involved a whole-of-government response to a simulated earthquake in Whitehorse and Haines Junction, about 150 kilometers to the west; and a combat exercise involving patrols, search-and-rescue, and the retrieval of a lost object in Rankin Inlet, Nunavut.
During the maritime warfare scenario, a CC-138 Twin Otter from Yellowknife provided command and liaison flights while a CP-140 Aurora maritime patrol aircraft from 19 Wing Comox conducted three missions involving intelligence, surveillance and reconnaissance operations and air space control.
As with all large exercises involving aircraft of the Royal Canadian Air Force, the air task force (ATF) is now a key feature of any deployment. An evolving concept in RCAF doctrine, the ATF has its origins in the tactical aviation air task force deployed to Afghanistan.
In both exercise scenarios, the aircraft were placed under the command of the mission task force commanders, but their mission acceptance and launch authority remained in Pesant's hands.
"When a task comes in, we look at it, task that aircraft and, for that specific period of time, it will belong to the [land or maritime] task force commander. But mission acceptance and launch authority remains with me," he said. "I'm also setting the priorities when the task force commander has a long list of tasks for us. I'm trying to glue everything together and make sure we maximize our assets."
Consequently, one of the objectives for the RCAF during Op Nanook was to exercise the air task force's command and control relationships. Pesant said the ATF had a small cell of officers embedded to capture any vital lessons.
"Anytime something didn't work 100 per cent, we captured that so the next time around we improve," he said.