I'm in the right seat of an MBB Bo.105, looking through the windscreen at the ground, which is coming at me fast. My internal terrain alerting system is screaming "pull up, pull up," but I don't — not yet.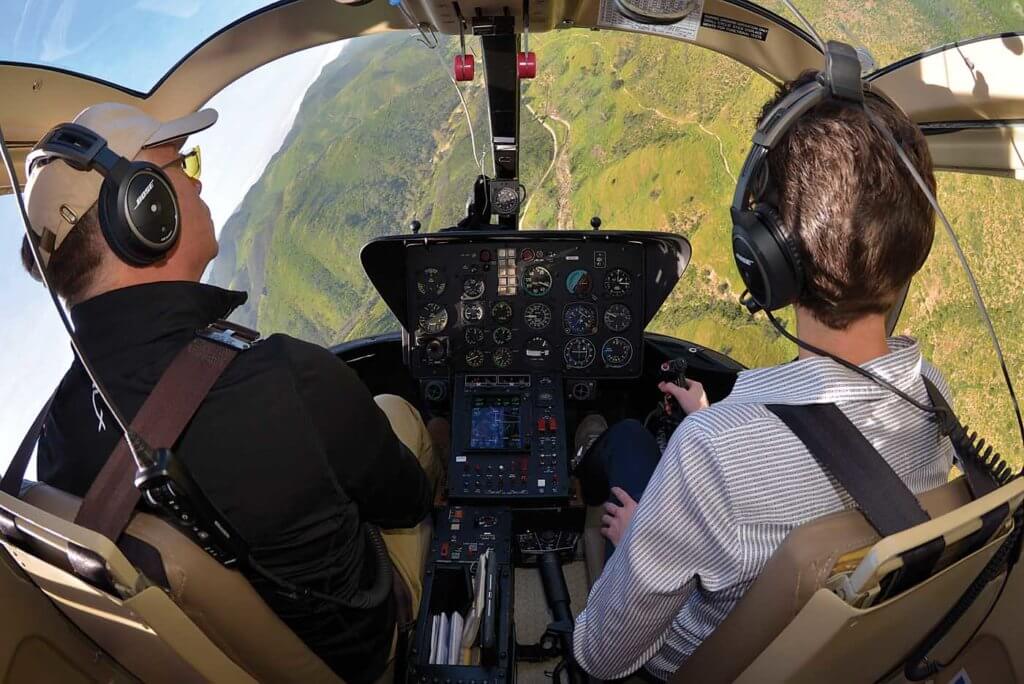 My instructor in the left seat, Kevin Bredenbeck, has advised me to keep the cyclic locked in a neutral position, and because he has more experience as a test pilot than I do, I'm willing to trust him. For a while longer, anyway.
My trust is not misplaced. Our helicopter doesn't continue to plummet toward the ground; instead, like a carnival swing reversing direction, it stops its dive and begins to pitch up. Soon, our nose is pointing toward space and the windscreen is filled with nothing but sky. I'm at the ragged edge of my comfort zone, but I keep the cyclic where it is.
Just when it seems we're about to tip over backwards, the helicopter, continuing its intensifying oscillation, begins to nose over and roll right. Now Bredenbeck tells me, "Recover." A slight left input is all it takes to level the aircraft and regain control, and suddenly, our carnival ride is over.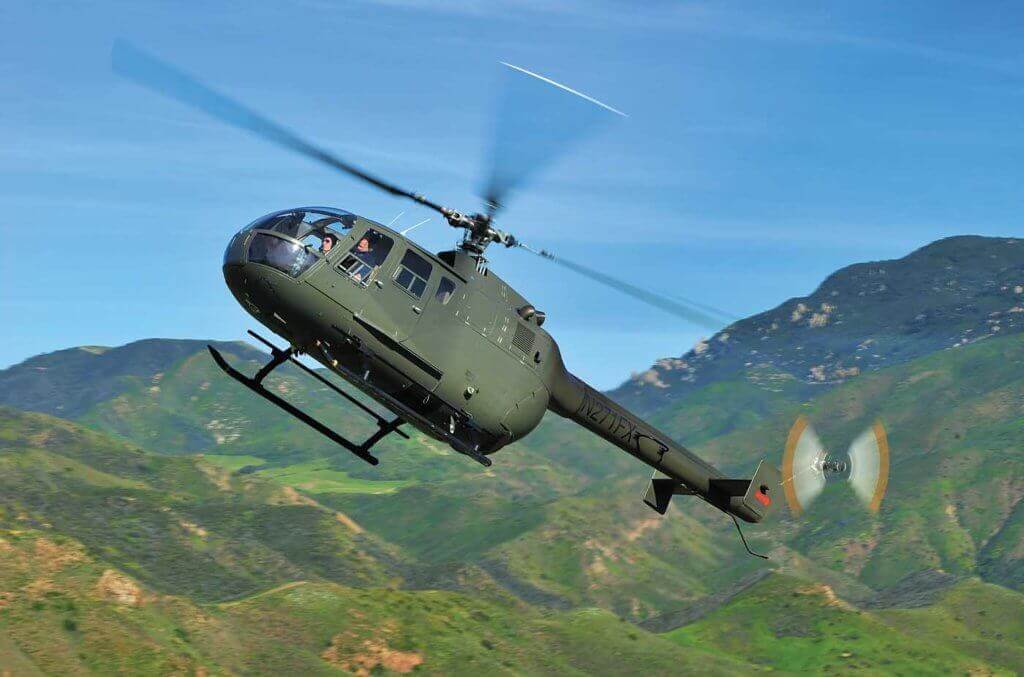 This is Helicopter Dynamic Stability 101, an introduction to what the Bo.105, when left to its own devices, will do when it is disturbed in pitch. Later, I will repeat the exercise while flying on instruments, with my view out the windscreen blocked by a black curtain. The goal is to learn how to regain control of the aircraft with the least amount of effort and g-loading, so that if I do ever lose control while flying at night or in the clouds, I am less likely to make a bad situation worse.
It's a much more nuanced approach to unusual attitude recoveries than the rote mantra of "bank, pitch, power" I learned during my initial helicopter instrument training. And that's the point. With their new Helicopter Upset Recognition and Recovery Training (HURRT) course, Bredenbeck and Chuck Aaron of FX LLC are aiming to redefine how helicopter pilots train for inadvertent entry into instrument meteorological conditions, or IIMC.
Conventional helicopter instrument training teaches pilots to fly their aircraft like an airplane: high, fast, and always in trim. But FX LLC's course also explores control and recovery techniques where many helicopter pilots run into trouble — low and slow, on the back side of the power curve, in configurations that instrument pilots are generally taught to avoid.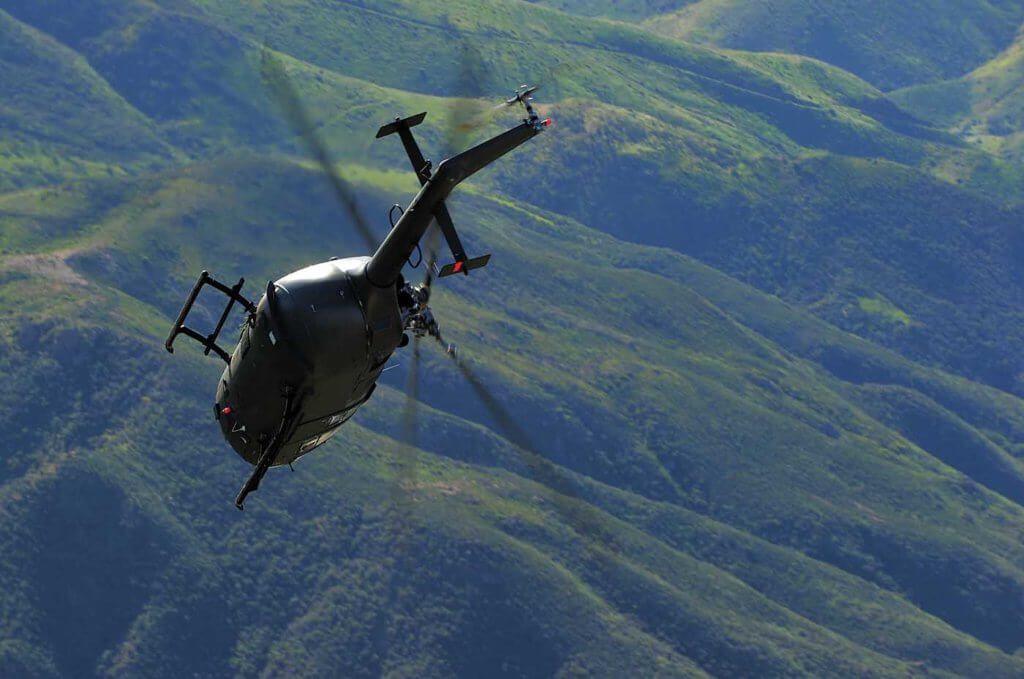 Aaron and Bredenbeck are uniquely qualified to pursue this novel approach. Aaron is a 20,000-hour helicopter pilot who is best known for wowing air show crowds in a Red Bull-branded Bo.105; during the 10 years he spent with Red Bull, he performed more than 250 helicopter aerobatic displays without a single incident or accident. He is a member of the prestigious Society of Experimental Test Pilots (SETP) and has received numerous awards over his 44-year helicopter career, including the Sikorsky Rescue Award, the Art Scholl Showmanship Award, Helicopter Association International's (HAI's) Pilot of the Year Award, and the Living Legends of Aviation Award.
Meanwhile, Bredenbeck, who began his career as a U.S. Army Black Hawk medevac pilot, spent more than two decades as an experimental test pilot with Sikorsky Aircraft before retiring from the company earlier this year. Bredenbeck was at the controls when Sikorsky's groundbreaking X2 technology demonstrator made its first flight in 2008, and again when this compound helicopter reached a blistering 263 knots in 2010. Not surprisingly, Bredenbeck is also an SETP member and has been showered with accolades over his 30-year accident-free career, including the Robert J. Collier Trophy and SETP's Iven C. Kincheloe Award for his work on the X2 program.
Both Aaron and Bredenbeck have made careers out of doing things in helicopters that other people can't — but doing them in a very methodical and disciplined way. That's a philosophy I respect, so when I had an opportunity to take their HURRT course in Camarillo, California, in March, I jumped at it.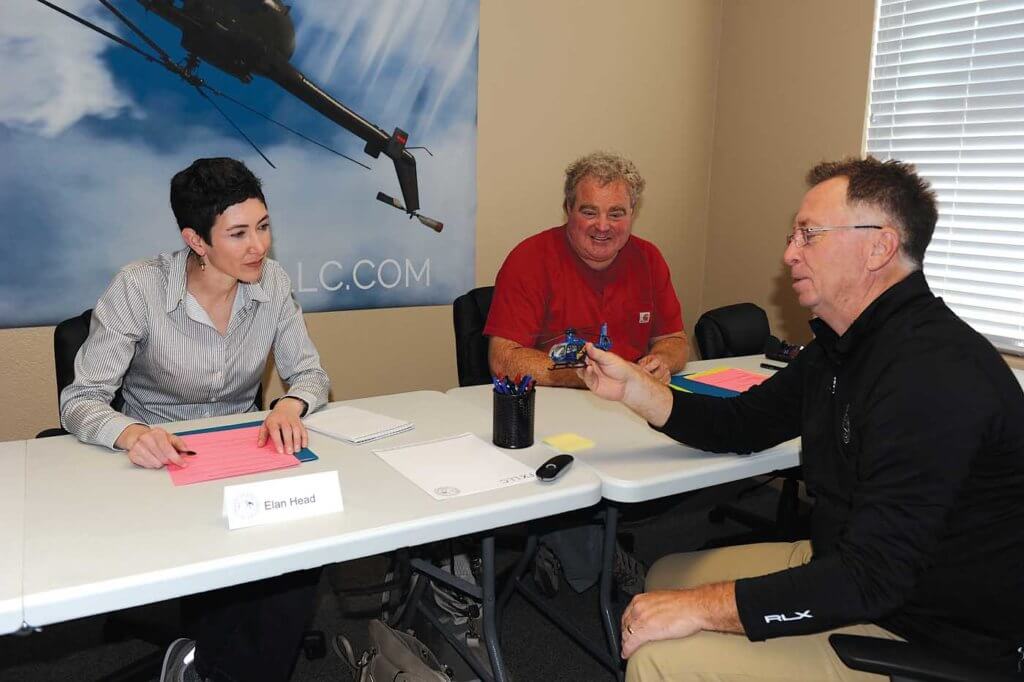 Over three days, I performed maneuvers in the Bo.105 that I had never before attempted in any aircraft or simulator, and certainly not while in instrument flight. I also came to think about standard instrument maneuvers, such as steep turns, in an entirely new way.
Aaron and Bredenbeck believe there is a training gap when it comes to preparing helicopter pilots for IIMC, and after finding some holes in my own knowledge and skills, I'm inclined to agree with them. FX LLC's upset recovery course is not a substitute for comprehensive instrument flight rules (IFR) training or IFR-certified aircraft. But it does give helicopter pilots a powerful set of tools that could someday save their lives.
A New Approach
Chuck Aaron credits Anthony Burson, the chief pilot for United Technologies' flight department and a recent chair of the HAI board of directors, with the idea for the HURRT course. Burson knew that IIMC and weather-related controlled flight into terrain (CFIT) were deadly problems for the helicopter industry — accounting for 248 accidents and 179 fatal accidents between 2001 and 2013, according to a white paper jointly prepared by HAI and other industry associations.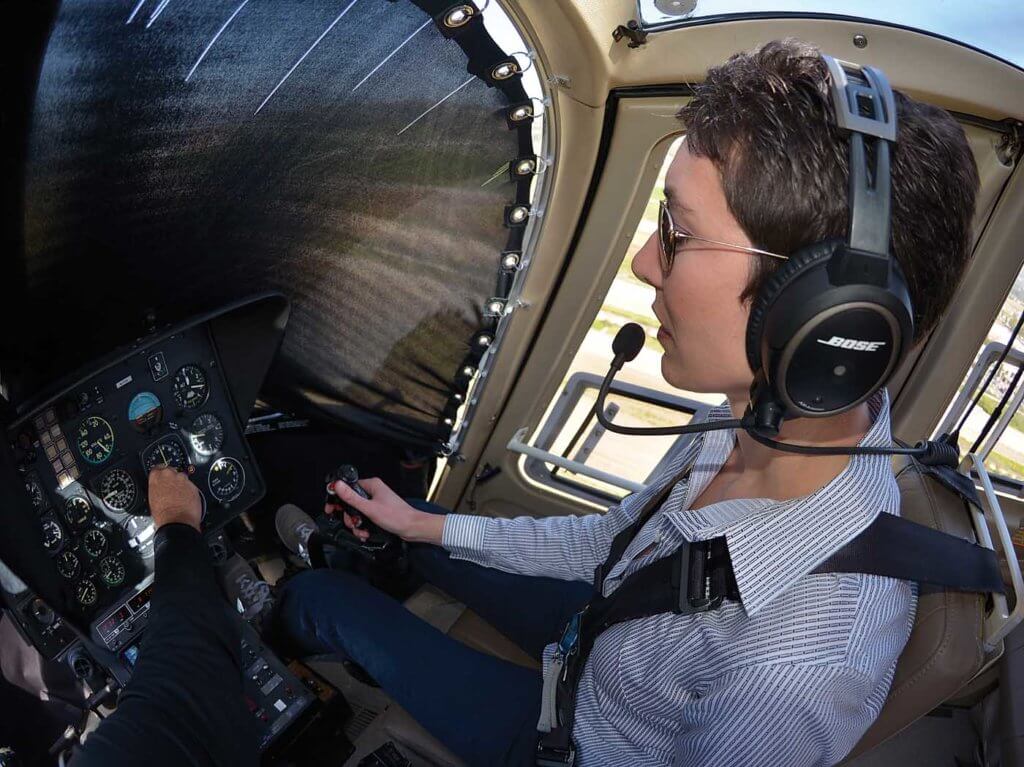 Burson thought that Aaron's aerobatic experience would give him unique insight into upset recovery training, and when Aaron reviewed the research on IIMC accidents, he realized there was a need for it. To help him develop the HURRT course, he reached out to his friend Kevin Bredenbeck, who at the time was working on the S-97 Raider experimental flight test program as Sikorsky's director of test and evaluation.
As they reviewed IIMC and CFIT accident reports, Aaron and Bredenbeck came to believe that conventional approaches to maintaining instrument flight currency — including the regulatory requirement to log six instrument approaches every six months — weren't adequately preparing helicopter pilots for the demands of IIMC.
For one thing, most single-engine helicopters aren't equipped or certified for IFR flight. That means that knowing how to fly a VOR approach may not be much help to pilots of these aircraft when they wander into the soup — as they did with fatal results 133 times between 2001 and 2013. As Bredenbeck put it, "Twelve approaches a year does not make you proficient at the things that everyone is doing wrong."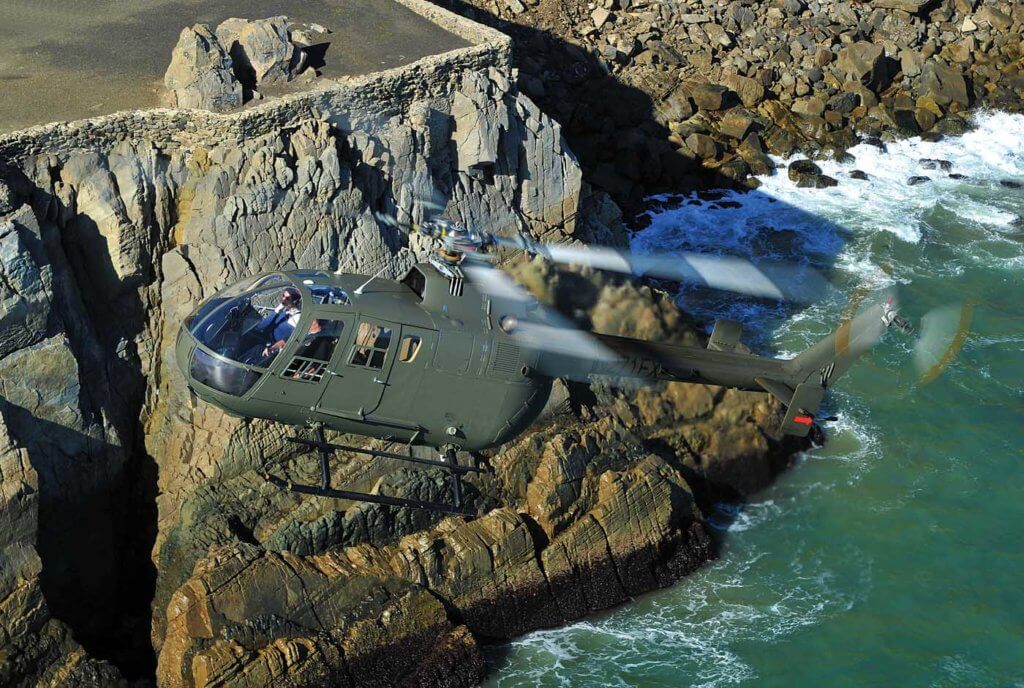 Moreover, while simulators have been praised by many people in the industry for their ability to realistically simulate flight into deteriorating weather conditions, Aaron and Bredenbeck agree that there's one thing simulators can never fully replicate: the stress that comes from flying in a real aircraft, knowing that there's no "pause" button to hit when things go wrong. That's key, because Aaron and Bredenbeck believe strongly that managing acute stress is a pilot's biggest challenge when he or she suddenly loses visual references.
When it came to the "real aircraft" they would use for the course, the Bo.105 was the obvious choice. Not only did Aaron already know it inside and out from his years of flying aerobatics, the model's rigid rotor system and aerobatic capabilities provide a safety margin that is invaluable for a course that is meant to push pilots to their limits. (That said, FX LLC is actively expanding its course offerings, and at press time had just announced that it would be offering training for government customers in a Sikorsky S-70i.)
What was less obvious was how they would simulate instrument flight. After experimenting with different view-limiting devices, they engineered a system that allows a black fabric curtain to be quickly drawn across the right side of the forward windscreen. Along with a center dividing curtain, this effectively obscures the student's view out the front and left side. Meanwhile, the chin bubble windows are covered with blackout curtains that remain in place throughout the flight.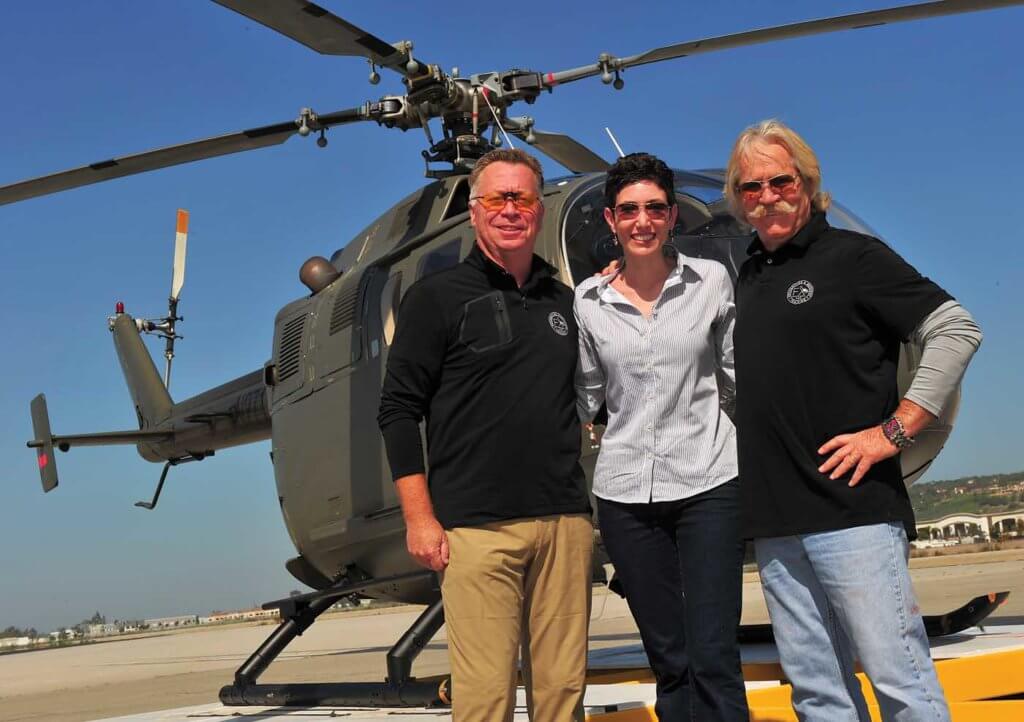 The arrangement is much more effective than the hood or "foggles" typically used for simulated instrument flight training, while still affording adequate visibility to the instructor in the left seat. The aircraft is also equipped with a traffic alerting system for additional situational awareness.
Of course, the real challenge for Aaron and Bredenbeck was designing a curriculum that would effectively impart upset recognition and recovery skills to helicopter pilots of widely varying backgrounds. They spent months developing and refining the maneuvers they would teach, drawing on their collective operational, aerobatic, and test pilot experience.
While the resulting course does put students into some fairly extreme unusual attitudes, that's not really the primary focus of the training. Aaron and Bredenbeck place just as much emphasis on avoiding unusual attitudes as recovering from them — and have plenty to teach students about flying helicopters benignly, as well as at their limits.
Connecting the Dots
This time, I'm riding along in the back seat while my classmate for the FX LLC course, Ed Roski, performs a slow spiraling let-down on instruments around a GPS waypoint just west of Malibu. We're descending from 3,500 feet, and at the rate Roski is going, it will take quite a while. That's fine by me — it's a beautiful day, and I've spotted three whales tracking along the coast toward Point Mugu. Sightseeing in Southern California doesn't get much better.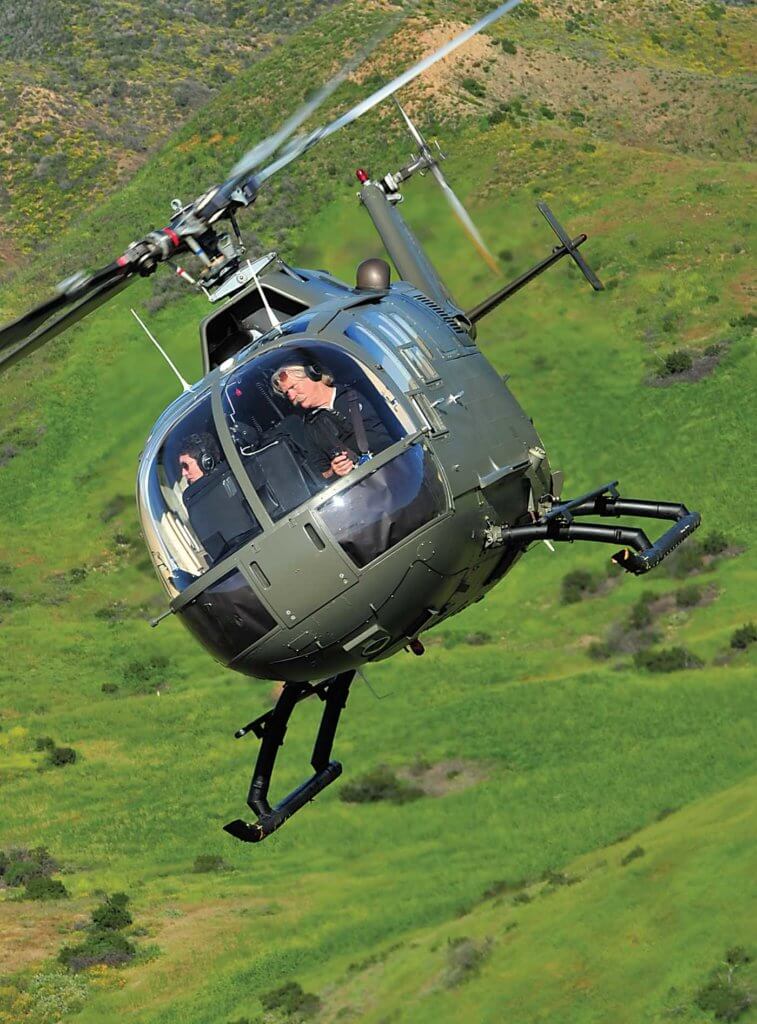 Roski is keeping up a gentle flat turn using mostly pedal input, with just enough bank to help the turn along. I can't think of a single occasion during my time as a helicopter instrument flight instructor when I actually encouraged my students to fly out of trim, but the benefits in this case are obvious — even though Roski doesn't have an instrument rating, he has perfect control of the aircraft, and if he feels that it's getting away from him, all he has to do is ease up on bank.
Compared to performing a coordinated turn, it's a much more stable and comfortable way to descend through the clouds, both for the pilot flying and the passenger in the back seat. And it's a powerful technique to have in your back pocket if you suddenly go IIMC amidst rising terrain, or somewhere where you are unable to descend using an instrument approach.
This is not to suggest that FX LLC recommends these let-downs for every situation. Rather than teaching a formulaic approach to IIMC, Aaron and Bredenbeck want to give pilots tools that they can adapt to their particular situations — and knowledge to guide their application.
Take the question of whether a pilot should attempt an IIMC exit by performing a 180-degree turn. Some pilots and flight instructors advocate always performing such a turn. Others advocate never attempting one, pointing out that a 180-degree turn is much more likely to result in spatial disorientation than committing to IMC. Of course, whether a 180-degree turn is actually a good idea depends on what's in front of the aircraft and what's behind it — factors that are typically much more variable for helicopters operating low-level than they are for airplanes.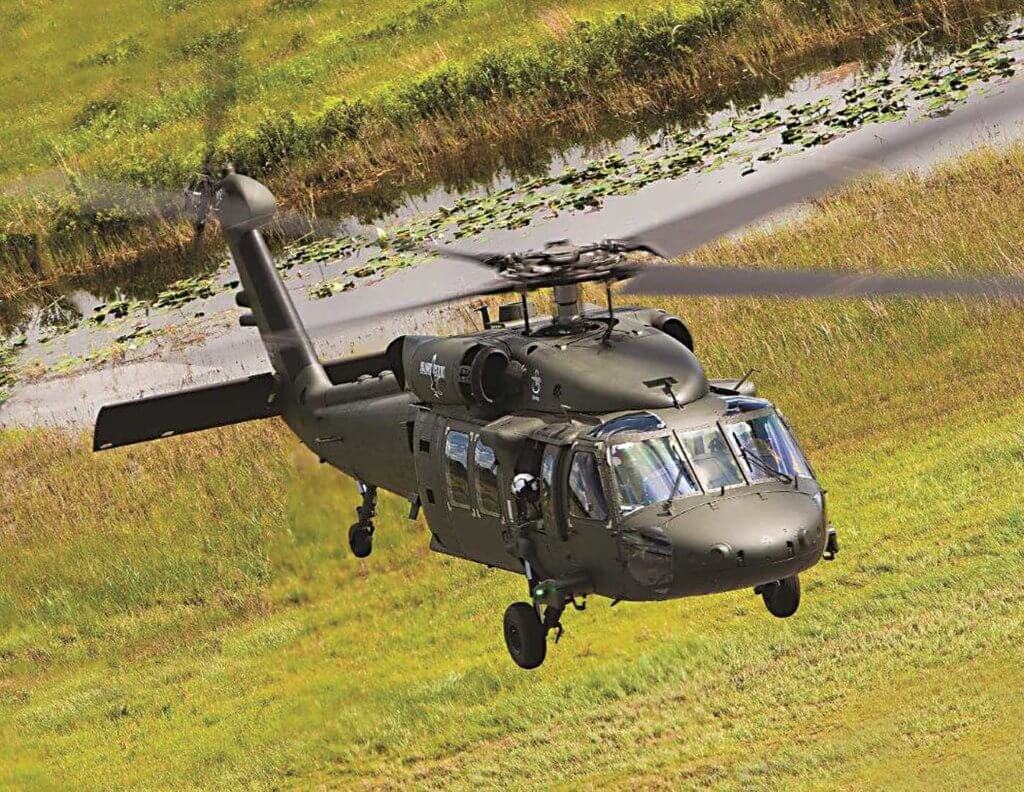 Aaron and Bredenbeck prepare their students for this judgment call not by giving them a rule of thumb, but by giving them practice making 180-degree turns in different configurations. During our flights with Bredenbeck, Roski and I practiced gentle 180-degree turns using only cyclic or only pedal inputs, maneuvers that are easier to perform under stress without losing aircraft control.
We also experimented with controllability in coordinated turns in different directions and at different bank angles, finding that in the Bo.105 — with its counter-clockwise-turning main rotor system — turns to the left are much more stable to higher bank angles than are turns to the right. Bredenbeck encouraged us to repeat this exercise in the helicopters we normally fly, and then ask ourselves: given a choice in IIMC, in which direction would we rather turn?
What was most striking to me about this question was that it had never before occurred to me: not as an instrument student, not as an instrument flight instructor, and not during my occasional instrument proficiency checks. Of course, I had noticed that steep turns on instruments were always more difficult in one direction than they were in the other, depending on the direction of the helicopter's main rotor blade rotation. But my focus had always been on passing a checkride; I had not thought about how to use this observation to improve my odds of surviving an IIMC encounter.
More than anything, FX LLC's training is about connecting those dots — helping pilots understand why their helicopter flies the way it does, and how to work with it, not against it, in an emergency situation. At the end of the course, students won't necessarily be able to nail an ILS approach. But they'll almost certainly know more about themselves and their aircraft, and what to expect from both if they inadvertently fly into the clouds.