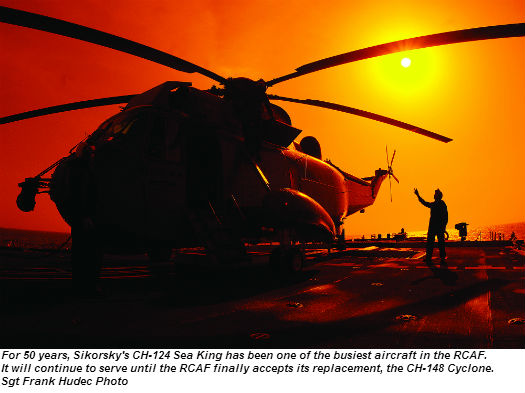 It's business as usual for the Royal Canadian Air Force's (RCAF's) maritime helicopter squadrons. Despite the fact that Sikorsky is working at full speed to fill Canada's delayed order for 28 brand new CH-148 Cyclone maritime helicopters, the community that will operate them isn't dwelling too much on when the "unicorn" — as it is called — will finally come on line.
At 12 Wing Shearwater in Nova Scotia, CH-124 Sea Kings are parked in the five-year-old hangar that was purposebuilt for the Cyclone, right down to the markings painted on the floor. Until the new aircraft arrives, however, maintenance crews from 423 Maritime Helicopter Squadron and 12 Air Maintenance Squadron (AMS) are working wonders with the Sea Kings, keeping the 50-year-old maritime legend airworthy and operationally viable.
Maj Mark Kotzer, senior aircraft engineering officer with 423 Sqn, said the squadron is primarily focused on keeping the Sea Kings in a "full state of readiness" in the event of a helicopter air detachment (HELAIRDET) deployment. The East Coast squadron can field up to three HELAIRDETs at any one time, with each detachment made up of a Sea King plus four pilots, two tactical coordinators (TACCO), and two airborne electronic sensor operators (AES Op), plus 11 technicians. HELAIRDETs operate in support of the Canadian Navy's Halifax-class patrol frigates or Trump-class destroyers.
While deployed on board a ship, a Sea King and its accompanying crew function under naval command. Their sole purpose is to extend the sensor horizon of the vessel, augmenting its surveillance capabilities and broadening its reach. Originally designed for anti-submarine warfare, the Sea King's modern missions are more likely to include domestic and international fisheries patrol, environmental surveillance, drug interdiction, disaster relief and humanitarian operations, and search and rescue.
The pairing of smaller ships with larger helicopters is a system that was pioneered by the Royal Canadian Navy in the mid-1950s. After the first Sea Kings arrived in Shearwater on Aug. 1, 1963, the navy perfected the technique of landing the 20,500-pound craft on small ship decks, using a Canadian invention called the "bear trap" — essentially a winch that hauled the aircraft safely down to the deck in virtually any sea state.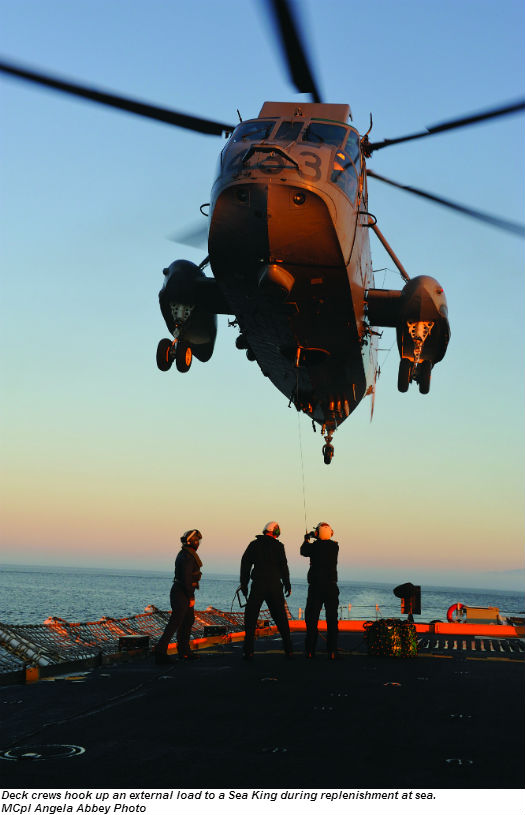 Built to Fly
Those who fly and maintain her say the Sea King was built for demanding maritime missions. Despite being five decades old, there are "no statistics to show maintenance is increasing," said Kotzer. "The more the aircraft fly, the better they do. They don't like to sit on the ground; if it hasn't flown in a week there will likely be problems."
Kotzer is proud of the fact that 423 Sqn hasn't missed a deployment yet. In fact, the Sea King is one of the busiest aircraft in the RCAF, participating in a number of recent missions, including Operation Mobile, the Canadian contribution to the 2011 military intervention in Libya. The helicopter has also played a valuable ongoing role in Operation Artemis, a task force made up of 27 countries fighting terrorism in the Arabian Sea and Indian Ocean. On March 29, 2013, a Sea King deployed with HMCS Toronto assisted in intercepting a boat that was transporting close to $250 million Cdn worth of heroin on the Indian Ocean. Closer to home, it is not uncommon for the helicopters to fly 30 to 35 training flights per week.
In the last fiscal year, 12 Wing aircraft flew a total of 7,800 hours. Surprisingly, the Sea King's serviceability rate has actually improved over the last decade or so, with the advent of techniques such as vibration analysis, which allows maintainers to extend inspections and component life. In Libya, the Sea King based on HMCS Vancouver chalked up an impressive 87 percent serviceability rate, flying 527 hours during the seven and a half months it was based on the ship. That admirable performance is a testament to the determination of the maintenance crews who keep the King flying.
After 50 years on the flightline, Kotzer said that while 423 Sqn's fleet of 12 operational Sea Kings develops technical issues all the time, "there are no shocks at this stage. Nothing has kept it on the ground, or even close to it. These helicopters are averaging 9,000 to 14,000 (airframe) hours. Some (other organizations) are flying Sea Kings with 40,000 hours. So despite being 50 years old, our aircraft are babies in terms of hours."
Either 423 Sqn or 12 AMS performs first and second line maintenance on the Sea Kings. Third line maintenance is done by civilian contractor IMP Aerospace & Defence. Parts are warehoused in the Wing's Sea King supply group and are sourced from a worldwide network of accredited vendors, including IMP, or from aircraft that are no longer flyable. In some cases, parts are custom-made in the 12 AMS machine shop.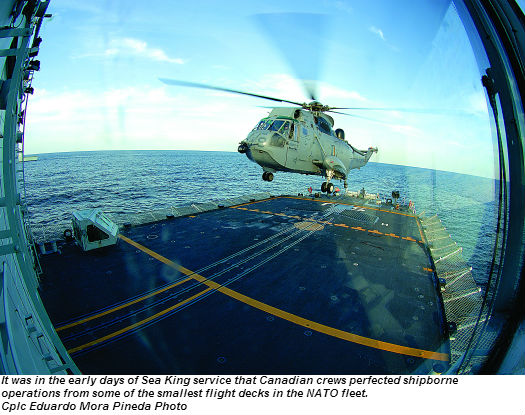 A "Hands-and-Feet" Aircraft
As one 11-year Sea King pilot at 12 Wing told Vertical 911, the Sea King is a solid, robust aircraft, even as it completes half a century of service. "I've had it in some challenging situations, and the aircraft performs as it should. It's just a question of how capable it is in the modern context."
Given its vintage, the Sea King is what pilots call a "hands-and-feet" aircraft, meaning crews actually hand fly the helicopter, in contrast to modern aircraft where pilots are essentially systems managers.
Over the years, the Sea Kings have received "patchwork" improvements that have enabled them to continue making a valuable contribution to international operations. Examples include the addition of night vision imaging systems (NVIS) that allow crews to spot boats at night. A made-at-12 Wing addition is the augmented surface plot (ASP), a laptop computer which marries maritime vessel broadcasted Automatic Information System (AIS) data with map information and radar. Crews can now gather data much faster, with an enhanced ability to track ships. Information can be provided to the Navy by way of a memory stick instead of by voice — the previous method.
It's the same experience over on the West Coast, where six Sea Kings are based at 443 Maritime Helicopter Squadron in Patricia Bay, B.C. Maj Don Philip has been flying the maritime helicopter for 10 years, logging more than 2,500 hours at the controls. He told Vertical 911 that just because technology has changed, that doesn't mean the Sea King has lost its capability. He said the real story behind the maritime helicopter's five decades of proud service is the RCAF's collective spirit of innovation.
"We use what we have, and we maximize it," said Philip. "That's how we overcome the age of the equipment." Over the last decade, that creative approach has allowed Canada's maritime helicopter squadrons to come to the table with an increased list of capabilities. "Because of that, we're being asked to do more," explained Philip. "The missions that we do now have been focused on piracy, drugs, and terrorism. People are realizing our capabilities and realizing that just because the Sea King is 50, that doesn't mean it's dead."
Philip was the air detachment commander on HMCS Vancouver during Operation Mobile. "The main purpose was to maintain a maritime air picture off the coast of Libya; and to make sure, in conjunction with the ships, that the ports remained open," he said. "We assisted with humanitarian evacuation, but mostly we did surveillance."
Lately, Philip added, the Sea King has even been doing some over-land training with the Army. "We're a big helicopter and we can lift a lot. A couple of weeks ago, we supported the Army for their patrol course. We were using Sea Kings with (Bell CH-146) Griffons to transport Army personnel."
He said crews make allowances for the Sea King's advancing age. "It's a 50-year-old aircraft now, and we've adapted to its maintenance schedule. We make do. At sea in Libya, we kept tech teams informed about what the operations were about, so they could focus their attention on what equipment was necessary for that mission."
MCpl Nick D'Anjou was with Philip in Libya. His maintenance crews kept the helicopter in a flyable state. "We had to make sure that every time they came back with a little snag, we investigated quickly in between those flights, to make sure we found the problem and resolved it to keep the aircraft flyable," he said.
D'Anjou said the Sea King is old, but it's like anything mechanical. With vigilant maintenance, it will continue to be a good, flyable aircraft. "We're still finishing our missions and keeping up our percentage of flying hours."
When asked to comment on the public perception that the Sea King is way past its prime and no longer capable, Philip said that is a misconception. "We can do the job that other nations do; we just do it with 50-year-old aircraft.
"Flying a military aircraft, no matter which one, is inherently dangerous," he continued. "The maintenance team members are miracle workers because they do the maintenance in order for us to keep up the same operational tempo, and they are meeting those demands. So, if a Sea King lands in a grocery store parking lot once in its 50-year life, let's compare that to our serviceability rate and the number of hours we fly in a year. It's amazing what we can do."
Philip was referring to a November 2012 incident where a Sea King from 423 Sqn had to execute a precautionary landing in a Bedford, N.S., parking lot due to a primary hydraulic system failure. No one was hurt. Unfortunately for the Sea King, though, incidents like these do tarnish its reputation in the eyes of the public. In contrast, much of the good work done by 423 and 443 Sqns takes place at sea, far from the eye of the mainstream media, therefore going unnoticed.
"We're maintaining our missions; we have hardworking people here and we enjoy our jobs," said Philip. "Canada should be proud of what we bring to the table, and what we've done over the life of the Sea King."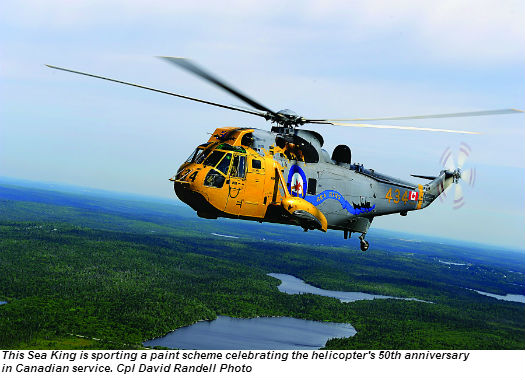 Changing Course
In an emergency situation like the one described above, a successful outcome depends on good training. 406 Maritime Operational Training Squadron (MOTS), located at 12 Wing Shearwater, handles all basic training for the Sea King helicopter, for not only pilots, but TACCOs and AES Ops, too. The squadron also provides courses for maintenance technicians, with between 200 and 300 students graduated from a 406 MOTS course annually.
The Sea King community's spirit of innovation lives on here, too, where low-cost but effective training aids have been developed in-house, and an operational flight and tactics trainer dating back to the early days of the Sea King is kept in service for crew training.
LCol Claude Desgagne is the commanding officer of the training squadron. He told Vertical 911 that students have been trained to perform different missions over the years. "During the Cold War, the perceived threat was different," he explained. "It used to be anti-submarine warfare; our job was to stop them from taking over the Atlantic. After the wall came down, missions became more regional. We started to do more UN-sanctioned support to embargo operations, looking for folks smuggling illegal weaponry. At the same time, the role shifted from below-surface to above-surface warfare — but you still knew who the enemy was."
Today, things are different in the war against terrorism and anti-piracy. "The aircraft itself, and what we do with it, is an enabler that allows us to gather information for our allies. And as for search and rescue, it is ongoing… we always support that. If the (CH-149) Cormorants have fleet issues, we step up to the plate and take that mission as a primary role," said Desgagne.
Despite the fact that the Cyclone procurement is underway, Desgagne, like most folks at Shearwater and Pat Bay, is focusing on the Sea King, and only the Sea King. "Eventually, they will tell me to switch over to Cyclone training," he said. "Because our numbers are small, the last thing you want to do is be training two fleets simultaneously. You want that transition to be short and relatively seamless. So Sea King training will taper off rapidly, and the Cyclone will ramp up rapidly."
The new Cyclones will also be crewed by two pilots, a TACCO, and an AES Op. But Desgagne said training will be more focused on information analysis and decision-making, as those skills will be much more pronounced in the new aircraft.
However, until the "unicorn" arrives on the flight line — at some nebulous point in the future — the Sea King will continue to reign supreme in Canada's maritime helicopter community. Half a century later, it is still at the pointy end of the Air Force sword, its capabilities sharpened by the innovation and dedication of those who fly and maintain it in a state of perpetual operational readiness.