The Finnish way: Sim training at Coptersafety
It was Mikko Dahlman's own experience in flight simulators that would ultimately prove to be the inception of Coptersafety, the helicopter flight training company that he leads as CEO. His subsequent experience flying Airbus Bo.105s, EC135s, and the H145 over 20 years as a helicopter air ambulance pilot in the demanding conditions of Finland crystalized his thinking.
"During my own training, it was clear that there could be a better way [of using simulators]," Dahlman told Vertical during a visit to Coptersafety's facility in Vantaa, near Helsinki, Finland. "But most important was to train the correct attitude to safety from the beginning. The aim of the company is to make the industry safer through better training."
This mindset has clearly resonated in all corners of the industry. Since its foundation in 2011, Coptersafety has secured contracts with major players in all sectors and is now one of the fastest growing training providers globally.
In contrast to many of its larger competitors, Coptersafety's race to success was run from a standing start, without the luxury of buying an existing facility or having an extant customer base.
Aware of an empty slot opening up in national carrier Finnair's simulator facility, Dahlman acquired a CAE Series 3000 unit to simulate the AW139 with Phase 5 avionics, and certified at EASA Level C. The choice of aircraft proved shrewd, coming at the start of a succession of sales for the type around the world.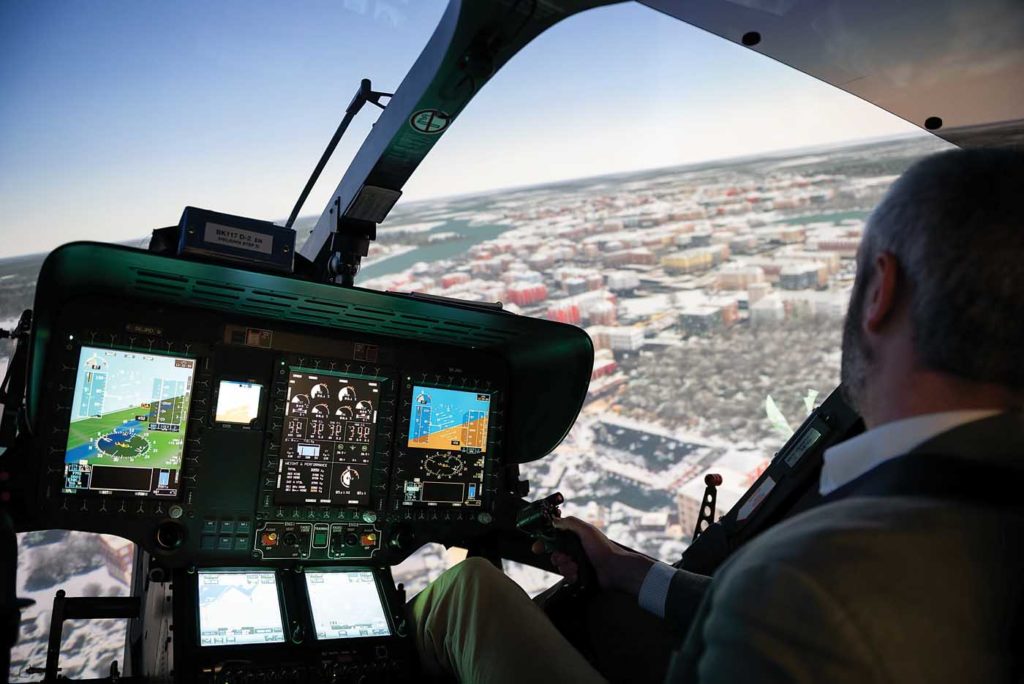 With fresh investment coming on the back of its continued success, Coptersafety moved into a new, custom-built facility next door to its former Finnair premises in 2017.
From the ground up
Keen to capitalize on the opportunity, Coptersafety designed its new facility around the company philosophy of a holistic approach to training, encompassing all of the activities prior to flight, and many more on the periphery. The attention to detail in the building architecture means that student pilots are taken from the reception area to the recreation spaces, and the route to the sim has a natural direction, through teaching, studying, briefing and flight-preparation areas. This elimination of a need to "shuttle" between different areas was designed specifically to reduce cognitive dissonance and increase focus, but also reduces the likelihood of distraction to the student or instructor from administrative tasks immediately prior to entering the simulator. Reducing stress was also a key design consideration, and of course this being Finland, there is a sauna built in to the recreation area.
The facility was also clearly planned with confidence about future expansion. The sim hall has room for six simulator bases, and at the time of Vertical's visit was home to three of Coptersafety's operational units, as well as part of its latest H125 simulator, which was then under construction. There are also foundations in place to extend the building by two more simulator bays.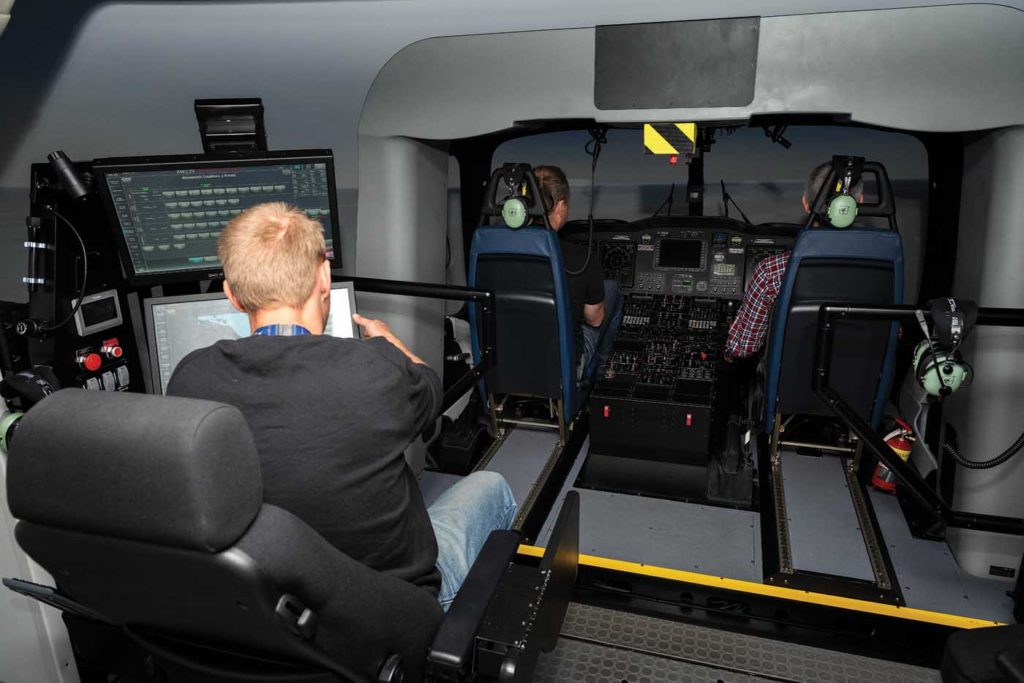 In the center of the sim hall sits a well-appointed gymnasium, which seemed a little out of place until the company's concept on pilot performance was explained by its in-house aviation physiotherapist, Sampsa Kautto — whose passion and enthusiasm were apparently boundless.
The fact that helicopter pilots experience a great deal of vibration and typically have poor posture will come as a surprise to few, but Kautto is determined that a little knowledge delivered early enough can reduce the negative health effects of flying, along with the costs in terms of the individual's healthcare and the operator's recruiting budget.
Placing the gym in the sim hall reinforces its importance as part of the working environment, and encourages students to treat their physical preparation with the same attention as they do their flying. Each newly type-qualified pilot leaves Coptersafety with an app detailing various exercise regimes that can be done in the typical helicopter operating environment, or even in the aircraft.
"The helicopter is a demanding mental environment, but it is also very demanding physically," Kautto explained to me after demonstrating some neck-strengthening exercises that can be done while still in the aircraft. "Pilots prepare themselves mentally before every flight. We encourage them to also prepare their body."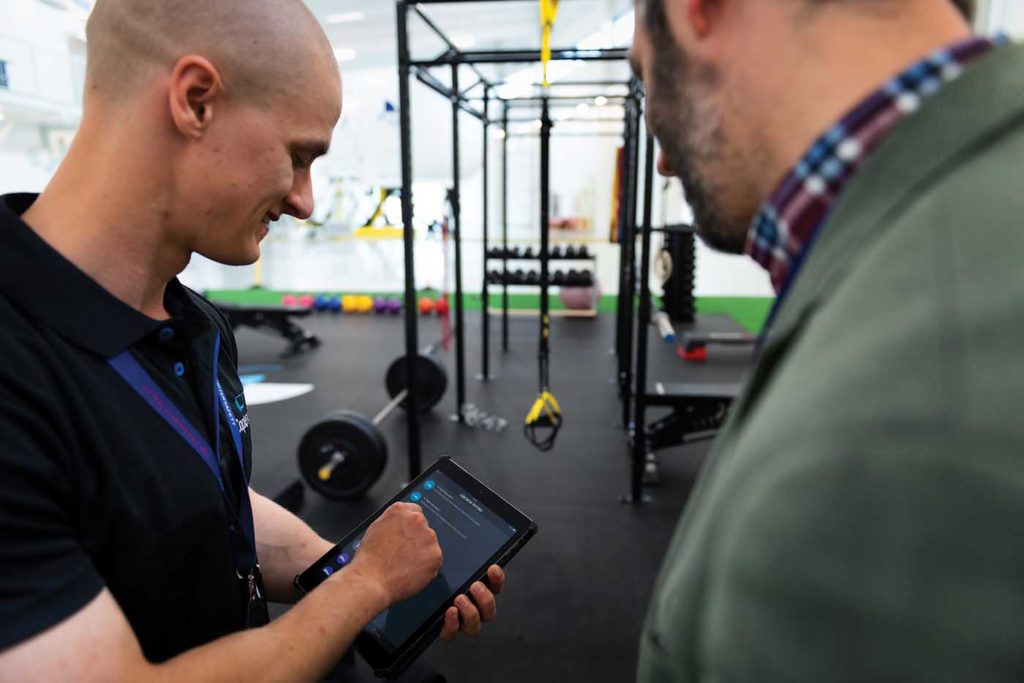 This all-encompassing and highly integrated approach is reflected in the relationship that Coptersafety fosters with its customers.
"Our aim was always to improve safety in the industry," Dahlman said. "By training the pilots — but also the operators — in safe practices, we can improve both [the] safety and efficiency of their operations."
From tiny acorns
As a company growing from humble beginnings, Coptersafety's ability to be flexible in training approaches was a strength that it wished to capitalize on from the start, but as sales director Hannu Marjoniemi explained, this also involved something of a mindset change for some of their customers. "When we first met customers, they would often ask about the standard program, and I would reply that we didn't have a standard program – we could tailor it to their specifications. Some customers were not used to this approach and we learned that it takes time to build a customer's trust in your capability, and of course that's understandable."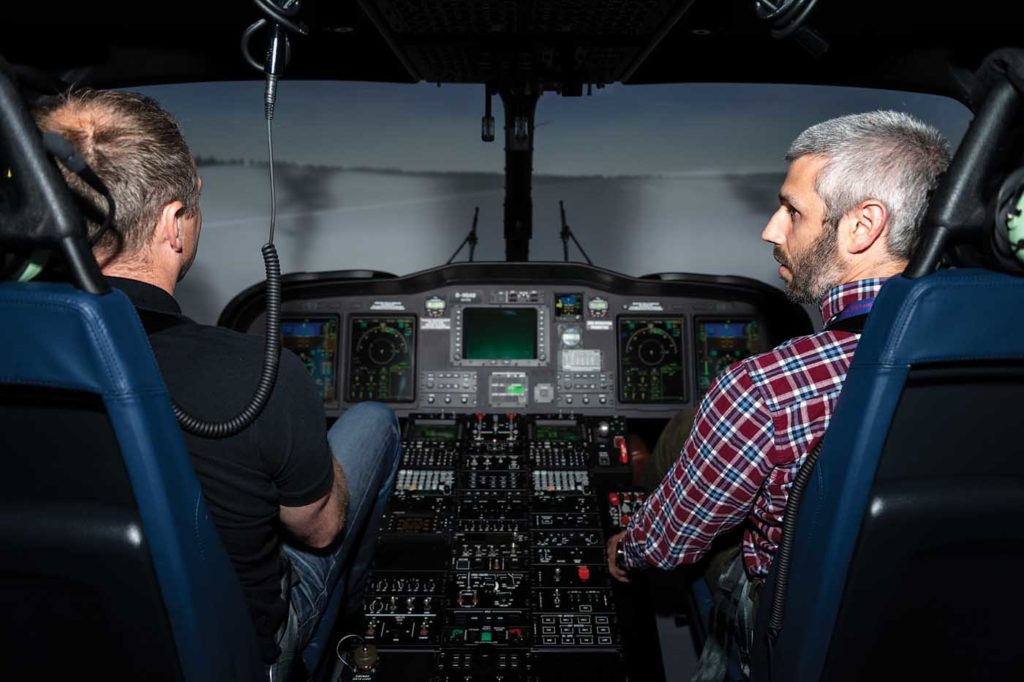 The ability to customize the customer's training regime is clearly considered core to the company's offer, as it has been built into Coptersafety's new facility, with its selection of the TRU Simulation and Training Odyssey H Level D platform that supports cockpit modules that can be swapped out in a matter of hours. With integration by now a familiar theme, it was no surprise to find TRU engineers on site to perform routine maintenance and rectification where necessary, yielding a 99 percent serviceability rate.
Currently installed modules include an H145 with Helionix Step 2 avionics (the first simulator in the world to be so equipped), as well as an AW139 with Phase 7 avionics, most of which are common components with the aircraft rather than emulations.
These modules incorporate direct projection from a Rockwell Collins EP-8100 image generation system, which delivers a 240×80-degree field of view, 4k resolution image through 11 Barco projectors that can simultaneously project a visible and night vision imaging system (NVIS)-compatible image, bringing
the maximum training fidelity.
This system allows Coptersafety to offer a completely bespoke scenery and scenario generation service that is once again
carried out in-house by a Coptersafety team. Visual modelling expert Markus Vuorinen demonstrated the scenery generation system, in which the generic world map was overlaid first with a custom geographic mesh that included accurate ground features such as water features and woodland. After that, custom 3D-modelled buildings and objects are added, bringing even greater fidelity to areas such as landing sites and airfields.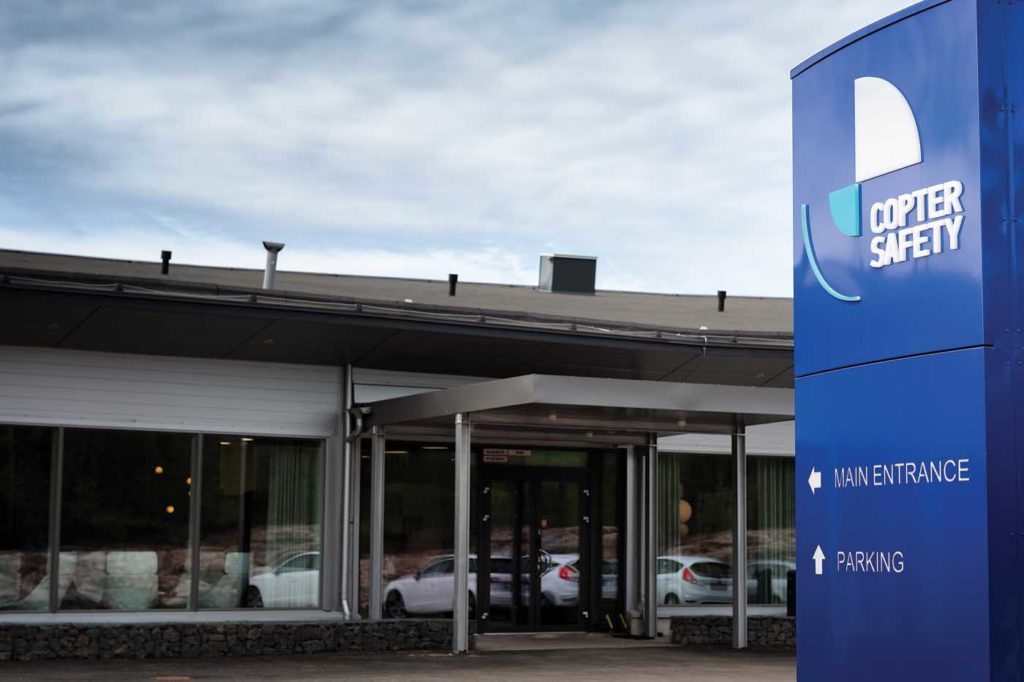 "A lot of our customers want to fly in their own environment, so they can do their OPCs [operational procedures checks] and use the procedures that are specific to their operating environment," said Christiaan Schlepers, chief theoretical knowledge instructor and type rating instructor and examiner on the AW139.
This was demonstrated later when accompanying a crew in the H145 simulator who were training to operate from a specific landing site that has vertical obstructions in the immediate vicinity. Careful consideration, planning and briefing were clearly necessary to ensure a safe approach or departure.
Change of scenery
Having scenery databases that closely match their customers' own operating locations also allows Coptersafety staff to design scenarios that mirror those most likely to be seen by customer pilots — or those that will pose the greatest threat in their specific locale. Training exclusively within the customers' expertise is not always desirable though, as Schlepers explained. "It's possible with in-house training to only see your own viewpoint, so while sometimes customers need specialized training, they can also learn a lot from looking at situations from other operational perspectives," he said.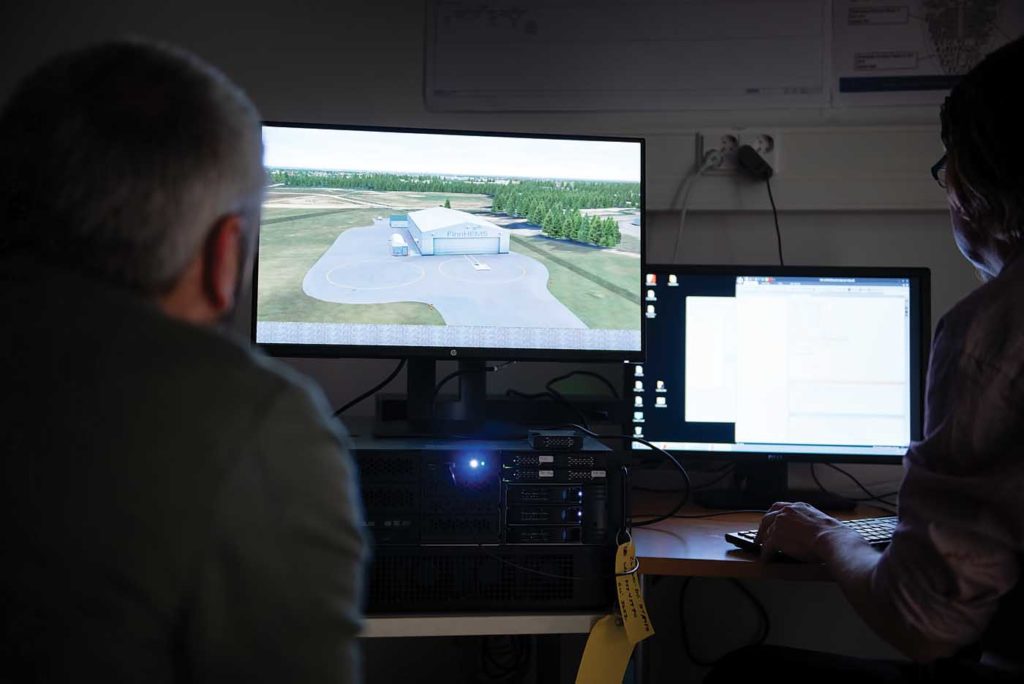 Those other perspectives are offered by Coptersafety's extensive network of instructors, spanning every sector. They are all required to be current operators with commercial or state organizations.
Scenarios presented to trainees will therefore have been vetted by instructors well acquainted with the subject operation, and account for the applicable regulations. The company also provides evidence-based training, drawing data from various operators globally and from the customer's own safety management system, which in some cases Coptersafety has helped implement. These data are then used to produce a training matrix on a three-year cycle.
Having been given the opportunity to see some scenarios in action and to fly both the AW139 and H145 simulators, there is obvious appeal for both evidence-based training and a customized terrain to suit an individual operator. Smaller VIP charter operations can draw from a much wider pool of knowledge than their own, with external scrutiny of their procedures likely to bring more efficiencies as well as increased safety. Likewise, larger commercial operations will benefit from the ability to gain insights from outside their own field and avoid "group-think."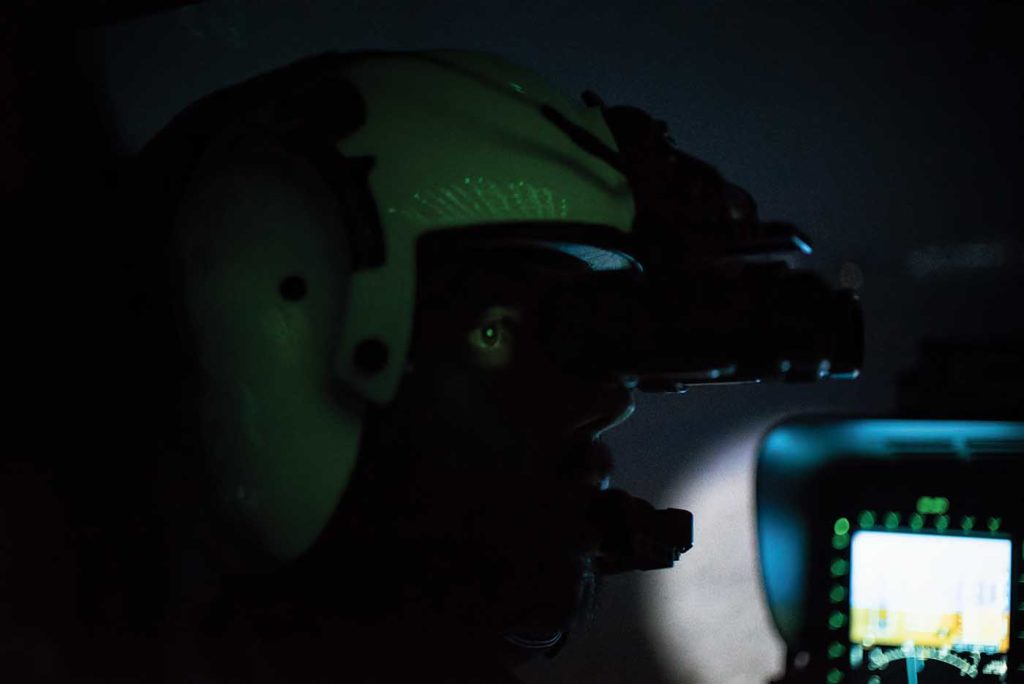 Particularly impressive among Coptersafety's portfolio is its capability to deliver realistic and challenging NVIS training. Those with plenty of "goggle time" will recognize the paradox; the limits for live training are often so restrictive that they fail to provide lessons applicable to operational minima. While simulator training is recognized as providing high value in this arena, this is often offset by the difficulty in getting NVIS equipment to the simulator — particularly if it involves crossing national borders, as many systems are subject to ITAR controls (or at the very least are problematic at check-in).
Coptersafety's solution is the in-house provision of ITT AN/AVS-9 goggles and Gentex helmets so that customers are spared the inconvenience and cost of having to bring their own. While a seemingly simple answer, it shows the company's confidence that it can provide a return on the investment in time and money that such a facility must have incurred.
Forward visibility
Investing in its future success is not something that Coptersafety seems nervous about, and given its already enviable reputation, this is understandable. There are plans for two further Odyssey H bases that will house AW169 and AW189 modules, and its latest simulator was under construction at the time of Vertical's visit. This will be an H125 module, with the company having identified single-engine commercial operations as a sector that is currently not well supported by synthetic training.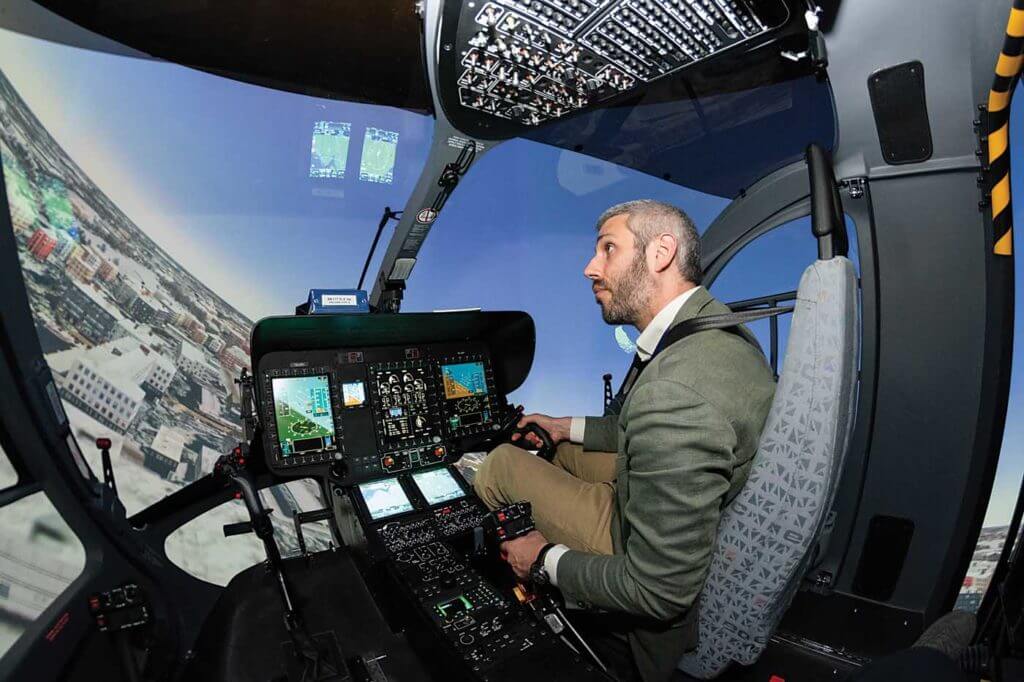 Given the H125's ubiquity, this facility is likely to be very popular, not least with European alpine operators with whom the H125 is a popular workhorse that is much in demand. With a shortage of high-fidelity simulators, training in these roles often requires an aircraft that could otherwise be employed on a revenue task. Moreover, many malfunctions are almost impossible to realistically portray in the aircraft.
Further ahead, Coptersafety is hoping to help pioneer predictive training — using usage monitoring systems and other cockpit monitoring tools to generate data, from which a machine learning algorithm could be trained to predict the most likely failure modes or incidents. However, this long-term goal will require a change in mindset not only among a pilot fraternity that is instinctively suspicious of "Big Brother" cockpit monitoring systems and routine post-factum analysis of their decisions, but also among operators who are used to seeing retrospective data supporting their training delivery decisions.
That said, Coptersafety has already proven willing to approach old problems with new ideas, embracing the cultural shift required to advance its own philosophies of integration and individualization of its product.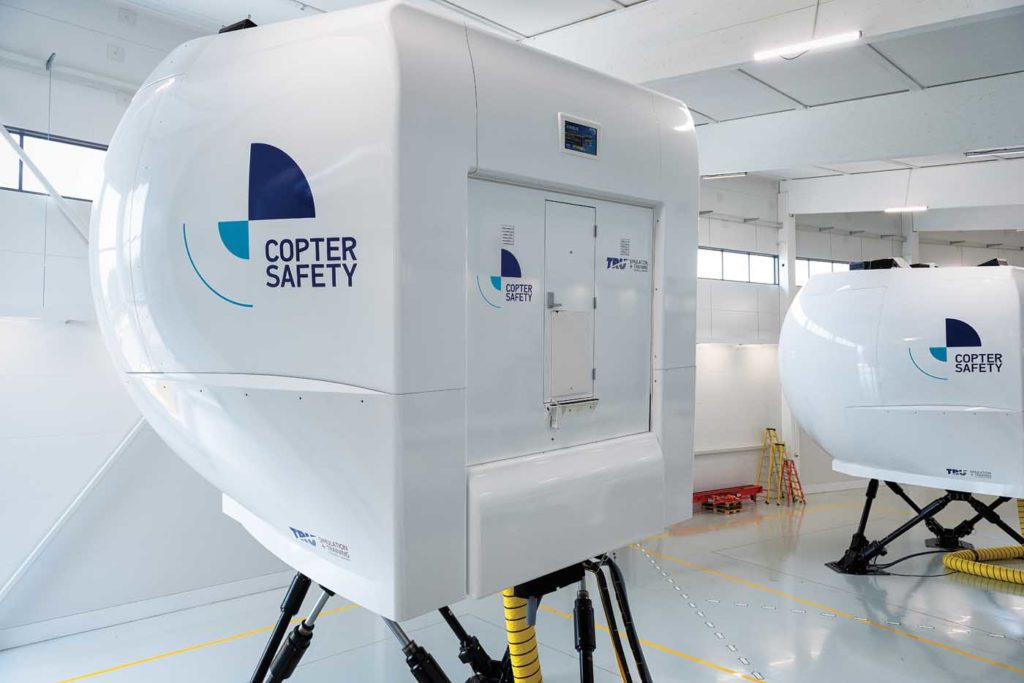 "Our ultimate aim is to uplift or enhance the safety standards within the industry and bring some ideas and culture that until now have not existed," said Marjoniemi.
Dahlman's vision in founding Coptersafety was to challenge the industry, and the team around him seems to share his enthusiasm for fresh perspectives, epitomized by an instructional cadre with the breadth and currency of expertise necessary to share knowledge from across the operational sectors.
But despite the enthusiasm for new methodologies, the focus on integration and the obvious attention to the customer experience, there is no better evidence of intent than the company name itself. To the casual observer the organization provides flight simulation training, yet these words have been eschewed in favor of Dahlman's driving philosophy. No potential customer could be in any doubt of the highest priority at Coptersafety.
Coptersafety helicopter sim training from MHM Media on Vimeo.