The Remarkable Rotorcycle: XROE-1
In 1954, the U.S. Navy was exploring the need for a small ultra-light, compact, easily portable and foldable one-person helicopter to be used by the Marine Corps for observation, reconnaissance, liaison missions, courier work, and as a rescue platform for downed pilots. In all, there were about 30 responses to the competition, but the U.S. Navy Bureau of Aeronautics selected Hiller Helicopters out of Palo Alto, California, along with the Gyrodyne Company of America in Long Island, New York, to build prototypes of the ultra-light helicopter for the Marines. The new helicopter needed to be stable and simpler to fly than larger rotary-wing aircraft, and it had to be capable of being para-dropped from an aircraft into potentially hostile environments.
After intense studies, Hiller's engineers came up with the XROE-1 Rotorcycle — a design that was striking in both its simplicity and efficiency. The main body consisted of a semi-monocoque type pylon and engine, tapered three-piece aluminum alloy spring tube landing gear, and a tubular tail boom. The helicopter could be folded without the use of tools, using just the quick release pins found in the main rotors, tail boom, and on the tripod landing gear.
The rotorcycle's 18-foot (5.5-meter) diameter main rotor consisted of two all-metal blades, and the aircraft had a conventional 36-inch (91-centimeter) diameter metal tail rotor. Mounted above the Rotorcycle's main rotor blades were the classic Hiller Rotormatic control system and airfoil paddles, as used on Hiller's production UH-12 and H-23 helicopters.
The pilot sat on a small fiberglass seat with the engine situated behind his back. A conventional pedal and cable system allowed the single pilot to change the tail rotor pitch for directional control. The instrument panel was small, incorporating just the air speed indicator, rotor tachometer, voltmeter and the engine cylinder head temperature gauge. All told, the aircraft weighed just 300 pounds.
There was little cyclic feedback to the pilot's overhead cyclic control stick. The control rotor system increased the inherent stability, and its servo action resulted in almost complete elimination of the cyclic control forces. The collective stick used a twist grip throttle control.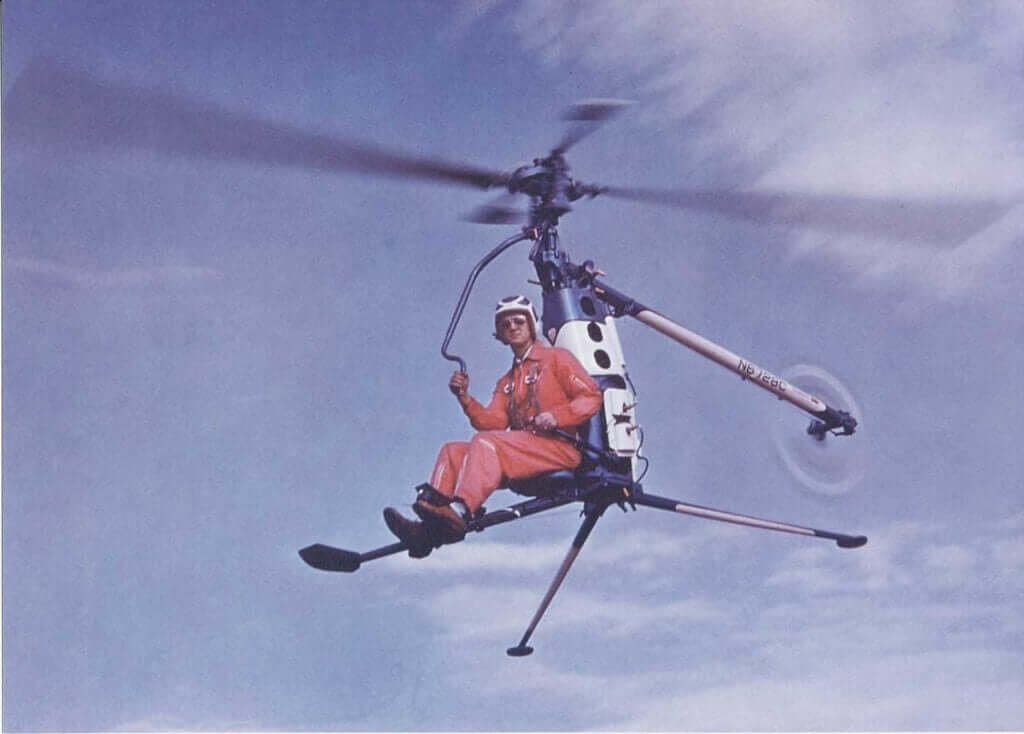 The Rotorcycle was powered by a Nelson Aircraft Corporation H-59 engine — the same as was used in powered sailplanes. It was a horizontally opposed, four-cylinder, two-cycle, air-cooled 40-horsepower engine, and it ran on 80/87 aircraft fuel mixed with oil. The engine weighed only 42 pounds, had a 2.5-U.S. gallon tank, and was started with a lawnmower-type pull cord. Later, a slightly more powerful Nelson H-63 45-horsepower engine replaced it, and this had a battery-powered starter.
Getting air under the tires
The prototype Rotorcycle first hovered in November 1956, with Hiller chief pilot Richard Peck at the controls. The first successful flight followed in January 1957. Of two prototype XROE-1 Rotorcycles, both were retained at Hiller Helicopters in Palo Alto for further ground tests and flight testing by Peck. Flight testing with the second pre-production prototype was completed by July 1957.
The potential of the Rotorcycle as a production aircraft was quite evident. Hiller claimed that a non-pilot would only need about eight to 10 hours of training on the Rotorcycle in order to qualify to fly it, and a single person could assemble the folded aircraft from the container package and have it ready to fly in less than 10 minutes. Among Hiller personnel, the record for assembling the folded helicopter stood at one minute and 50 seconds.
The overall length of the compact helicopter was just 18.42 feet (5.6 meters) from rotor tip to tail, with a height of 7.6 feet (2.3 meters). It had an empty weight of 300 pounds (136 kilograms) and a maximum gross weight of 546 lb. (247 kg), giving it a useful load of around 246 lb. (112 kg). The Rotorcycle cruised at about 52 m.p.h., and had a maximum speed at sea level of 70 m.p.h. Its range varied from 30 to 40 miles (48 to 64 kilometers). Demonstrations showed the helicopter capable of climbing at a rate of 1,160 feet (354 meters) per minute to a ceiling of 13,200 feet (4,023 meters).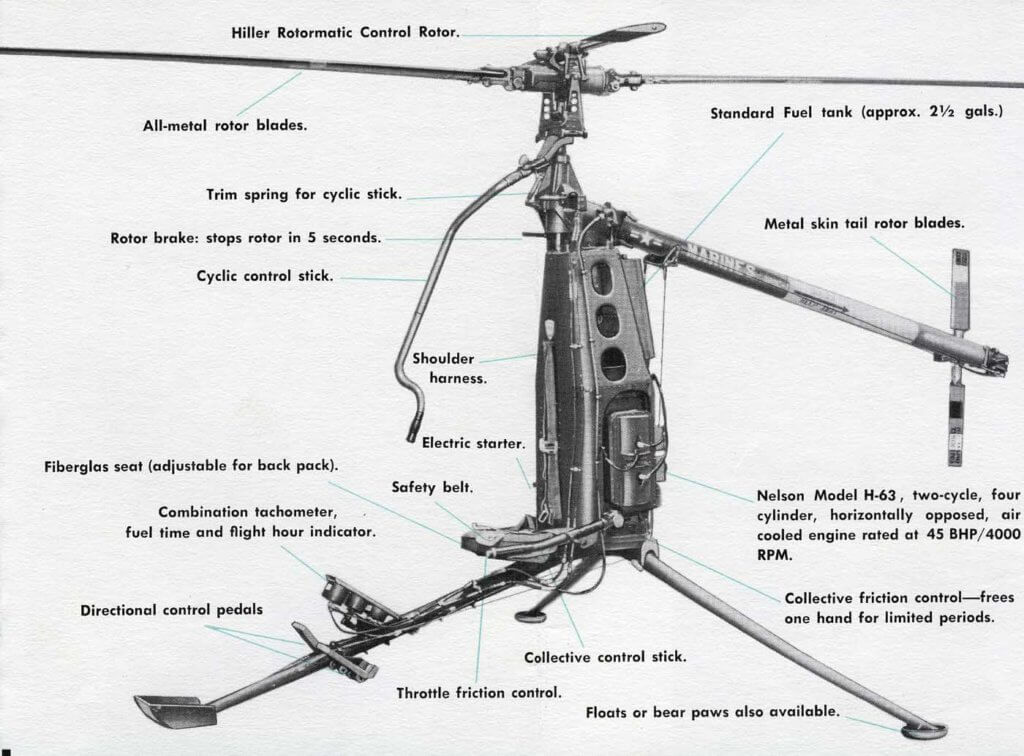 The Rotorcycle was demonstrated to both the U.S. Navy and Army, and the Marines put in an order for five XROE-1 (to be known as YROE-1) helicopters for further evaluation and testing. More demonstrations of the Rotorcycle, piloted by Peck, took place overseas in England, Germany, Switzerland, Italy, and Holland. Peck even flew the Rotorcycle through the French Alps during one demo tour.
By 1958, the Rotorcycle prototype had over 60 hours of flying time, and had even completed one flight during gale force winds in England with little problem. The aircraft obtained an experimental certificate of airworthiness on Jan. 24, 1958.
Canadair Ltd. in Montreal, Quebec, was an agent for Hiller Helicopters in the mid-1950s, and made arrangements for the Rotorcycle to be demonstrated to the Canadian military, and other civilian government departments during the summer of 1958 at RCAF Station Rockcliffe in Ottawa, Ontario.
With Hiller extremely busy manufacturing H-23D Raven helicopters for the U.S. Army and testing the X-18 tiltwing vertical takeoff and landing research aircraft for the U.S. Air Force, Stan Hiller decided to license the Saunders-Roe Aircraft Company in England to manufacture five YROE-1 Rotorcycle helicopters for the U.S. Marines, as well as another five (ROE-1s) for potential foreign sales. Helicop-Air in Paris, France — Hiller's affiliate in Europe — would administer the November 1958 contract.
The start of mass production?
Saunders-Roe manufactured the first YROE-1 Rotorcycle and had the helicopter officially flying by Oct. 19, 1959, with all five completed by the spring of 1960. Overall, 12 Rotorcycles were manufactured: the two prototypes in the U.S. and the 10 built in England. The estimated cost of a new production Rotorcycle was about US$10,000.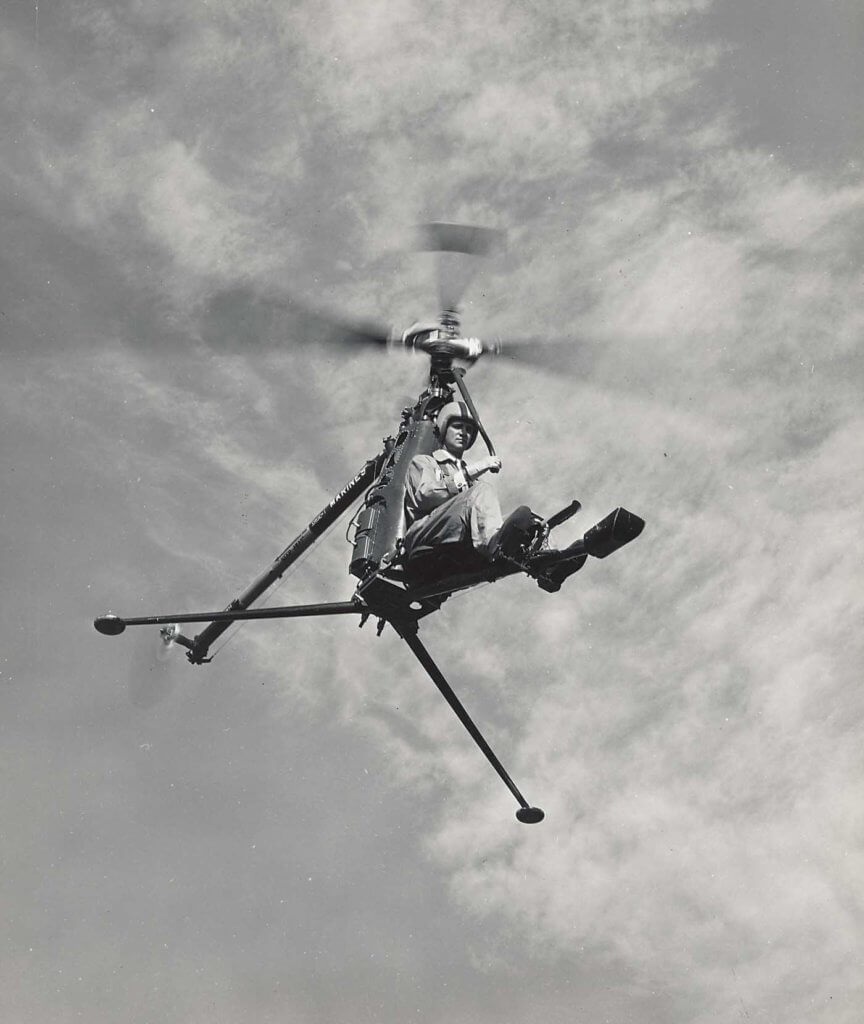 The five British-built ROE-1 Rotorcycles, serial numbers 8 to 12, were completed by December 1961, and remained in England. At least one was given a civil registration with the hope of private sales. One Saunders-Roe Rotorcycle (serial number 8) crashed on May 8, 1960, at Eastleigh. Another turned over, fatally injuring one person. The remaining aircraft did not find any sales and were eventually withdrawn from use. There was no interest in the light portable helicopter from either the British military or other European armed forces. Civil interest was also almost nonexistent.
The five USMC YROE-1s were shipped to the U.S., with two going to VTOL Branch Flight Test at U.S. Naval Air Station Patuxent River, Maryland, under the direction of Navy pilot Donald R. Segner (who later went on to pilot the Lockheed Cheyenne). About 200 test flights were conducted with the Rotorcycle at Patuxent River, and at least two other Navy pilots were trained on the type.
The other three USMC Rotorcycles were turned over to the NASA Ames Research Center in Moffett Field, Sunnyvale, California, in 1961 for further evaluation. These helicopters went to private owners when the Navy disposed of them.
One YROE-1 (serial number 5) was returned to Hiller Helicopters in 1960. It was flown by Peck, who accumulated just over three hours on the airframe. It was said that Peck commented that he did not like flying the X/YROE-1 that much, as it was quite sensitive on the controls. However, he found each flight very exciting.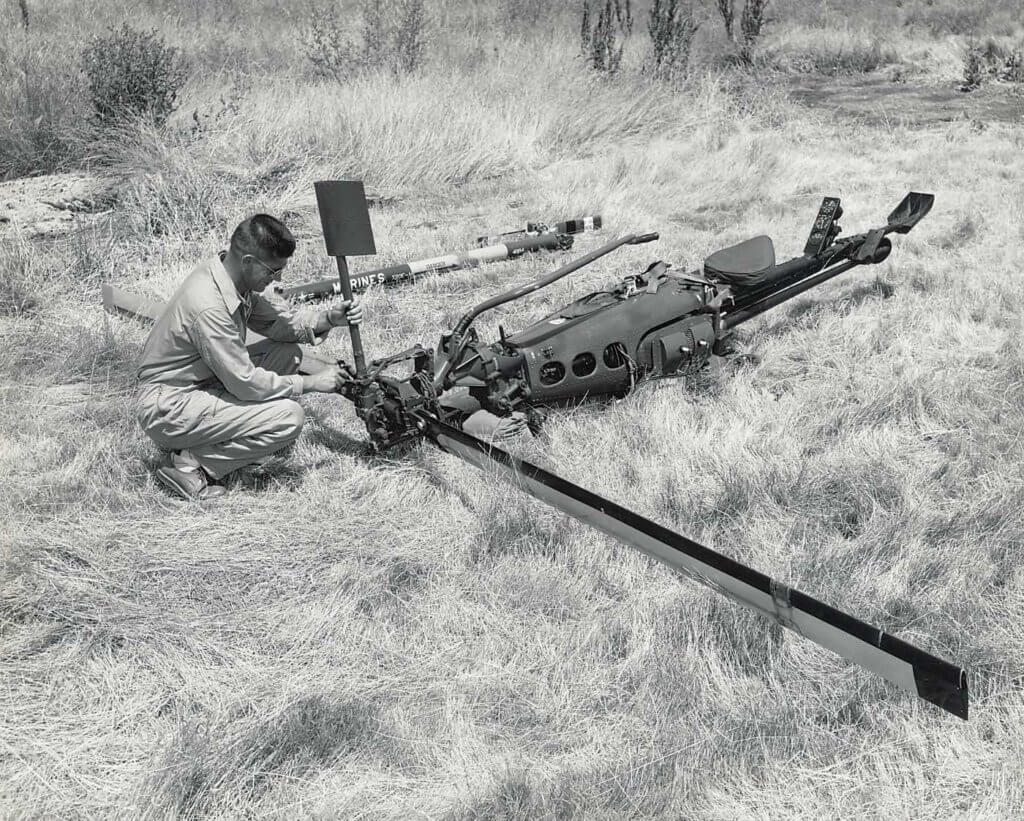 By the early 1960s, the U.S. military said that there was no longer an operational need for a one-person helicopter. Additional procurement of the YROE-1 helicopters was not a priority, and none ever entered military service.
Eventually, the YROE-1s were grounded after exacting testing and evaluation by the Naval Air Test Center (NATC) and NASA because of very sensitive directional control power in the flight controls and pedals, inadequate rudder control during simulated power failure entries, and because the tail rotor could be only used for 10 hours before requiring replacement. Full on autorotations in the Rotorcycle required a great deal of intense flying skill during entry and flaring. There was also the lack of an adequate horizon reference when flying the helicopter out of ground effect.
Overall, the Rotorcycle was satisfactory to fly when everything was working well, but it appeared the engine was not that trustworthy. One also had to keep a close watch on the tail rotor and tail boom during flights.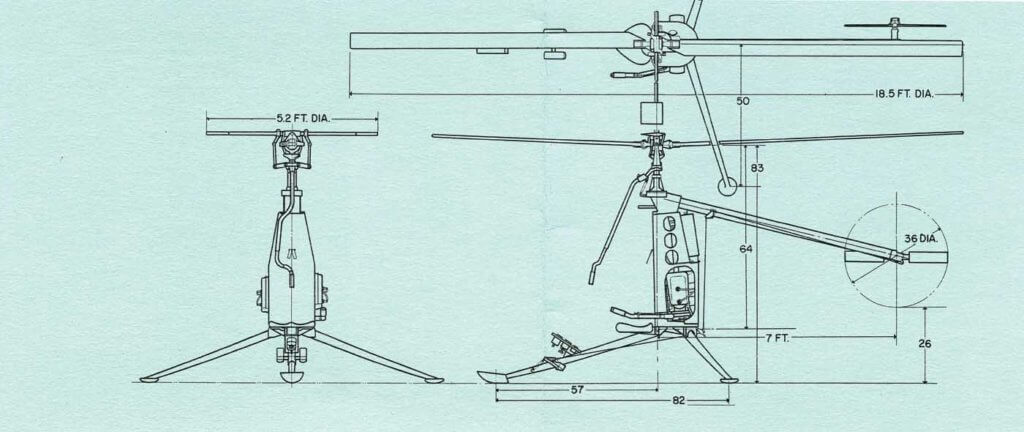 While the program was ultimately cancelled, numerous Rotorcycles appear to have survived. One is in the U.S. Army Museum in Fort Rucker, Alabama. Others can be found in the Steven F. Udvar-Hazy Center, National Air and Space Museum, in Chantilly, Virginia; in the Evergreen Aviation & Space Museum in McMinnville, Oregon; and in the Hiller Aviation Museum at San Carlos, California. There is also one Rotorcycle owned by a private individual near San Diego, California.
With its slow speed and short range, no one will ever know how the Hiller Rotorcycle would have performed in a real rescue and evacuation during an actual crash situation. But its unusual design and ambitious concept provide an interesting chapter in the history of military rotary-wing aviation.