The Quiet Revolution: Columbia Helicopters
When Columbia Helicopters founder Wes Lematta developed the modern long line system, he probably never dreamed that it would reshape the use of rotary-wing aircraft in modern warfare.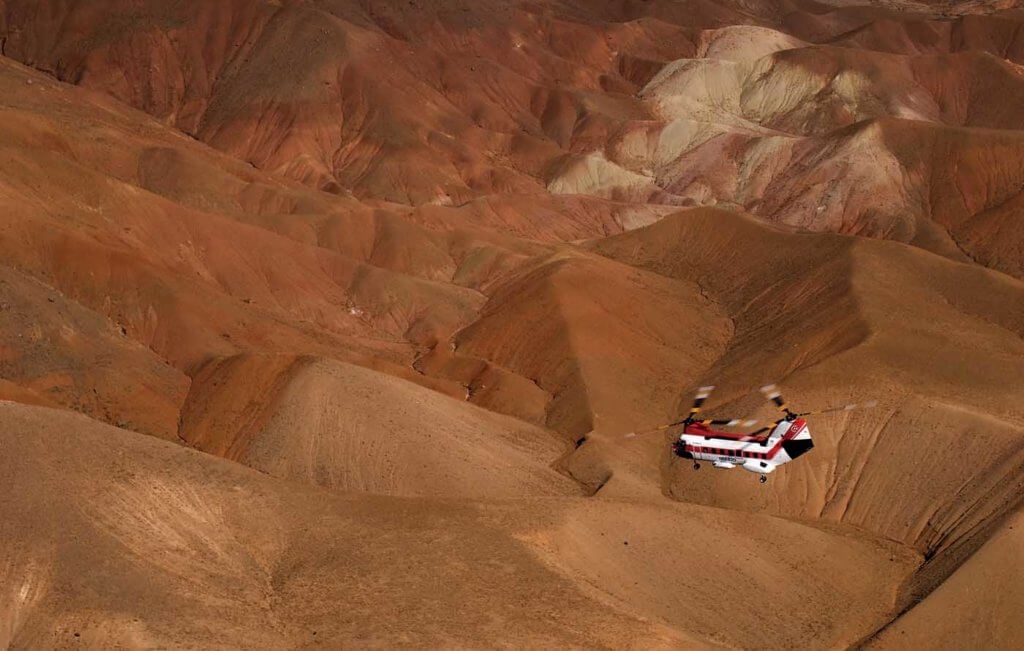 Yet, revising how the military views and utilizes heavy- and super heavy-lift aircraft is exactly what Columbia is doing. Since landing in Afghanistan in July 2011 as a civilian contractor with the United States Air Mobility Command (AMC) to support U.S. and NATO forces with troop and cargo transportation, Columbia has paired the company's strong customer service culture with its unparalleled long line transport and construction experience to create new opportunities and increase support for troops in the country.
Lematta founded Columbia Helicopters in Portland, Oregon, in 1957. That same year, he responded to a call to rescue 15 sailors from a sinking dredge off the Oregon Coast. Three of those sailors he rescued by tying a long rope to the helicopter's skid and hanging out the door of the aircraft to control the line. Though he didn't realize it at the time, he had pioneered direct visual operational control (DVOC) — the process of a pilot controlling a load on the end of a long line by looking down at it.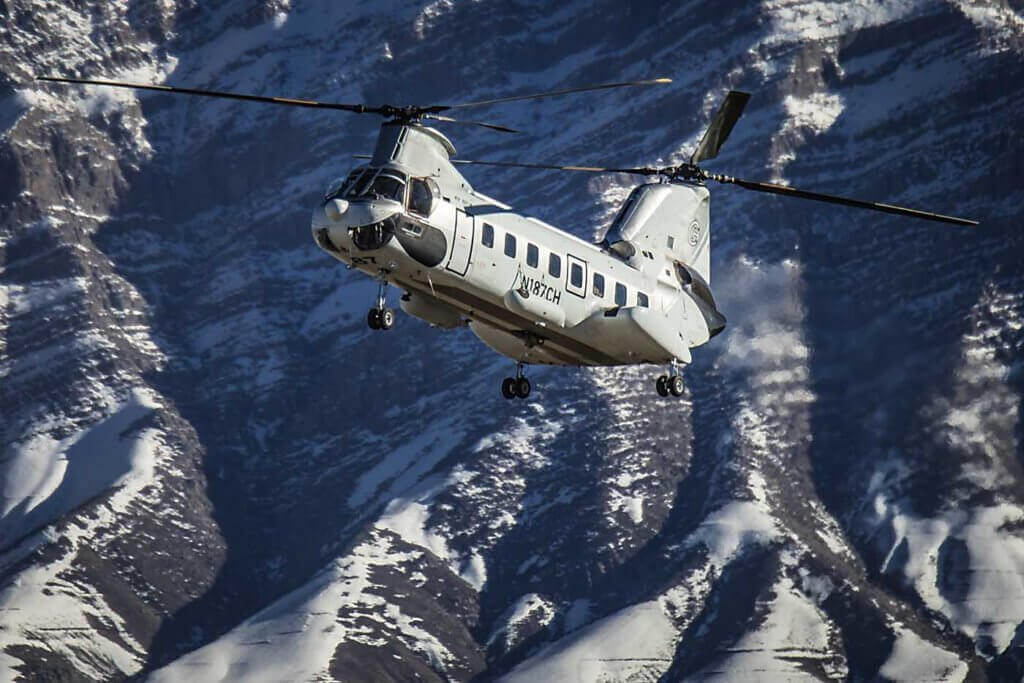 For more than 60 years, Columbia has used and perfected this method in construction, logging, oil-and-gas, and firefighting, carrying every manner of load imaginable.
It's also said within Columbia circles that Lematta pioneered another keystone of the company that day in 1957 — the can-do attitude, ingenuity, and pride in being part of something that is bigger than any one person or group. When a bid opened in 2011 to support U.S. and NATO troops in Afghanistan, Columbia saw a perfect fit and immediately threw its hat into the ring. Once it won the contract, Columbia's crews went to work raising the bar.
"Our original contract was for four Columbia Vertol 107-II helicopters to provide troop and cargo transportation throughout the country, getting them off the roads and away from roadside bombs, rockets, and attacks," said Andre Hutchings, country manager for Columbia Helicopters, Afghanistan. "The whole push for 'white air' [contract operators] is to keep the soldiers and vehicles off the ground. We saw so much more we could do and we stepped up to help."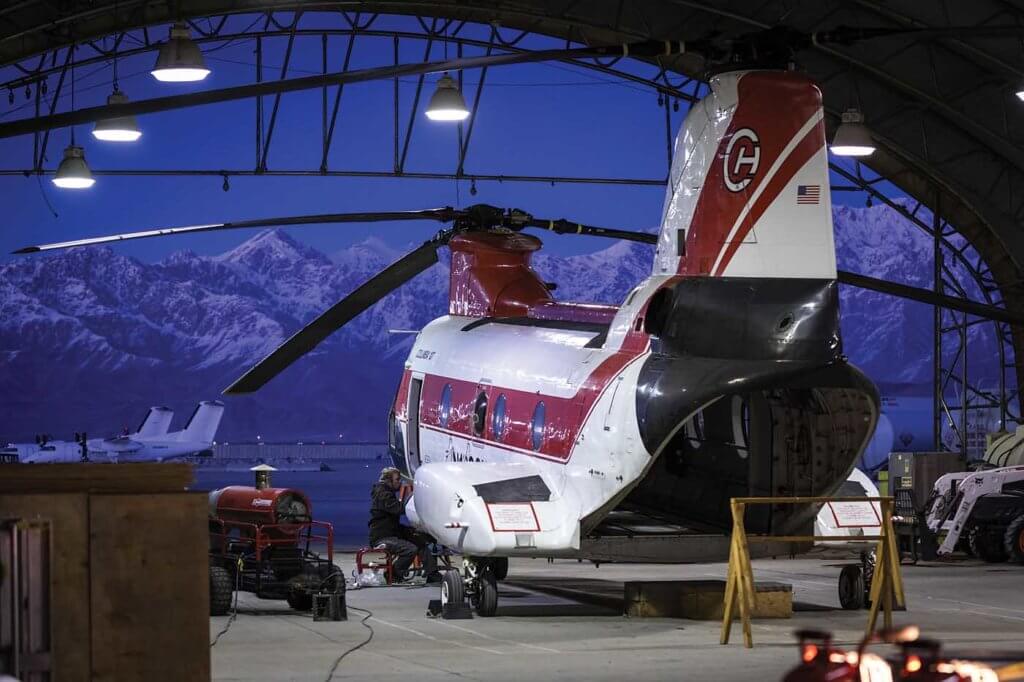 Before Columbia arrived, the military utilized only its own sling load system to deliver cargo. These operations saw pilots flying with no reference to the 15- to 20-foot line hanging from the aircraft; instead, they relied on the crew chief looking out the hell hole/hook well to provide reference and directions to the pilot to deliver the load. What's more, the heavy aircraft being used — typically Chinooks and Mils — can create extreme downwash, which can potentially cause brownout conditions and hazards for those on the ground. This often required loads to be delivered away from central operating areas, thus demanding further ground transport. It's also time-consuming, leaving the aircraft and troops vulnerable to an attack during delivery.
Columbia crews stepped in and offered their long line services using 150- to 200-foot lines. Highly trained in precision, quick turns to drop loads in logging and oil-and-gas support, they shared how their long line system could save time, increase safety, and make a real difference.
Upon witnessing Columbia's long line work first hand, Air Force Maj. Gen. Less Carroll coined the company's long line work as "L2P2" (long line precision placement), saying this type of system would "revolutionize the way the military would handle external loads."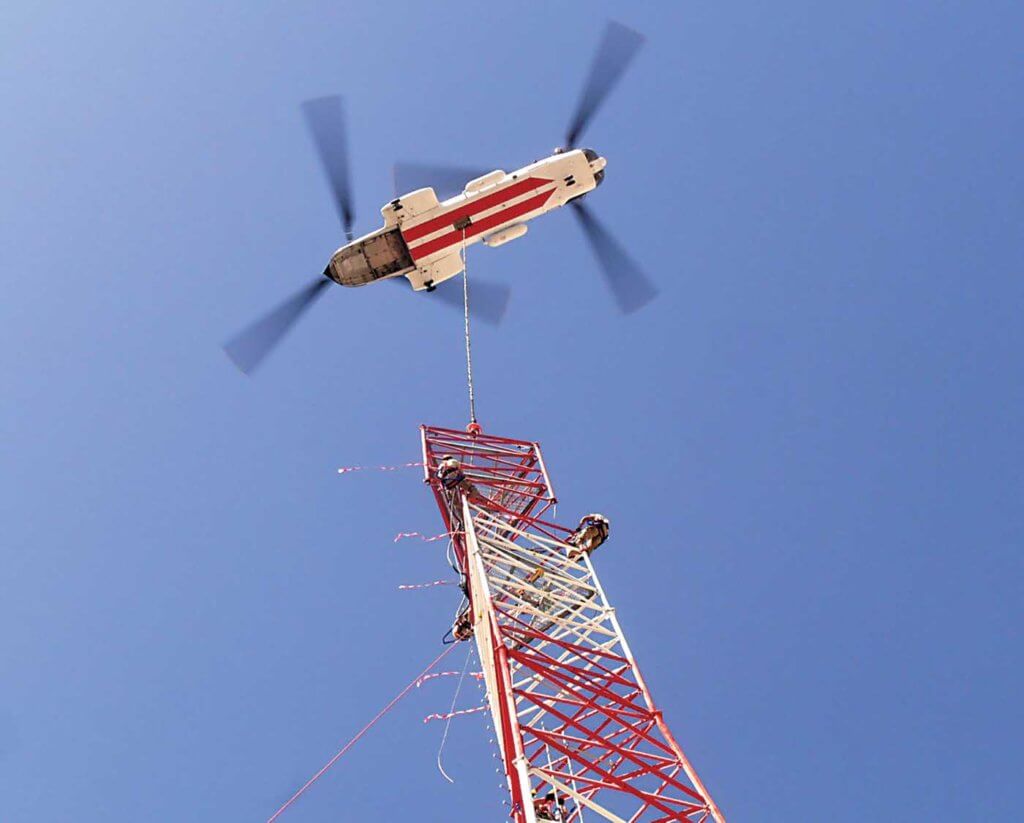 Within months, projects that had taken the military days to perform were tackled in hours by Columbia. Howitzer gun relocation, for instance, formerly required troops to break down the large cannons, then helicopters would sling load them in several pieces to a new location, where they needed to be assembled before being pushed into place. With the capabilities of their aircraft, Columbia crews now transport the entire assembled cannon via long line and place it directly into the gun pits.
"We ask the gun crews 'which direction do you want us to point it,'" Hutchings said. "We can be so precise with our placement we can cut down on the time they needed to aim the cannon."
Columbia also initiated the use of its vehicle sling system in Afghanistan. Developed for operations in Alaska, the system allows Columbia to precision deliver a truck, car, or small tractor, allowing the customer to jump in and literally drive away within minutes of delivery.
White Air Ops
Recognizing the value of the L2P2 system, the AMC recently put out a request for bids to re-compete the original contract. Columbia submitted a proposal that would increase its six Columbia Vertol 107-II aircraft in Afghanistan to nine, while also adding a Columbia 234 Chinook.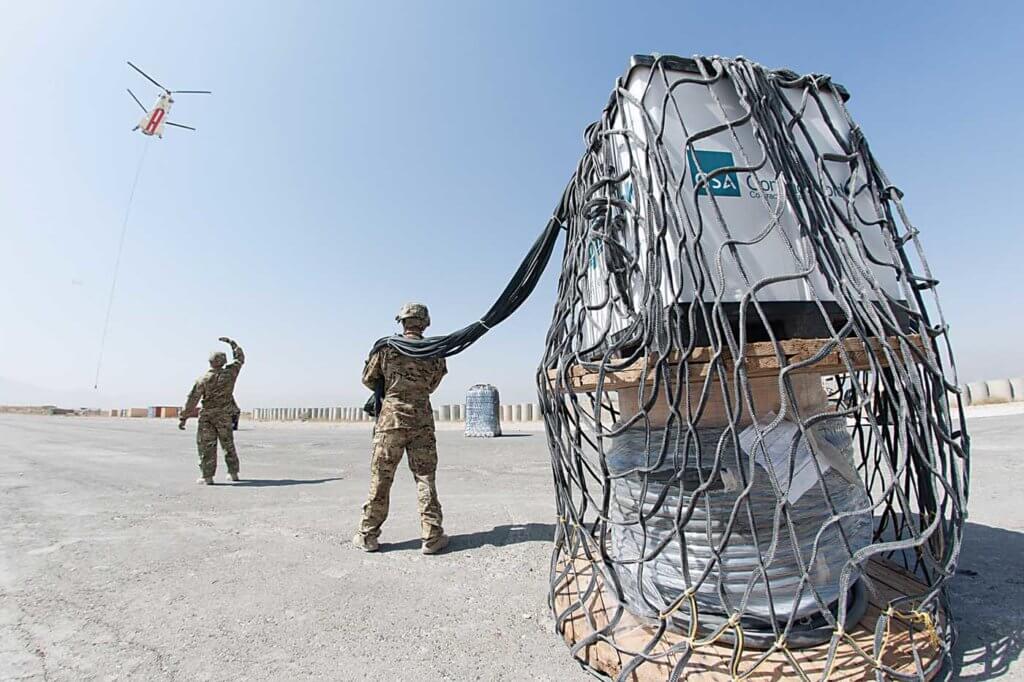 Columbia's aircraft operate from two bases in Afghanistan: Bagram Airfield and Jalalabad. Bagram is located in the high desert at the base of the Himalaya Mountains at 4,895 feet (1,490 meters) above sea level (ASL). Known for its steady high winds more than 120 days straight, extremes in weather between the seasons, and high density altitude, Bagram keeps Columbia crews on their toes. At 1,886 feet (575 meters) density altitude, Jalalabad is a favorite for crews in the winter, while summer temperatures are some of the highest, and most miserable, in the country.
Despite the extreme field conditions, long days, and an exceptional variety of jobs, Columbia has consistently exceeded AMC's expectations for availability and reliability. Hutchings attributes this success to the dedication of the crews and the carefully planned schedule maintained by the company's operations and logistics folks.
A mission typically begins with flight planning 24 hours before takeoff. Operations crews plan the missions and file them in the aircraft flight following (AFF) system. Logistics crews ensure placement of cargo and equipment for each planned job. At the same time, parts and maintenance supplies are ordered and scheduled for delivery for overnight maintenance.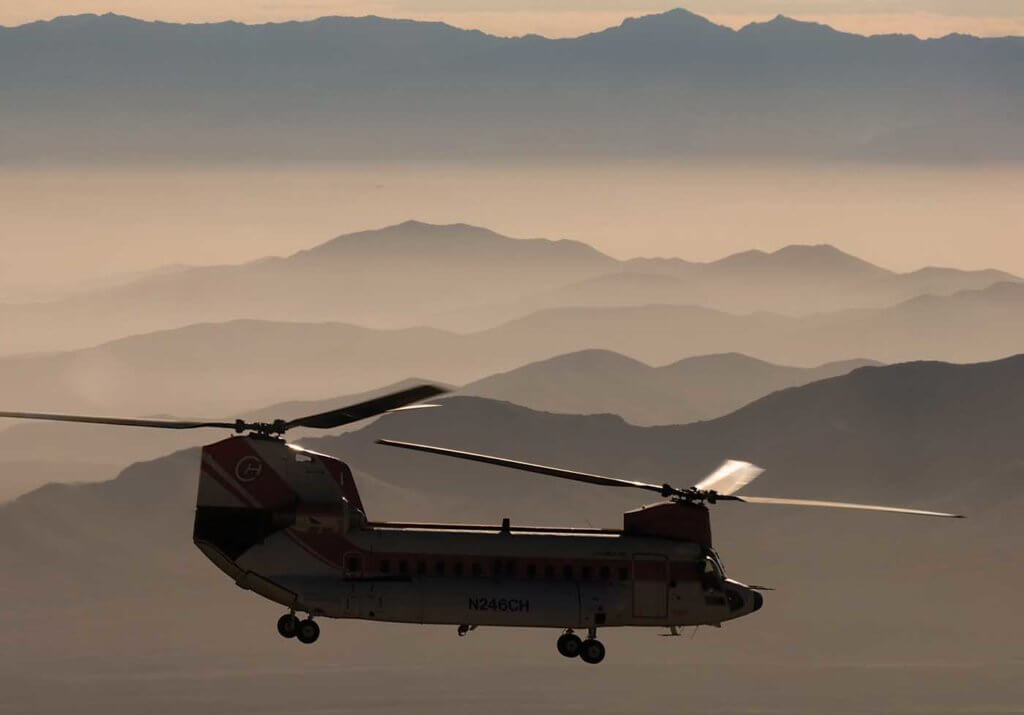 Two shifts of mechanics work from the time the aircraft lands in the evening until launch at 6:30 a.m., performing scheduled and preventative maintenance.
Pilots arrive at 5 a.m. for mission briefings and pre-flight checks. The aircraft fly close to 10 hours a day, weather permitting. In any one day, a crew could transport troops, precision place barriers to keep suicide bombers from driving up dirt roads to base fences, deliver mail and supplies to an outpost, fly in a tractor, and help construct a communications tower.
Since its first day of flying in 2011, Columbia has flown more than 55,000 hours, 400,000 passengers, 7.5 million pounds of mail and 70 million pounds of cargo in support of U.S. and NATO troops.
"We're there to do whatever they need, and we're always looking for ways we can do more," Hutchings said. "For instance, in 2012, our crews noticed Christmas mail was backing up and they wanted to help."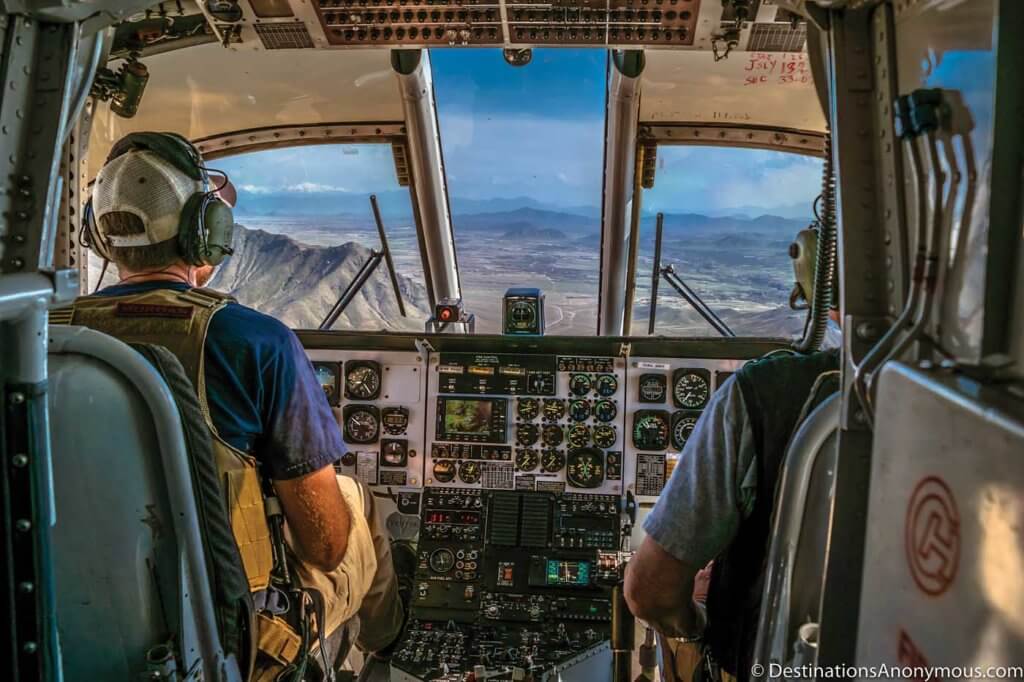 Understanding how much of an impact mail delivery has on morale and without request from the military or offer for compensation, Columbia crews took U.S. mail carrier courses and received certificates allowing them to deliver mail. They then began sorting and storing four-cubic-foot crates of mail, pairing them with any other delivery to be made during the day for a solid month.
"If we had space in the aircraft and were going to fly by a base, we'd add the mail and make an extra stop to make sure they got their mail," Hutchings said. "Whatever we could do to get the mail to them."
Hazard Pay
Columbia currently employs more than 90 people to support its Afghan operations including pilots, mechanics, flight crew, logistics staff, and management. About 40 percent are veterans. Each person works a 28-day-on/28-day-off schedule with transportation from anywhere in the world, something tied to the strong family feel of the operation.
"We've found the 28/28 allows our team to operate at their highest potential," Hutchings said. "These are hard, hard conditions. The aircraft are in the air 10 hours a day in harsh conditions. Twenty-eight days is about it before you need a break."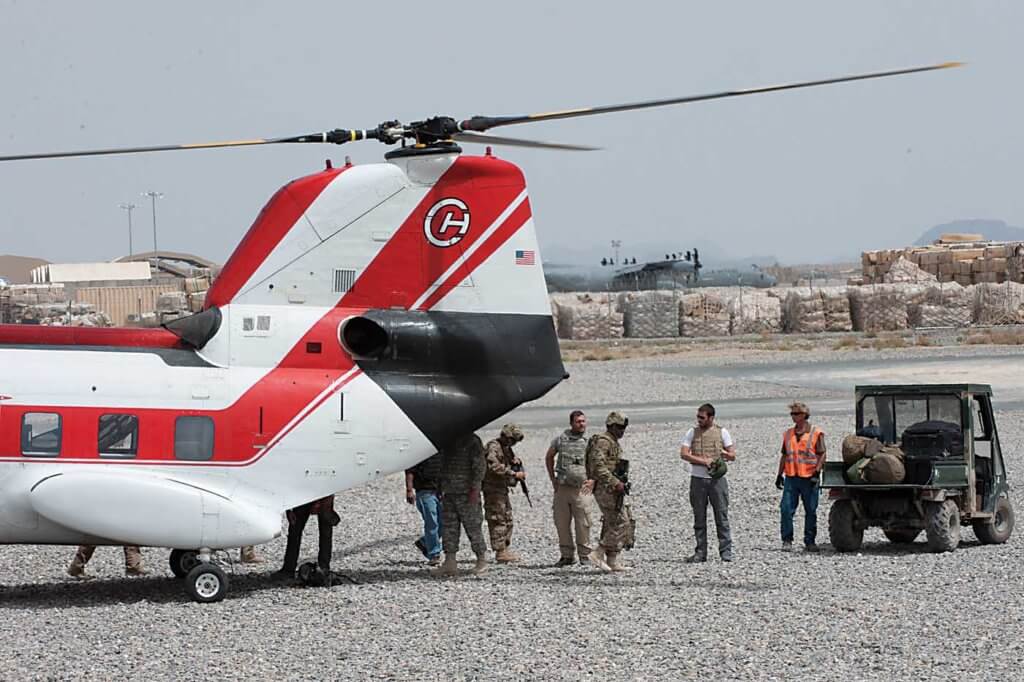 Hutchings admitted the job isn't for everyone. "Some people go through the training and come out to [Afghanistan] only to find it's not for them," he said. "For some it's the heat and long hours. For others, it's the war zone. [But] our crews receive training on firearms, survival, medical, and local customs."
However, the attractive pay and schedule ensures Columbia has no shortage of qualified applicants. In fact, soldiers rotating out of service, who worked with Columbia when deployed, contact the company daily.
With an eye to the future, Columbia is hiring and training new crews to ensure the continued success of its legacy in Afghanistan.
"Our crews are our ambassadors," Hutchings said. "We're dedicated to assuring they're the best."