It's hard not to admire the confidence and fortitude it takes to pull the plug on a successful, secure and lucrative career to pursue a passion held since childhood. But when that passion is aviation, for many of us, it kinda makes sense.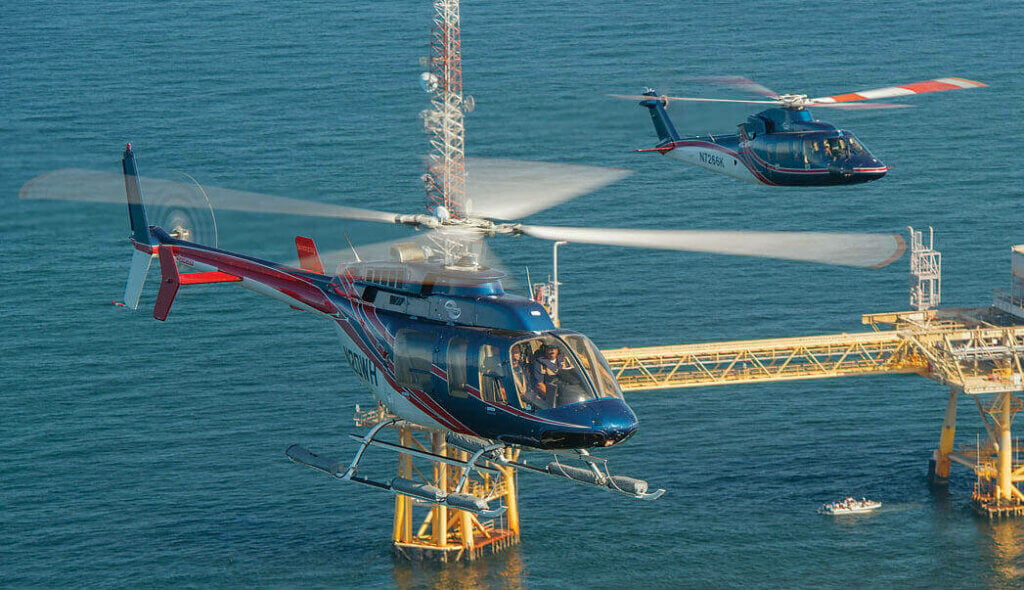 Growing up in south Texas, Bob McCoy had his first taste of aviation while hanging out at the local airport with his grandfather, who worked as a mechanic on ag-spray aircraft. Young McCoy would even get rides in the hoppers of the planes, which fueled his interest to learn to fly. He earned his private fixed-wing pilot's certificate by the age of 17, and, soon afterwards, gained his commercial fixed-wing certificate.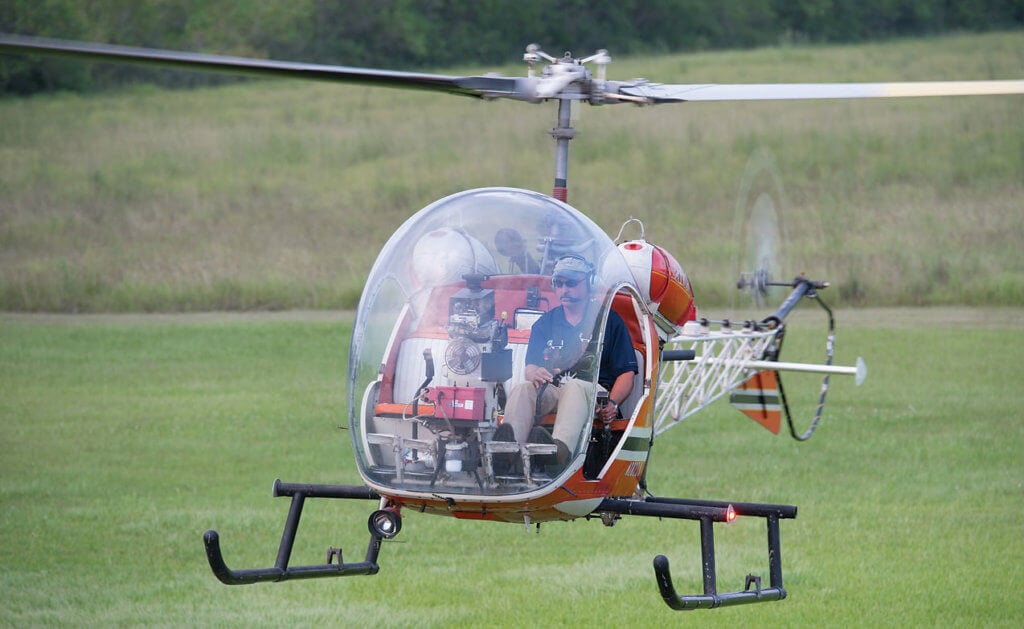 In the early 1980s, McCoy embarked on what would become a long-term career in the oil-and-gas industry. He spent 19 grueling years working offshore on production platforms in the Gulf of Mexico. His work schedule — typically seven or 14 days on/off — provided him with large blocks of time to spend sharpening his flying skills.
Within a few years, McCoy's fascination turned to helicopters. He discovered an old Bell 47G during his travels that was in need of a great deal of work to restore it to flying condition. In spite of the aircraft's shabby shape, he was inspired at its potential. He dug deep into his savings and even took a $6,000 bank loan — and the old machine was his.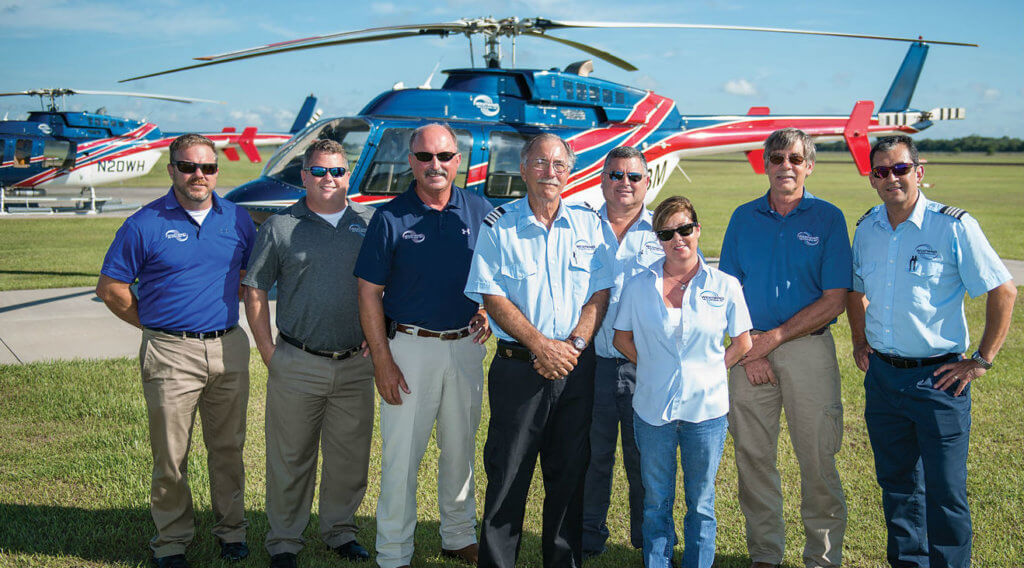 McCoy devoted a year to personally restoring the Bell 47. This provided him with the experience to attain his airframe and powerplant (A&P) certificate, and eventually his commercial helicopter pilot's certificate.
With the Bell 47 back to airworthy condition, local ranchers offered McCoy work, often flying seven days a week performing wildlife and cattle management. He later obtained his Federal Aviation Regulations part 137 certificate (allowing him to perform agricultural spray operations), and launched his own part-time agriculture spray venture, which he called McCoy Helicopter Services.
The spray work often required McCoy to spend extended time away from his oil-and-gas job, and for those projects lasting 45 to 60 days, he needed to use his vacation time. "I did that for two years," said McCoy. "Heck, I'd give rides or do anything to turn a dollar with the aircraft."
In 1996, the oil-and-gas company reassigned McCoy to a shore-based office position in Lafayette, Louisiana, where he was responsible for managing production facilities from Texas to Mississippi. But with a demanding schedule, there was little time for McCoy to work in the helicopter business, and he decided to sell the Bell 47. "With all the insurance and the maintenance, I couldn't afford an aircraft without working it," he said.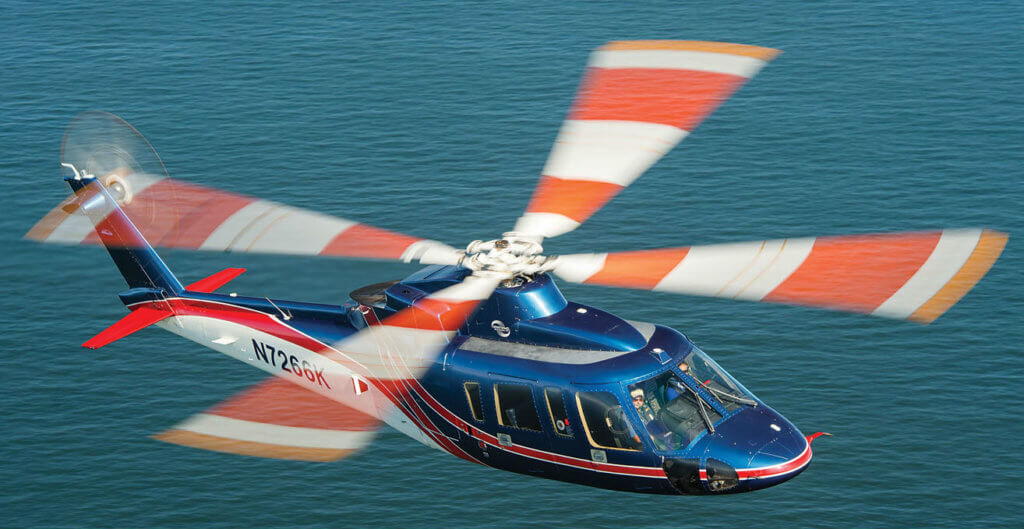 Five years later, McCoy was again reassigned, this time to a position overseas managing oil-and-gas properties. The new role came with large blocks of time off, giving him the opportunity to get back to his beloved helicopter flying.
He purchased a new helicopter — a Robinson R22 — and went back to work. He started with the same type of work he'd been doing before, and then began offering instruction, too. "I'd go overseas for 28 days and come home for 28 days and I'd work as much as I could flying the helicopter," he said.
A Change of Direction
By 2007, McCoy found he'd had his fill of living and working overseas, and began looking for opportunities back in Texas. He decided to leave the large oil-and-gas company and strike out on his own, forming a contracting company doing what he knew best — managing small oil-and-gas production facilities.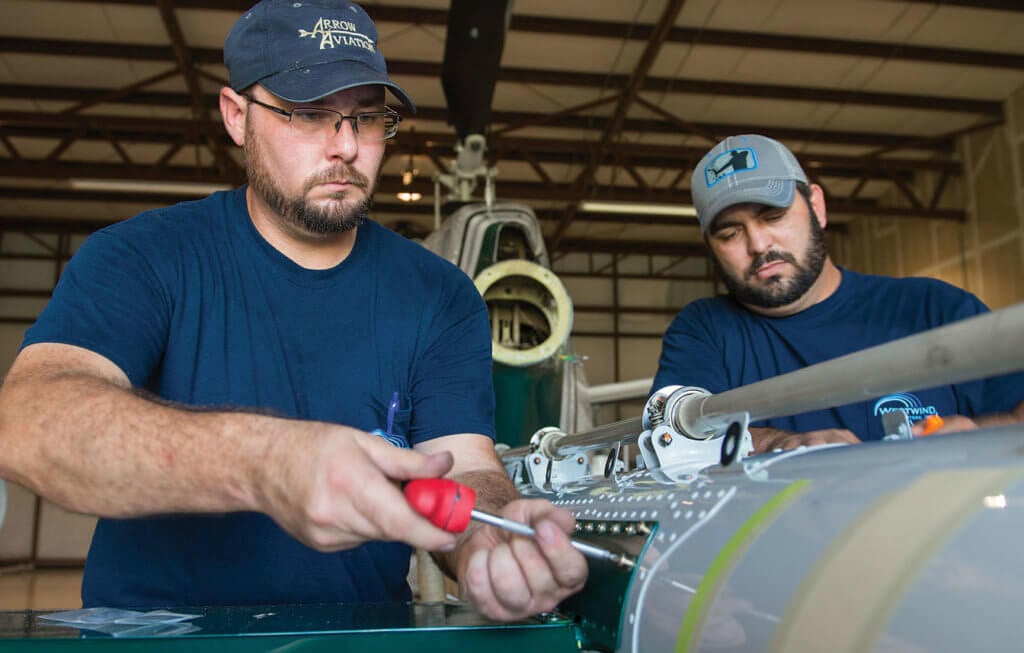 In the back of his mind, however, McCoy missed flying — and often considered the many ways he could put helicopters to work throughout south Texas and the Gulf Coast region. Then he saw a classified advertisement in Trade-A-Plane that would change his life. Rick Fleischer, the owner of Westwind Helicopters, Inc., a small operator based near Sacramento, California, was calling it quits. After more than 20 years of mostly U.S. Forest Service contracting, Fleischer was looking to sell the business and all its assets. The two came to an agreement, and the following year, the deal was finalized. "I got one JetRanger [Bell 206B], a nice truck with a fuel system on it, all the slings and cables, and a Bambi Bucket," said McCoy.
He sold his small contract service and focused all his efforts into building the new company that would merge his love of flying with his many years of experience in the oil-and-gas business. After moving all his assets to Texas, McCoy's next order of business was expanding Westwind's operating specifications to include the Gulf of Mexico.
The new Westwind launched in 2008, with McCoy himself flying the Bell 206B from a base in Rockport, Texas. As other opportunities arose, he began leasing aircraft and establishing new bases; a couple of Bell 206 Ls were based in nearby Galveston, and then a Bell 407 was based at Intracoastal City, Louisiana. That first year, the company flew 821 revenue hours.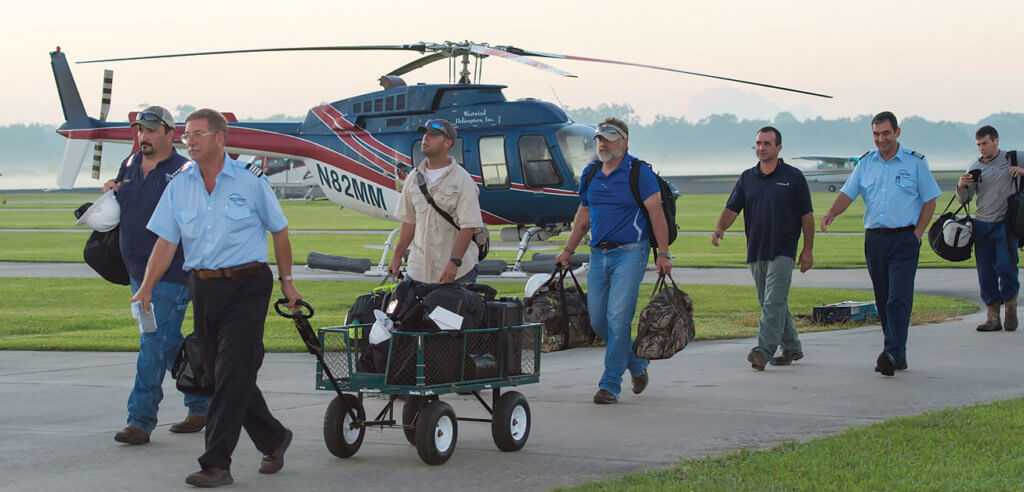 Westwind swiftly gained traction with many of the small independent oil-and-gas operators in the region, and one in particular would become a loyal and longstanding business ally. "I was very fortunate," said McCoy. "I had one customer that was really supporting [Westwind], so as they grew their company, our company continued to grow."
In just a few years, Westwind has expanded and matured into one of the region's leading helicopter operators, catering primarily to independent oil-and-gas and utility customers in the Gulf of Mexico and southwest Texas. The combination of McCoy's insider perspective of the oil-and-gas industry and the genuine manner with which he conducts business may be the key to Westwind's success with its many smaller customers.
"Being 100 percent independently owned, I don't have anybody looking over my shoulder to tell me, 'Bob, you need to make six percent profit or 10 percent profit.' " McCoy explained. "If I make one percent [profit], keep happy employees, and have good equipment, nice facilities, that's all that matters. That's just my desire and dream and challenge as an independent and somebody who loves aviation."
A Customized Service
Westwind's corporate headquarters is housed on a beautiful 50-acre site in Santa Fe, Texas, just north of Galveston. A recently-completed remodel has expanded and/or improved the company's meeting rooms, office suites, maintenance shops, and the customer waiting area. The large hangar can house up to 10 aircraft and an adjacent 3,000-foot grass strip serves the company's fixed-wing assets.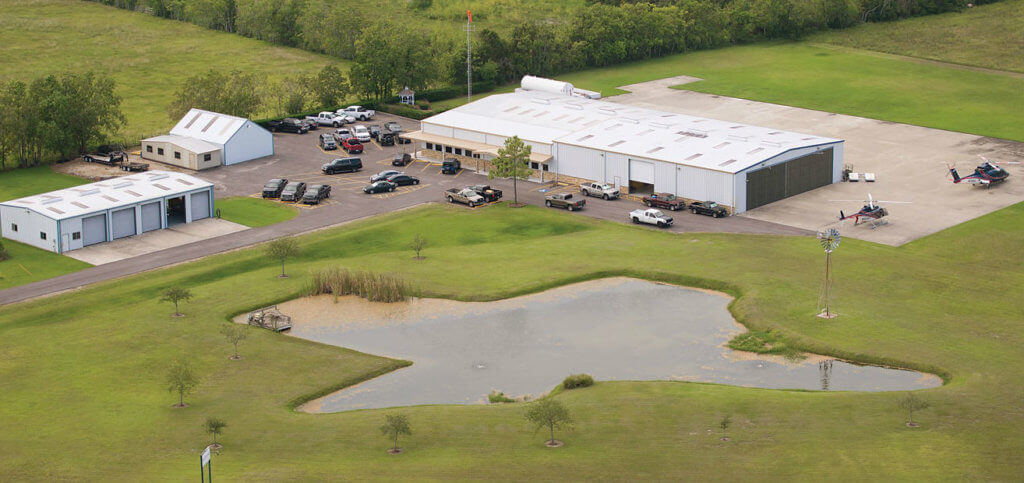 Westwind also operates three satellite bases in Louisiana. The largest, Abbeville, is based at a regional heliport at the Abbeville Chris Crusta Memorial Airport, and is Westwind's main maintenance facility. The company will soon move this operation to a new facility of its own several miles south on a 51-acre property, providing more room for aircraft and passengers, and improved maintenance capabilities. McCoy said the new facility would also maximize cost efficiencies for customers.
The company's other bases in Louisiana — at Cameron and Houma — are relatively small, supporting three to four helicopters and line maintenance capabilities. A base in Venice, Louisiana, no longer supports daily flight operations, but still serves as a fuel stop — and if the need arises, it can be reopened at short notice.
Nearly 80 employees call Westwind home, including 36 pilots and over 20 mechanics who maintain the sizable fleet: 13 Bell 407s, two Bell 206Bs, nine Bell 206/L3/L4s, and one Sikorsky S-76A (a second S-76 will join the fleet in December 2016). In 2015, the fleet turned over about 14,000 hours for revenue flights.
Westwind's smaller size and reputation for efficiency and doing things right has not only attracted new customers, but professional and management talent as well. "I have some people now who came from the larger companies," said McCoy. "They come to us and want go to work. They felt like they had become just a number at company X, Y, or Z. Here, they like the small company setting because they feel like they have input to all the decisions."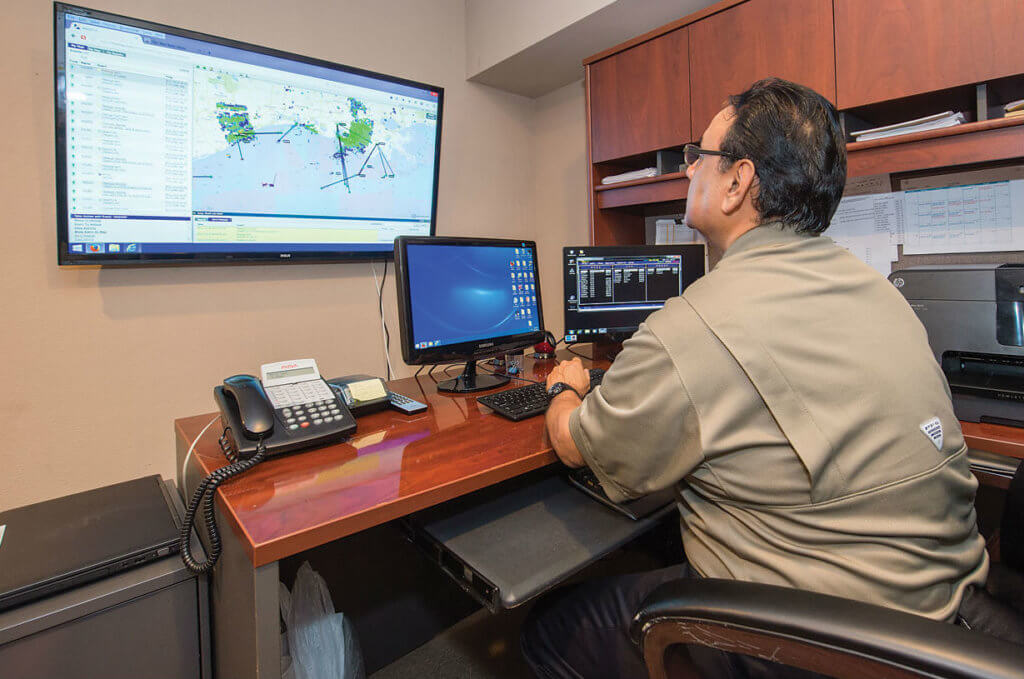 This sentiment is largely responsible for Bill Majeau's decision to join the company earlier this year. As a more than 30-year veteran of Gulf of Mexico helicopter operations, Majeau has worked with some of the biggest operators and in capacities from line pilot to safety manager. He also holds the position of standards and safety chairman with the Helicopter Safety Advisory Conference. Now, in his role as Westwind's director of safety, he appreciates the relative intimacy of the smaller operator. "The owner is two doors down — I can just yell down the hallway," he told Vertical. "And he's not dismissive at all. With his background as an A&P and pilot, he's very knowledgeable, but he's also very approachable and not at all afraid to get down in the weeds with us."
Neil Collins is another example of highly skilled talent leaving a prominent position with a large operator for Westwind. Earlier this year, he left after 12 years with one of the largest operators in the Gulf of Mexico to step in as Westwind's chief pilot. When pressed to describe the contrast between the two companies, Collins said: "I've always prided myself on, 'If I don't know the answer, I'll get the answer — and in a timely manner.' But with a big corporation, sometimes getting that answer didn't happen in a timely manner. Here, I appreciate having a direct line to the owner, meaning Bob [McCoy] or the DO, Jim [Roth]. Now, I just pick up the phone and I have the answer immediately."
Helping Customers through Challenges
Large company or small, everyone doing business in the Gulf of Mexico has been impacted by the recent drop in oil prices. From 2014, oil prices slipped from nearly $90 a barrel to as low as $28 a barrel in January of this year. Lately, prices have rebounded a bit, up to near $50 a barrel.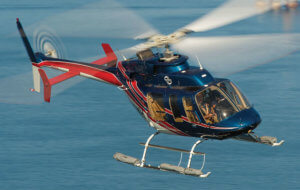 While Westwind has certainly felt the pinch, it has not been forced to make any drastic changes. "We're blessed because we've got a lot of really good customers, strong customers, and they've been able to weather the storm fairly well," said director of business development, Mark Behne. "Like every other operator in the Gulf of Mexico, [we] have had to get creative with costs."
McCoy said some oil companies were "barely making it" when oil prices hit $40 a barrel, so Westwind adjusted some of its rates to help its customers. "Offshore, you really need to make $75 to $80 per barrel to make any kind of profit," he said. "We feel that when oil and gas prices go back up, there's going to be some loyalty."
To make up for some of the loss in revenue from the oil-and-gas sector, Westwind has branched out to the utility industry, winning a contract for visual inspection of 9,000 miles of power lines throughout Texas. It is also exploring other opportunities for pipeline surveys and leak detection.
Regardless of the cyclical trends that will forever influence the industries throughout the Gulf of Mexico, McCoy believes Westwind has built a secure foundation through a few basic elements. "The success of any company is hard work and a vision for success," he said. "Not to mention surrounding yourself with good people who have that same vision of being the best they can be, which I have done and appreciate everyday. Never give up your dreams and don't ever let someone tell you can't do something. Prove them wrong even if it takes that extra effort. [And] stay focused not only on what's going on today, but what lies ahead of you for the future.".