The police helicopter has a long and distinguished history as law enforcement's "eye in the sky," providing a unique and invaluable aerial perspective to enhance the safety, awareness, and effectiveness of officers on the ground. Today, however, with budgets tightening and resources under scrutiny, many agencies are seeking to expand the role and capabilities of their rotary-wing units, elevating the overall significance and worth of their aviation program by turning their aircraft from simple aerial observation platforms into true multi-mission assets.
This expansion in capability can include taking on highly specialized missions such as airborne firefighting, and human external cargo (HEC) operations that require rappelling, fast-roping, short-hauling or hoisting. But these types of missions bring with them many potential risks, and as such, they are not disciplines that can be approached casually; one's failure to adequately assess, identify, and manage these risks could result in catastrophic consequences.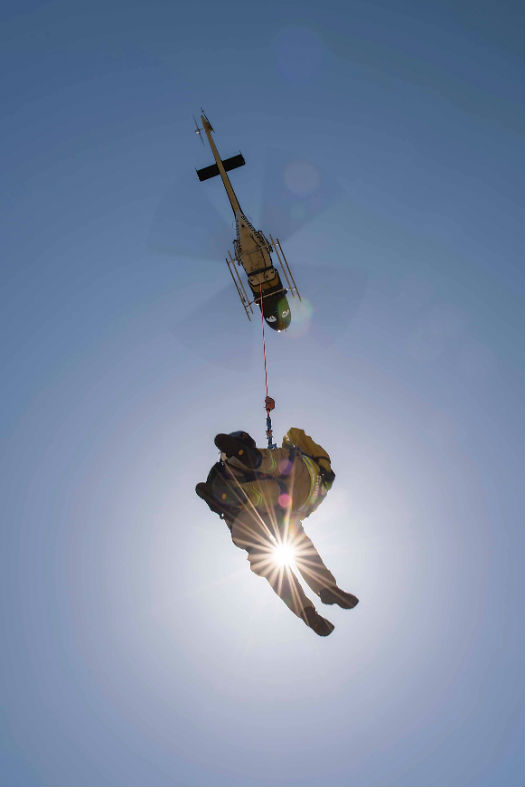 Air Rescue Systems (ARS) offers many solutions to the law enforcement aviation professional, including training for and managing human external cargo (HEC) operations.
"These disciplines seem simple on the surface," said Bob Cockell, VP of Air Rescue Systems Corp. (ARS), a leading training, response, and equipment provider specializing in HEC. "However, it's the small details that are missed in the assumption that, because we have a helicopter, we can and should perform these missions. Frankly, there are programs that should steer clear of these HEC operations for a number of reasons — experience, commitment to training, staffing, [and] aircraft capabilities are just a few."
Based outside the small city of Ashland in southern Oregon, ARS offers a highly specialized blend of services and products aimed to help foreign and domestic airborne public safety operators gain the training experience, personnel expertize, or specialized equipment they need to safely navigate these challenging waters.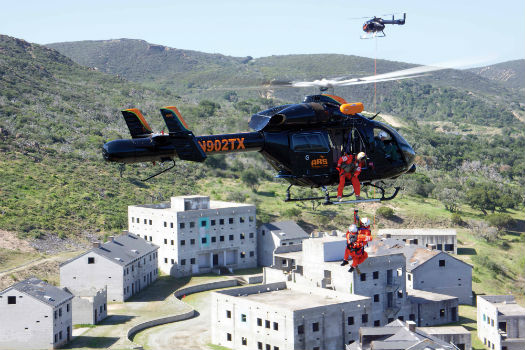 An MD 902 and MD 600 working scenarios amongst structures in one of ARS' training venues. Shawn Adams Photo
Tailor-made Training
As a training provider, ARS is certified for external load operations under U.S. Federal Aviation Regulations (FAR) part 133, which allows for HEC operations and training for a variety of helicopter rescue techniques. ARS also holds an FAR part 141 certificate as a pilot training school, offering courses in advanced piloting techniques and vertical reference for external load operations.
ARS employs 15 full time instructors, whose backgrounds range from military operations, to civil law enforcement, fire/rescue, emergency medical service, and tactical elements. The team operates a fleet of five aircraft: a hoist equipped MD Helicopters MD 902, an MD 600, an MD 520N, an MD 530F and an MD 500E.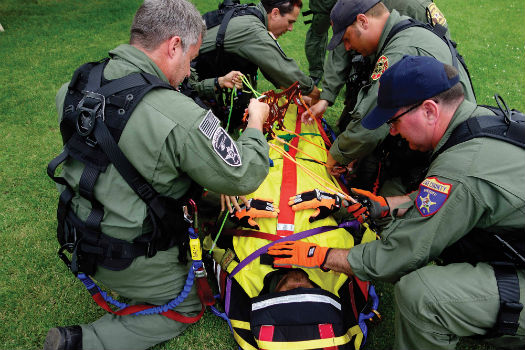 Air One personnel working on the finer points of patient packaging. Shawn Adams Photo
Training courses are individually tailored to meet an operator's specific mission requirements, and can be brought to the customer and conducted at their home venue, or completed at ARS's Oregon facility. There, students enjoy the convenience of full service on-site accommodations, including housing, cooking, and laundry facilities (meals are also catered daily).
The facility's beautiful mountain setting offers a diverse operational environment, providing students a variety of real world challenges — from flying in mountain environments, to conducting operations around tall timber or heavy foliage canopy, or over flat and moving water.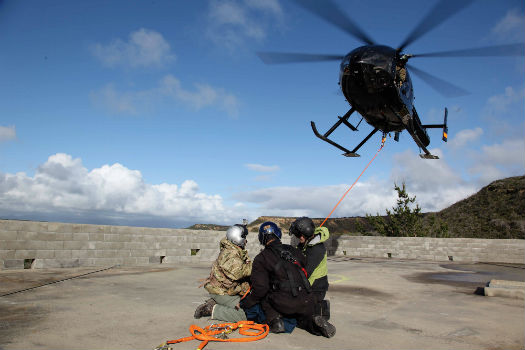 ARS's MD 600 conducting urban short haul training. Shawn Adams Photo
In addition, portions of the facility itself have been developed with structures that can be utilized for flight and tactical training objectives, such as a tall helicopter operations tower, complete with balconies and windows. Other structures representing rooftops were built low to the ground, and are used for practicing helicopter insertions via fast-rope or rappel, or human extractions by hoist or short-haul.
Pilots can hone their precision flying skills by performing toe-in, one-skid, and hover operations, or they can fly beyond the developed facility and train among the more challenging natural terrain, which reaches up to 6,000 feet in elevation.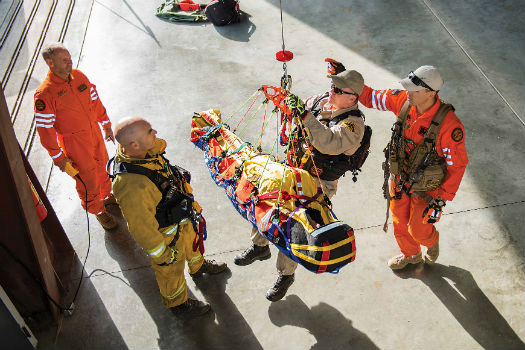 Instructors supervise students in the proper riding technique, using ARS' Air Rescue Extraction System (A.R.E.S.) bag, before moving into the field.
"We may not understand all of the nuances of their team, their culture, [or] their response area — they're the best ones to do that," said Cockell. "We just guide them through the process to create a safe program, fulfilling their goals and objectives within their budget, and [provide] a realistic approach to their response needs."
Air-One Emergency Response Coalition, a multi-jurisdictional air support unit serving Illinois and southern Wisconsin, is a long-term ARS customer. The coalition operates 12 helicopters, and relies on ARS for instruction and operational guidance for its multi-mission program. "ARS brings professional training, buttressed by a steadfast and unwavering commitment to safety," said Dan Bitton, Air-One's commander. "They are not just a contractor; they are truly our training partners, with our best interest in the forefront."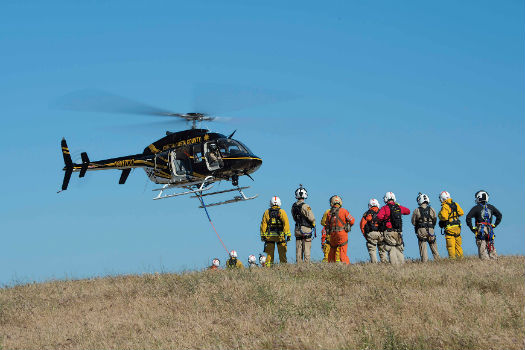 Once in the field, ARS makes sure students follow a "crawl, walk, run" protocol while they become comfortable working with the aircraft. The same applies with the rescue system configurations and the various hardware they manage.
ARS is scheduled to provide Air-One with a number of external load courses this year, including cargo, advanced HEC, and Bambi Bucket, as well as initial and recurrent hoist operations.
"We know these are dangerous operations, and it is incumbent on me, as the unit commander, to mitigate risk to the fullest extent possible," said Bitton. "The discipline in making the commitment to retain a SAR [search-and-rescue] subject matter expert is no different to me than the mandate to retain the manufacturer — Bell Helicopter — as our pilot training subject matter expert."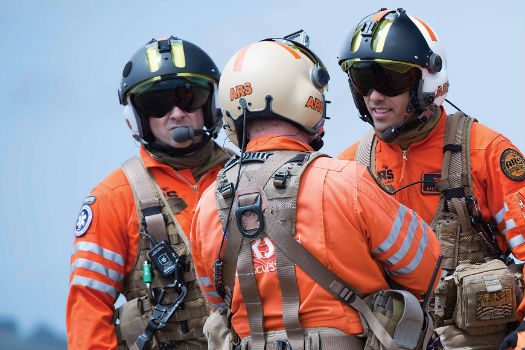 All ARS' primary instructors and pilots are full-time employees. The company believes this is the only way to ensure they're providing a cohesive "total-team" solution.
On the Hawaiian island of Kauai, ARS maintains a regular training schedule for personnel from the island's police and fire departments, who share the use of a single MD 530F to perform two distinctly different missions. Kauai is known for its dramatic, steep and wildly rugged terrain, providing an alluring draw for outdoor adventure seekers — as well as illegal marijuana grows. Both agencies have long used short-haul for the high volume of technical rescues they are required to perform, as well as for the ongoing marijuana eradication efforts throughout the entire island chain.
"ARS understands that nobody knows the challenges that we face better than us," said Daniel Oliveira, operations sergeant in charge of Hawaii's domestic cannabis eradication/suppression program (DCE/SP). "They aren't there to try and change anything about our program. They are truly there to support us."
Putting it into Practice
An ARS initial hoist or short-haul course typically involves 40 to 48 hours of classroom and field instruction, and begins with eight to 10 hours in the classroom. "We have a very immersed, didactic portion that starts off every class, covering helicopter operations, safety, CRM [crew resource management], hazard identification and risk management," said Cockell. "The skills come easy once they can manage those other issues."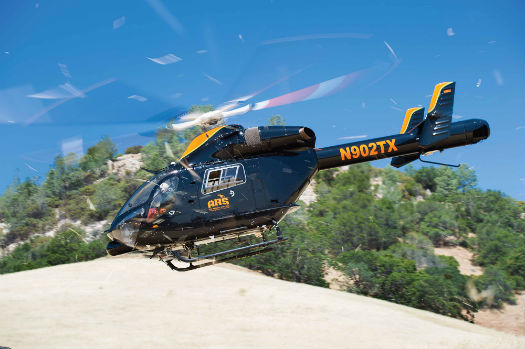 The large rear cabin, twin-engine performance, and NOTAR system make the MD902 ideally suited for ARS' diverse off-field mission needs.
Students are then introduced to all the various hardware, aircraft rigging, safety equipment, and rescue systems. For experienced rescuers, this acts as a refresher.
"[ARS] operates on a best practices baseline, ever evolving to keep their training up to date," said Bitton. "Every step of our program begins with intense ground based training with 'hands-on' by our unit members."
The class then moves into the field, where core modules are taught and hands-on skills and procedures are introduced, reinforced — and reinforced again. Emphasis is placed on the basics: working around the aircraft, close quarter positioning, and the use of equipment.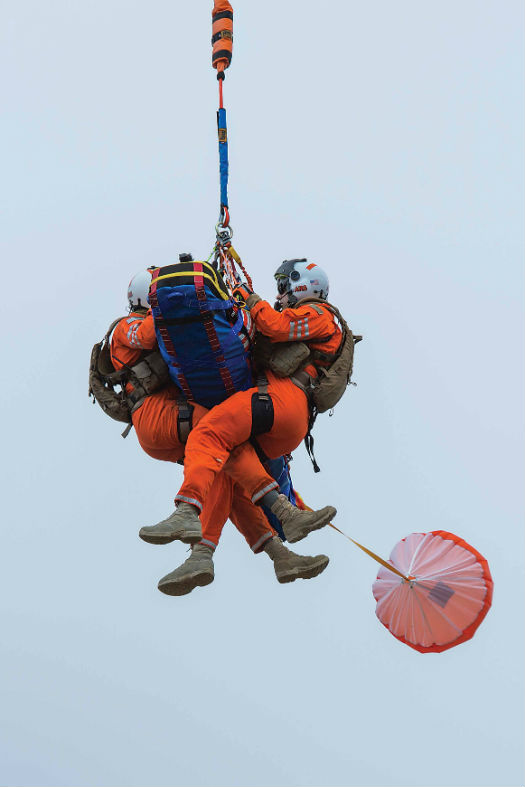 ARS instructors demonstrating the ARS Litter Drag Chute as it stabilizes ARES and litters in flight.
In what might be considered the "crawl" stage, students are introduced to skid riding and basic short-haul or hoisting techniques. "When we progress to flight operations, ARS instructs in [a] building blocks format, making certain all [students] attain the required knowledge before moving on to the next block of instruction," said Bitton.
In the days that follow, as students become comfortable with the techniques and procedures and begin to gel as a team, the "walk" stage begins. Instructors challenge the students using controlled scenarios, steadily elevating the situational difficulty at the different venues.
The culmination of the training is the "run" stage, as ARS instructors develop and choreograph realistic and challenging scenarios in the field. The students must assess the situation, develop a plan, and successfully execute the mission using the skills they have been taught.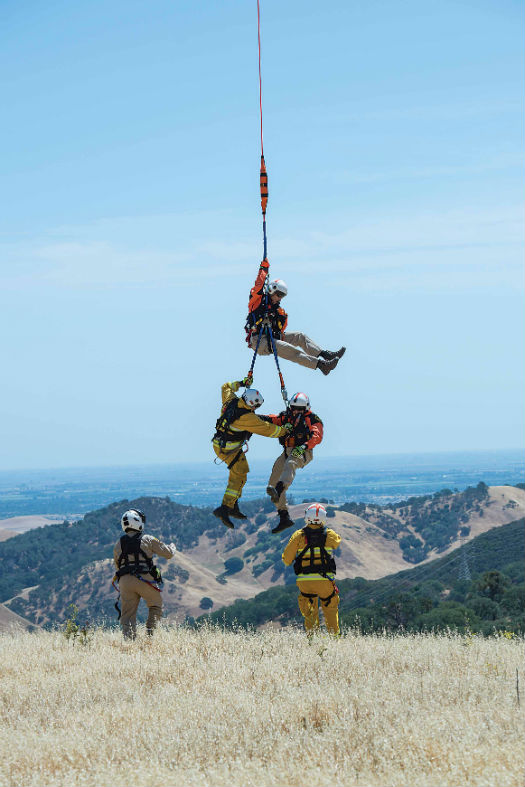 In addition to short haul, ARS offers instruction in hoist operations, rappel, fast rope, medical rescue, precision long line and helicopter skid operations.
Upon the students' successful completion of the course, ARS instructors are quick to emphasize the importance of prudent management of their new skills. "We challenge these organizations to constantly look for reasons to not do what they're trained to do — rather than jump at the first opportunity," said Cockell. "We share our achievements and failures to make our customers achieve the highest level of 'risk managed' response."
Expanded Service
As well as its many training offerings, ARS provides airborne response services to public safety agencies who may require the capabilities of a helicopter and crew. For instance, ARS will launch their aircraft to perform an emergency short-haul or hoist rescue, or perhaps support an agency on a pre-planned tactical mission where they might provide aerial insertions into a remote marijuana grow.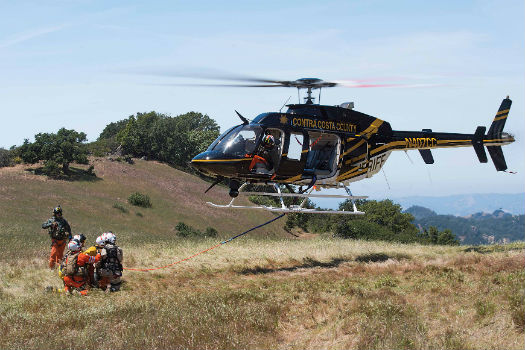 Contra Costa County Sheriff working field scenarios on Mount Diablo during ARS initial short haul training.
ARS also supplies teams of skilled rescue and medical personnel to fulfill long- and short-term contract programs around the globe. In partnership with Erickson, it recently completed a multi-year contract in which it supplied rescue hoist operators, paramedics and emergency medical technicians (EMTs) in support of training missions for the U.S. Army in Alaska. A similar program in Hawaii currently utilizes over 30 full- and part-time paramedics and EMTs. Next year, in partnership with AAR Airlift and British International Helicopters, ARS will supply rescue personnel for a long-term contract in the Falkland Islands. Using two SAR-equipped AgustaWestland AW189s, the team will provide SAR and medical evacuations for military operations, as well as for the island's civilian population and local fishing fleet.
Further global expansion this summer will see ARS develop its training presence across the Atlantic through a new entity, ARS Europe. Developed by ARS with a European partner, ARS Europe has set up operations in Prague, Czech Republic, at a former Soviet military base. In addition to rescue courses, it will provide initial pilot training sanctioned by the European Aviation Safety Agency.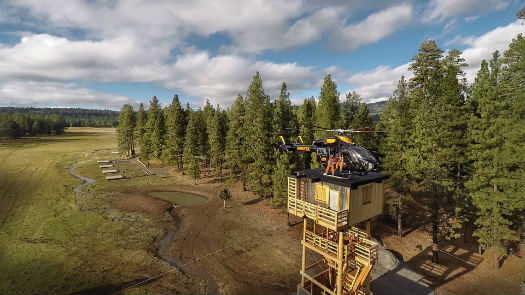 ARS' training facility in southern Oregon provides a seemingly limitless opportunity for helicopter mission training. Shawn Adams Photo
In addition to its training service and the provision of highly skilled personnel, ARS also creates its own specialized equipment for rescue, utility and tactical applications; this is the final element of ARS's core philosophy to provide a complete service solution to its customers.
To create these products, the company has its own in-house team, which handles everything from the design and engineering to the manufacturing of the products. Among the equipment developed and manufactured by ARS are innovative victim extraction devices, fast rope and short-haul kits, personal retention lanyards, cabin/door anchors, and comfortable, lightweight tactical or rescue/safety full-body harnesses.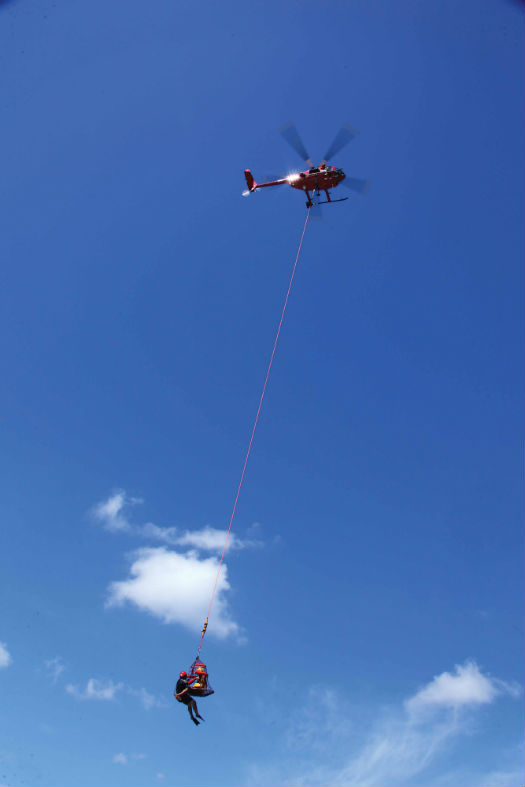 Kauai Fire Department's MD 530F conducts surf rescue training with ARS. Shawn Adams Photo
"The knowledge of SAR equipment that ARS brings to the table, I believe, is unprecedented," said Bitton, who credits one of ARS's safety devices as being responsible for saving two of his personnel. "[That] ARS [is] manufacturing and testing SAR equipment affords Air-One access to the latest in SAR equipment and mission safety," he said.
The Kauai agencies also have high praise for the ARS equipment they employ. "ARS brings a quality short-haul system that can withstand the vigorous demands of our mission," said Oliveira. "It's a system that we absolutely love because of the easy attachment to the helicopter. Because we deploy and retract ropes constantly during our mission, it's a quick and safe process."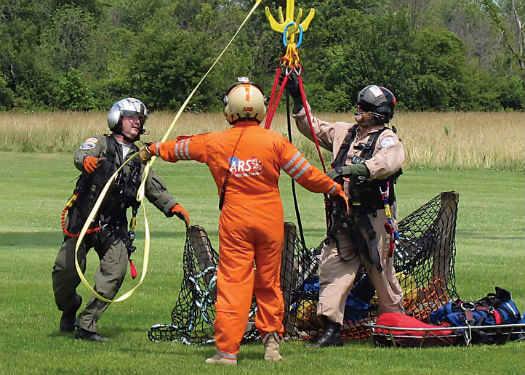 Air One Emergency Response Coalition utilizes ARS on a regular basis for many of their special mission training needs, including cargo operations. Shawn Adams Photo
Much of the expertise behind ARS's hardware manufacturing is the result of a long-term partnership with John Yates and his company Yates Gear. The company is a highly-regarded manufacturer of mountaineering and rock climbing equipment, and has an extensive product line of professional utility, rescue, and tactical hardware.
ARS's ISO 9001:2008 accreditation for its quality management system assures customers the company has met the industry's highest manufacturing standards, and, earlier this year, it also earned approval from the FAA for its quality control system. The latter will prove particularly important as ARS works toward FAA TSO-C167 certification for personnel carrying device systems (rescue harnesses).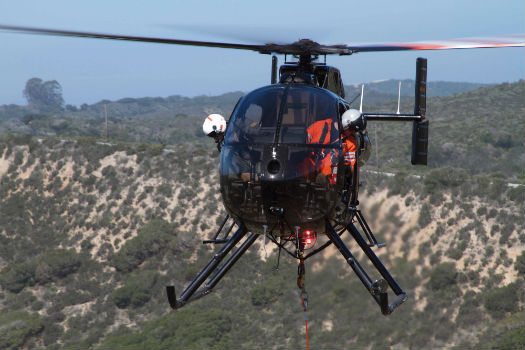 To perform external load operations, students must first perfect direct vertical reference flying — here using ARS' MD 600. Shawn Adams Photo
Throughout the world, the role of the police helicopter is evolving. Crews are being asked to tackle unfamiliar and demanding missions that require new perspectives, skill sets and hardware. Through the three-pronged provision of training, personnel, and equipment, ARS aims to offer customers a complete service solution, helping them safely adapt to this extremely challenging, and ever-evolving, environment.