North County Patrolling: L.A. County Sheriff
The County of Los Angeles consists of 4,700 square miles (1.2 million hectares) of every type of terrain — from the heavily populated L.A. Basin to the Angeles Forest and its 10,000-foot peaks, to the high Mojave Desert, to Catalina Island and San Clemente Islands, more than 20 miles offshore. The Los Angeles County Sheriff's Department (LASD) is tasked with patrolling and providing law enforcement services within this large area.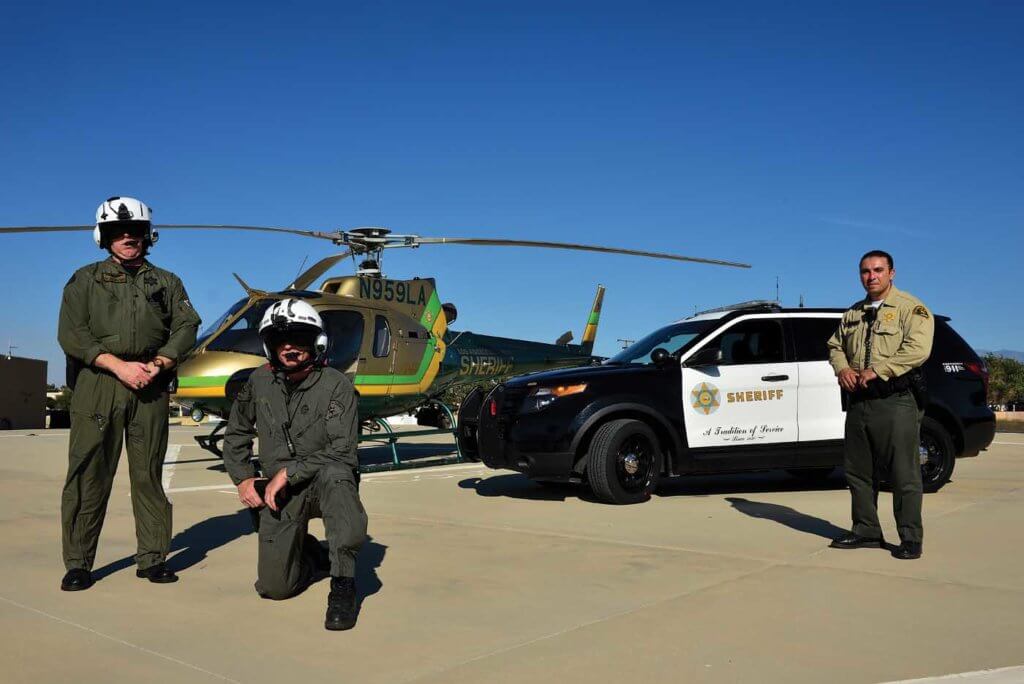 The LASD Aero Bureau allocates its 15 Airbus AS350 B2 patrol helicopters across three general areas, including the L.A. Basin; the eastern part of the county; and the northern and far western parts of the county — which are particularly diverse.
From the San Bernardino County border all the way west to Interstate 5, the northern/western patrol area encompasses high parts of the Angeles Forest, hundreds of square miles of lightly populated desert, and the desert cities of Palmdale and Lancaster. It also includes the popular recreational areas of Castaic and Pyramid lakes, the city of Santa Clarita, and coastal Malibu and parts of the Santa Monica Mountains. At an estimated 1,500 square miles (390,000 hectares), this patrol area is roughly the size of Rhode Island.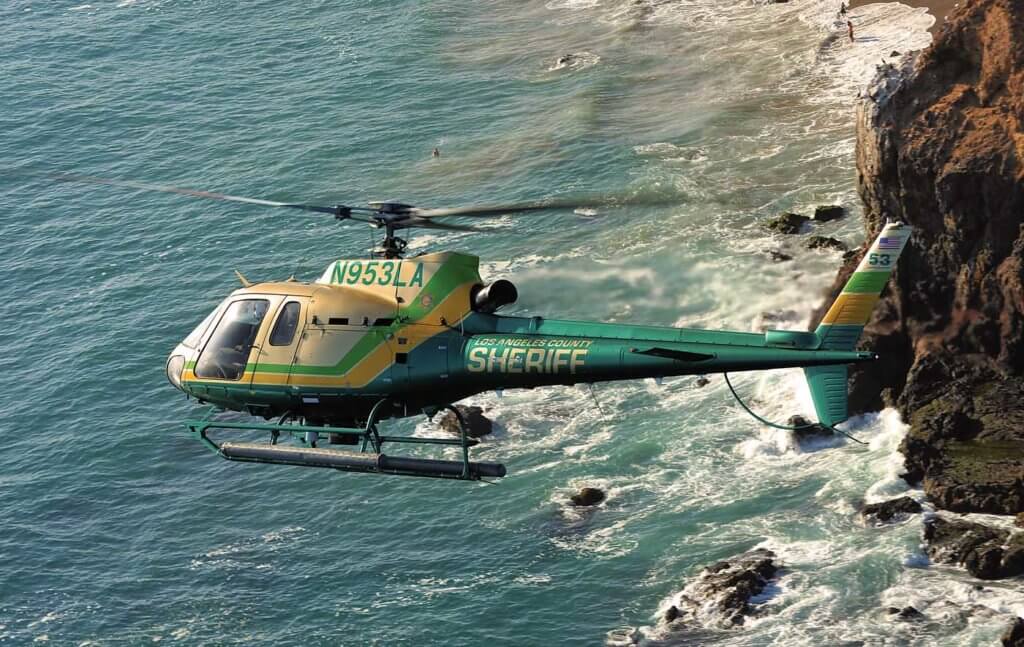 "Air 29," an LASD AS350 B2 based out of Burbank Airport in the San Fernando Valley, launches daily to patrol this northern area. As Aero Bureau pilot Sergeant Morrie Zager explained, "Air 29 is a very interesting mission within the department. Our operational area, which includes populated cities, also has many square miles of mountains and remote locations where our services might be needed.
"We cover parts of the Angeles National Forest and might be called out day or night to search for lost people, broken-down cars, or criminal activities within the forest. Then when we get into the desert, we patrol the cities of Palmdale and Lancaster. We also venture to the outlying areas of the desert which during the day is fine, but at night is extremely dark. . . . We get calls for service in these areas for crimes in progress, suspicious activity, stolen cars, and people who go off the road [and] have other vehicle issues."
The Aircraft and Crews
The LASD's current AS350 B2s, including Air 29, are its second batch of this model, and the department will soon begin procuring new H125s (the latest AStar variant, previously known as the AS350 B3e). The current B2s perform well overall, but were acquired with additional mission equipment that added weight over the first batch. The loss of performance has been acceptable within the lower-elevation L.A. Basin, but fuel or payload must sometimes be downloaded when the aircraft venture into the mountains or high desert.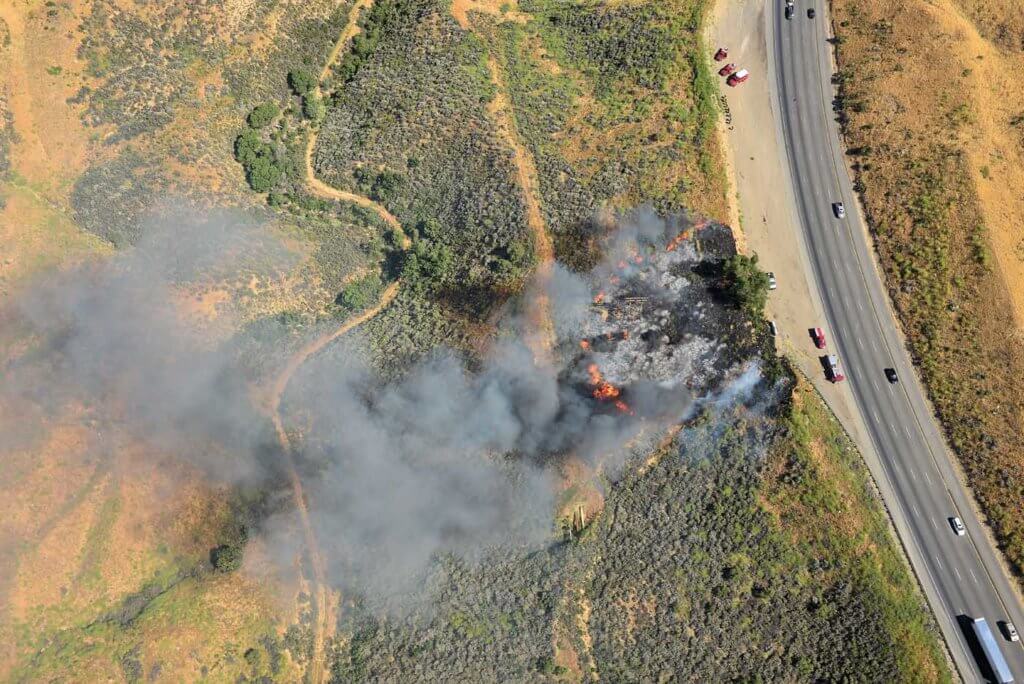 "The B2 is a great helicopter for many departments and has plenty of performance for their requirements," said Zager. "L.A. County Sheriff's operates in the Angeles Forest and high desert, where actual altitudes and density altitudes can reach over 10,000 feet on summer days. The high desert starts at 2,500 feet and can routinely go well over 100 degrees during the summer months, and moves into the lower mountains.
"Aero Bureau looks forward to finally getting the H125, as it will have the ability to go anywhere in the county without major performance concerns. Sure, we'll have to look at the performance charts on the H125, but even with its installed mission equipment, it should be quite a performer," he noted.
Air 29 flies with a crew of two, including a senior deputy pilot signed off for mountain operations and night vision goggle (NVG) use. Said Zager, "To be signed off on NVGs, a pilot needs 1,000 hours PIC [pilot in command] time with a minimum of 400 unaided night hours. Once the pilot reaches 400 unaided hours, they will go out with an LASD CFI [certified flight instructor] for mountain and NVG training to prepare them for flying Air 29."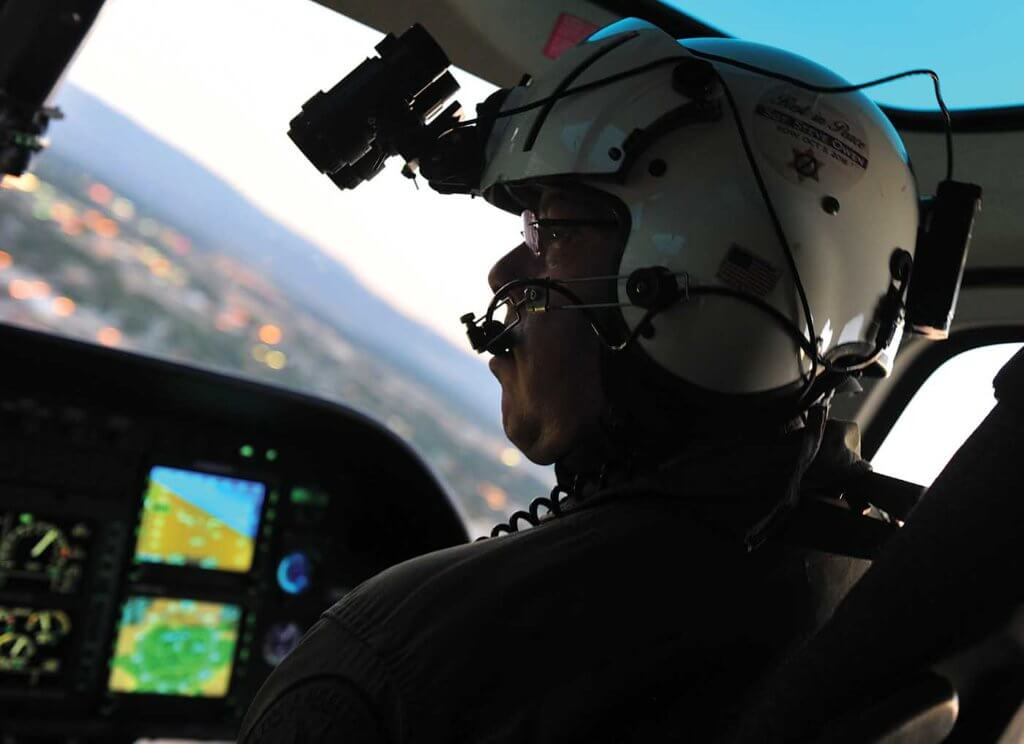 The mountain course also teaches flying in the very windy conditions experienced in the desert. While clouds and wet weather are rarely a concern when working the desert, Air 29 crews must contend with heavy winds year-round. "Basically, it's either cold and windy or hot and windy and not much in between," said Zager.
Sitting next to the pilot and orchestrating the missions is what LASD calls a tactical flight deputy (TFD). "The TFD monitors and operates the radios with dispatch, and communicates with ground units and, oftentimes, station watch commanders," explained Deputy Dennis "Woody" Harralson, an Air 29 TFD. "The TFD also operates the forward-looking infrared (FLIR) camera, mapping system, searchlight, and is always a second set of eyes in the aircraft, assisting the pilot by alerting him or her to other observed traffic flying in the area."
Harralson continued, "For example, during a mission where a vehicle pursuit terminates with suspects running from the abandoned car, the TFD begins multi-tasking by setting up a containment around the crime scene and directing ground units into the area and [telling them] where they should position." This aerial view enhances the ground personnel's overall understanding of what's happening, and the TFD's observations and suggestions help the field supervisors make the correct decisions in the deployment of deputies and any responding special units (which might include canine teams, special weapons teams, or bomb squad personnel).
Working the Desert
Air 29 spends much of its time patrolling the desert cities of Palmdale and Lancaster. With a combined population of around half a million, both cities have their share of vehicle thefts, burglaries, and other crimes.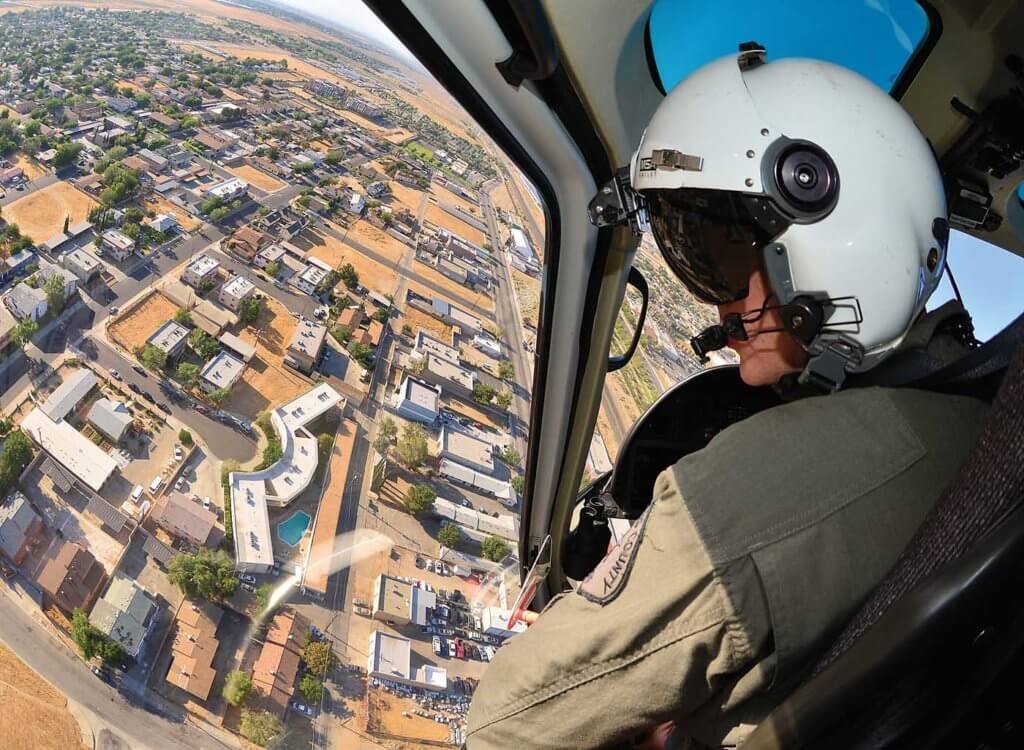 However, crews are also frequently called to the outlying areas of the county. In these remote locations, an LASD ground unit with its lights and sirens on can still take 30 minutes or more to arrive at the scene of an emergency. More often than not, Air 29 is the first asset on scene and will begin working the call.
"Depending on the severity of the situation, we will sometimes land to figure out the problem or stay airborne until a ground unit can get to the location," said Harralson. For those occasions when the crew lands to investigate a situation, the aircraft carries an M4 carbine with extra magazines, should the TFD feel the need for this additional security.
"When patrolling the desert we are always looking for things out of the ordinary," Zager noted. "Cars and trucks that are off the beaten path and possibly stolen, people shooting guns in unapproved areas, and people dumping trash like mattresses and construction materials to avoid dumping fees… You'd be surprised at the things we see out there! One other thing we do is check the Los Angeles Aqueduct, a [water system] that runs through our operational area. We search for cars that might have ended up in the aqueduct, either stolen or from an accident, and for trespassers up to no good."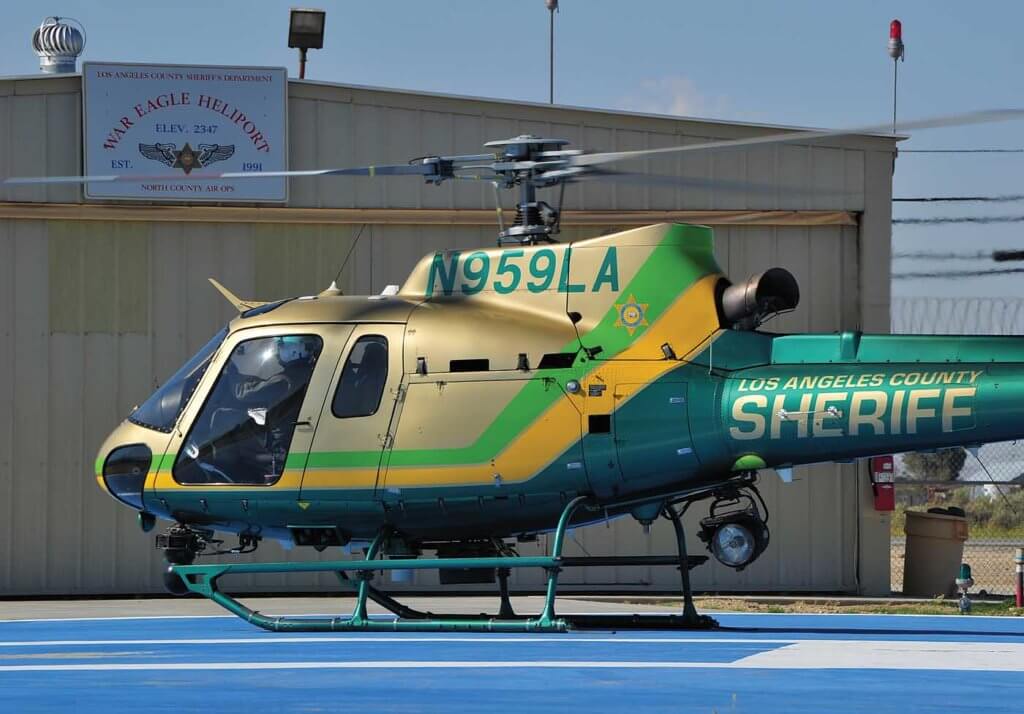 Although Air 29 is not specifically equipped for search-and-rescue, it will assist with searches when required. "Because the mountains throughout our area are used for every kind of recreational use including hiking, mountain biking, and off-roading, we occasionally come upon crashed off-road vehicles, stuck cars, camper vehicles broken down in remote areas, people who are lost and dehydrated," said Zager. "If we come upon people who are uninjured but in distress, we can land and lift them out and bring them to a safe area, possibly to one of our sheriff stations." For people with injuries and more technical rescues, Air 29 calls on a hoist-equipped LASD Airbus AS332 Super Puma, "Air Rescue 5."
Staying Safe
With little to no urban illumination in these remote areas, Air 29 crews rely on NVGs to enhance safety during night operations. "The NVGs are a game changer," emphasized Zager. "It can get really dark out there, and even though we might be able to transit the area, the NVGs allow us to work the area: they let us search for lost people, find hidden suspects and find cars that might have gone off the road. The personal security they give a crew changes everything and lets us get the job done without fatiguing us to the point where we couldn't do the job." The TFD also takes advantage of the capabilities of Air 29's forward-looking infrared (FLIR) camera as well as NVG's during desert operations at night and in low light.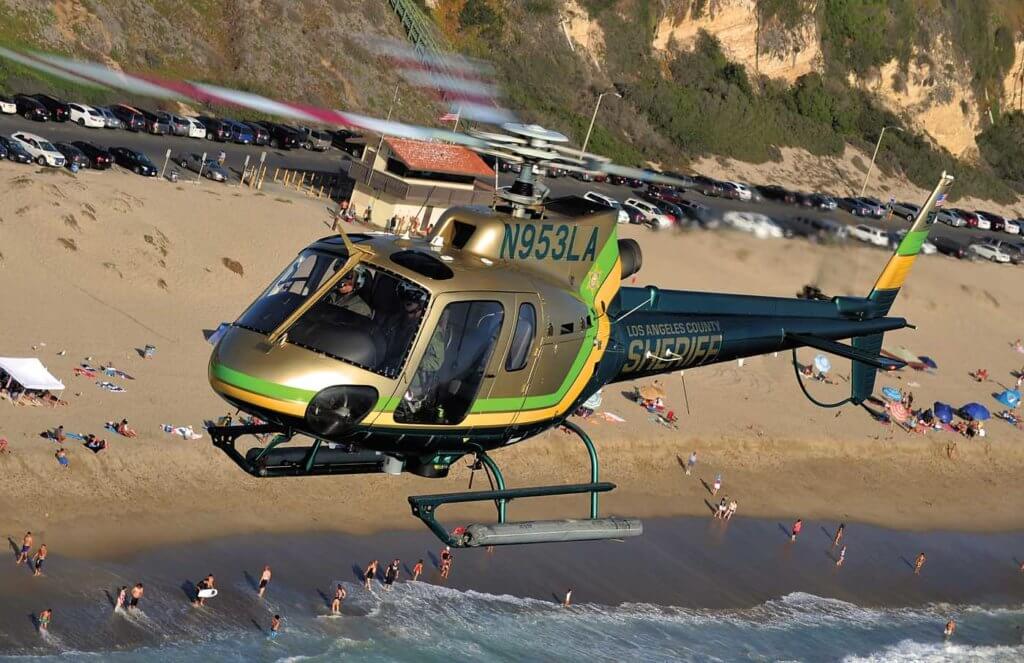 As is readily apparent, the Air 29 mission profile can be daunting, but this high-tempo assignment is a popular one at the Aero Bureau. Rarely is a shift boring, and crews return home daily with a great sense of satisfaction. During a single shift, crews might have come upon a fire, found a lost person, helped a stranded motorist in the hot desert, and helped apprehend criminals, making the county a safer place.
"We cover a very large county that presents us with many challenges," Aero Bureau Captain Anthony Rivera told Vertical 911. "The Air 29 desert shift demands a lot of our pilots and TFDs, and that's how they like it. I'm proud of what they do for the citizens of Los Angeles County."