In March 2007, a tornado ripped through the small rural town of Americus, Georgia, severely damaging its hospital, Sumter Regional, as well as an outpatient medical building, a number of doctors' offices, and more than 200 homes. Although no one at Sumter Regional was killed in the tornado, the damage left the hospital's staff scrambling to evacuate existing patients while coping with new emergencies.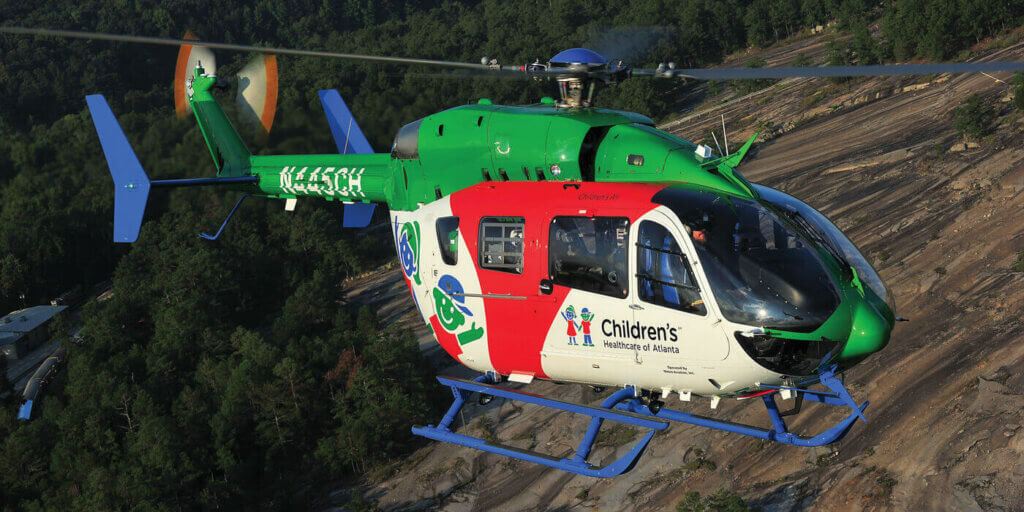 In the days and weeks following the disaster, physicians and nurses provided urgent care from tents and, later, modular buildings. With the next closest hospital 40 miles away, many residents whose cars had been destroyed in the storm had no way of accessing other medical facilities.
It was in the aftermath of this destruction that a Children's Healthcare of Atlanta (CHOA) medical flight crew was called to Americus to retrieve a month-old infant in cardiorespiratory distress. The baby was afflicted with a myxoma, a rare benign tumor, in his heart's right atrium.
"His mother was terrified," recalled flight paramedic Rick Roemer, who worked on the infant along with flight nurse Nancy Constable. "We were struggling to keep him alive."
Upon arrival at a CHOA hospital in Atlanta, the infant underwent surgery to remove the myxoma — and immediately began a recovery. As Roemer explained, "It was just a matter of pulling the tumor out of his heart, and he was fine. He went home a few days later."
Americus's recovery wasn't quite as swift, but the town also pulled through. An interim medical facility began serving the community in April 2008, and the hospital, after extensive repairs, reopened the following summer. In 2010, construction began on a new, permanent hospital facility, which has been open since December 2011.
A few years after the tornado, Roemer was back in Americus on another call when he thought to ask whether anyone at the hospital remembered the boy with the myxoma. "Yes," someone told him, "they're in the waiting room." Roemer, confused, assumed he had been misunderstood, but in fact the same child — now a happy, healthy toddler — happened to be at the hospital with his mother for some lab work. The reunion was emotional.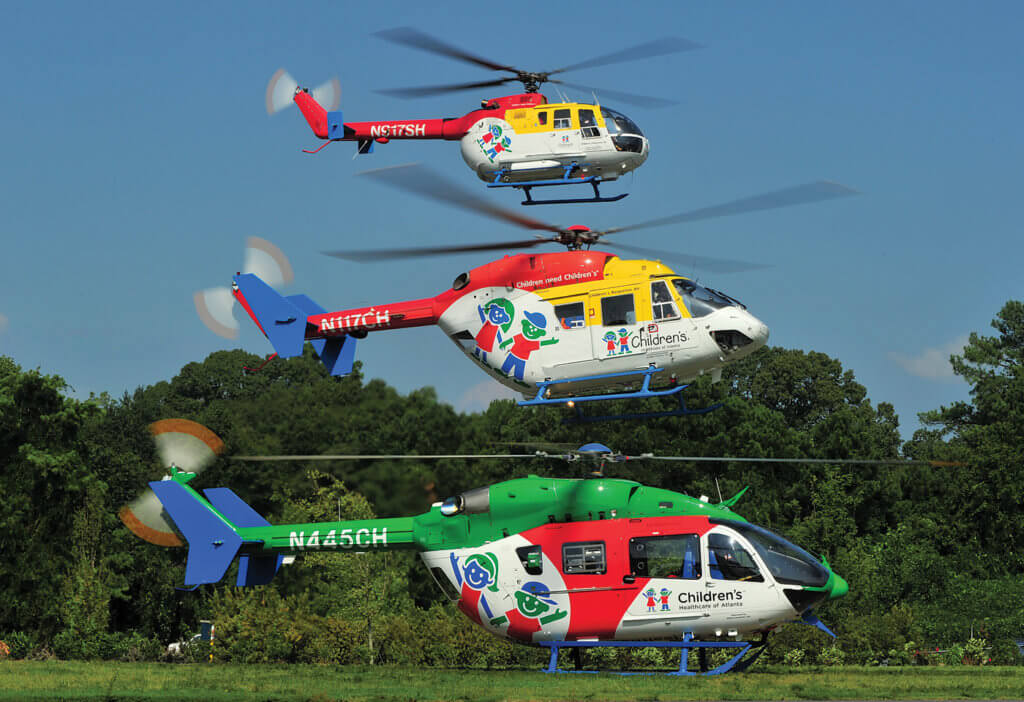 "I thought I was going to lose it," said Roemer. "Having that kind of impact on a patient's life . . . it's powerful."
While reunions like the one in Americus don't happen every day, CHOA's life-saving interventions do. And its Transport Team — which completes more than 5,000 ground and air transports per year — is vital to the success of many of them, delivering timely critical care to sick and injured children across the state of Georgia. "The mission for Children's has always been to take the ICU [intensive care unit] to the child," said Constable, who is now the Transport Team's manager. "If we can get there quick enough and intervene, we can change the outcome. I think that's the best present that our teams can get."
That may be true, but the CHOA Transport Team unwrapped another present recently: a brand-new Airbus Helicopters EC145e, completely customized for its mission by Metro Aviation, which also operates the aircraft for the program. With it, CHOA has become the launch customer for the EC145e, a reduced-weight version of the EC145. In advance of the 2016 Air Medical Transport Conference in Charlotte, North Carolina, back in September, where the aircraft was scheduled for display at the Metro Aviation booth, Vertical 911 visited CHOA at its facilities in the Atlanta metropolitan area to learn more about the program and its impressive new ride.
Critical Capabilities
The nonprofit Children's Healthcare of Atlanta was created by the 1998 merger of two longstanding pediatric medical centers: Egleston Children's Health Care System, which was originally founded in 1928, and Scottish Rite Medical Center, which first opened in 1915. The year after the merger, the newly unified healthcare system introduced its distinctive girl and boy mascots "Hope" and "Will" (who are now prominently featured on its new EC145e).
In 2006, CHOA took over management of Hughes Spalding Children's Hospital, growing its healthcare system to three hospitals and 27 neighborhood locations. Today, CHOA treats more than 360,000 unique patients per year, with a team of more than 10,000 employees and 7,000 volunteers committed to the mission of "making all kids better today and healthier tomorrow."
With only about 65 employees under its umbrella, the Transport Team is relatively small, but it plays a vital role in accomplishing CHOA's mission. Operating a fleet of seven pediatric ambulances and two helicopters (one primary, one backup), the team provides timely transport and lifesaving care for the most critically ill and injured patients. About 700 of its 5,000 annual transports are done by air, making its full-time helicopter "the busiest medical helicopter in the state," according to director of Trauma and Transport Greg Pereira.
CHOA's helicopter program was launched soon after the 1998 merger, originally in partnership with MedServ. Metro Aviation took over the contract in 2004, and since then has provided all aviation services for the program under a traditional hospital-based model. While the program's four full-time pilots and two full-time maintenance personnel are Metro employees, and its flight nurses and flight paramedics work for CHOA, most of them describe the integration of the crews as "seamless." Said Constable, "I really feel like we're a very tight-knit program. I think our medical teams and we the management have a lot of respect for the pilots [and mechanics]."
The program utilized Eurocopter (now Airbus) AS350 series helicopters and a Bell 407 at early stages of its history, but for the past decade, it operated a Eurocopter BK117 as its primary helicopter, and an MBB BO-105 as its backup. While CHOA's patients may be small — as tiny as a few pounds, in the case of some neonatal transports — their needs are not, and the BK117 provided plenty of room for medical teams and equipment. Perhaps as importantly, it also offered enough space for a parent to ride along, which is "absolutely imperative to our mission profile," according to Roemer. It's easy to understand why — just imagine being the mother of the Americus myxoma patient, and having to watch your child, at death's door, fly away without you.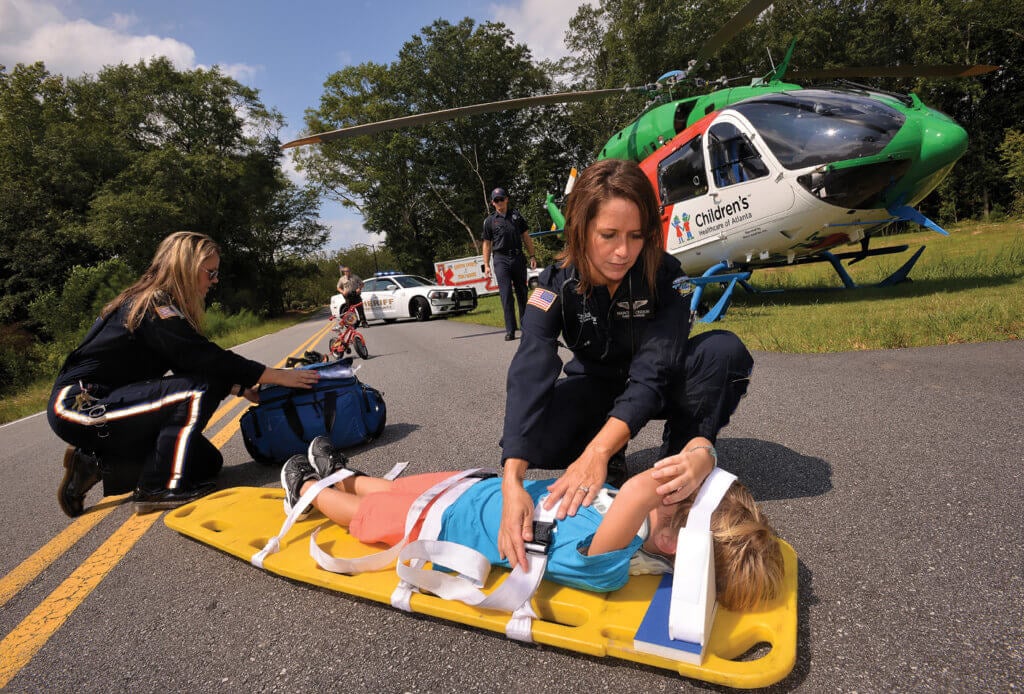 As the operator of the only dedicated pediatric helicopter in Georgia, CHOA conducts air medical transports across the state. "We'll go 150 miles without a question," said flight paramedic Andrew Burkhart. "If it's over 150 miles, we want to make sure the patient warrants that long of a flight . . . but usually if we get calls from that far away the patient really is sick." A large majority (around 90 percent) of the program's helicopter transports are interfacility transfers, but CHOA is relatively unusual among pediatric helicopter air ambulance (HAA) programs in responding to scene calls such as motor vehicle accidents, too. In these urgent trauma cases, CHOA has found that another advantage of a larger helicopter is the ability to transport two patients when the occasion demands it.
"The two-patient capability is so huge, I think, to a lot of us," said Roemer, noting that first responders on scene calls "have used us for everything in the world because they know we can carry siblings." While CHOA may only conduct simultaneous helicopter transports of siblings six to eight times per year, the capability is as valued as the ability to carry a parent. That, too, is easy to understand — because if watching your child fly away without you is hard, seeing another one of your critically injured children denied that specialty transport is even harder.
Choosing the EC145e
All in all, said Constable, the BK117 "was an awesome aircraft for us — we really got spoiled on it." But with the aircraft aging, it became clear that CHOA would eventually need to replace it. According to Pereira, the U.S. Federal Aviation Administration's new equipment mandates for HAA operators provided an additional incentive to upgrade to modern technology.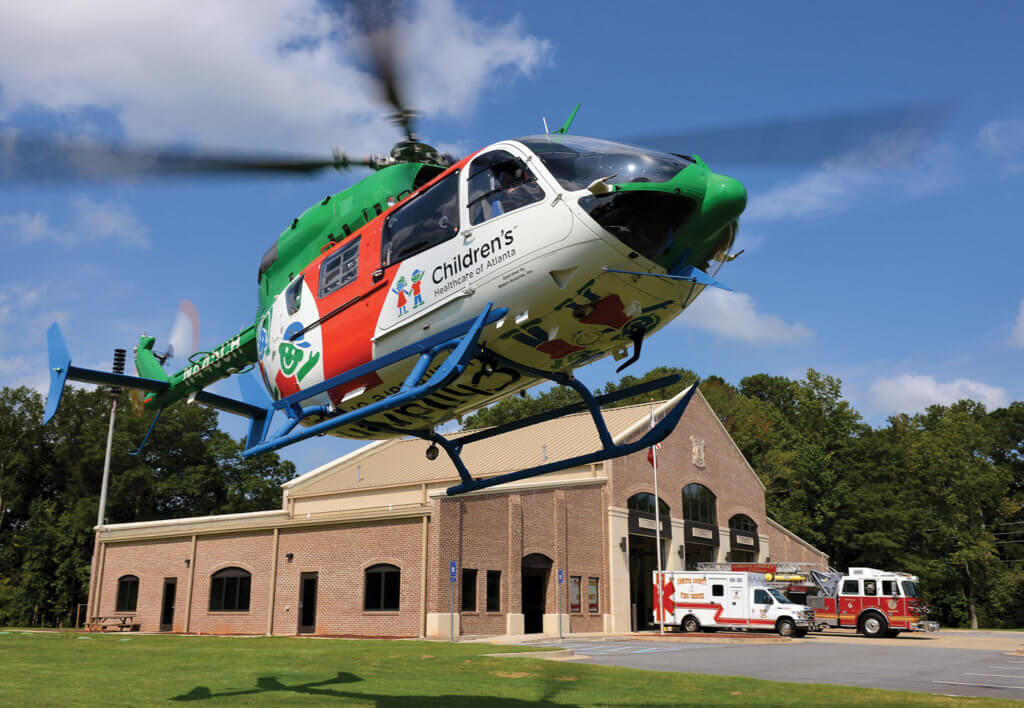 CHOA considered a number of possible replacements for the aircraft, hiring an independent aviation consultant to assist with the evaluation process. They determined that anything smaller than the BK117 — such as the Airbus Helicopters H135 — simply wasn't large enough for the program's mission profile. However, most of the larger twin-engine helicopters on the market were certified for instrument flight rules (IFR) operations, with a price tag reflecting that capability. After evaluating the relatively low number of calls it had missed due to weather, and mindful of competition in the region from for-profit air medical providers, CHOA determined it could not make a financial case for transitioning its visual flight rules (VFR) program to an IFR one.
Enter the EC145e. Around the same time that Airbus Helicopters was developing the latest version of the EC145 — the Fenestron-equipped, high-performance H145 — the manufacturer was experimenting with a lighter-weight version of the legacy EC145 (which is itself an evolution of the BK117). By removing the EC145's single-pilot IFR package and associated ballast weights, Airbus was able to reduce the aircraft's weight by 330 pounds (149 kilograms). But initial interest in the model from the utility market was lukewarm. It wasn't until Metro Aviation discovered the program, and placed an order for six of the aircraft, that the future of the EC145e was assured (see p.62, Vertical, Oct-Nov 2015).
Metro Aviation has now taken the lead on the EC145e program, and is able to sell the aircraft directly to customers under the terms of its unique agreement with Airbus Helicopters. With its need for a modern, twin-engine VFR helicopter, CHOA was an ideal candidate for the aircraft, and it was announced as the launch customer for the EC145e at HAI Heli-Expo 2016 earlier this year. Drawing on its capabilities as a full-service completion center, Metro then worked closely with CHOA to customize the aircraft for the pediatric mission.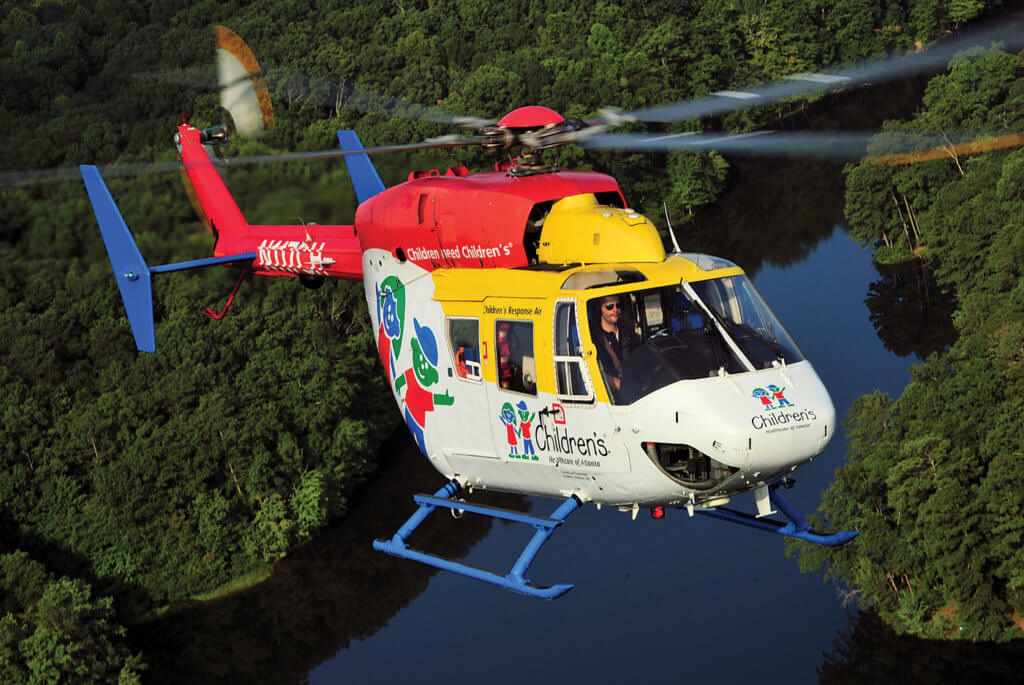 Like its predecessor, the BK117, the EC145e has a spacious, flexible cabin that is large enough to accommodate a specialty medical team or a second patient when required. For most missions, however, the cabin of CHOA's new EC145e is configured with a single Stryker stretcher and three seats — for the flight nurse, flight paramedic, and a parent. The nurse's seat alongside the stretcher can easily slide back and forth to adjust for patients who vary dramatically in size, from tiny infants in isolettes to strapping 17-year-old athletes.
In keeping with the Transport Team's goal of bringing the ICU to the patient, the aircraft is equipped with a wide array of specialty medical equipment. "Children's doesn't spare any expense with equipment," observed flight nurse Dan Tillett. "We're bringing the same level of care that [the patient] is going to experience when they get back to the hospital."
Because CHOA transports many children with breathing difficulties, the helicopter carries heliox, a breathing gas composed of helium and oxygen that requires less effort to breathe in and out of the lungs. The medical crews can also administer heated humidified high-flow therapy, in which a warmed, humidified breathing gas is delivered to the patient at a high rate through a nasal cannula — an alternative to more invasive forms of ventilation.
Another specialized therapy that is possible on the aircraft is neonatal therapeutic hypothermia, in which an infant's body temperature is lowered in an effort to prevent brain damage resulting from a loss of oxygen at birth. The CHOA helicopter also boasts equipment like a Medfusion 3500 syringe pump, which allows med crews to administer very precise dosages of medications to their sensitive young patients.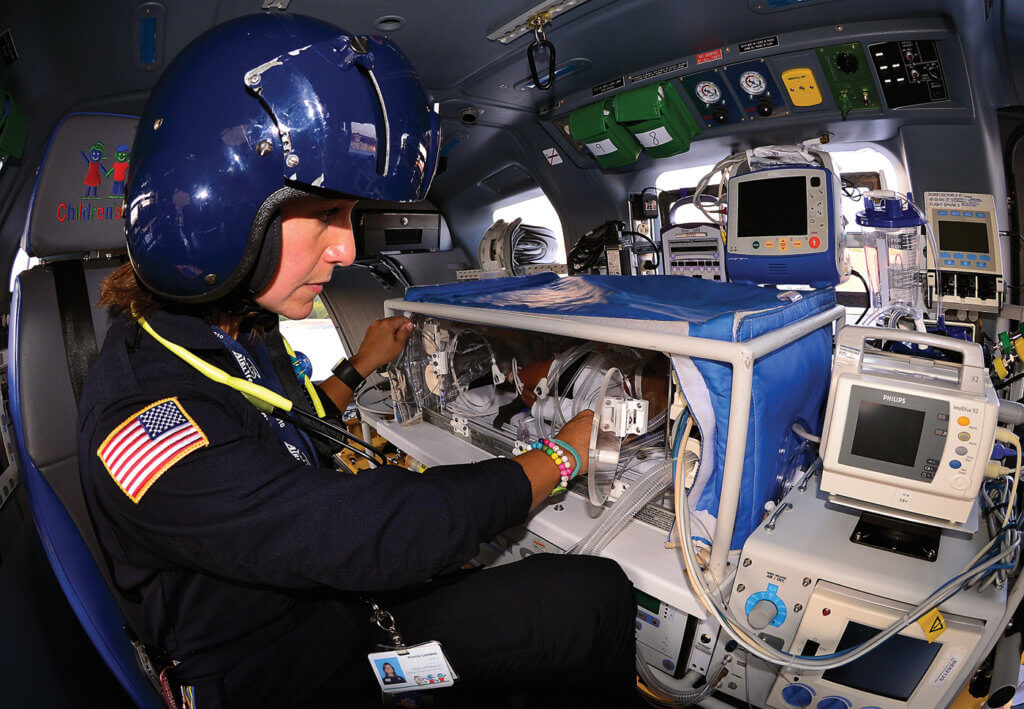 "She's everything we want," Constable said of CHOA's new EC145e, which was delivered in June 2016 and flew its first patient mission on July 22. "It gives me goosebumps every time I look at her."
The pilots are also happy with the upgrade. In the cockpit, the BK117's large panel of steam gauges has been replaced by a smaller, more streamlined panel incorporating Garmin GTN 650 and 750 touchscreen GPS/nav/comm units, and the Garmin G500H dual-screen electronic flight display, including helicopter terrain awareness and warning system (HTAWS) and weather displays. Also installed are a Garmin GTX 33H transponder with Automatic Dependent Surveillance-Broadcast (ADS-B) capability, GTS 800 traffic advisory system, and GDL 69 SiriusXM satellite weather receiver, as well as Outerlink's IRIS system for aircraft voice, video and data recording, tracking, and communication.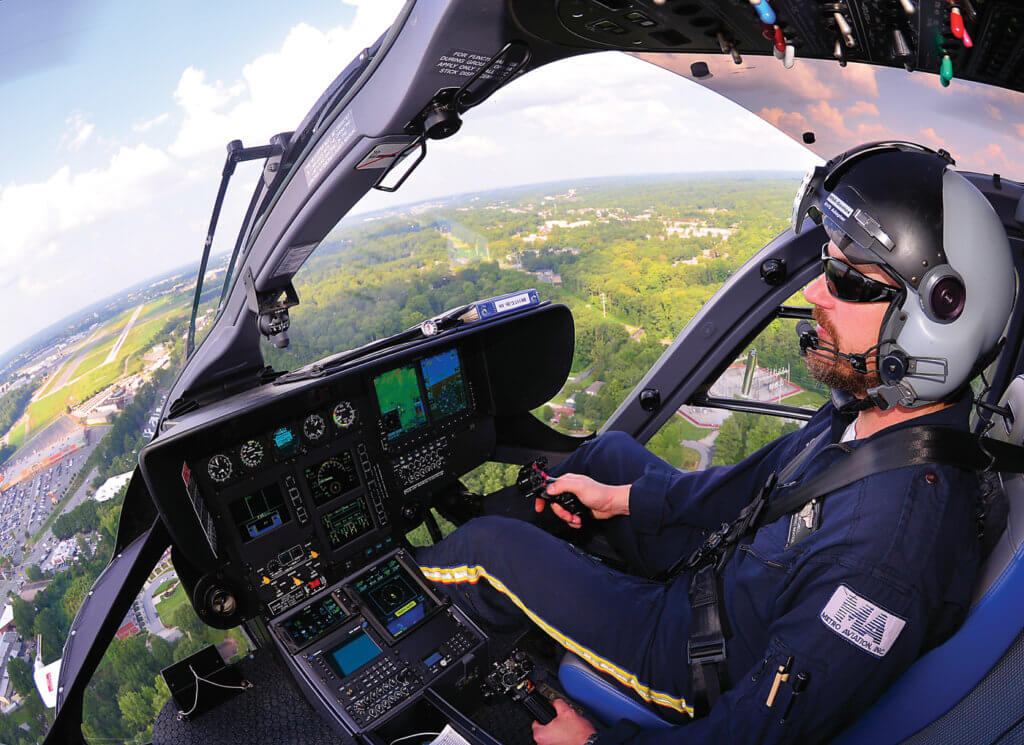 Not only does the smaller panel provide better outside visibility, the integrated glass displays make it easier for pilots to take in critical flight information. "We've gone from looking at 20 gauges to looking at five screens," said Metro pilot Harry Marshall. "The scope of what we can do and what we can look at in a single glance is huge."
Although the EC145's single-pilot IFR-certified autopilot has been removed from the EC145e, CHOA opted to install a Genesys HeliSAS autopilot and stability augmentation system (SAS), which is "definitely very capable," said Marshall. "We do a lot of long trips, and with the SAS and navigation systems, it really takes a lot off your plate." Marshall also praised the aircraft's improved searchlight and scene lights, which he said provide a great safety advantage on nighttime scene calls.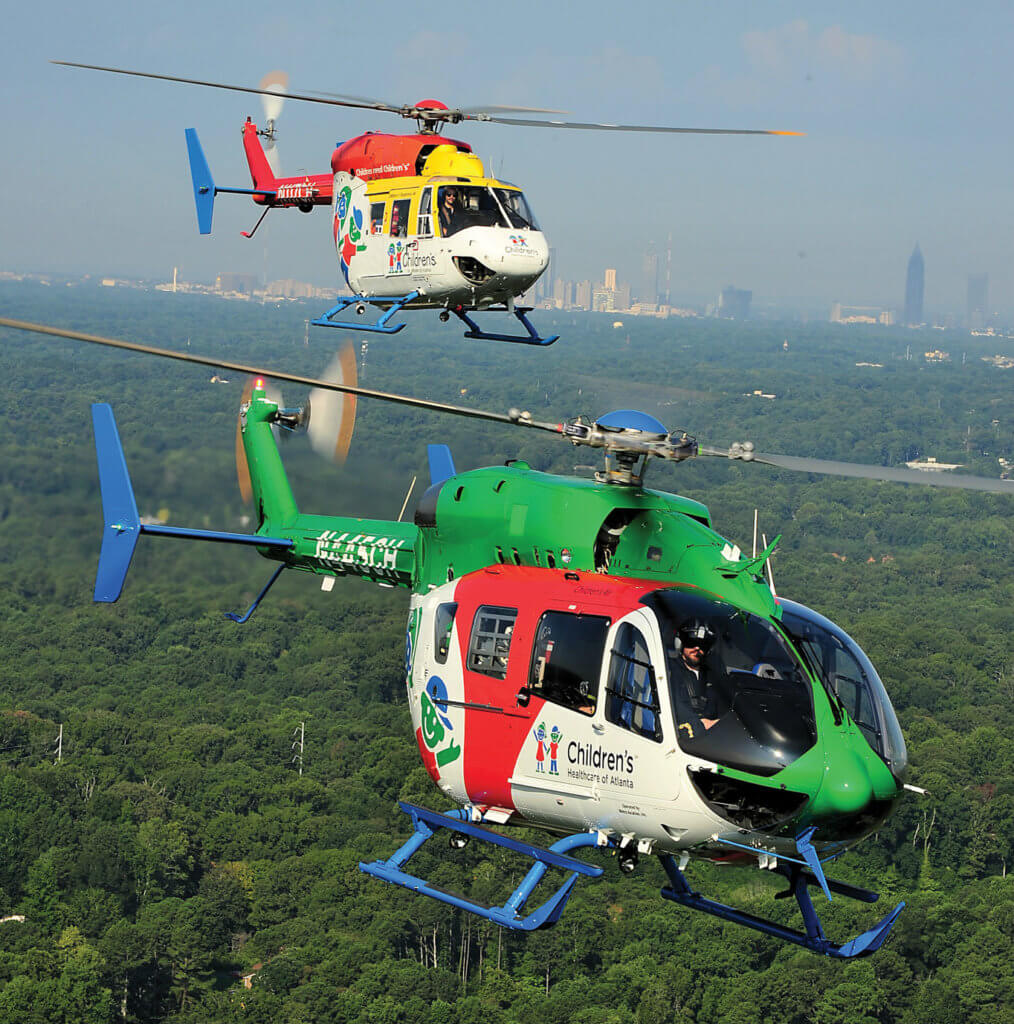 While the EC145e has now taken pride of place as CHOA's primary helicopter, its BK117 will be sticking around as a backup aircraft, allowing the program to finally retire its smaller BO-105. That means that the program will, for the first time, have full capabilities — including the ability to carry a parent — even when its primary helicopter is down for maintenance.
Keeping Focus
At the time of Vertical 911's visit in August, the CHOA Transport Team was still in the process of getting acquainted with its new helicopter, which had only been online for a couple of weeks. "We're just learning how the new girl flies," said lead mechanic Doug Martin, who has been with the program since 2004. Although Martin and the program's other full-time mechanic, Luis Flores, attended Airbus Helicopters factory maintenance training in advance of the EC145e's delivery, they still expected to spend some time getting used to the aircraft's systems and quirks. Martin was optimistic that the EC145e would prove to be as dependable as its predecessors, the BK117 and the BO-105: "The reliability has always amazed me, how good they've been in that department."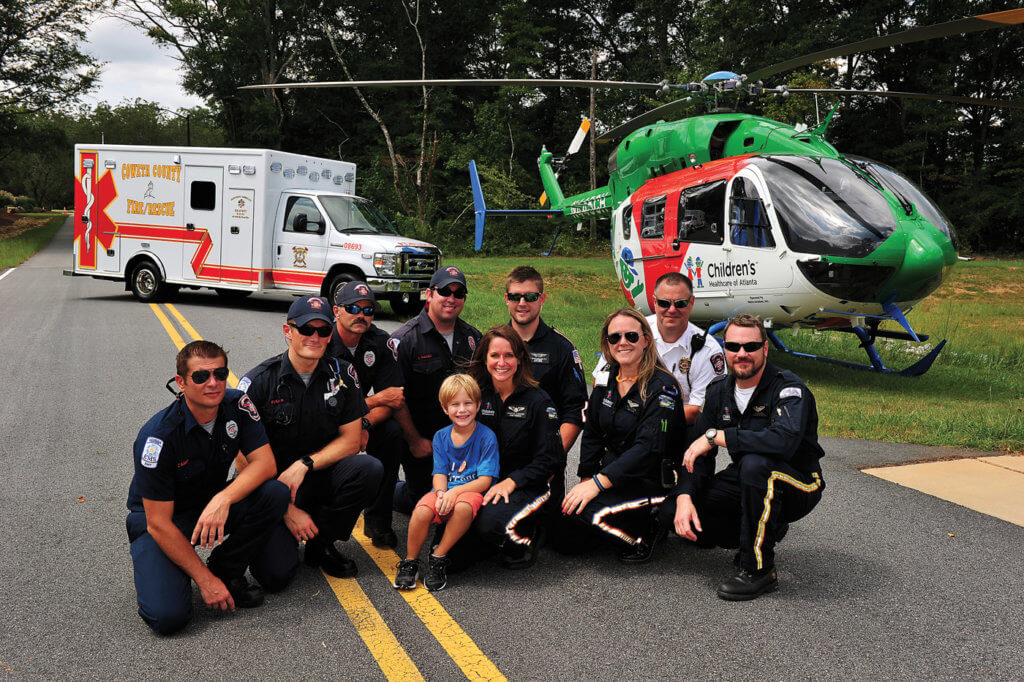 Martin also expected continued strong support from Metro, which helps maintain the program's high operational tempo by stocking plenty of parts at its maintenance hangar at Peachtree-DeKalb Airport. "Metro's always been top-notch on the support," he said.
As Tillett noted, few other helicopter air ambulance programs today can match CHOA's transport volumes. In one record month, the program with its single primary helicopter flew around 110 patient transports — all of them critically ill or injured children in need of urgent care. That a small team can sustain such a elevated level of activity is testament to the high level of professionalism and competence of everyone involved, and to the passion they bring to their mission.
"Our mission, our dedication, our focus is all about that sick or injured child," said Constable. "At the end of the day, that's what it's all about."