High on Adventure: Platinum Helicopteros
From the towering Andes Mountains to the rugged Pacific coastline and weather-beaten Cape Horn, Platinum Helicopteros is carving a unique niche in the Chilean helicopter industry. In addition to taking on many utility helicopter operations common to life on challenging terrain, Platinum is paving new inroads by creating access to bucket-list adventures and capturing adrenaline-junky activities on film to inspire future visitors.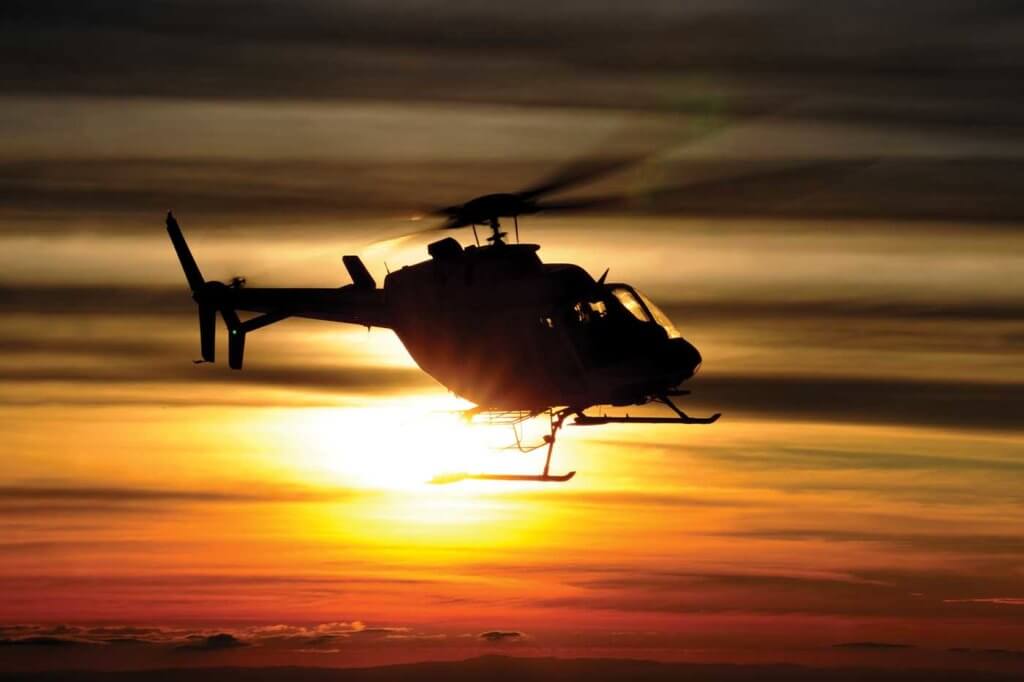 From a Chilean beach while the aircraft was refueled between flights, Platinum Helicopteros owner and pilot Jordi Seron shared the philosophy behind the company that is carving a unique niche in the South American country.
"Most helicopter companies here focus on utility work," Seron said. "There are a few flight schools, but not a lot of other operations. I started Platinum Helicopteros to do new operations in addition to utility work. Platinum is a boutique helicopter company. Of course, we do a number of utility jobs, but we expand from there into film and adventure. We are not the most inexpensive operator. We don't negotiate on price, but we are good and get the job done."
Seron began his helicopter career 18 years ago, when he was 21. With dreams of being a helicopter pilot and one day owning his own company, he flew to Langley, British Columbia, to attend Heli-College Canada. There he earned his commercial Canadian rating and received mountain and sling-load training.
Upon returning home, he landed at Lassa, the largest utility operator in Chile with 22 aircraft. Seron flew the Bell UH-1H for Lassa in firefighting, heavy-lift, heli-skiing and mining operations. While there, he met a future business partner and started his own utility company. While that partnership later ended, he didn't lose his resolve. He started Platinum Helicopteros in 2013 with a Bell 206, with the new goal of filling a unique niche.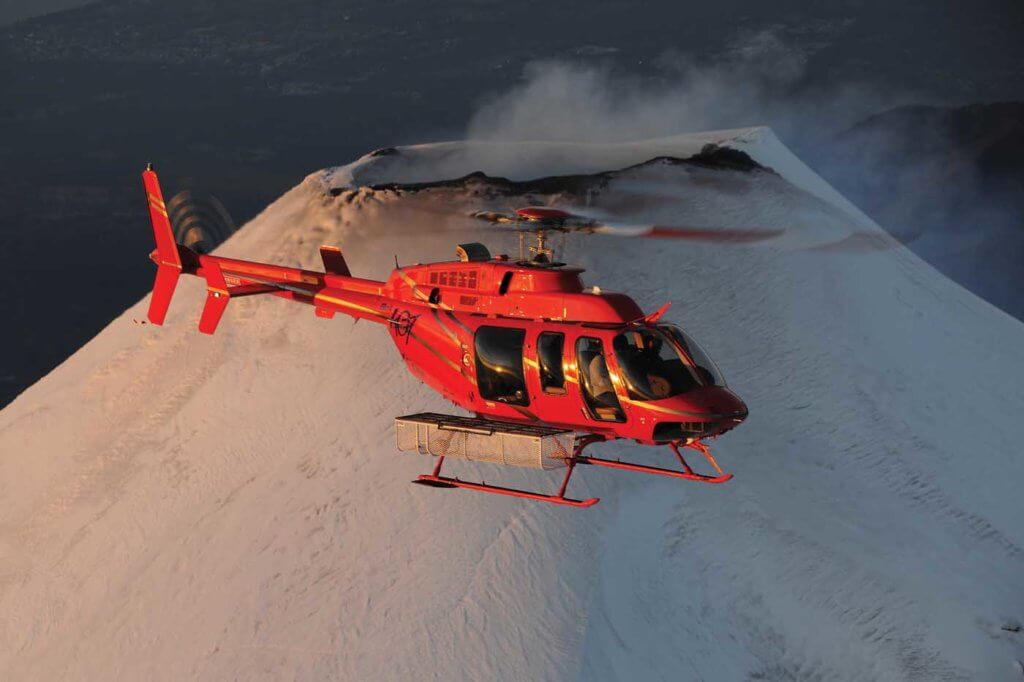 Not long after forming Platinum, his friend Max Acuña, an engineer who also owned his own helicopter, suggested a joint venture. Acuña and his helicopter would join the company and Acuña would run the business side while Seron flew the majority of work. The partnership paid off in more ways than one. While Acuña earned his commercial rating and began flying for Platinum, he also put his engineering expertise to work to take Platinum the next level.
Heli-biking in the Andes
Tourists seeking outdoor adventure year-round come to Chile, drawn by the rugged Andes. Seron saw an opportunity to cater to this unique set with once-in-a-lifetime downhill biking trips.
"We started out joking about a company, HeliBikeChile.com, but we soon realized we could really make it happen," Acuña said. "But first we needed the equipment."
The trick was getting the bikes to the top of a 10,000-foot mountain where no roads existed. A supplemental type certificate (STC) for a specialized bike rack was available for the AS350, but not for Platinum's current Bell 206L or Bell 407.
Acuña went to work in early 2015 designing a rack, then applying for an STC through the Dirección General de Aeronáutica Civil (DGAC) — Chile's regulatory agency — for the Bell 407. The design allows for eight bikes, four on either side of the helicopter. The STC was granted in late 2015, allowing Platinum Helicopteros to begin providing the service that Chilean summer through HeliBikeChile.com.
"The trip takes about 13 minutes up from Santiago, but the three-hour ride down is on single tracks that will blow your mind," Seron said. "That said, all of our trips are well planned and guided by very professional and medically-trained guides. The helicopter remains nearby should it be needed in an emergency as an extra level of support."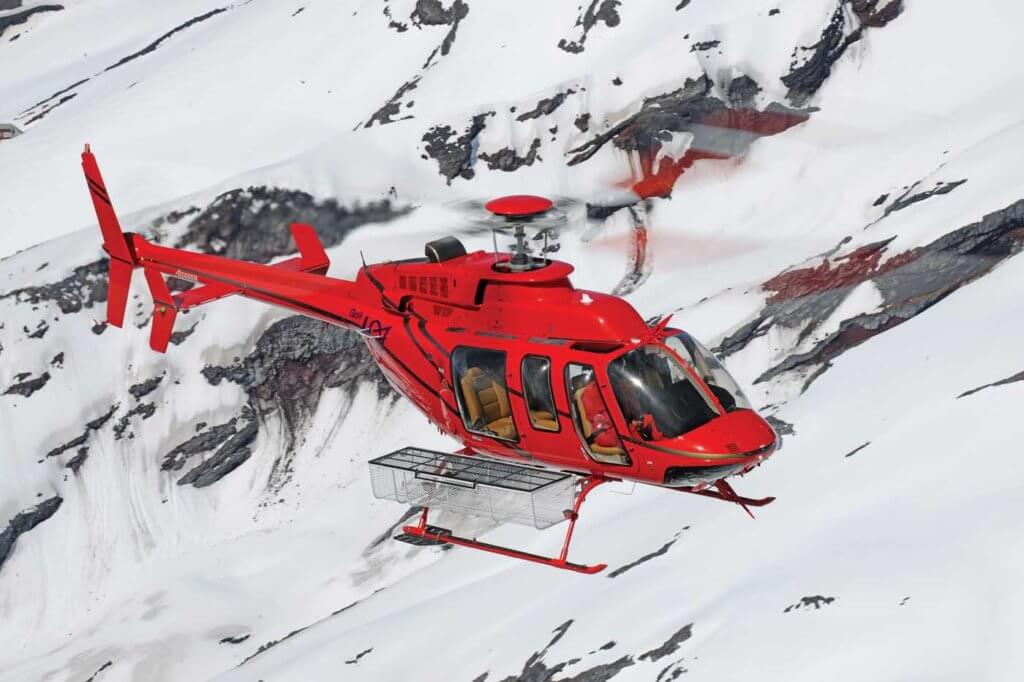 Using both helicopters, Platinum can take seven customers, a guide and eight bikes into the mountains for a heli-biking adventure.
With the success of the new venture, Platinum Helicopteros is now in the process of selling the heli-bike STC to DART Aerospace, making it available to other operators around the world while marketing the new adventure for a second season.
In the winter, Platinum shifts adventure gears to skiing. Seron, with his years of heli-skiing flight experience, and his guides know where the best virgin powder can be found. He flies customers, their equipment and a guide to remote spots between 14,000- and 15,000-feet for an Andes downhill run to remember.
"Just like our heli-biking, we only provide this service with a guide and all the safety equipment," Seron said. "It's an extreme downhill experience. I have to be honest, I'm a pilot, I have no idea how they do it, but the skiers love it," he added with a laugh.
In addition to ski and bike adventures, Platinum also offers chartered heli-fishing opportunities to places where there are no roads and the fishing is supreme. The company also advertises helicopter skydiving for those looking for an ultimate experience.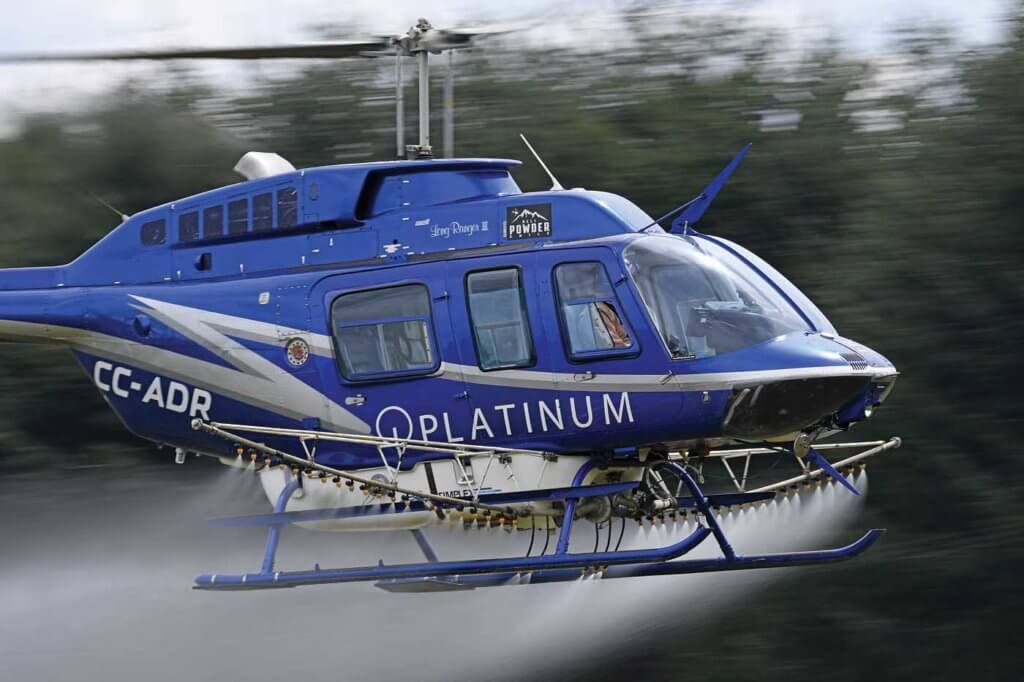 When it comes to aerial film work in Chile, chances are high Seron and Platinum Helicopteros are flying the camera. Platinum operates the only Bell 206 Cineflex mount in Chile, and has flown operations for heli-skiing movies, commercials, documentaries, and even documents extreme events like the Red Bull's record breaking downhill bike race and Roberta Mancino's wingsuit flight over Chile's active Villarrica volcano with GoPro.
Have helicopter, will travel
Operating out of Santiago and Concepción, Platinum Helicopteros also provides a range of utility, charter, and on-call services for a variety of customers.
Chile's fire season runs from November to April, and can often be fierce due to the terrain and high temperatures. Utilizing Bambi Buckets, Platinum puts both helicopters to work, flying an average of 100 hours a month on fires during the season.
The country's remote and rugged terrain also calls for helicopter support for multiple power line and utility equipment installations, repairs and inspections.
"We have a lot of work maintaining electricity and cell phone towers," Acuña said. "The towers have to be located in very remote places to serve the people of Chile. We perform a lot of long-line and support work in the mountains for those companies."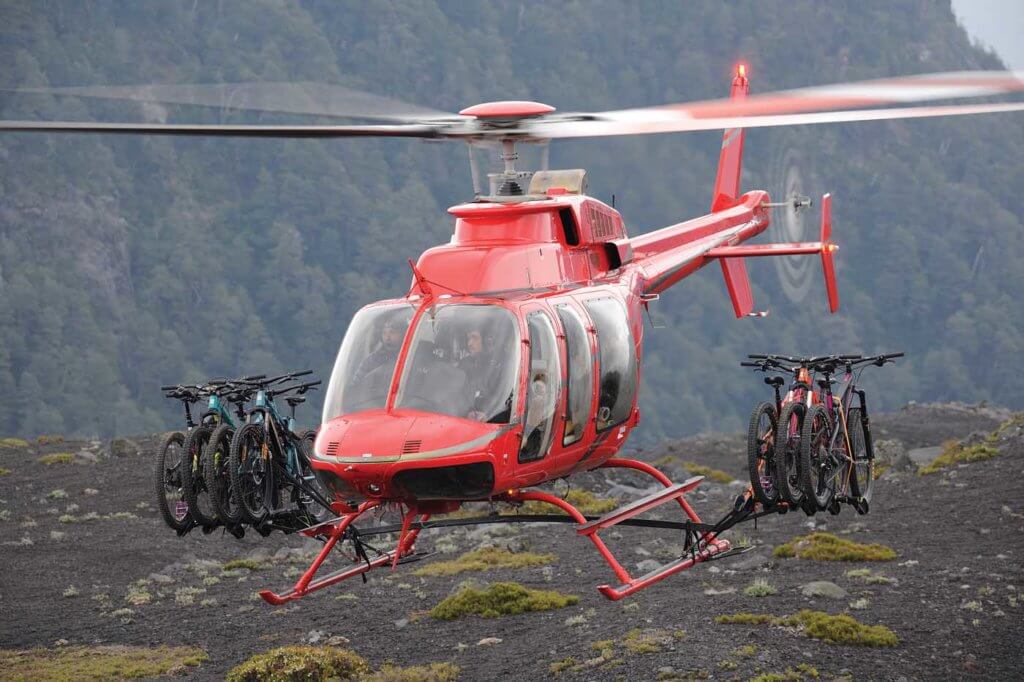 Fitted with a Simplex spray system, the company's 206L serves a number of agriculture clients in the spring and summer, first spraying fertilizer blends then returning later in the season with insecticides. On average, the company flies 1,500 hours annually spraying more than 12,000 hectares.
Between April and September, Platinum supports mining operations in the mountains, providing seismic surveys and avalanche control as well as supporting remote mining sites with delivery of food, fuel and other resources when roads become impassable.
In the more populated areas, Platinum offers a heli-banner service, flying helicopter banners for events, festivals and corporate advertising.
And, located as it is on the Ring of Fire with more than 30 active volcanoes (that have erupted 15 times in the past 20 years alone), Platinum stays busy with volcanic surveys and ferrying volcanologists and engineers to remote equipment sites.
"We're very busy helping scientists with the volcanoes," Acuña said. "They are always going up to the volcanoes to measure heat, gases and other factors to help predict what the volcano will do next or when it will erupt. These sites are very remote; some you can only access by foot or helicopter."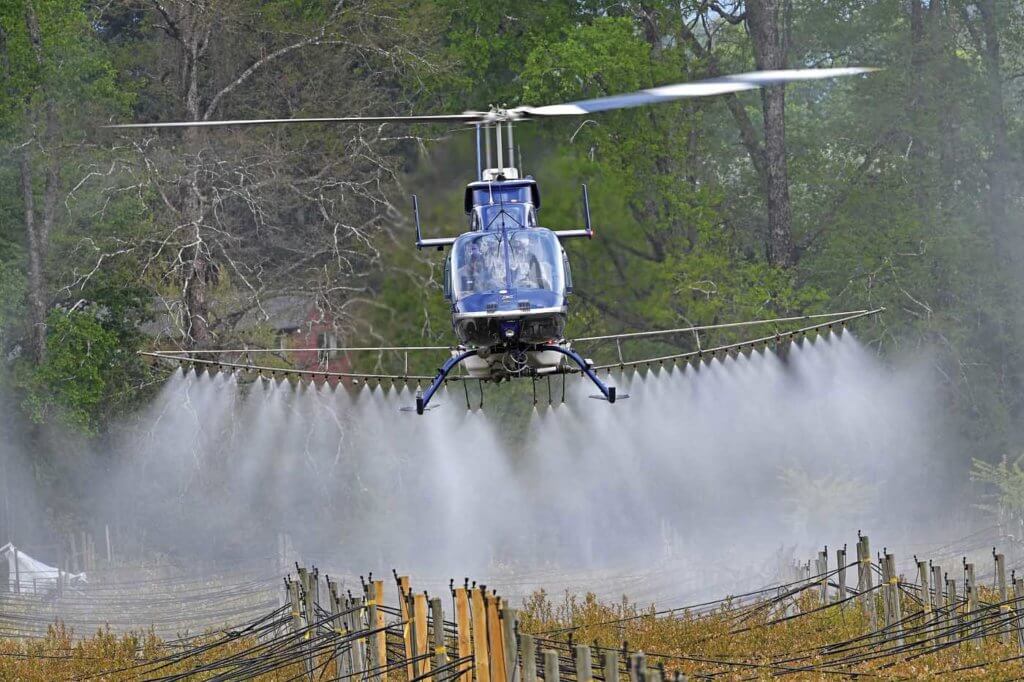 When an eruption does occur, Platinum swaps hats and answers the call of Chile's ONEMI (National Office of Emergency of the Ministry of the Interior) to provide evacuation, supplies, and any other type of support needed in emergency situations. The company's long-line capability also allows for large deliveries of food and medicine to stranded citizens as well, Acuña said.
As a part of ONEMI's helicopter pool, Platinum responds to other natural disasters in Chile, providing support based on the need. The company has assisted in the aftermath of large earthquakes, tsunamis and heavy rain-caused floods. In the past, Platinum's rescue response work has included bringing in rescuers who can dig through rubble, flying in supplies, and providing emergency air ambulance evacuations.
Business is going strong, and Seron has plans to add another Bell 407 to the fleet soon.
"We're working on inventing new things," Seron said. "I can't talk about them, but in the same way we developed our own heli-bike rack, we're looking at new opportunities to provide new services here in Chile."