Located on the east side of the Atlanta, Georgia, metropolitan area, DeKalb County occupies an area of approximately 270 square miles with a population estimated at more than 700,000 people. Keeping watch over them from the air is the DeKalb Police Aerial Support Unit (ASU), which operates two Airbus Helicopters AS350 B2 AStars in support of patrol and specialized units of the DeKalb County Police Department and other requesting agencies.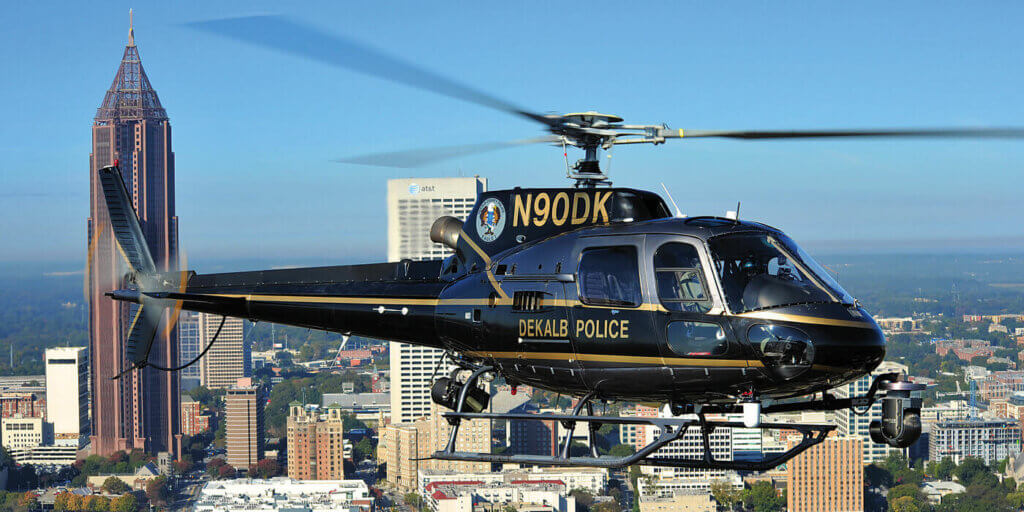 According to Chief Pilot Sergeant Darry Williams, the overarching mission of the ASU is to enhance officer and public safety, and to reduce incidences of crime and thus the fear of crime. To accomplish this, he said, "The Aerial Support Unit is dedicated to providing rapid response, tactical insight, and airborne assessment of incidents in a safe and professional manner."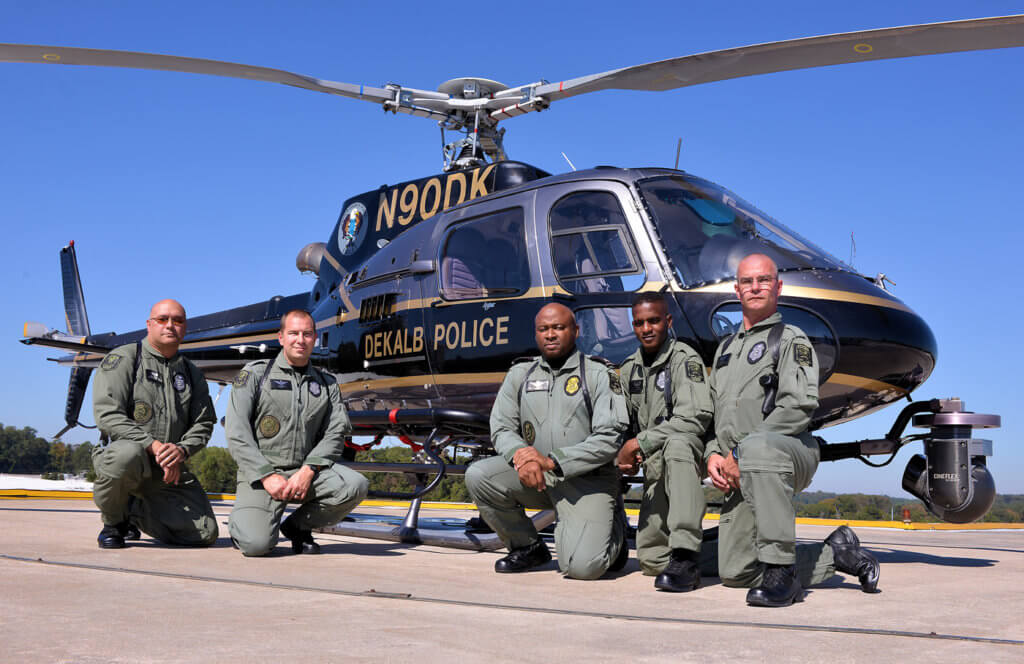 The history of the ASU dates to March 30, 1972, when the DeKalb County Police Department took delivery of a 1959 Hughes 269A military surplus helicopter and hired five pilots to operate the aircraft. At the same time, the department was pursuing the purchase of an Enstrom Model 200 series helicopter, for which a citizens' fundraising campaign had contributed $18,000.
The Enstrom was delivered in August 1972, but proved to be ill-suited for police operations because of its limited payload capability. In December of that year, negotiations began with Hughes Helicopters to replace the Enstrom and surplus 269A with two new Hughes 269B helicopters. In the spring of 1973 DeKalb received these replacement aircraft, which were equipped with communication radios and searchlights.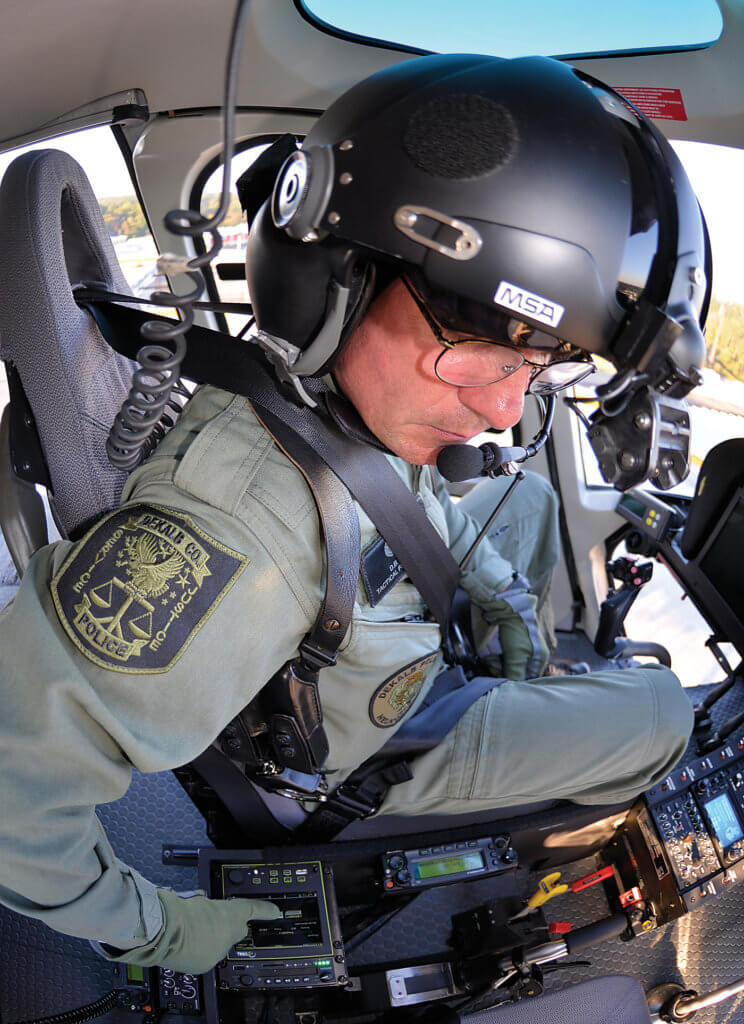 In August 1977, the Hughes 269Bs were exchanged for two upgraded Hughes 300C helicopters. Unfortunately, even these enhanced models struggled with performance during Georgia's hot summers, and by the second half of 1983, the department had determined that the ASU needed a true multi-role turbine-engine helicopter with the power necessary to accomplish its missions.
In January 1984, the ASU took delivery of its first turbine helicopter, a factory demonstrator Hughes 500D. The aircraft was equipped with one multi-band police radio, one navigation device and an emergency medical services (EMS) litter kit. After forming a working relationship with DeKalb EMS and the Metro Atlanta EMS Council, the ASU commenced emergency patient transports, transporting more than 400 patients in the first two years of EMS operations.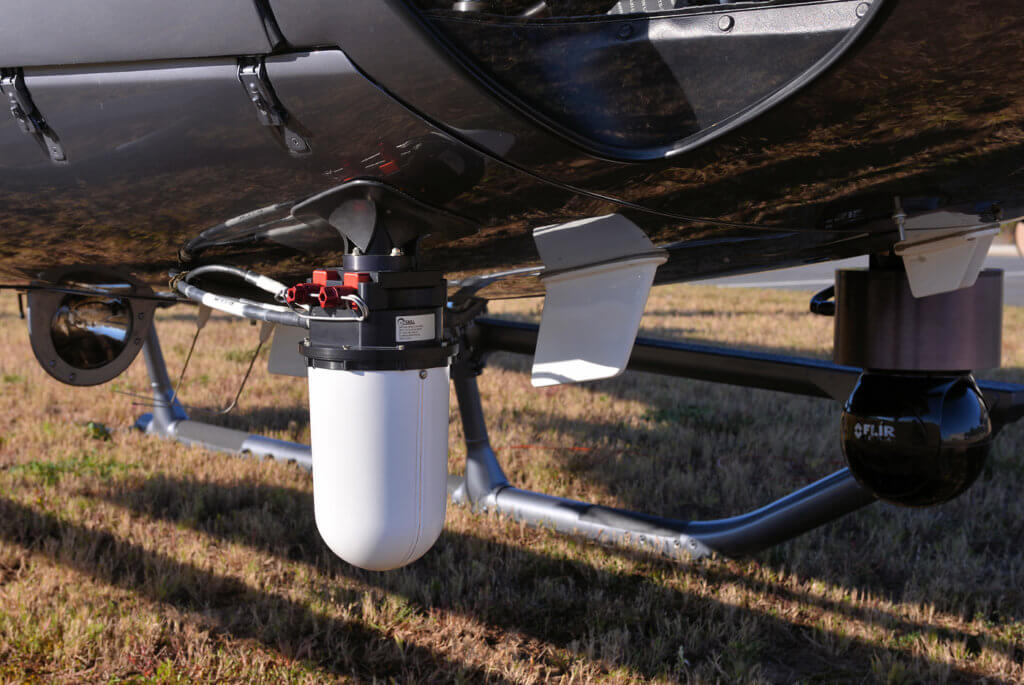 In April 1986, the ASU traded two Hughes 300Cs and the one 500D for two 1986 Hughes 500E models, which allowed it to continue to expand its EMS and police operations. In March 1990, the two 500Es were traded for one new and one more recent factory demonstrator model with upgraded searchlights. Retired former Unit Commander Rodney Rancifer lobbied for more advanced navigation and mapping systems that were then in development, along with what was at the time a fairly new technology, forward-looking infrared (FLIR) cameras. In 1992, the unit purchased a used FLIR system and incorporated it into normal patrol operations.
A Modern Fleet
In the early 2000s, the ASU began looking for a true law enforcement mission-capable aircraft, as its existing 500Es still suffered from density altitude restrictions in the summertime, which limited patrol mission times due to fuel constraints. Moreover, the unit was unable to equip the helicopter with up-to-date technology due to weight and the amperage required to support the technology. The unit began working with numerous aircraft manufacturers, avionics manufacturers, and airborne computer-oriented flight system companies to develop a modern police avionics suite and determine the right platform for its operations.
In February 2002, the DeKalb ASU selected the AS350 B2 AStar and customized the aircraft in cooperation with what was then American Eurocopter (now Airbus Helicopters, Inc.). Another 21 entities — including manufacturers of navigation equipment, tactical radio systems, tactical traffic avoidance systems, avionics, night vision systems, EMS equipment, microwave downlink, and other systems — contributed to the completion project. DeKalb ASU took delivery of its first customized, state-of-the-art AStar in late July 2002. Two years later, it traded the last of its 500Es toward the purchase of a second fully equipped AStar.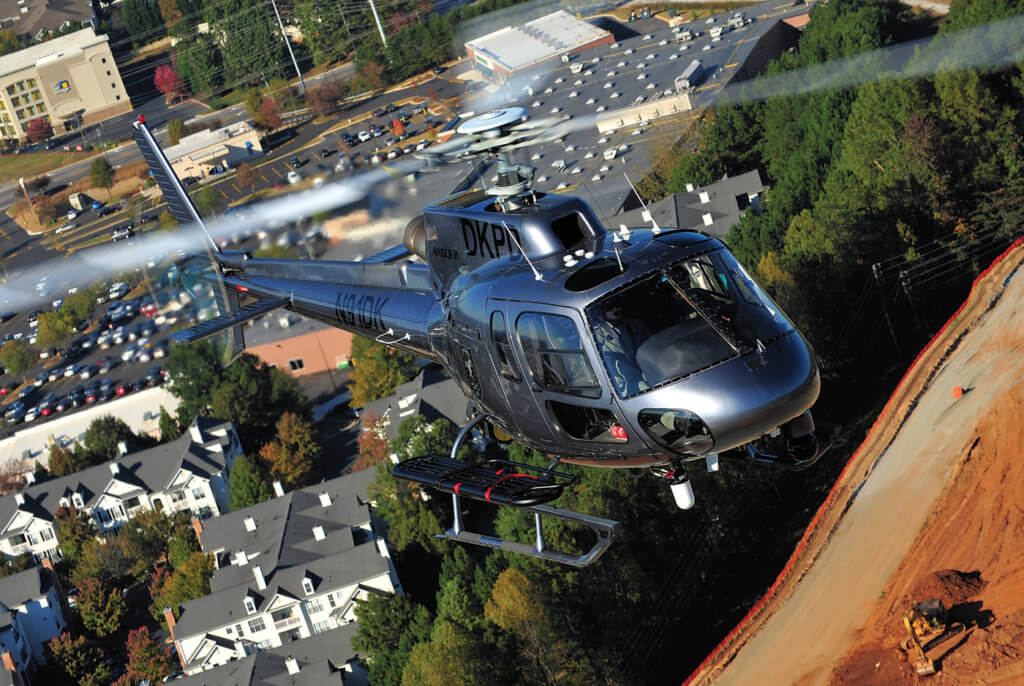 DeKalb's helicopters have the radio call signs of "Eagle 1" (N90DK) and "Eagle 2" (N91DK). Both are similarly equipped with AeroComputers moving map systems and Helinet Technologies video downlink systems, giving each the ability to provide ground commanders with real-time views from above. The system provides a camera view and standoff capability during SWAT and hostage operations, large fires, and other situations in which commanders don't want or need to put personnel in harm's way.
The aircraft also feature Spectrolab SX-16 Nightsun searchlights with infrared filters, and night vision capable cockpit modifications to integrate with the unit's night vision goggles (NVGs) and night vision image stabilized binocular systems. Each aircraft has a gyro-stabilized camera system with infrared and daytime capabilities, one of them an Axsys V14HD and the other a FLIR 8000. Either helicopter can be quickly retrofitted with external Tyler platforms to transport SWAT personnel and equipment. "Eagle 1" can be configured to transport critically injured persons when required, although the unit ceased most of its EMS operations in the late 1990s, as more commercial EMS providers moved into the local area. "The unit will do medical transports and one AStar is set up for it, but these days we will fly our own wounded officers or in other extreme cases that require immediate attention," said Williams.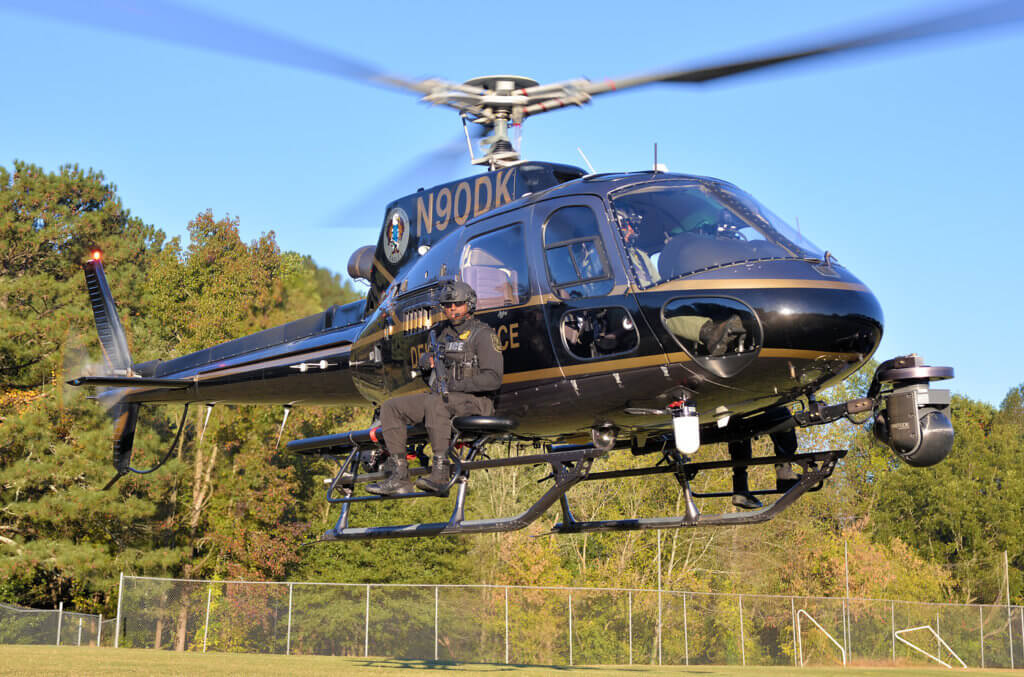 Today, the ASU's primary mission is to provide helicopter support to DeKalb's ground patrol officers, and other specialized units in the Atlanta metropolitan area. "The DeKalb Police Aerial Support Unit is typically the first asset the officers on the street request when responding to in-progress crimes," observed Lieutenant Greg S. Ivanov. "The unit is well known for their expertise in scene management and affording officers and supervisors on the ground with essential information to govern critical incidents. The unit receives regular calls from local, state and federal agencies throughout the metro Atlanta area to provide assistance, and they have developed a very distinguished reputation in the region as a result of the outstanding services they provide."
The unit provides transport and aerial support for the SWAT team when required, and will perform surveillance for special operations and drug cases. It performs crime scene photography for detectives, and provides aerial support and traffic control for special events. The ASU also receives many requests to search for children and other people who become lost in the dense wooded areas of DeKalb and surrounding counties. "The FLIR doesn't always work in the dense vegetation, so sometimes it's just our eyes and binoculars when looking for people," said Senior TFO Bart Spradling. Even these unaided aerial searches can be very productive, and the unit is credited with quickly locating many people who might have taken days to find with ground searches.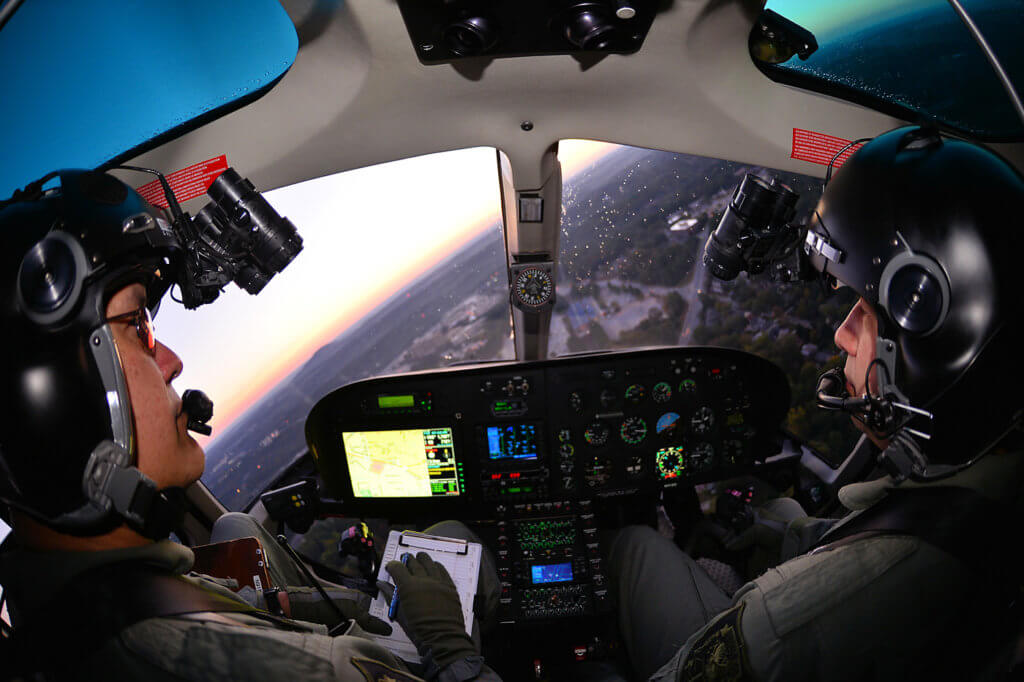 Finally, the ASU undertakes many proactive patrols. "Proactive patrols reduce response times to in progress calls and aids in discouraging those contemplating criminal activities," said Senior Pilot Luca Vullo. "Additionally, we keep track of crime analysis and research reports which indicate certain crimes as [having] occurred and likely to reoccur, such as residential and business burglaries and armed robberies." This information helps the unit target its efforts in the areas where they are most likely to do good.
A Passion for What They Do
The DeKalb ASU has three full-time officer/pilots, including a sergeant. Recently a reserve pilot position was filled by a retired sergeant, bringing the unit up to a total four pilots. The unit also has two full-time officer/TFOs, although all of the unit's pilots are cross-trained in TFO duties. Explained Williams, "This allows us to maximize [use of] the personnel assigned to the unit."
TFOs who aspire to do so can transition into pilot positions if they satisfactorily complete flight training. In recent years, the ASU has been using an outside vendor at nearby Peachtree DeKalb Airport for primary flight training. "Once the student pilot obtains their commercial rating in a Robinson R44, their training begins in the AStar," said  Williams. "After the student becomes familiar with the AStar, the student is sent to Airbus Training Center in Grand Prairie, Texas, for the AStar transition course. After completing the transition course, the students begin training full time with our in-house CFI [certified flight instructor] to obtain their pilot-in-command status. All personnel receive annual recurrency flight training from an outside vendor."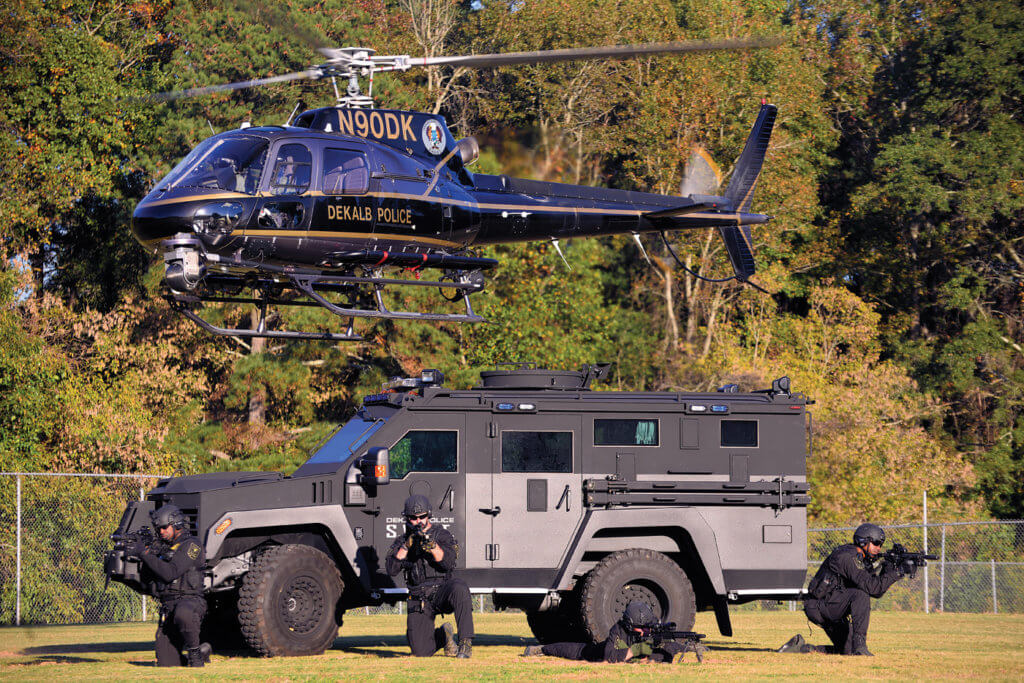 Williams noted that the unit plans to bring primary flight training back in-house in the future, and is in the process of training an additional senior pilot as a CFI to help with bring TFOs through their initial pilot training.
The unit's maintenance is done by Rotor Resources Inc., under a contract it has held since 2006. Its maintenance manager, Paul Reese, has been overseer of the ASU's maintenance program for over a decade. Rotor Resources ensures all safety regulations are strictly adhered to in accordance with Federal Aviation Regulations and Airbus Helicopters and Safran Helicopter Engines (formerly Turbomeca) requirements. According to Vullo, DeKalb has been satisfied with this arrangement, and believes that the long-term relationship with Rotor Resources has helped ensure a deep understanding of each airframe and its particular issues and maintenance concerns.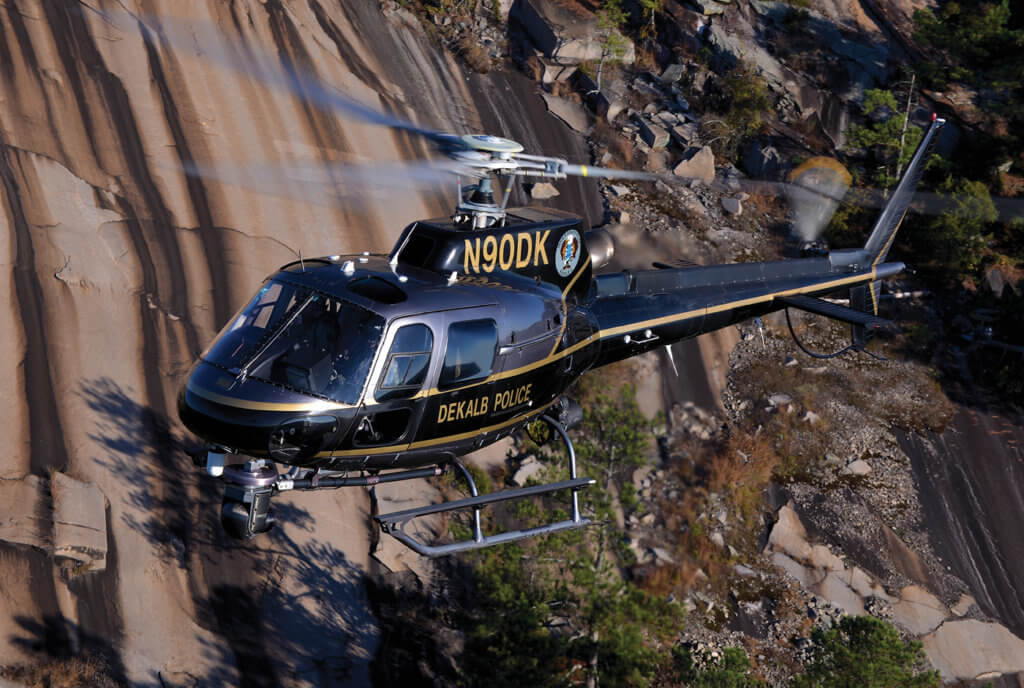 Although the AS350 B2s have served the unit well, in the future, DeKalb Police hopes to replace one of the aircraft with a new H125 model (formerly known as the AS350 B3e). The unit would like this new acquisition to be hoist-equipped, which would provide greater flexibility during search-and-rescue operations.
Ivanov noted that the unit has enjoyed "immense support from the police department," as evidenced by support for the training of new and existing pilots, and the development of a helicopter replacement schedule. He emphasized, however, that "the individual successes of the unit are 100 percent attributable to the personnel who work as pilots and tactical flight officers and have an obvious passion for the work they do. With the new pilots and TFOs the Aerial Support Unit has recently trained, I feel confident the unit will continue to be a source of great pride not only for our police department but within the police aviation community as a whole. Being involved in the unit as a supervisor has been one of the most distinct honors of my career, and I am thankful to have such a talented and dedicated group of officers to work with."