At 10 p.m. local time on Saturday, Aug. 25, Hurricane Harvey became the first major hurricane to make landfall in the U.S. in 12 years. The storm, which had slowly gathered strength as it bore down down upon the coastline of Texas, hit the small Gulf Coast town of Rockport as a Category 4 hurricane, bringing winds of 130 miles per hour (215 kilometers per hour). Then, rather than move inland, the storm stalled over south and southeast Texas for days, with some areas receiving more than 40 inches of rain in less than 48 hours.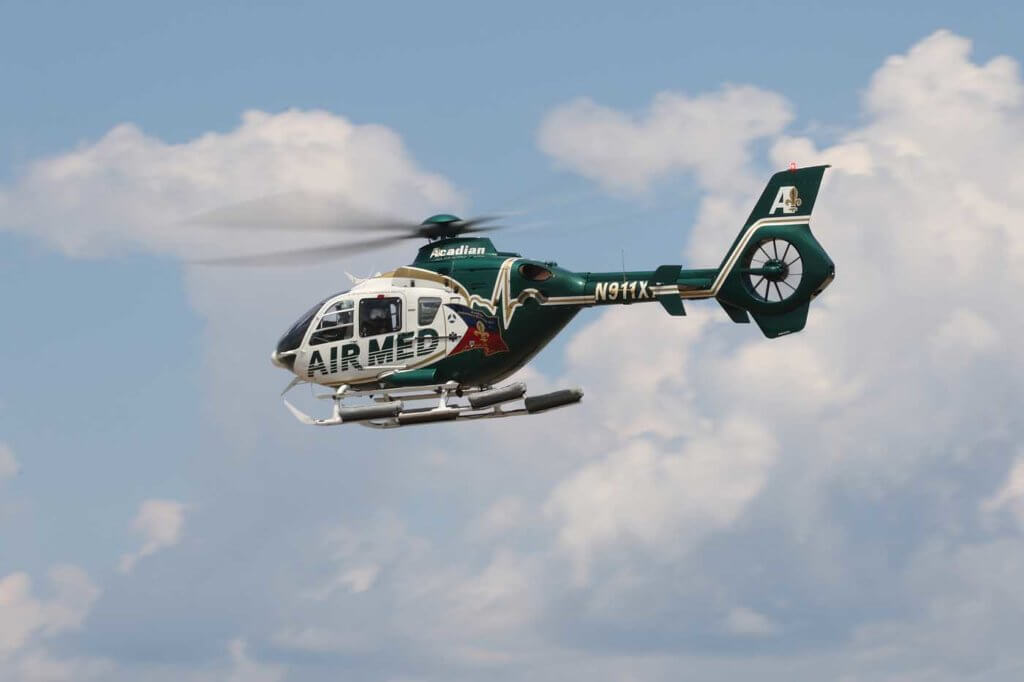 The strong winds, persistent rain, and resulting flooding devastated the city of Houston, as well as many surrounding towns and cities. According to officials, the destruction caused at least 80 deaths, displaced more than one million people, and caused more than $100 billion in damage.
The response from across the U.S. was swift, with resources and support pouring into the Lone Star State even before Harvey made landfall. And helicopters played a key role.
According to U.S. Northern Command, there were 73 helicopters deployed with active-duty units to assist in the recovery and response operation following Hurricane Harvey. These included Bell-Boeing MV-22B Ospreys, Sikorsky CH-53E Super Stallions, and Bell UH-1Y Hueys. These were joined by dozens of National Guard helicopters from across the U.S., including the Sikorsky UH-60, Boeing CH-47 Chinook, and Airbus UH-72 Lakota.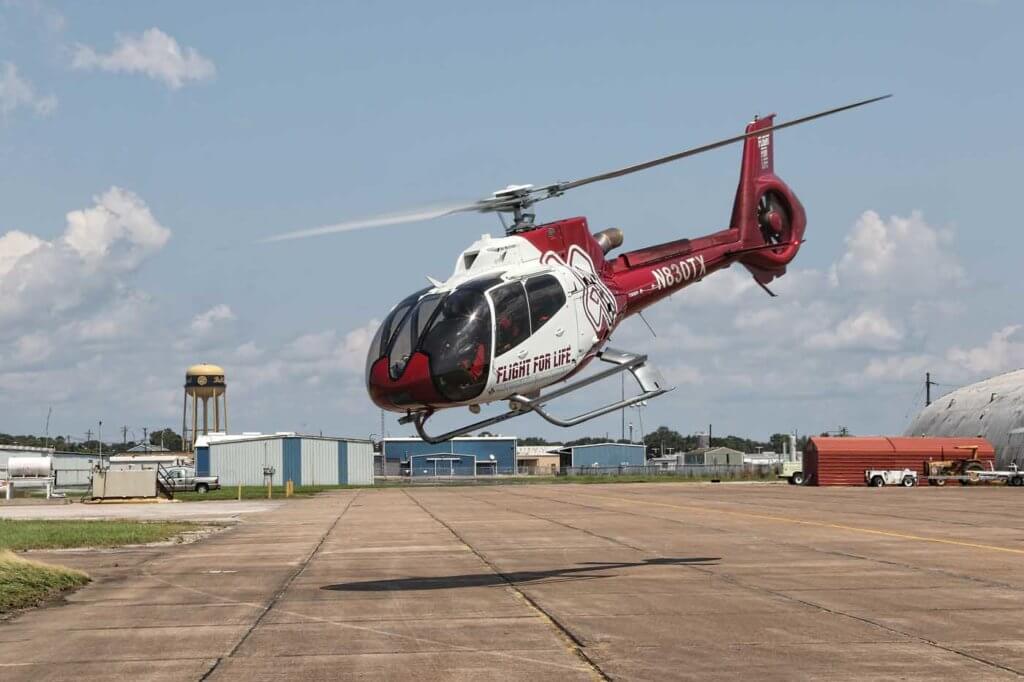 The U.S. Coast Guard also played a key role in the operation, providing rotary-wing support in the form of its Airbus MH-65 Dolphins and Sikorsky MH-60 Jayhawks. Rear Admiral Paul Thomas, commander of the Coast Guard 8th District, called the response "one of the largest our organization has seen in decades."
U.S. Customs and Border Protection (CBP) Air and Marine Operations (AMO) also brought 23 helicopters to assist the operation, from Airbus AS350 AStars to UH-60s.
This enormous rotary-wing fleet was joined by numerous civilian aircraft, with air medical operators Air Methods and Med-Trans bringing large numbers of emergency medical services (EMS) aircraft from across the country to assist in the evacuation of southern Texas hospitals.
Vertical spoke with a handful of those organizations that took part in the Harvey response about their work in the Houston area and the challenges they faced.
Always Ready
The USCG responded to the disaster in force, with 44 helicopters among the assets it contributed to the rescue effort in southeast Texas and southwest Louisiana. Across the service, Coast Guard men and women rescued 11,022 people and 1,384 pets during the operation.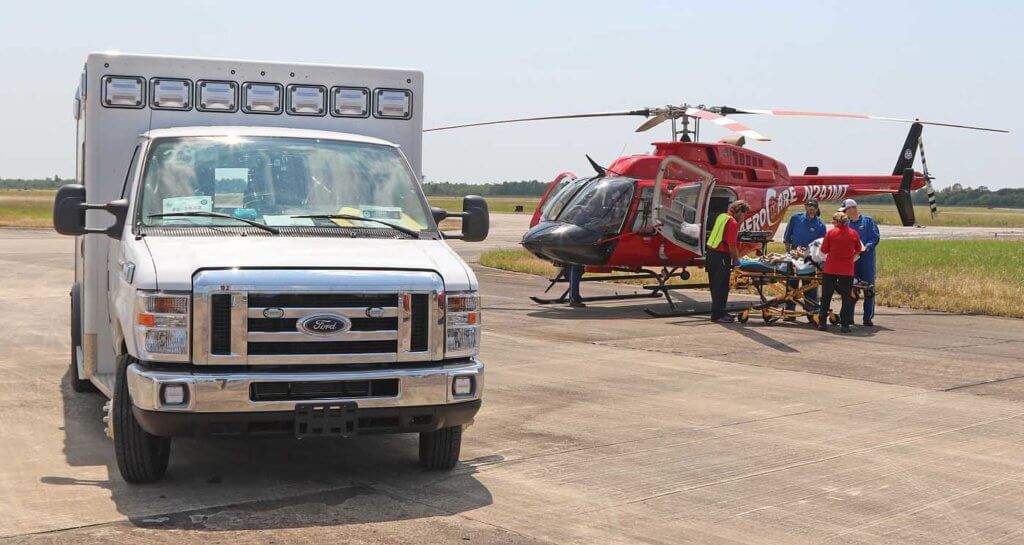 Lieutenant Daniel Crowley, assistant operations officer at Air Station Houston, flew 13 rescues during the recovery operation in an MH-65D.
"The weather conditions were easily the worst I have ever flown in," he told Vertical. "Winds consistently above 25 knots, gusting as high as 50 from seemingly random directions. I saw the worst downdrafts I have ever encountered. We would establish a hover with what we anticipated was an ample power margin. However, even with a 20 percent margin, the downdrafts and gusts would create momentary excursions right to our maximum torque limit."
Lt. Crowley said flying in an urban environment — as compared the Coast Guard's usual work over the ocean — was a completely different animal.
"Many of our normal habits and safeguards are obsolete in the overland environment. Real-time risk management was crucial. Being stationed in the area, I was familiar with many of the potential obstacles. When I briefed incoming crews I really tried to emphasize that this would be one of the most challenging areas they would ever operate in, particularly at night. There are a lot of towers in the Houston area, many as high as 2,000 feet."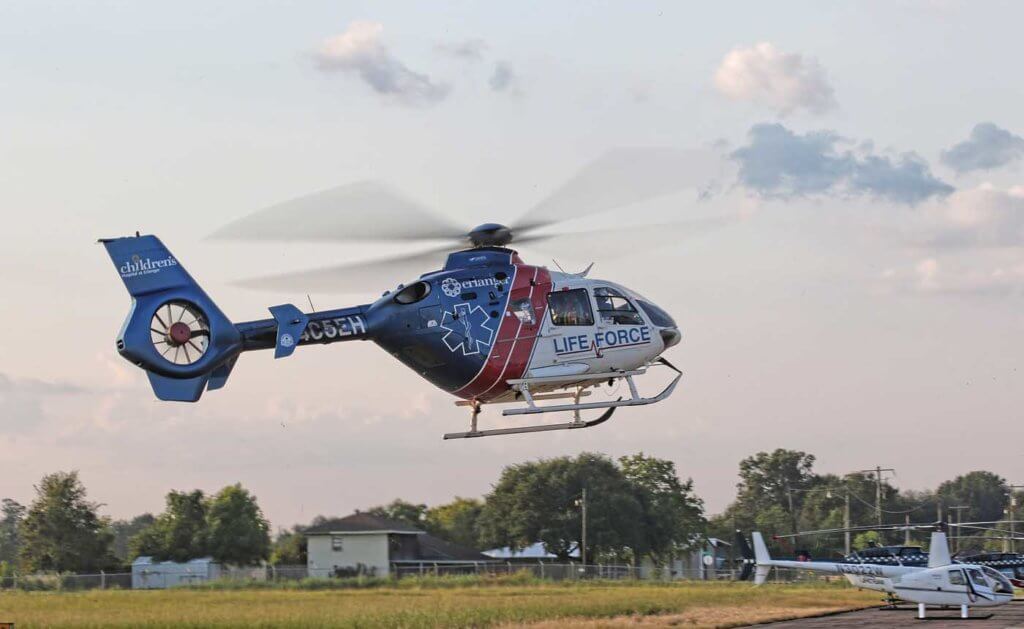 Aviation survival technician Daniel Strange, also of Air Station Houston, highlighted the new challenge of deploying out of a helicopter with an axe or a chainsaw to clear debris, and avoiding hazards in the water below that included fire ants, fuels slicks and sharp objects.
In terms of a noteworthy rescue, he recalled hoisting down to pick up two people standing in almost chest-high water in the middle of a cul-de-sac at the end of day's flying. While the helicopter took the pair to safety and to refuel, he went door-to-door to check on the people left in the neighborhood.
"I found a house that had 11 people — consisting of two adult females and nine children — who had no food or water. By the time the helo got back, the sun had completely set. They radioed down that they only had enough fuel to do a few hoists. I told them of the 11 survivors but that we could do it in three hoists. Somehow, we were able to fit 15 people, including the crew, into the MH-65D helicopter."
Lt. Crowley said the work took him back to his time flying rescues following Hurricane Katrina.
"You never want to see this type of devastation and distress
anywhere, but it affects you even more when it happens to your neighbors in a place you've called home for the past three years," said Crowley. "I'm just grateful we were able to help."
Providing hoist support
The U.S. CBP AMO office in Tucson, Arizona, was one of several CBP offices that sent personnel, aircraft and resources to the Houston area to help with relief efforts following Hurricane Harvey. In total, AMO sent 42 different asset types, including 23 helicopters, to help in the response.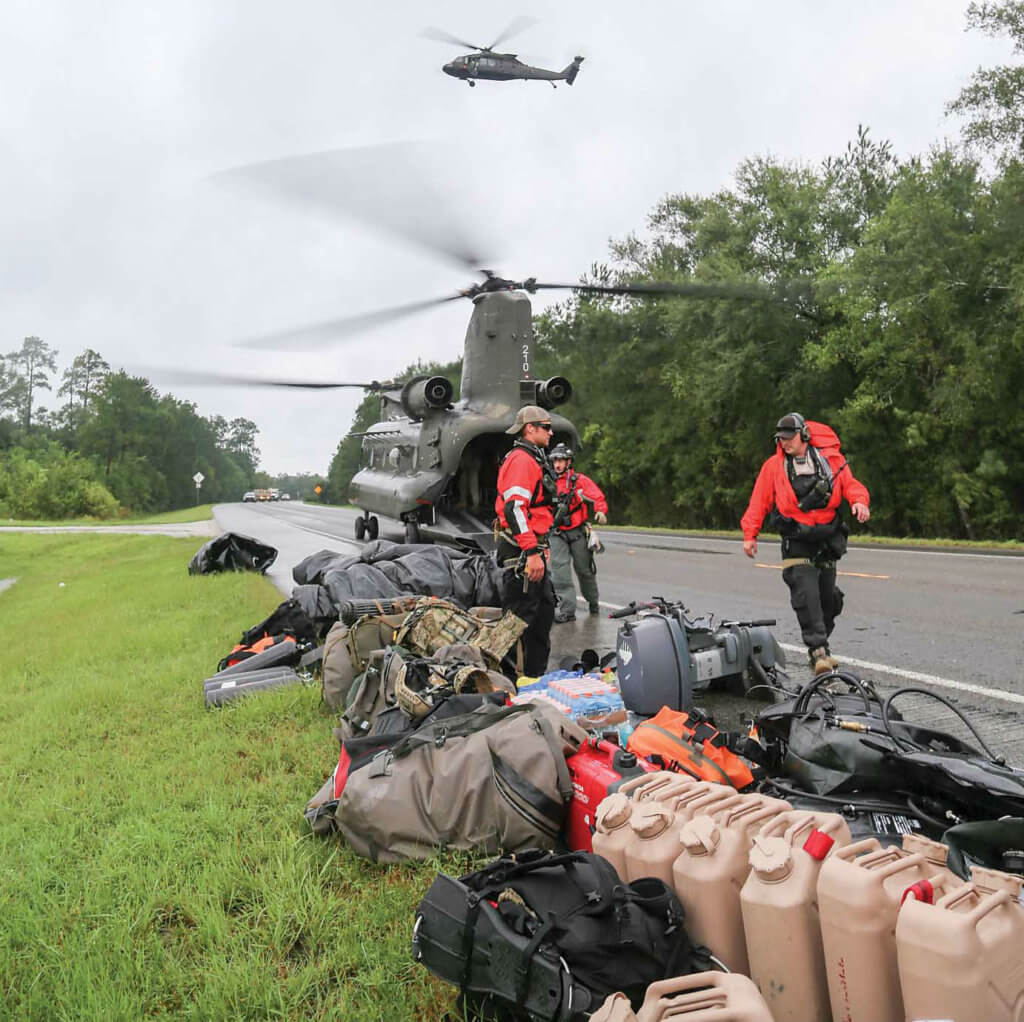 Watching the storm system develop over the preceding days, the AMO's Tucson office had a basic plan of action in place to ferry their aircraft across the country if needed when the hurricane hit. It received the order to deploy on Aug. 24.
Over the following two days, the office ferried three of its four hoist-equipped UH-60 Black Hawks to Texas.
"One of the biggest challenges for any of these natural disasters is usually where we're going to set up shop initially, because you can't go to too close to the disaster area," Mark Thomas, an air interdiction agent at the Tucson office, told Vertical. "Luckily, as an agency,
we have several branches across Texas that we could utilize for
maintenance, storage of the aircraft, and logistical things like that."
They initially set up base in San Angelo along with two UH-1Ns from CBP's base in El Paso, Texas, and an AStar from its office in Deming, New Mexico. They then moved to Kelly Field Annex in San Antonio.
The tail end of the storm prevented the aircraft from accessing Houston until Aug. 28, when they were able to reach George Bush Intercontinental Airport.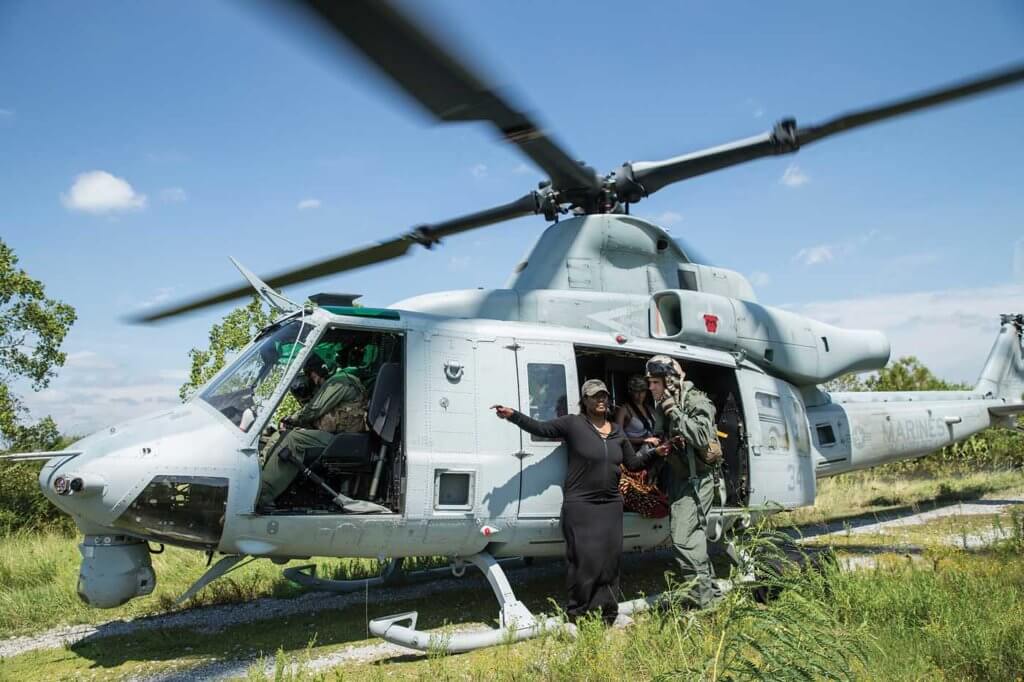 "I have worked floods, I worked the Haiti earthquake when I was stationed in Puerto Rico with CBP, and we went to Hurricane Matthew last year," said Thomas, "[but] the vastness of this storm and the vastness of area, where so much water was dumped on Houston, made it like nothing I've seen. Even 40 or 50 miles to the west of Houston in the lowlands, farmland was flooded. On day one and two — the Monday and Tuesday — when you had good visibility of more than three or four miles, all you could see is water."
Working in conjunction with the Coast Guard, the CBP began flying to those neighborhoods in most need, using Atlantic Aviation at the airport for fuel.
CBP's Black Hawks had a crew of five: a pilot, a co-pilot, a hoist operator, a rescue specialist, and a swift water rescue technician.
"We would hoist people off the ground that were in chest-deep water, the first floors of their houses were flooded, and we started to relocate those people," said Thomas.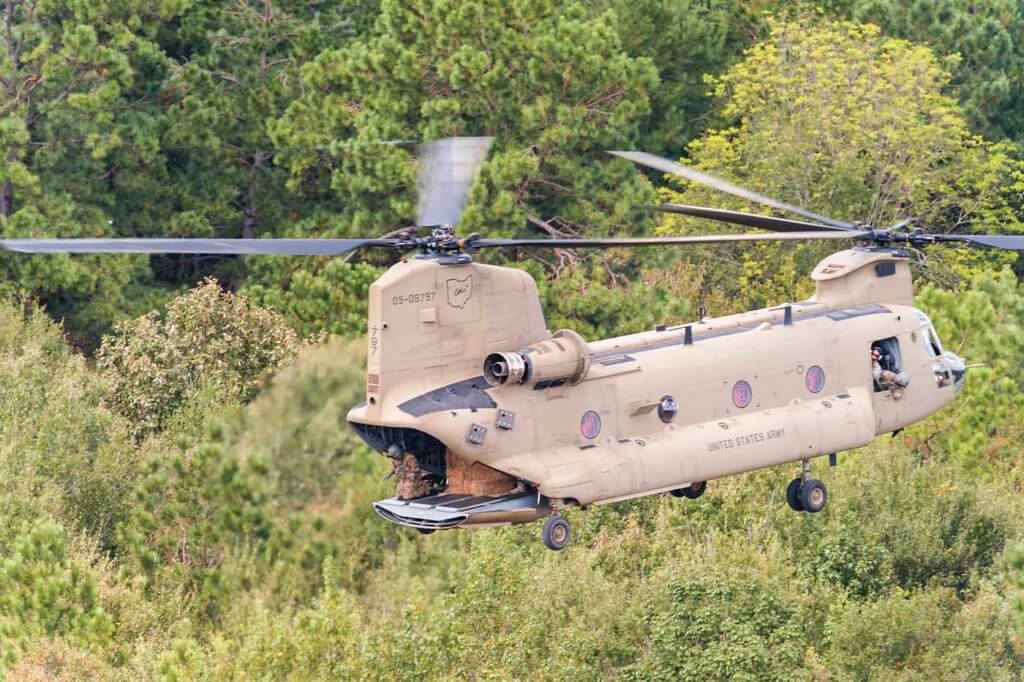 Casualty collection points — known as CCPs — were established throughout the city, and these buildings, from the George R. Brown Convention Center, to schools, churches, and community centers, played host to the evacuees.
The convention center had a capacity of 5,000, and it was filled by the end of the first day of operations on the Monday, thanks to the efforts of the CBP, Coast Guard, and the military.
The rescues continued over the next two days, filling the various CCPs and moving the CBP's operational focus to Beaumont, a city about 80 miles to the east of Houston that was also battered by the storm.
"These [Beaumont] neighborhoods were literally up to the up to the first story and into the second story full of water, because of the amount of rain they'd had over three days," said Thomas.
The agency ended up staying in the region until Sept. 8 — almost two full weeks. With the rescues complete after the first few days, the CBP switched missions to help local law enforcement with patrolling duties, as well as helping to move people, equipment, water and food, and relocating patients between hospitals.
All told, the unit recorded 182.5 operational hours on its UH-60s alone, rescuing 515 people — as well as 13 pets.
A Heavy Civilian Presence
CHI Aviation is no stranger to helping out a community after disaster strikes. The aerial construction expert, based in Howell, Michigan, worked in Louisiana in the aftermath of Hurricanes Katrina and Rita for six months in 2005.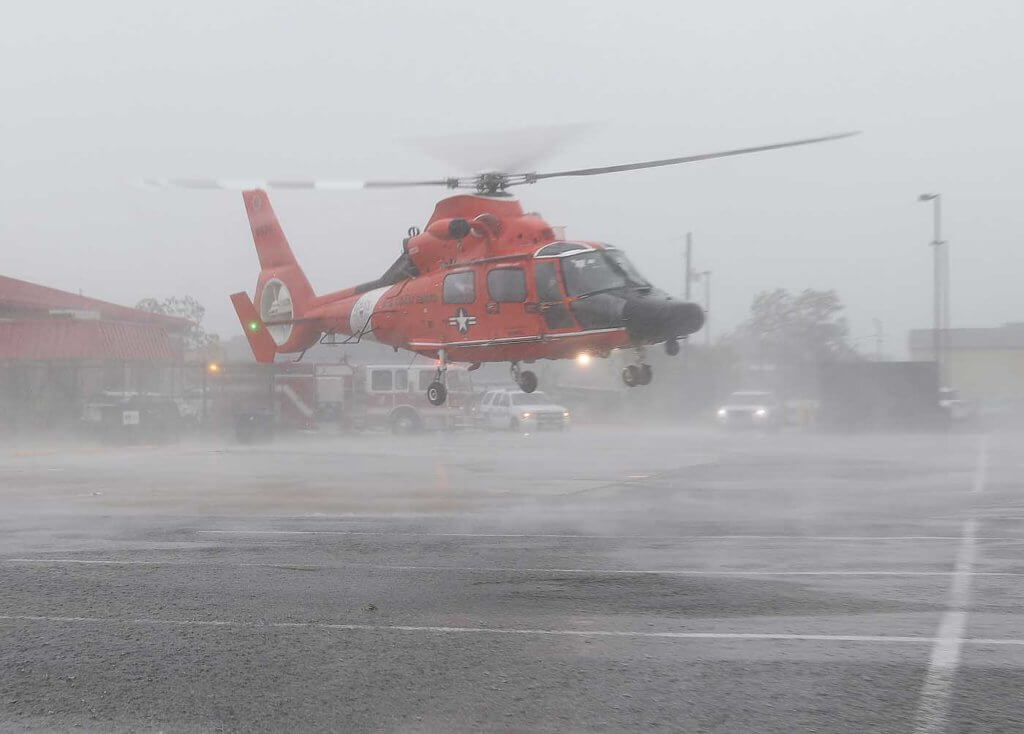 Working for EMS provider Air Methods, it sent a Sikorsky S-61 down to Houston the day after Harvey struck. Following the eight-hour ferry flight from Michigan, CHI's team arrived at their staging area in San Antonio. Their role over the following days would be to move patients out of hospitals affected by the flooding.
"They triaged them and we took the patients in the worst condition up to Easterwood [Airport], and then they put those people on airplanes and helicopters and transported them," said Mike Jones, CHI's pilot in command in Houston.
"The first day of flying was pretty bad weather-wise, because I think we were still on the tail end of the storm. So it was low ceilings, but visibility wasn't too bad. There was still a pretty large amount of rain and some winds, and then the airspace continued to get busier and busier."
The CHI crew consisted of two pilots, two mechanics, and another mechanic who served as a mission liaison during the operation.
After a long first day, the team generally flew no more than six-hour days for the rest of their time on the operation as their work switched to bringing in relief nurses and doctors.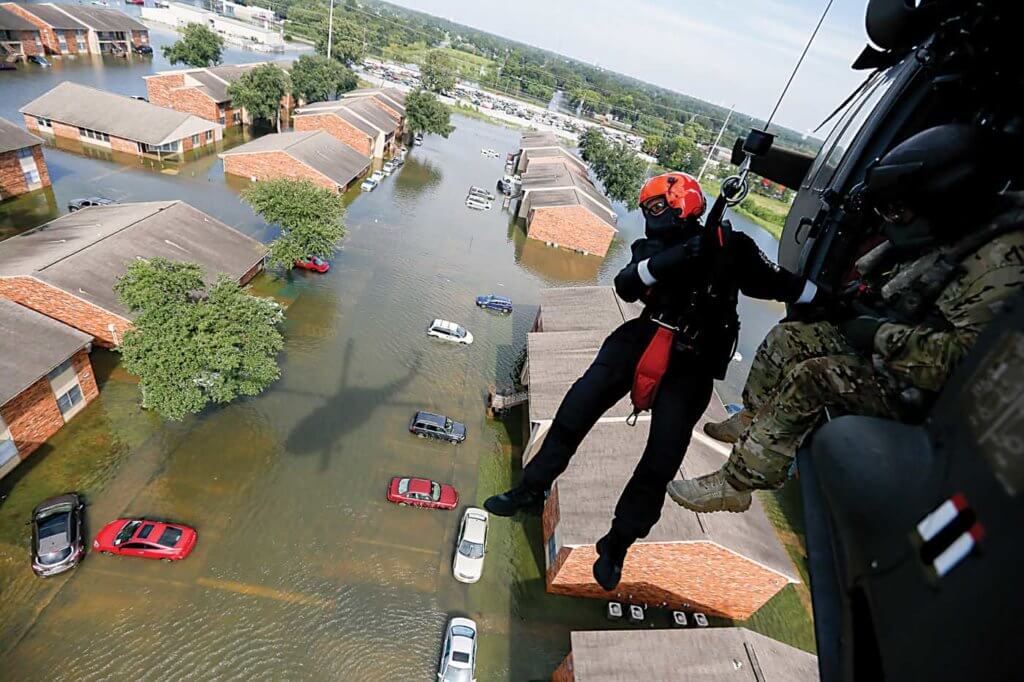 Thomas said the size of the S-61 meant access to hospitals wasn't straightforward.
"All these hospital pads are made for BK117s or S-76s as the largest [aircraft] that need to get in, so most of the pads weren't going to work for us," he said. "We had to pick out parking lots that were adjacent to the hospitals and land in them, so it was just choosing where we wanted to land in the safest and most open area."
As more roads opened up to traffic, allowing patient transfer by ground transport, CHI's operations moved to Beaumont, which was heaving with helicopter traffic. There, Jones saw a large military presence, including a CH-53, CH-47s, and some UH-60s.
"When you walked into [the Beaumont] airport's old terminal there, there must have been a hundred guys in different-colored flight suits — EMS guys going every which way, and there were helicopters all over the place," said Jones.
In terms of the challenges of the work, he highlighted the congestion of the airspace.
"There was one time that the air traffic controller got so busy that he said, 'I can't do separation anymore. You guys need to have to your eyeballs outside.' You would try to check in with him or do something, and there was just continuously someone talking on the radio. So it was hard to get a word in edgewise."
A big impact with small helicopters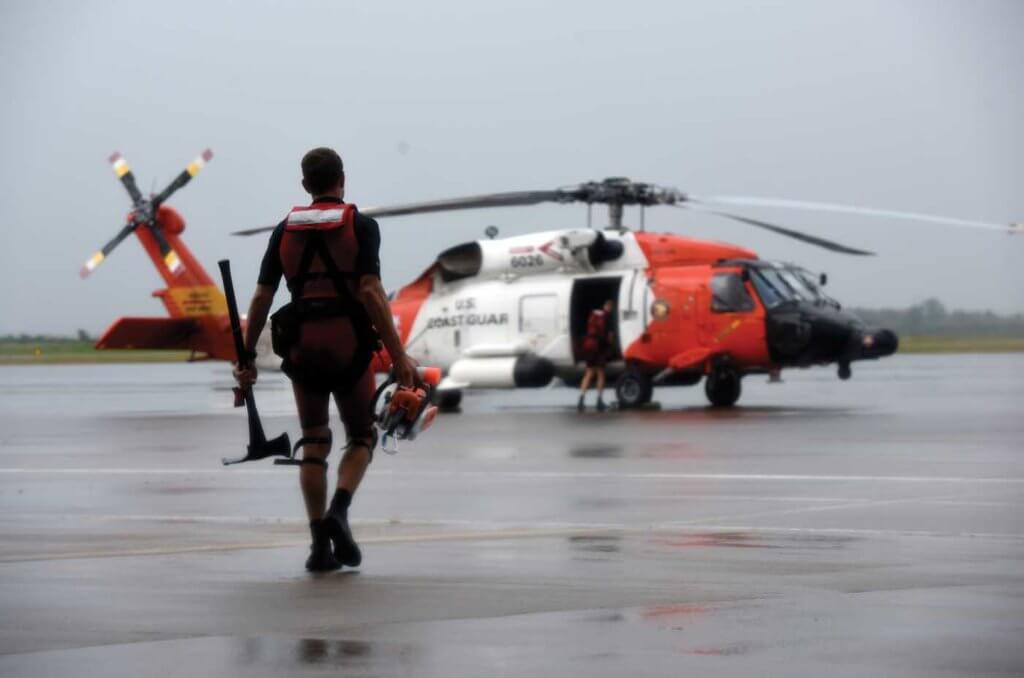 As the path of the storm became clear, Brian Dunaway, president and director of operations at Fort Worth-based Epic Helicopters, made plans to ensure his company would be ready to assist in the aftermath. The operator completed some preemptive maintenance on its fleet, which includes the Robinson R44 and R66; reached out to the Federal Aviation Administration to gain a special operation specification to allow it to operate within the temporary flight restriction (TFR) zone that had been established around Houston; created some online ads to raise awareness of his company's capabilities — such as moving critical personnel and supplies, or providing aerial photos; prepared a landing page on its website that detailed the resources it had available; and made plans to establish an operations center to handle calls for work.
"We had no idea what to expect," Dunaway told Vertical. "We decided to bite the bullet and get things done that need to get done so that we were in a fully-prepared state of readiness."
The preparation worked — and once the storm hit, the phone rang nonstop.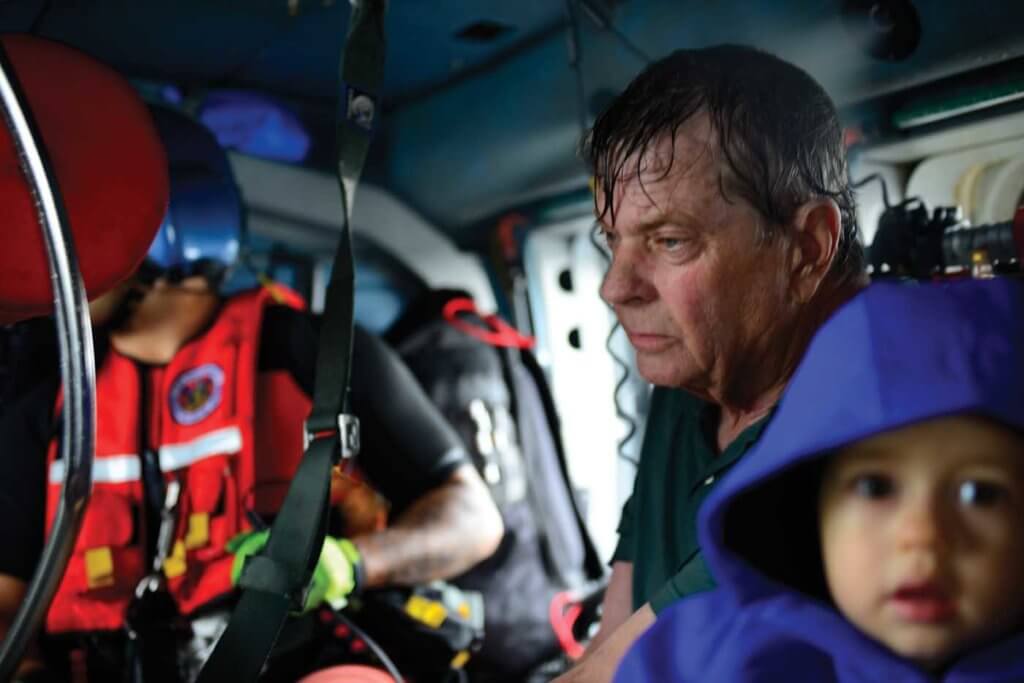 "Initially the phone calls we were getting were rescue calls, people asking to be hoisted from the roof, telling us that they had water up their chest — it was really devastating," said Dunaway. "We developed a call script that basically told them, 'We are unable to help — we're not equipped for this type of service. But here is the number you can call for rescue services.' Once the National Guard was able to get in and start doing some of those rescues, those phone calls died down, and then some of the work that we are more able to address — those calls started coming in."
The first job took an R66 down to Houston to ferry a client from Dallas/Fort Worth International Airport, via the Kelly staging field in San Antonio. An R44 joined it the following day. Over the five days the two aircraft were in the Houston area, they flew a combined 75 hours.
"We were just busy nonstop," said Dunaway. "There were a lot of pipeline inspections at first, and then it turned into a ton of media flights — we flew the L.A. Times, New York Times, Associated Press, Getty Images, Houston Chronicle, and a few others."
Like many other operators, Epic ended up in Beaumont. It was there that the company did the majority of its work.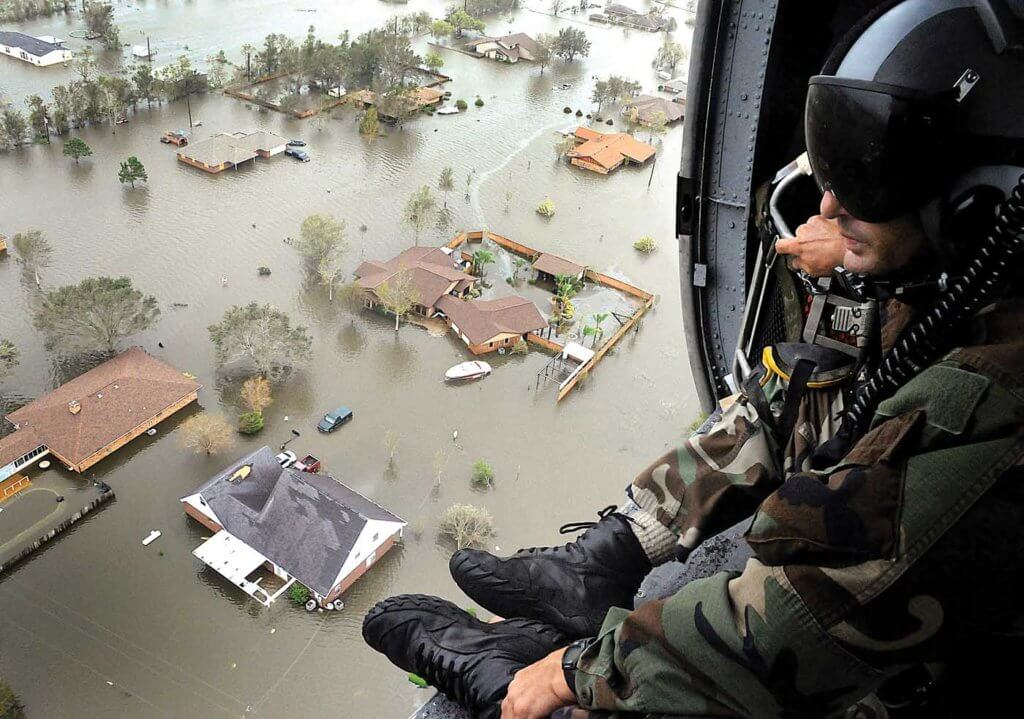 "Beaumont just got hammered — it was completely flooded," said Dunaway. "Nothing was accessible by road. We were moving critical security personnel into the nuclear power plant down there, we moved food into that power plant because the crews didn't have anything to eat . . . and we moved two electricians in to hook up some generators in a nursing home so that they could get some power. It was one job to the next, and a lot of times the guys didn't know where they were going until they landed from the last job."
The work tailed off as the conditions on the ground improved, and the aircraft returned to Fort Worth on Aug. 31.
A new perspective
By Aug. 31, the FAA had issued 43 unmanned aircraft system authorizations to drone operators supporting response and recovery operations post-Harvey. The authorizations covered government agencies who conducted damage assessments of critical infrastructure, homes and businesses to help target recovery efforts, as well as eight approvals for a railroad company who wanted to survey damage along a major rail line running through the city. Drones were also used to check for damage by oil and energy companies, and by fire departments to check the condition of major roads, bridges and water treatment plants.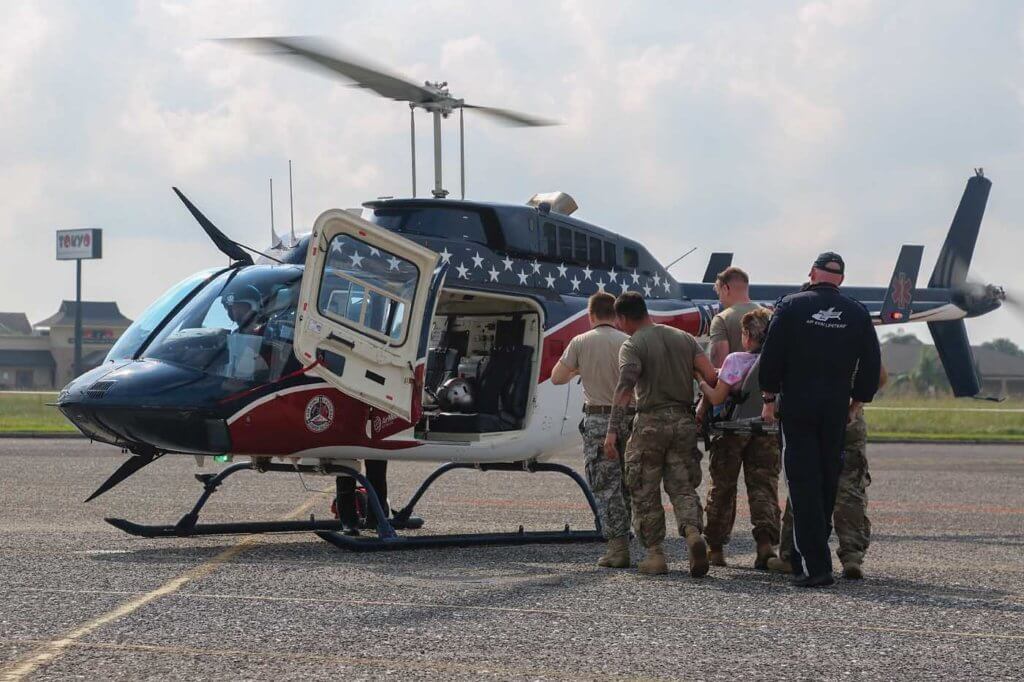 Four media outlets also operated drones over Houston to film footage of the devastation.
Joining these relief efforts was Airbus Aerial. The fledgling company, launched by parent company Airbus in May 2017, fuses data from drones, manned aircraft, and satellites to provide customers with a clear overall picture of a given area.
Following Hurricane Harvey, Airbus Aerial worked to provide insurance companies with images to help quickly identify customers that had been affected by the flooding, allowing them to start the claims process as quickly as possible.
"What we're about is providing a full service where we bring together that ability to capture data, represent the data, and create analysis layers and things like that — so that insurance companies in the state of Texas, for example, can come to us before or after a storm hits and say, 'We really want to know what's going on with our customers in these certain areas,' " said Jesse Kallman, Airbus Aerial president.  "We saw what was coming and we knew our system that we have been developing is ready to be used. We offered it to a lot of insurance companies . . . so that they could help their teams quickly, and we got a lot of people very quickly interested in what we were doing."
From the smallest drones to the largest helicopters, aviation assets played a crucial role in the initial response to Hurricane Harvey, helping rescue thousands and maintain crucial infrastructure links that would help the communities of southern Texas get back on their feet and begin the rebuilding process.
– Additional reporting for this story was provided by Skip Robinson.