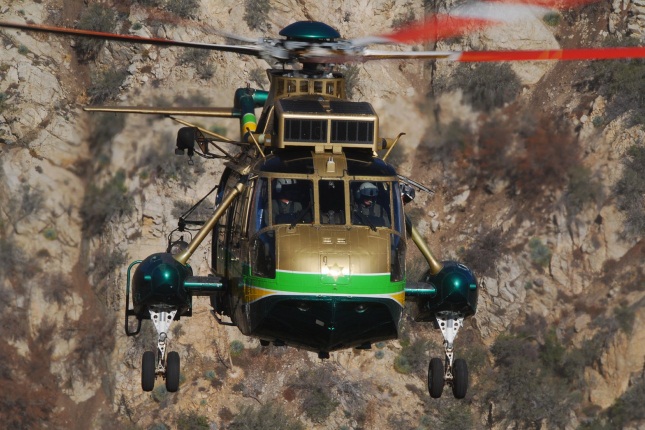 The Angeles National Forest offers the 10 million residents of neighboring Los Angeles County a true escape from the urban environment. Covering over 650,000 acres and with elevations ranging from 1,200 to over 10,000 feet, the forests spectacular scenery and range of recreational activities on offer from camping and fishing to hiking, skiing and swimming attracts about four million visitors each year.
With such a vast amount of traffic making its way up and down the mountain, accidents do happen and vehicles sometimes end up over the roads edge on the slopes of the mountains.
Last July, Los Angeles County Fire Department (LACoFD), Los Angeles County Sheriffs Department (LASD) mountain search and rescue, U.S. Forest Service, San Bernardino Fire Department, California Highway Patrol and other local agencies trained together for three days to prepare for such over the side rescue scenarios. The training simulated accidents including cars, trucks, motorcycles and mass-casualty buses and vans. Each scenario was different, with varying levels of difficulty, but all integrated a multi-agency emergency response.
The training saw participation from ground and air operations, with LACoFD providing a Bell 412EP and a paramedic crew, while LASD provided Air Rescue 5 its Sikorsky SH-3H Sea King, along with a paramedic crew.
The objective of the exercise was to have a multi-agency drill involving those agencies responsible for the mountainous areas of Los Angeles County, and to review operational differences in procedure, so that solutions could be found for any problems identified. On the air operations side, the commanders wanted to make sure operational procedures and interactions were understood by the rescue units and the helicopter crews.
Over the three days of training, multiple scenarios were set up, from a single motorcycle over the side to a large multi-casualty bus crash with over 20 victims. After ground search and rescue personnel began working at the scene, LACoFD Copter 12 would hoist a paramedic down to the scene. Then, after a victim was packaged they would be hoisted into the helicopter for transport.
On the days LASD Air Rescue 5 could attend (it was called away for some real-world operations), it performed hoist rescues and lowered paramedics to the scene of the scenario. The LASD will soon be receiving the first new AS-332L1 Super Pumas a helicopter that should provide increased performance in the hot and high conditions in which the unit normally operates.
In a mass-casualty accident, such as the Metrolink train crash in 2008, multiple helicopters would be requested to assist the response. Between LACoFD, LASD air rescue and, if needed, Los Angeles City Fire Department, this is something Los Angeles is well capable of providing. If such a worst case scenario were to happen, the refining of multi-agency operations involving ground and air units from the recent training at Angeles National Forest will mean those tasked with the response are better prepared than ever.