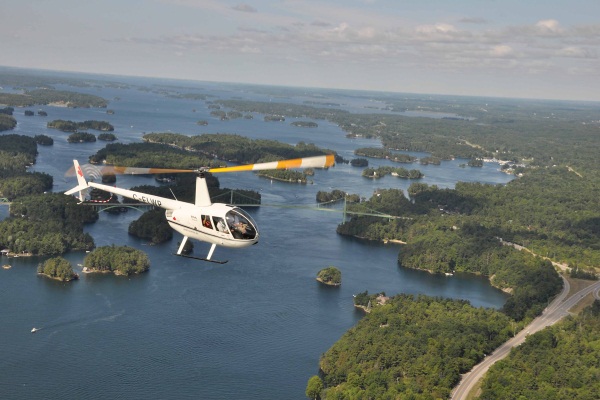 The helicopter industry was founded on engineering innovation and the versatility of rotary-wing flight continues to inspire new generations of business innovators.
In July 2012, Canada was home to 278 commercial helicopter operators and flight training companies. Many of these firms have been around for decades and are run as smoothly as the helicopters they fly. About two-dozen companies are much younger, having received operating certificates from Transport Canada since January 2011.
Today, the mountainous province of British Columbia leads the way when it comes to start-up activity, accounting for 15 new companies. Meantime, Quebec accounts for four, Alberta for three, and Ontario for two of the new firms.
Although the owners of these new companies have taken different paths through the industry, they all share a passion for vertical flight and a desire to deliver value to their customers. Recently, Vertical visited with three of these new companies Kouris Kopters in Tamworth, Ontario; Coldstream Helicopters in Vernon, British Columbia; and 49 North Helicopters in Campbell River, British Columbia, to learn more about their operations and approach to business.
Kouriss Kopters Inc.
When top-selling insurance broker Mike Kouri used to make annual sales calls to his campground and summer resort clients, hed drive 30,000 to 50,000 miles over a summer on the back roads of Ontario. This dedication to service made Kouri and the company he founded in 1982, M.B. Kouri Insurance of Tamworth (near Kingston) one of the largest brokers of insurance for campgrounds and seasonal resorts in Ontario.
In the late-1990s, after three decades on the road, Mike Kouri was seeking a way to grow his business and also cut his traveling time. Tapping into a life long interest in aviation, Kouri convinced his primary insurance underwriter to buy him a RotorWay International Exec 162F kit helicopter in August 1999 to facilitate sales calls.
During the two years Kouri spent building the helicopter, his son Dave learned to fly at the RotorWay flight school in Arizona. The new two-seat helicopter was introduced to the insurance business in the summer of 2002, with Dave flying and Mike as passenger. To cut down on ferry time, they built a trailer to tow the helicopter from campground to campground, staying overnight in cottages owned by their clients. Exec 162F operating costs were particularly low since the helicopter could burn 91-octane automotive fuel.
The results exceeded our expectations, recalled Dave Kouri. We could visit 15 to 22 clients in a day with the helicopter, compared to about six to 10 clients per day if we had to drive around a lot of lakes. Increased productivity and the word-of-mouth publicity generated by our use of a helicopter helped grow our business by 20 percent.
Thanks to the introduction of the helicopter, the Kouris could now visit more than 300 insurance clients in just a month, instead of having to spend May through September on the road to pay the same number of visits.
In May 2008, the Kouris bought a four-seat Robinson R44 Raven II to service their insurance business, and, a year later, began long-term plans to obtain a commercial air operator certificate (AOC).  To bolster the team, Dave Kouri enlisted the aid of his friend Ken Saumure to help with the business plan and regulatory approvals. Saumure had given Kouri his Transport Canada checkride for the Exec 162F back in 2002 and was now working in Las Vegas, Nevada, flying Grand Canyon tours in a Eurocopter EC130.
Kouris Kopters Inc. received its AOC from Transport Canada and its Canadian Transportation Agency (CTA) air carrier license in early 2011 and began operations last summer.
"Most people get an AOC, acquire an aircraft and staff and then look for business. In our case, the Kouris began with a business that needed a helicopter," said Saumure, now chief pilot of Kouris Kopters and a partner in Kingston Heli-Tours, a separate company established to market the business.
Flying for the insurance company was transferred to the new commercial operation to provide a solid business base. For the previous seven years, the Kouris resort, campground and festival clients had encouraged them to offer helicopter rides, and these clients were among the first book the R44 as an attraction for their guests.
An operating base was also established in Kingston, a historic town located halfway between Canadas two largest cities, Montreal, Quebec, and Toronto, Ontario, and near where Lake Ontario starts to flow into the St. Lawrence River. From this base, the company launched sightseeing tours of Kingston, the 1000 Islands (pronounced Thousand Islands) and local wineries, and also pursued charter work.
Canada's commercial helicopter market is notoriously competitive, and Kouris Kopters is remaining tight-lipped when it comes to certain details of its business plan. However, Saumure was happy to share its broad outlines.
"Our primary goal is to develop relationships with existing businesses and find our niche as a complementary service provider, he said. "We are working with existing tour operators, such as Kingston 1000 Islands Boat Cruises, which has operated three large tour boats capable of carrying 150 to 300 passengers. With three seats to fill in the R44, were in a good financial position even if we capture just a sliver of the local tourism market, since our expenses are relatively low and part of our business already generates a strong cash flow."
The R44s versatility and low operating costs have proven to be a good fit for the company's commercial work. The company flew the owned Raven II and a leased R44 in 2011, and in 2012 Kouris bought a used R44 to replace the leased helicopter and reduce its operating expenses.
"We have a 99 percent dispatch reliability in our first R44 Raven II," said Saumure. "Now [mid-July] we've been doing 50-hour inspections every two weeks and they run less than $1,000 [Cdn], which is an operating cost that is hard to beat."
Coldstream Helicopters
In 2008, Kris Oakden founded Coldstream Helicopters as a Transport Canada-approved aircraft maintenance organization (AMO) to service the growing fleet of Robinson R22 and R44s flying throughout the interior of British Columbia. In 2010, Oakden approached pilot Robert Gallagher to help transform the AMO into a high-quality commercial helicopter operator.
"I was looking for a new a challenge," recalled Gallagher, who agreed to come on as partner and president of the new operating company. Both men had about 20 years of aviation experience and had worked closely together at Skyline Helicopters: what Gallagher described as a truly great experience where we were mentored under some very experienced people.
While Oakden was establishing the maintenance company, Gallagher was gaining international experience flying a Bell 212 for Canadian Helicopters in Afghanistan for about a year. The new start-up took about 12 to 14 months from start to finish, with the greatest time spent preparing all the regulatory submittals required by Transport Canada.
"One of the attractions of creating a new company is that we can offer a good life balance and build long-term relationships with customers and employees that would allow us to enjoy the helicopter business," said Gallagher, who now serves as Coldstream's director of operations as well as its president.
"We built the operating company on the foundation of an AMO that already took a lot of pride in its maintenance work. We were pleased that we took our time to enter the market and that we made our move when there was stability in the utility and tourism sectors."
Coldstream acquired a Bell 212 in the spring of 2011 to chase forest fires the first summer and had a single heli-skiing client lined up for the winter. The winter season proved to be much better than anyone expected, and Coldstream won contracts for seven helicopters (Bell 212s and AS350 B2s) supporting four heli-skiing companies located in Panorama, Revelstoke and Golden.
According to Gallagher, heli-skiing visits in British Columbia are up about 20 percent from previous years, with the season expanding from late November through April thanks to a growing mix of international guests. This summer, Coldstream was flying two Bell 212s and four AS350 B2s, with some of the helicopters fighting forest fires as far east as Ontario.
To expand its oil-and-gas business, Coldstream has opted to become an OGP-compliant helicopter operator shorthand for meeting the range of international standards that, over the last decade, big oil companies have introduced to their domestic Canadian helicopter contracts. Becoming an OGP-compliant helicopter operator adds to operating and administrative costs, but it is has become a prerequisite to bid on domestic and international business with a growing number of petroleum companies.
"Kris [Oakden] and I stay focused on our companys culture and continually monitoring, communicating and investing to ensure we dont miss out on opportunities," said Gallagher. "We are focusing on long-term sustainable contracts that will ensure business continuity through the peaks and valleys of the conventional market." He continued, "We have been very fortunate to attract very experienced people, which has helped us to react quickly to changing or emerging market influences. Without our people, we would not be able to have accomplished what we have."
49 North Helicopters
The nomadic nature of the Canadian helicopter business has been both a blessing and a curse for aviation families. On the positive side, many operators have started as family businesses with one partner doing the flying and the other running day-to-day business back home.
One operator, 49 North Helicopters Ltd. of Campbell River, British Columbia, is a variation on this theme, where partners Sheena Ell and Jean-Marc Messmer are both highly qualified helicopter pilots and flight instructors. This married couple has more than 41 years of combined flying experience.
Ell started working as a fixed-wing flight instructor in Alberta and British Columbia in 1988 and began training on helicopters in 1992, ferrying JetRangers to build time, she recalled.
She co-piloted McMillian Bloedel's corporate Sikorsky S-76 for about two years, flew Helijet's S-76s for almost eight years, and went heli-logging as a co-pilot on Canadian Air-Cranes S-64 Aircrane before settling in Campbell River.
Jean-Marc Messmer immigrated to Canada from Switzerland in 1994 to train as a commercial helicopter pilot. After his initial training in Ontario and Quebec, he moved to British Columbia to learn to fly in the mountains. Messmer flew light, intermediate and medium helicopters in the mountains for various operators, and his Swiss heritage nurtured a passion for heli-skiing work.
The couple met in 2005 when working for another company, and founded Coast Mountain Helicopters Ltd. as a flight school in Campbell River in 2007 with a single Robinson R22.
"I always wanted my own business, and after meeting with Sheena I found a great business partner and wonderful wife at the same time," said Messmer. "We complement each other in all aspects."
"Reflecting on the exact timing," Ell said, "I suppose the impetus to launch the school at the time we did was because I was temporarily without a medical and couldn't fly as I was pregnant."
Messmer continued, "Our goal was always to have a charter company, but it took a while to raise the necessary funds. We are a very financially conservative couple and wanted to finance our company entirely on our own. There is a huge difference between raising $150,000 for a training helicopter and raising more than a million dollars for an AStar."
While Ell ran the flying school and cared for their new family, Messmer worked as a contract pilot in the summers and winters to build their financial savings. The flight school business benefitted from an influx of European students, which represented about half the enrollment in the early years. Most business details were well planned, but Coast Mountain, the provincially incorporated flight school, had to change its name in 2011 when Ell and Messmer discovered there was a federally incorporated company with a similar name also in British Columbia.
In September 2011, 49 North received its commercial operating certificate and began flying in December for Skeena Heliskiing in northern B.C., for whom Messmer had previously flown as a contract pilot.
For his first helicopter, Messmer selected a Soloy Aviation Solutions AS350 SD2 AStar. The helicopter was available at a good price, and the Honeywell engine provides a little more power at altitude and costs less to overhaul, which was a important financial consideration in our business plan.
Plans to work the summer of 2012 supporting mineral exploration fell through, so Messmer activated Plan B, to chase forest fires. The work is speculative, but if you are in the right place you can get a casual-hire contract with four-hour daily minimums at full tariff.
Meanwhile, back in Campbell River, Ell continues to run the flying school (now renamed North 49 Helicopter Training Ltd.) and recently hired another pilot to help with the instructing. The school currently attracts about half its students from France, most of whom are new immigrants with long-term plans to fly in Canada.
Seizing Opportunity
It's no secret that there are significant operational and cost barriers to entering the helicopter market in Canada, as in most countries. However, as Kouris Kopters, Coldstream Helicopters and 49 North Helicopters demonstrate, its not impossible and considerable opportunities await those entrepreneurs who can successfully master all the details.
Ken Swartz is an award-winning helicopter industry journalist who has covered the market for 35 years. He has spent most of his career as an international marketing and media relations manager with airlines and a leading commercial aircraft manufacturer. He runs Aeromedia Communications, a marketing and PR agency, and can be reached at kennethswartz@me.com.