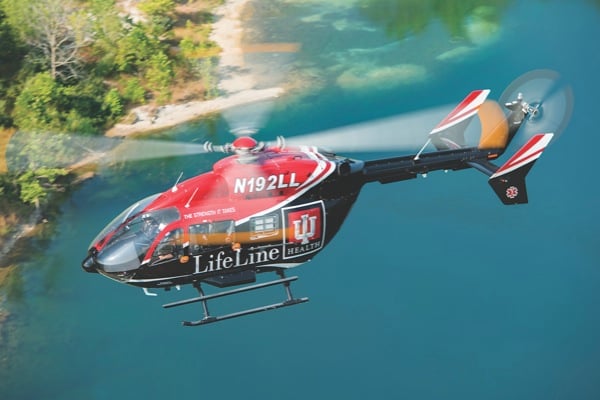 Strength! The word conjures up images of power, conviction and courage of the intense, spirited emotions that are drawn upon when faced with difficult or distressing situations. It evokes the determination to never lose hope and to push beyond ones limitations.
These qualities are especially valuable when considering those persons, organizations and institutions upon whom we rely in times of great need institutions like Indiana University Health (IU Health), the states largest, most comprehensive healthcare system. When IU Health adopted the maxim The Strength it Takes as a cornerstone element of its January 2011 system-wide rebranding campaign, some may have wondered: was this superficial self-promotion or a fitting declaration?
All evidence suggests the latter. This not-for-profit, academic health system has been widely recognized as a national leader, with the magazine U.S. News and World Report recently naming IU Health to its 2012-13 Best Hospitals Honor Roll. The magazine ranked IU Health 16th among the nations healthcare systems overall, and highlighted 11 of its specialized clinical programs (including cancer, cardiology and neurosurgery) as among the nations best.
A key element of IU Healths success and one that sets it apart from many health care systems is the advanced patient care and transportation provided by LifeLine, its critical care transport service. Strategically based throughout Indiana, LifeLines six helicopters and seven ground-based MICUs (mobile intensive care units) create a lifesaving network for the entire state, providing critical care and patient transfers from small outlying community clinics and hospitals to the advanced care available at the systems large medical facilities. The fleet is staffed and equipped to manage such specialties as neonatal, pediatrics, cardiovascular, neuroscience and high-risk obstetrics, as well as adult and pediatric trauma.
With talented employees, forward-thinking management and a fleet of highly capable Eurocopter EC145s, IU Health LifeLine does, indeed, have the strength it takes to carry out its vital role.
Strong Roots
IU Healths extensive system comprises 19 medical facilities throughout Indiana, staffed by over 25,000 health professionals. The system boasts two Level I trauma centers: IU Health Methodist Hospital (MH), Indianas longest standing hospital; and the renowned Riley Hospital for Children, the states only pediatric trauma center. Partnering with IU Health is also an academic component, the Indiana University School of Medicine, which provides the latest in research and pioneering procedures.
As early as 1910, Indianapolis-based Methodist Hospital (which would later become one of the three original IU Health institutions) was an innovator in critical care. Even before the Indianapolis Motor Speedways first 500-mile race in 1911, the hospital stationed a motorized ambulance Indianapoliss first at the track during races. In the 1920s, MH experimented with using railroad cars to speed injured racecar drivers to the hospital, about five miles away.
Some 50 years later, the high-profile and demanding medical needs of the Indianapolis Motor Speedway would again prove the catalyst for advancements in MHs management of medical care and patient transportation. Specifically, in 1970 MH began to experiment with helicopters dedicated to the raceway, flying injured drivers into a makeshift helipad in the hospital parking lot. The concept proved viable, drastically improving patient care and slashing transport times.
In July 1979, MH took a bold step to fully embrace the helicopter in a much broader role, as a transportation asset for the hospitals overall critical-care needs. It created a helicopter emergency medical services (HEMS) program, branded LifeLine, using a Bell 206L-1. LifeLine was the first such program in the state and one of the nations early hospital-based HEMS programs.
The single LifeLine helicopter quickly proved its worth. The following year, LifeLine chose Omniflight Helicopters Inc. as its helicopter provider, and an MBB Bo.105 was brought on line to replace the Bell 206L-1. LifeLine operated with the Bo.105 until it commenced a significant period of expansion in 1988, leasing from Omniflight the first MBB BK-117 in an eventual fleet of six (including one dedicated back-up aircraft).
Around the same time, the landscape of the regions healthcare system was dramatically changing. MH, Riley Hospital for Children and Indiana University Hospital consolidated under the umbrella of the Clarian Health Partners organization, which then began acquiring additional hospitals throughout the state. Eventually rebranded as IU Health, this became the modern, statewide network that exists today.
With the growth in facilities and services, Clarian looked for more progressive ways to manage its aviation and clinical services. One area that warranted scrutiny was the manner in which patient transportation was handled. From the inception of LifeLine, the helicopters had been solely under the umbrella of MH. Riley, on the other hand, had its own, separate specialized pediatric and neonatal transportation teams that relied on traditional ground ambulances. The two programs shared nothing except a common
dispatch center, and much inefficiency existed.
In 2004, in an effort to improve services, the two transportation programs were merged into LifeLines full-service critical care transport team. Said Shelly Maersch, IU Healths current executive director of access services, By pulling the two programs together, we now had a well-rounded service with respiratory therapists, paramedics, registered nurses and the pediatric/neonatal-trained nurses.
With this merger and LifeLines expansion to additional bases expectations for the program were high. But the programs aging helicopter fleet was becoming a source of increasing frustration and concern. Of the six BK-117s, the oldest was over 20 years old. The fleet was also non-standard, with different years and models (A3s and A4s). Aircraft were experiencing increasing downtime, mounting maintenance issues and dwindling parts availability. Compounding these problems was the fact that maintenance was handled off-site, nearly 150 miles away in Columbus, Ohio, at one of Omniflights regional maintenance facilities.
IU Health realized that, as time progressed, the problems associated with an aging fleet would only get worse. Said Maersch, We needed to make a decision. We either needed to be in the business of patient transport and buy new helicopters, or we needed to get out, because [it was] too expensive for us to be on the ground not flying because of maintenance and our inability to get parts.
A solution to this problem was in order, and IU Health set out to determine the best course of action. With the aid of IU Healths business development department, executive team and board of directors, LifeLine developed an ambitious strategy and business plan to purchase its own fleet of helicopters.
An evaluation process then developed a list of four potentially suitable aircraft: the Eurocopter EC135 and EC145, the Bell 429, and the MD 902. In the end, the EC145 was selected for its robust airworthiness and mission-growth capabilities, along with its capability as an instrument flight rules (IFR) platform and its expected versatility in regards to LifeLines diverse mission needs. As Anthony DiNota, American Eurocopters current vice-president for commercial sales, marketing and customer support, remarked, The EC145 has made a name for itself with the air medical community in the United States, specifically those that do specialty missions and critical care transport. The EC145 provides the clinical team a very large cabin for the equipment and extra room for medical personnel required to take care of their patients.
In October 2008, the IU Health board of directors approved the purchase of four EC145s and the order was placed with American Eurocopter. The completion work was awarded to Metro Aviation, in Shreveport, La., with delivery slated for 2010. While IU Health would be the sole owners of the aircraft, it retained Omniflight as the operator and maintenance provider. A new chapter in the programs history had begun.
A New Vision
With the rapid changes occurring throughout LifeLine, the need was recognized for a more experienced director, someone who could better handle the complexities of the growing program. Fortunately, the ideal candidate was already a face familiar to the LifeLine team: Steve Johnson, who was Omniflights director of business operations at the time. As such, he had already been working closely with IU Health throughout the specification and ordering process for its fleet of EC145s. The fact that Johnson also had U.S. Federal Aviation Regulation Part 135 operator experience and a background in the clinical aspects of HEMS (he is also a paramedic) made him all the more attractive.
In April 2010, Johnson accepted an offer to join LifeLine as the programs new director. He brought with him an upbeat team philosophy and enthusiasm that would become infectious. He also brought an ambitious emphasis on accomplishing stated milestones in a short period of time.
We wanted to create an environment where we were proud of everything around us: our environment, our equipment, the way we practice, the people we practice with and a smart business model, said Johnson. Many feel Johnsons philosophy and style helped push IU Healths traditional HEMS program to a level of efficiency more commonly associated with private-sector operations.
In fact, when Johnson took over the reins, he began examining existing business arrangements and practices, including its relationship with its operator. At the time, LifeLines longtime vendor, Omniflight, was undergoing a transition of its own: a takeover by Air Methods. While Johnson appreciated the experience Air Methods could provide, he couldnt help but be impressed by the sense of an engaged partnership that had developed between LifeLine and Metro Aviation during the completion processes on the new fleet. He also recognized how important this sort of partnership could be as LifeLine transitioned its program.
It was about finding the right partner that shared our vision and truly wanted to be exactly that, a partner, said Johnson. Metro really took an interest in making sure they understood what we were trying to do and how we were trying to do it. They were very much aligned with the hospital-based traditional programs and shared our vision and philosophy.
In addition to desiring a true partnership, LifeLine had other well-defined expectations for its new program. The list included standardized aircraft, interiors, avionics, systems and paint; plus skilled, well-trained pilots who were night-vision-goggle (NVG) qualified and who possessed the maturity, experience and confidence for IFR work. Further, IU Health wanted its own dedicated, capable heavy maintenance facility, with two mechanics for each aircraft, a dedicated avionics technician and a check airman.
Metro Aviation stepped up to the plate, and even exceeded IU Healths expectations. Said Johnson, Metro was fully engaged. They could see where we were going, and knew how we could best accomplish it. Metro also helped LifeLine achieve the coverage level it has today by leasing the program two additional helicopters: an EC145 that is in operational service full-time, and a more economical BK117 that serves as a backup and training aircraft.
One of the biggest accomplishments for this transition of LifeLine, and a huge source of pride for the whole organization, was the creation of its own maintenance facility. With overwhelming support from Metro, and under the leadership of lead maintenance technician, Ken Justice, a skilled staff of 10 full-time and four part-time maintenance technicians were assembled. With the exception of only two, all came from lengthy careers as military helicopter mechanics.
Yet, the technicians, themselves, drew inspiration from the entire service. Said Justice, My hat is off to every person involved in this program. Not just the maintenance technicians, but management, the medical folks and the pilots, too. Ive got some of the best pilots in the world, and Im extremely proud to work with all these folks.
To go with the new personnel, equipment and focus, a new central LifeLine facility was dedicated in 2011 at Indianapolis Downtown Heliport. The beautifully remodeled, multi-level facility in the heart of the city houses the LifeLine management suites, crew offices and sleeping quarters; a full-service maintenance hangar; and a 45,000-square-foot concrete flight line dedicated to aircraft movement and parking. While LifeLines operations consume much of the facility, office and hangar space is shared with local police and electronic-news-gathering operators.
Overall, in just the past two years, LifeLine has undergone a radical departure from its previous HEMS model. There has been a top-to-bottom cultural transformation, with LifeLine having set its sights on a more progressive strategy for every element of its operation: aviation, maintenance, medicine and leadership. Johnson believes this cultural shift started with taking ownership of their fleet, which instilled a sense of pride of ownership. Then, bringing something as important as maintenance close to home encouraged the medical crews to become more personally involved with the aircraft and promoted more personal connection between pilots and maintenance staff.
Covering the State
The LifeLine network is intelligently built upon a hub-and-spoke concept, utilizing eight medical teams. The center of the hub is Indianapolis, with its sprawling IU Health medical facilities. The three medical teams based here including a three-person pediatric/neonatal team are poised to respond at a moments notice using either a helicopter or one of two MICUs. (Each MICU has its own dedicated driver who is also an EMT.)
Forming one spoke of the wheel is Base 5 in Lafayette, some 60 miles northwest of Indianapolis. Two medical teams are staged here, including another pediatric/neonatal team, supported by a helicopter and one MICU. The other spokes are bases in Muncie, Columbus, and Terre Haute, each of which staffs one two-person adult medical team, a helicopter and one MICU.
Operationally, the closest medical team appropriate for the call receives the dispatch. Said Johnson: When we dont need to utilize the helicopter, we dont. Theres no reason to put an aircraft in the air when the patient can go by ground and get the same level of care by the exact same team they would have on the helicopter. Its not a different team, its the same team, just a different mode of transport.
LifeLines many years of flying the BK-117 made its transition to the EC145 near seamless, as the models have a similar airframe and powerplant. Said lead maintenance technician Justice, I love the BK-117, but the EC145 is awesome! American Eurocopter built a great product. LifeLine also still has one BK-117C1 as part of its fleet, for training and as a maintenance backup.
Metros aviation site manager and lead pilot, Mike (Mo) OLeary, joined the LifeLine team in 2005 after a long military career as a helicopter pilot. He oversees Lifelines 21 other pilots, who between them have more than 400 years combined piloting experience. Together, they are responsible for an estimated 1,800 individual sorties annually.
The EC145 receives high marks from OLeary, who told us, I have flown the Bo.105 and BK-117 (A and B models) airframes as a civilian EMS pilot, and by far the EC145 is the Cadillac of them all. The autopilot and avionics package IU Health purchased with the aircraft are industry-leading. Pilot workload is significantly reduced during single-pilot IFR. This package includes dual Garmin 530W GPS units, a Garmin GMX 200 multi-function display that provides in-flight weather and charts, a traffic alert and collision avoidance system, a terrain awareness and warning system, and a satellite flight-following system from SkyTrac.
Among its many strengths, the EC145 provided an ideal platform for LifeLine to operate on NVGs and make a comfortable transition from visual flight rules to IFR, to take advantage of the network of 11 GPS approaches developed by the program for accessing hospitals and communities throughout the state. Said OLeary, In the LifeLine program, single-pilot IFR has become a standard procedure and not an emergency. We complete semi-annual checkrides, which also includes annual full-motion simulator training.
From a clinical perspective, the EC145 is a standout, as well. Said Laurie ORiley, Lifelines critical care transport team manager: We at Indiana University Health LifeLine feel blessed to be able to operate the EC145. It provides us with a spacious interior that accommodates specialty equipment, oxygen and medical air gas delivery systems that can support the respiratory needs of our complex patients, including high frequency ventilation. The aircrafts increased power then gives us the ability to carry this additional equipment and specialty personnel.
Onboard capabilities include the use of an intra-aortic balloon pump, a ventricular-assist device, a fetal heart monitor, a baby pod, a nitric-oxide delivery system, and a continuous patient-core temperature-monitoring device. Every patient mission carries its own onboard blood supply and chilled saline, along with the capability to warm blood and fluids.
With its deep ranks of highly trained employees, LifeLine is unique in its ability to easily assemble medical crews for missions that require such specialists as neonatal nurse practitioners or high-risk obstetrics nurses. In a similar manner, the onboard medical equipment can also be quickly adapted. Said ORiley, When a mission request requires specialty equipment, this change-out process is completed in less than five minutes. Alternate equipment is staged on a trailer that elevates to the same level as the aircraft platform, which enables the crew to quickly change out the cot to an isolette, if needed. We also have additional equipment ready and staged for ground transport.
A Strong Future
As members of a program whose roots were established over 40 years ago, those associated with LifeLine can look back over their shoulder with a genuine sense of pride at where their program has been. In looking back, however, one must also marvel at even older foundational milestones, such as the longstanding partnership forged over 100 years ago between what became IU Health and the iconic Indianapolis Motor Speedway.
Today, that partnership lives on, with LifeLine and IU Healths Level I trauma staff of physicians and medical teams continuing a century-old tradition of providing medical care and transportation to race drivers and fans alike. Over the years, new partnerships have also been developed with other businesses and organizations throughout the community, including the Lucas Oil Raceway, the National Football Leagues Indianapolis Colts and the National Basketball Associations Indiana Pacers. In some instances, LifeLine and IU Health go beyond hands-on medical care, becoming involved with health education and community awareness programs.
Going forward, it is clear that LifeLines ambitious commitment to superior patient care is a key element of the programs dynamic new direction, with management and personnel constantly seeking new and better ways to enhance efficiency and improve patient care. IU Healths investment and enduring support have indeed given LifeLine the strength it takes to re-invent itself as a highly progressive critical-care program, committed to maintaining the highest standards in aviation and helicopter emergency medical services.
Dan Megna recently retired after nearly 30 years with one of Southern Californias sheriffs departments. His last 18 years were spent serving in the departments aviation unit, where he logged over 8,000 hours in helicopters as a tactical officer, pilot and flight instructor.