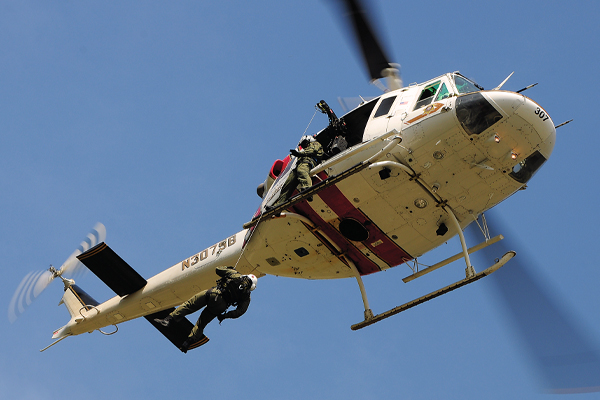 With an area of over 20,000 square miles, Californias San Bernardino County is the largest county in the contiguous United States more than twice as large as Maryland and eight other individual U.S. states. Not only is this geographic area big, its also diverse, with terrain that ranges from scorching, low-elevation desert to mountains with peaks above 11,000 feet.
Providing search and rescue (SAR) services over such a vast area is no small undertaking, but the San Bernardino County Sheriffs Department (SBSD) Aviation Unit is more than up to the task. This busy unit operates three aircraft in SAR and firefighting roles: two Bell UH-1H Super Hueys and one Bell 212 Twin Huey. Additionally, it operates six Eurocopter AS350 B3 helicopters and one MD 500E in a variety of law enforcement and public service roles (the AS350 B3s are hoist-capable and may also be tapped for rescues when the Hueys are unavailable or too far away to get on scene quickly).
The operations of the Aviation Units Air Rescue division are as diverse as San Bernardino Countys terrain, ranging from hoist rescues in the mountains to swiftwater rescues during winter floods. Air Rescue is also routinely called upon to perform medevacs from the scenes of motor vehicle and boating accidents (with many of the latter coming from the popular recreational area Lake Havasu on the countys eastern border). The sheer variety of Air Rescues missions keeps members of the unit on their toes. As helicopter crew chief Steve Miller observed, Ive been here for 20 years and the job is more exciting than ever its truly amazing what people can get themselves into, and what we have to get them out of.
The Huey has proven to be ideal for the units varied operations. Pilot Cpl. Brian Miller told Vertical, The Huey is nearly perfect for our mission profile, in particular the UH-1H when we need to work at higher altitudes. Its a stable and powerful aircraft that can work at over 8,000 feet without too many concerns. The 212 is also a good aircraft . . . its less capable than the UH-1H because of its heavier weight, but at lower altitudes its a perfectly good aircraft. And the 212s twin engines are nice to have during night flights or over-water operations around the county.
Air Rescue 7 has five full-time pilots, all of whom are qualified on the UH-1H (three are also qualified on the 212). All are experienced SBSD patrol pilots who were brought up to the level of rescue pilots through a structured progression. Explained Cpl. Brian Miller, We progress from day valley patrol [to] night valley patrol, desert patrol and mountain operations with some hoist experience in the AS350 B3. After at least five years of patrol experience and being chosen to become an Air Rescue pilot, a transition to the medium helicopter will begin. The first aircraft will be the UH-1H, with an instructor pilot transitioning the new pilot into the aircraft. After a few months of non-technical rescues, the new pilot will be qualified as a Huey hoist pilot and then allowed to move into more challenging technical rescue scenarios. When theres a requirement, once a pilot has developed and built experience with the UH-1H, a pilot might be asked to transition to the Bell 212.
While the Aviation Units pilot selection and training program is not unusual among airborne law enforcement agencies, the aircrew side of its operations is quite unique. All of the units crew members are volunteers from the helicopter crew chiefs who keep things running smoothly and safely in the cabin, to the doctors, nurses and paramedics who ride along on medical calls. Applicants for the team are carefully screened, and undergo rigorous initial and recurrent training programs after acceptance into the unit. Overall, there are around 45 citizen volunteers or reserve deputies available for aircrew duty, with the goal of ensuring that at least one rescue ship is fully staffed every day, year-round. Capt. Jeff Rose, who oversees the Aviation Division, noted, The cost to staff, operate and maintain our Sheriffs Air Rescue helicopters is quite expensive. Our dedicated and professional air medics save the citizens of San Bernardino County in excess of a million dollars each year in salaries alone.
The Aviation Unit has had many memorable rescues, but crew chief Steve Miller shared one that illustrates the importance and difficulty of what Air Rescue is frequently called to do. Recently, on a very hot summer day, a young man jumped from a cliff into a shallow pool of water and suffered massive, life-threatening bilateral tib/fib fractures, a femur fracture and an open-book fracture of his pelvis, Miller recalled. The location was in a very remote area of the San Bernardino National Forest at over 5,000 feet elevation.
Once we got on scene, pilot Cpl. Brian Miller realized it was going to be technical rescue. He maneuvered the Bell 212 into a tight and confined area above the water with cliffs and large trees close to both rotors. I hoisted our air rescueman, Dr. Steve Patterson, to the waters edge. Dr. Patterson then had to wade through waist-deep water about 25 yards to the victim, who was being supported by friends in a more shallow part of the pool because of the victims injuries.
He continued, Dr. Patterson had to get the victim loaded into the Stokes litter while still in water. Once packaged and loaded in the Stokes, the victim was hoisted into the aircraft. Soon after Dr. Patterson was also hoisted aboard. The entire operation took about 25 minutes to accomplish and almost certainly saved the mans life. We later estimated ground-based rescue would have taken seven or eight hours, with undesirable results for the victim.
Despite the drama of this particular rescue, it was all in a days work for the dedicated members of Air Rescue, who last year performed 265 SAR missions. This was just one of many rescues, said Miller. We perform many highly technical and challenging missions every year, and all are important to us. Air Rescues missions are important to the residents of San Bernardino County, too and in serving a population of over 200,000 across such a large and geographically diverse area, its safe to assume that Air Rescue wont be running out of work anytime soon.