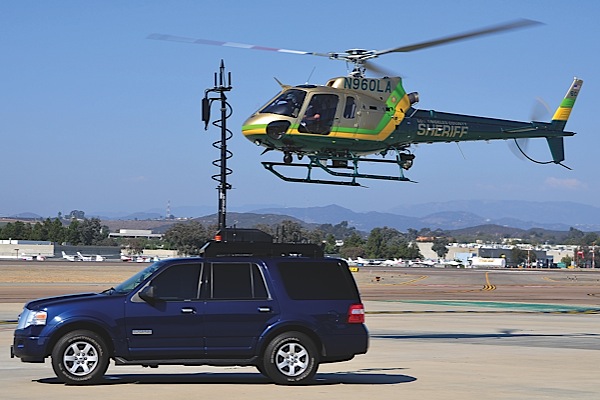 Since the events of Sept. 11, 2001, a goal throughout the law enforcement community has been to maximize interoperability between agencies.
One region where this effort has achieved notable success is in Southern California. From Santa Barbara County, northwest of Los Angeles, to Orange County, southeast of L.A., many of the areas airborne law enforcement (ALE) units have bought into an integrated microwave video downlink system that allows them to share video feeds in real time.
The system was developed by Helinet Technologies of Van Nuys, Calif. (Helinet specializes in developing customized downlink technology solutions for law enforcement, government and military markets, and benefits from being a subsidiary of Helinet Aviation Services, an internationally known broadcast, electronic-news-gathering and film production helicopter services provider.) The Helinet downlink system enables real-time transmission of high definition (HD) and standard definition (SD) airborne images to fixed and portable receiving sites. Thus far, the system has been installed primarily on helicopters, such as Eurocopter AS350 and MD 500 models, but it can be installed aboard fixed-wing aircraft, too.
Supporting a Need
As an outgrowth of local ALE interest in Helinets microwave downlink solution, the various system installations have now become part of supporting a regional information-sharing program between the Los Angeles County Sheriffs Department, Los Angeles Police Department, Orange County Sheriffs Department, Santa Barbara County Sheriffs Department, San Bernardino County Sheriff-Coroner Department, San Bernardino Police Department, Riverside County Sheriffs Department, Riverside Police Department and Ontario Police Department. (In the Inland Empire encompassing Riverside and San Bernardino counties, and the city of Ontario the equipment was partly funded through the Urban Areas Security Initiative program of the U.S. Federal Emergency Management Agency). The Long Beach Police Department and the Ventura County Sheriffs Office will soon join these ranks. Plus, various federal agencies have already been able to utilize the shared information through mutual support, and eventually plan to equip their own aircraft with an appropriate downlink system, which will enable an even broader range of agencies to centralize and share video feeds in real time.
Sgt. Eric Weidner of the Ontario Police Air Support Unit, who was involved in the initial system deployment discussions for his region, told Vertical 911 that the goal behind adopting the equipment was to make air support units (ASUs) in the Riverside-Ontario-San Bernardino region fully compatible with each other. But, they also wanted the equipment to be strongly supported by the designer and integrator of
the system.
Said Weidner: After researching our requirements, we recognized Helinet understood law enforcements absolute requirement for 24/7 reliability and high performance under less-than-ideal conditions. These are critical for police, sheriff and public-safety airborne operations. The microwave downlink Helinet deployed for us has performed very well and provides all of the partners in the Riverside-Ontario-San Bernardino Urban Areas Security Initiative with a real-time ability to gather and share usable intelligence during large-scale operations.
Equally important is the ongoing training and around-the-clock support that Helinet provides. We wanted to be assured we could get on the phone with a problem and have it diagnosed and fixed in a timely manner. These services allow us to keep our focus on our mission and help ensure that we and the communities we serve are getting the most out of the downlink system.
Weidner said the system has even created opportunities to support the critical missions of agencies that they dont regularly work with. We work closely in our region with the different air support units; we know each others capabilities and can interoperate easily. But, even though we dont often work with a unit such as the Santa Barbara [County] Sheriffs Department, we can [now] seamlessly provide downlink support for them. Lets say they had a large wildfire event, we hypothetically could be asked to provide downlink support. We would simply fly up and start working seamlessly as all the equipment is compatible and interoperable. For the public, it saves costs through not having to buy multiple and incompatible systems. So, really its a force multiplier: even a smaller unit could be supported by aircraft from different agencies, all a short flight away.
Establishing Reliability
For the Los Angeles County Sheriffs Department (LASD) Aero Bureau, a reliable and well-supported downlink system was critical, not only because it is one of the largest ASUs in the world with 12 Eurocopter AS350 B2 patrol helicopters, three Sikorsky H-3 Sea King rescue helicopters and three fixed-wing aircraft (two for surveillance, one for transport) but because it has endured the opposite of this in the past. As Sgt. John Haughey of the Aero Bureau told Vertical 911, LASD had a rough go at downlink over the years. Previous attempts on prior fleets suffered mainly due to equipment failures, FCC [Federal Communications Commission] coordination issues, [and] lack of training, service and support.
For our current fleet, we looked at what the broadcast world was doing, as their systems always work, as evidenced by the aerial footage we see every day on the news. After evaluating several vendors, Helinet quickly proved, through successful demonstrations and subsequent discussions, that LASD could easily downlink live HD video without image breakup and even transmit the video [over] long distances.
Helinet custom-designed and commissioned LASDs current downlink systems and also provides training and 24/7 support. With Helinets established reputation in the broadcast and production world, they helped us establish a positive relationship with the local FCC coordinator. Through training and coordination, Helinet helped us show the FCC that law enforcement could be a responsible player in frequency sharing within the Southern California area.
Additionally, while outfitting the LASD aircraft, Helinet custom-designed the Aero Bureaus tactical incident downlink vehicle and the portable receivers that are deployed throughout the county. The tactical incident downlink vehicle is capable of receiving live HD video from four different aircraft at the same time; it is deployed at major emergency incidents and also integrates with special surveillance operations.
Haughey continued, Our special weapons teams now have the ability to see in real-time the overall scenario, giving them a tactical advantage. Also, in large crowd-control situations we are able to give our incident commanders real-time, high-quality images and locate troublemakers within the crowd. For disaster situations, such as an earthquake, we can relay images of fallen freeways, fires or other problems we might come upon. During homeland security missions, we can send images and information to commanders, giving them a much better understanding of whats happening on-scene and let them make proper assessments.
Making Connections
For the Santa Barbara County Office of Emergency Management, the Helinet downlink system effectively connects the Santa Barbara County Sheriffs Department (SBSO) and Fire Department (SBCFD). The SBSOs light Bell OH-58As are utilized as the aerial downlink platform, leaving the units medium Bell Hueys available for firefighting and rescues.
Sgt. Gregg Wietzman of the SBSOs aviation unit, told Vertical 911 a little bit about how it and the SBCFD are using the new system: We have located repeaters around the county, giving us the ability to send images from anywhere within our operational area. We can provide situational awareness to the fire department command and to ground commanders during wildfires. This gives them the ability to understand the spread of the fire and where to put firefighting assets, and gives them a view of structures being threatened. We will also use the system for law enforcement actions such as surveillance missions or SWAT team support, and any other requirements.
He added, Santa Barbara County was able to purchase all of its downlink equipment through a [U.S. Department of Homeland Security] Federal Buffer Zone Protection Program grant. A committee of all of the fire and law enforcement chiefs were the deciding factor as to how to spend the money, and they all felt that the addition of aerial downlinking with the sheriffs helicopters was the best way to get situational awareness of a major fire or disaster scene.
So far, one helicopter has been equipped with a downlink system and a second system, with a new HD camera, is in the ordering phase. As the only air support unit in our county, we provide this new capability to all public service agencies in our county. With the interoperability that Helinet has worked in, we are [also] capable of assisting other agencies in Southern California with any mutual aid requests that come in.
Interoperability has already become a buzzword in the law enforcement community, but with public agencies striving to do more with less, it is likely that interoperability will only become more important in the years ahead. In that context, the system adopted by many of Southern Californias ALE and other parapublic agencies provides a model for how regions can make the most of their combined aviation assets, maximizing efficiencies and information-sharing in the interest of public safety.