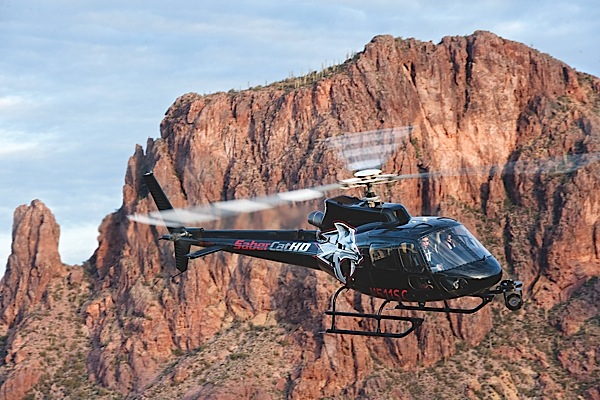 Its difficult not to admire those enterprising souls who possess the ambition and determination to relentlessly pursue their goals in both life and business especially those who are able to create companies that are not only financial and personal successes, but which fulfill childhood dreams, as well.
Case in point is Mitch Kelldorf. His aerial filming company, Hangar 5 (H5) Productions, based in Scottsdale, Ariz., is a creation born out of his passion for, and childhood dreams of, flying and filmmaking.
I first met Kelldorf and H5s director of operations, Nelson Rood, in 2011. I recall standing in the H5 hangar chatting with Rood while awaiting our host. While trying to hang on every word of our conversation, I couldnt help but look around and marvel at how tidy and well-organized the facility appeared.
I was also taken by H5s beautiful Eurocopter AS350 B2, parked on a dolly nearby. I loved the bold red-white-and-gray SaberCat HD lettering along the tail boom, and the companys eye-catching, larger-than-life brand graphic: a snarling saber-toothed cat that seemed to leap from the machines shiny, gloss-black paint.
The detail and workmanship on the aircraft, however, didnt stop there. It was obvious this machine was built specifically for aerial filming, beginning with its state-of-the-art Cineflex V14HD (high definition) camera positioned just ahead of the aircrafts nose on a single pole-mount manufactured by Meeker Aviation and Airfilm Camera Systems. Inside the rear cabin was a custom workstation built around a Dart/Geneva Aviation P165 panel, complete with a 15-inch Marshall Electronics SunBrite monitor and AstroDesign WM-3208 eight-inch LCD monitor with waveform and vector scope, giving the camera operator complete control over the color video signal. Rood explained that a top-of-the-line, portable Sony SRW-1 recording deck and SRPC-1 HD video processor was hidden under the rear seat, and that an InterVolt power conditioner kept the aircrafts notoriously noisy electrical generator from introducing noise into an otherwise pristine HD image. Meanwhile, ahead of the front passenger seat, an 8.4-inch SunBrite monitor had been installed in the cockpit panel to create a separate workstation suitable for an art director.
The machine seemed to be ready for every conceivable, unique need of the aerial filming mission. At the same time, it screamed Hollywood, looking as poised, polished and ready for the silver screen as any actor.
Suddenly, the door from the office opened and in strolled a smiling Kelldorf, sipping a bottle of water as he extended me a warm welcome. Now, Ill admit, initially I thought I was perhaps meeting some famous rock star, as opposed to a helicopter operator. Kelldorf has what I can only describe as Hollywood good looks, with long, flowing, straight black hair to below his shoulders. And, he wore a black leather bomber jacket, a scarf around his neck and an assortment of rings, chains and bracelets.
Despite Kelldorfs rock-star appearance, though, I quickly found myself immersed in a conversation with a guy who was obviously an experienced, professional and passionate pilot and one who also happens to be one of the nicest, most grounded and most charismatic individuals Ive ever met.
Behind the Music
Kelldorfs interest in aviation dates back to his childhood. He even joined the United States Marine Corps right out of high school with the plan of becoming a pilot. After attending the Platoon Leaders Class program for Officer Candidates School and graduating third in his class, the stage was set for his dream of flight school in Pensacola, Fla.
Not ignoring his other life goals and ambitions, however, Kelldorf wisely assessed the commitment required of him to excel as a Marine aviator. He considered how this path might impact, and possibly derail, his hopes of pursuing his other passions: filmmaking and acting. Eventually, he chose an honorable discharge putting on hold his dreams of flying.
Back in civilian life, Kelldorf moved to New York and started an event production company. He was also accepted into the prestigious Lee Strasberg Theatre and Film Institute, where he studied for two years. This was during the early 1980s, and Kelldorf soon found his production company doing quite well: he was handling major launch events for such high-profile clients as Ralph Lauren, Paloma Picasso and the Hard Rock Cafe.
In support of that production work, Kelldorf began dabbling with an innovative line of fabric covers to dress up unsightly chairs and tables used at his prestigious events. The concept grew into a lucrative business of its own, and became known as Sculptware.
With the success of Sculptware, Kelldorf was soon able to pursue his dream of flying. While he had always hoped to fly helicopters, the cost made it prohibitive, so he turned his attentions initially to airplanes. In 1986, he attained his fixed-wing pilots license, and then true to form for this overachiever spent the next 10 years honing his skills as an aerobatic pilot.
In 1993, sensing more opportunities for business and a better personal lifestyle for his family, Kelldorf seized on the chance to move to Arizona, with wife, Cleo, and children, Billy, Moriah, Shane and Dean. Sculptware, too, found a new home: an industrial complex adjacent to the Scottsdale Municipal Airport.
Coincidentally, just across the parking lot was another company whose owner shared one of Kelldorfs passions. The neighboring business was (and still is) Dillon Precision: an industry leader in tooling for firearms and reloading products. The owner, Mike Dillon, also loves flying, and among his aircraft is a beautifully restored Bell UH-1H that is used as a testing platform for various weapon systems, such as the M134 Gatling Gun from Dillons other company, Dillon Aero.
The two business owners became friends, and Dillon soon offered Kelldorf his first helicopter ride. As Kelldorf recalled, It was funny, the first time I went up, he said, Hey, ya wanna fly it? I said, Sure! So he said, Okay, lets make a left turn. So I started to go full [pedal] deflection, because as a fixed-wing aerobatic pilot its all full deflection or nothing. The result was immediately self-critiquing, and Dillon quickly took back the controls and recovered the aircraft.
But the hook was set. As Kelldorf explained, I fell in love with flying helicopters. It was an incredible sensation to really feel part of the aircraft. Almost immediately, Kelldorf began taking lessons in a Robinson R22, with good friend Neil Jones, owner of Quantum Helicopters in Chandler, Ariz.
After earning his rotorcraft rating, he ordered his very own R22 Beta II. I got in it everyday, said Kelldorf. I felt like a little kid at Christmas, like when he got his first bike and learned how to ride. If it was overcast, I would just take it and hover taxi three feet off the ground, up and down the taxiway, sideways, backward and 360 pedal turns. It was truly a love of flying that thing. It was a great little helicopter.
Kelldorf worked tirelessly to improve his skills as a helicopter pilot, and then ultimately purchased a Bell 206 JetRanger. The 206 was used to support Sculptware, but it also helped to satisfy his love of flying and helped to further the time he spent with his family, as they went on various outings together.
A regular outing Kelldorf particularly enjoyed was with his brother, Mark, a petroleum geologist. The pair would take the JetRanger into the remote Arizona desert and explore the geology of the area. They also brought along a handheld video camera and recorded the natural landscape. His brother would edit the video, add music and use it in classroom presentations. As they began to realize the impact of these videos, they began to seek ways to improve the production, and another hook was set.
A Change in Direction
With Sculptware doing well and his love of flying satisfied, Kelldorf decided to refocus his efforts on those other fascinations in his life: namely acting, production and the film industry. The entrepreneur within Kelldorf again emerged, brainstorming business models that might merge all these passions into one fulfilling pursuit. In 2008, he began laying the groundwork for his new vision: a boutique aerial filming company that would cater to discriminating clients looking for the very best production quality, service and capabilities. His biggest hurdle: he knew nothing about the industry.
Armed with boundless enthusiasm and a humble heart, Kelldorf set out to seek wisdom from the best and the brightest in the world of aerial cinematography. He received a great deal of encouragement and guidance from a number of helicopter operators and pilots who have respected reputations in aerial filming, including Helinet Aviation in Southern California, Pennsylvania-based Cherokee Helicopter Service, and close friend and ace pilot Scott Urschel. His infectious eagerness to learn also helped Kelldorf earn the friendship and support of such highly regarded film masters as J.T. Alpaugh and Emmy Award-winning cinematographer Michael Kelem (whose credits include the Discovery Channel/BBC co-productions Planet Earth and Frozen Planet, and such blockbusters as The Shawshank Redemption, Mission Impossible III and Pirates of the Caribbean).
Mitch [Kelldorf] was intent on building a production helicopter, recalled Kelem (who now often works with H5). Through our numerous conversations about monitors, power filters, recording formats, I came to the realization that he was a perfectionist. He simply didnt wanted to compromise on quality in building his ship, which can be a challenge given the rapidly changing technology in the world of digital cinema.
I was like a sponge, said Kelldorf reflecting on his learning curve. I told everyone I spoke with: I dont know anything, Im green; please be as arrogant as you want, but tell me everything you know.
Confident in his research and inspired at the prospect of his business plan, Kelldorf was moved to sell Sculptware in 2009 and invest all his efforts into developing H5. Rood a longtime friend who had worked alongside Kelldorf at Sculptware was invited back to help develop and manage the new company.
Rood came to H5 with no background in aviation or filming, he was a former professional baseball player and manager, and a Major League Baseball scout, who, after baseball, had worked for a time in finance. But, Kelldorf was confident Rood possessed valuable skills that would be critical to H5s success. Said Rood, Cinematography is something I knew little about, but I did know how to sell, negotiate contracts and make operations efficient.
Kelldorfs next step was choosing an aircraft. After much research, he concluded the AS350 B2 was the ideal platform for his new venture and purchased a new machine from American Eurocopter in Grand Prairie, Texas (one that coincidentally possessed an airworthiness certificate dated with the month and day of Kelldorfs own birthday). After paint, graphics, custom fabrication work and completion work was performed at Texas Aviation Services in Fort Worth, Texas, the SaberCat was ready to go to work.
Said Kelem, I was amazed at the result, his attention to detail. The ship was immaculate. It was as if Bentley had designed a camera ship.
Proving the Concept
The early days for H5 were good. Major clients like Volkswagen and Red Bull came on board, and so did many local businesses. Together, they provided H5 with a promising level of work.
The SaberCat helicopter, meanwhile, proved itself quite well, excelling in the demanding conditions encountered in many of H5s projects. One such project took the B2 south of the border to shoot the grueling Baja 1000 desert race in Mexico. Kelem remembered thinking, Who wants to take their Bentley to Baja, Mexico? In spite of the harsh conditions, however, The helicopter performed beautifully, remarked Kelem. The images were pristine and wonderfully stabilized, and the company logo the SaberCat on the side of the shiny, new black helicopter was pretty bad-ass.
Even if the early days hadnt started out that well, Kelldorf was confident there were several factors that would make H5 a success.
The first aspects were the companys location and capabilities: the desert Southwests wild natural topography has long been a draw for films and commercials, and H5 would be the only dedicated HD production helicopter in the region. Plus, the company could service a 300-plus-nautical-mile radius from central Arizona, encompassing a six-state area, in addition to northern Mexico.
Second, the pricing structure that Kelldorf adopted was unique in the industry. Unlike many operators that charge a four-hour minimum or a day-rate for similar services, H5 offers an all-inclusive package at its hourly rate, with no minimum. This rate includes everything: the Cineflex camera, camera operator, pilot and aircraft. Partial-hour blocks, meanwhile, are billed in tenth-of-an-hour increments.
Third was Kelldorfs commitment to doing whatever is necessary to provide exceptional service to the customer: I believe its all about listening, executing and delivering the customers vision, and doing it in a way thats beyond their expectations.
In those instances where aerial film work is not required, H5 offers the HD Cineflex camera custom-mounted aboard specially configured wheeled vehicles, such as a full-size, four-by-four truck and a custom on/off-road electric cart. Mated to the stabilized HD camera, these additional platforms open up exciting creative alternatives for many projects.
H5 rounds out the film production package by providing state-of-the-art editing capabilities in a beautifully appointed editing suite. Powerful Mac Pro workstations running the latest professional editing software, like Final Cut Pro, are at the heart of the process, with a comfortable screening room available to view the resulting footage.
While film production is at the core of H5s business, Kelldorf is also looking at new ways to expand its product offerings and mission capabilities. To that end, H5 recently received its single-pilot, U.S. Federal Aviation Regulation Part 135 certificate, which not only opens the door to offering charter flights, but also permits the SaberCat helicopter to be a more versatile resource during filming projects.
Finally, with the remarkable HD footage H5 has assembled from filming throughout the Southwest, the company is planning to put together an online stock library. This resource offering is currently under development and is expected to launch mid-year.
A Legendary Flight
While the company has certainly enjoyed a number of exciting and memorable film projects, perhaps none has been as unforgettable as H5s involvement with the world-renowned Jetman, Yves Rossy, on his historic flight above the Grand Canyon in May 2011. This was Rossys first and only opportunity to fly his Breitling-sponsored, jet-powered suit in the U.S., and, as one can imagine, a great deal of planning and coordination went into making it a reality.
In particular, organizers called on Kelldorf and Rood to aid them, and together they provided valuable assistance for many aspects of the planning and execution of Rossys flight. Rossy told Vertical that he couldnt have been happier with the partnership: I really am the lucky guy that I found someone like Mitch and Nelson [Rood]. . . . They are exactly the kind of guys you need in special operations, very adaptable and open-minded.
Once the Jetmans flight received the green light from the U.S. Federal Aviation Administration, H5s SaberCat was utilized as the aerial launch platform (and camera ship). With Rossy standing on the skid, the helicopter flew slowly over the Grand Canyon. Then, Rossy fell backwards into an inverted freefall before igniting the four tiny jet engines on his suit and flying off. The maneuver went perfectly, despite Rossy and Kelldorf having no time to rehearse in flight. Without any training, on the first flight he [Kelldorf] did everything right for me, recalled Rossy. He hit the right altitude and speed things went very smoothly.
During the flight, the Cineflex camera recorded the action. The challenge here is that Rossys small size and speed in flight makes it very difficult for a camera operator to follow him: he describes himself as more like a small bird than a plane. But H5 was up to the task, getting all the shots that were needed during this one and only flight. Said Rossy, To get all of that on the first flight is very professional.
Rossy also appreciated the positive, upbeat tone Kelldorf and Rood brought to the otherwise tense project. It was a great ambience. . . . You can joke and laugh with them, but at the same time the work is very serious, very professional. Rossy said he hopes to return to the U.S. in the future, and told Vertical he would enjoy working with H5 again when he does.
As Rossys comments reflect, in a relatively short time H5 Productions has managed to create an unmistakable brand, and a strong reputation for outstanding aerial cinematography throughout the Southwest. The company brings to the table a truly impressive level of quality and attention to detail, with an emphasis on top-shelf service for their clients. Behind it all is the passion and commitment of Kelldorf and Rood: hardworking, genuine souls who absolutely love everything about what theyre doing.
Of course, the growing success of H5 is also a reminder that, sometimes, it really is possible to live your dream.
Dan Megna recently retired after nearly 30 years with one of Southern Californias sheriffs departments. His last 18 years were spent serving in the departments aviation unit, where he logged over 8,000 hours in helicopters as a tactical officer, pilot and flight instructor.