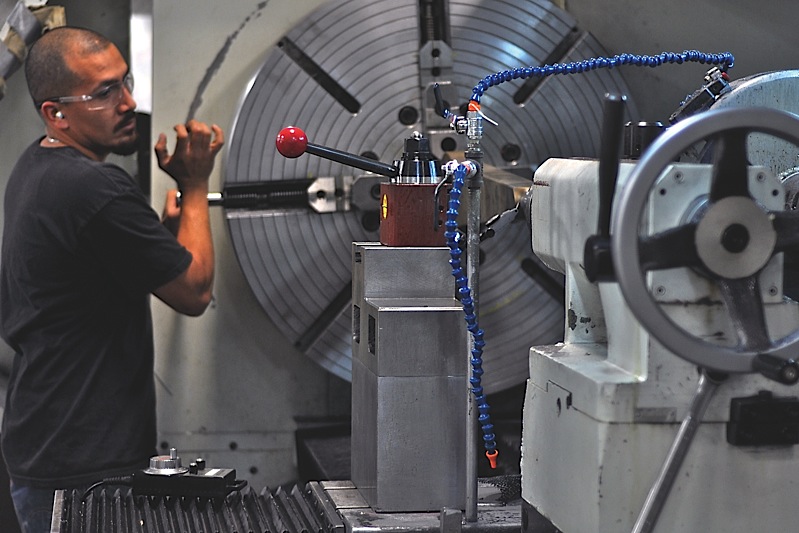 Tucked away in a business park in the southern part of Phoenix, Ariz., is a remarkable company that has defied the odds and continues to prosper despite the soft economy of the past several years. Indeed, this soft economy has actually helped Able Engineering & Component Services sustain the 20 percent annual growth rate it has had for each of the past nine years, because it offers todays cost-conscious aircraft operators an attractive, money-saving alternative for replacement parts and component repairs.
The use of third-party service providers for parts and repairs generally saves operators money, provided that the products are of the same or better quality than those being replaced. As a United States Federal Aviation Administration approved repair station specializing in the repair and overhaul of aerospace components, Able Engineering provides those high-quality parts and repair services for a wide variety of aircraft types. Appropriately, the company has developed numerous repair and specialized restoration processes to return damaged or worn parts back to their original form, fit and function. And, its engineering staff has designed hundreds of FAA-approved replacement parts (often referred to as parts manufacturer approval, or PMA, parts) for both helicopters and airliners.
All of this has allowed Able to prosper while saving its customers money. According to Able president and chief executive officer Lee Benson, Our customers saved $100 million [US] last year by using our repair programs or PMA parts, without compromising safety. Thats a value proposition that makes sense in any economy, but especially during a downturn.
From the Ground Up
Able Engineering has a dedicated and motivated staff, but if one person could be singled out as the key to its success, it would be Benson himself. To say that Benson knows the business is perhaps the understatement of the year. His career started in 1982 as the first full-time employee in the company, which then had just one customer. My first job was working with three plastic tubs, a brush and all the other items required when electroplating parts, said Benson while giving Vertical a tour of the facility. Over the next several years, he carried out virtually every technical job at Able: brush and tank electroplater, machinist, technical writer, welder, anodizer, mechanic and inspector. Then, he said, I purchased the company in 1993 and started to expand its services.
However, becoming the owner did not place Benson in a posh office away from the action. As the company grew, he carried out customer service, sales, business development, strategic planning and the host of other tasks necessary for the company to become what it is today and gain a 67,000-square-foot facility, over 300 employees and more than 3,600 customers.
The turnover of parts at Able is truly substantial: more than one million parts a year; including such diverse items as a Bell 206A transmission drag-pin assembly that is certified on the commercial 206A and 206B; a rotating scissors bushing for the AgustaWestland AW139; and a third-stage spacer for the Pratt & Whitney JFTD12 (a.k.a. T73) engine used on the Sikorsky (Erickson) S-64 Aircrane. Some of these parts require replacement, while others can be revived through one of Ables numerous processes for repairing entire assemblies.
When a timed out or unserviceable part be it a Bell 407 rotor hub or a flap track for a Boeing 747 arrives at Able Engineering, it undergoes a rigid program that first cleans the part and inspects all worn or damaged components. Once it has been prepared for refurbishment, it is then repaired based on approved data either from the original equipment manufacturer (OEM) or new data developed by Able and approved by the FAA and/or other applicable regulatory agencies. If a particular component requires replacement, an FAA-approved replacement (PMA) part is often used (instead of an OEM part).
Stamp of Approval
Parts manufacturer approval is a combined design and production approval for modifying and replacing OEM parts. It allows another manufacturer to produce and sell these articles for installation on type-certificated aircraft. To have a PMA part accepted by the FAA (or various other regulatory organizations, such as Transport Canada, that have appropriate agreements to accept PMA parts), requires the part to meet or exceed the form, fit and function of the OEM component originally supplied on the aircraft. Designs must meet robust, rigid FAA guidelines, but do not require the approval of the aircraft OEM to be placed on an OEM aircraft.
In the U.S., FAA aircraft certification offices (ACOs) are the bodies responsible for approving design, repair and modification data related to commercial aircraft. All design aspects either as developed by an OEM, or, in this case, by Able Engineering are subject to the same approval by the appropriate regions ACO. A bilateral agreement with Canada provides acceptance of the same data north of the border. And, Able has numerous approvals from other countries respective regulatory agencies, civilian and military.
These approvals, along with Ables high-quality workmanship and quick turnarounds on repairs, has led to the remarkable growth the company has experienced, and to its continued large order book and list of customers. That in turn has resulted in a very high workload at Able, with three shifts on a 24-hour-a-day/six-day-a-week schedule, and Sunday callouts for aircraft-on-ground parts or specific work, as required.
Component cost and availability are also part of the equation when it comes to Ables success. Said Benson: Our technical team features more than 30 engineers, draftsmen, metallurgists, detail inspectors and FAA DERs [designated engineering representatives] dedicated to creating unique designs for common replacement parts applicable to the component assemblies we repair and overhaul. When an OEM no longer supports an airframe or is experiencing supply-chain difficulties, our replacement parts often represent the only option an end user has. Not only do we offer a solution, we do so at a fraction of the cost.
In addition to availability and cost-savings, the company is often able to provide a part with improved quality: utilizing an FAA design convention called test and computation. Because of the reverse engineering involved, this convention allows an applicant to identify and correct known and potential shortcomings in the original design.
All our repair programs and PMA parts have to be a best-value alternative for our customers, said Benson. Safety is the first issue and our lower cost compared to the OEMs will enable operators to keep older aircraft longer. On some older aircraft, we have designed PMA parts to keep them flying even if the OEM has discontinued supporting them.
In one particular instance, Able has even partnered with an OEM to the benefit of both organizations. This decade-long partnership with Eurocopter involves assisting that major OEM with creating repair programs for its helicopters.
Looking Ahead
As much as it has grown over the past nine years, Able is still growing: it has a new 200,000-square-foot facility under construction at the Phoenix-Mesa Gateway Airport, and has room at the site to double in size if needed. Said Benson, We have grown out of the building we are in, so we are building a new facility where we will relocate this facility, [and] add line servicing and other capabilities, such as rotor blade repair. We also have space to add another 200,000-square-foot building when we need it. Benson was lobbied by several other states to relocate, but picked the nearby city of Mesa as he and his employees wanted to stay in Arizona.
Although Ables customers recognize and appreciate its value proposition, the company still faces some hurdles in supplying the worldwide aviation industry. Said Benson, The biggest challenge we face is having a level playing field between OEMs and PMA manufacturers. A level playing field is critical to create a global environment without unfair trade barriers.
Still, as the numbers suggest, Able has been remarkably successful in both growing its business and helping its customers manage their costs. And that bodes well for the company and the industry, no matter what the economy has in store.
Gary Watson has decades of hands-on experience in both fixed and rotary-wing aviation maintenance. He recently retired from SAIT Polytechnic in Calgary, Alta., where he had taught avionics and human factors for many years. He can be reached at gary@www.verticalmag.com.