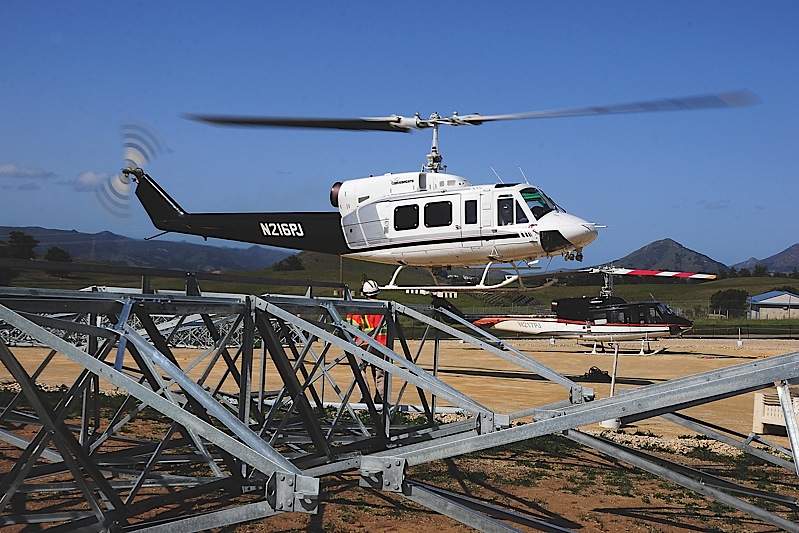 When I asked PJ Helicopters president and co-owner David Gunsauls the key to his companys success, he replied simply, You dont want to put all of your eggs in one basket, but if you do, keep a real close eye on that basket. For PJ Helicopters, keeping a close eye on its most important baskets has spurred a philosophy of building relationships with its customers, and that has allowed this northern California company to thrive.
I visited PJ on a relatively slow day, when the majority of its 19 helicopters were nested safely in the companys newly constructed hangar, adjacent to Red Bluff Municipal Airport, about 130 miles north of Sacramento, Calif. Even on a slow day, though, PJ had several aircraft out on assignment, including a Bell UH-1 Huey slinging mud (concrete) for the Pacific Gas and Electric Co. (PG&E) a long-time customer and PJs most important basket a Sikorsky S-300 flying over Chico, Calif., locating derelict swimming pools for mosquito control, and a Beechcraft Bonanza heading to Portland, Ore., to pick up helicopter equipment. PJ was also working on a proposal for one of its two Bell 214Bs to support repairs on a tornado-damaged power grid in Arkansas.
While this operational diversity has helped ensure PJs continuing growth and success, the company remains, very much, a family business, owned by three brothers who have continued the tradition their parents, Phillip and Doris, started in 1959.
A Family Affair
The Gunsauls brothers actually have a lot deeper roots in aviation than one might imagine. Their great uncle was aviation pioneer Samuel Pierpont Langley, who in the late-1800s built the first powered, heavier-than-air machine capable of sustained (though uncontrolled) flight. Their eldest uncle, meanwhile, flew off aircraft carriers during the Second World War and later flew a Sikorsky S-58 at Naval Air Station Whidbey Island, Wash.; he took the young Gunsauls brothers flying when they were still in grade school. Simply put, aviation is in the Gunsauls blood.
It wasnt long after PJ was created that the Gunsauls brothers joined the company, with eldest brother David flying right out of high school. Younger brothers, Mike, Paul and Mark, soon followed him, and, once in the company, convinced their father to expand into external-load operations and helicopter work-for-hire. With Phillips go-ahead, David figured out how to get United States Federal Aviation Regulation Part 133 (external load) and Part 135 (commuter and on-demand) certificates to go after that additional work. Then, in the late-1970s, the Gunsauls started winning long-line contracts to support local power companies and cemented their strong reputation in northern California for being able to get the job done.
Yet, it was 36 years after the companys founding that PJ Helicopters might have had its most important moment. It was 1995, and severe winds from a December storm had blown down 30 PG&E 500-kilovolt transmission towers near Red Bluff. As PG&E scrambled to get the towers back up, PJ and its then 10-helicopter fleet were ready. PJs crews not only flew non-stop on the project for two months straight, which included moving 250 PG&E workers to and from the construction site each day, but it worked with the power company to plan the construction of the new towers.
Said Mike Gunsauls, It cemented the bond between PJ and PG&E. They saw what the helicopter could really do. And, it also facilitated PJs biggest growth phase, as the power company became a steady source of business (transmission towers need constant maintenance as shutdowns can result in as much as $1 million US in lost revenue every hour).
Rather than be content to take the extra business as it arrived, however, PJ has been proactive in meeting PG&Es needs exemplifying its commitment to watching its baskets. For starters, PJ developed an innovative cleaning system that attaches to its Bell 407 to spray down and clean conductors on hot, 500-kilovolt powerlines. The system results in dramatic efficiencies for PG&E, saving the company a lot of money. Going one step further, PJ created a support system on its Hughes (MD) 500s that can place lineworkers on the powerlines to complete critical infrastructure support work. Then, to meet PG&E concerns in noise-sensitive areas, PJ purchased an MD 520N Notar. And, finally, it even added night-vision-goggle capability.
Of course, while PG&E remains an significant basket, PJ continues to expand its capabilities beyond this keystone client to ensure theres always some kind of work coming through its the doors. And, with 19 helicopters, 17 pilots and 17 maintainers, the company is capable of both service work (it is an MD Helicopters approved service center and FAA Part 145 certificated repair station) and virtually every type of helicopter work, including Christmas tree slinging, fire suppression and marijuana eradication (the company helped eradicate about a million marijuana plants in 2010). Observed David Gunsauls, Its utility helicopters, its whatever pays the bills. The phone rings and you go to work. And go to work, it does, flying about 11,000 hours a year.
Constant Training
While operational diversity helps on the business end, it does create challenges for Ron Chaplin, PJs training and safety officer. Chaplin, a retired Butte County (Calif.) Sheriffs pilot, has his hands full managing the qualifications needed to meet customer and FAA requirements. Each customer has its own flight needs and mission profiles, and clients such as PG&E, the California Department of Justice, Chevron, the U.S. Forest Service, the State of Washington, the Sacramento Municipal Utility District and the Western Area Power Administration each have specific contract requirements. This, said Chaplin, means training is now a constant process: it used to take a couple of weeks to run all of PJs pilots through annual training, but now it takes five months, from January to May, and will likely take even longer as, The eventual goal is to qualify [every pilot] in every aircraft.
Having such a diverse set of helicopters (eight different types) can certainly make it difficult to maintain a trained pilot corps, but, as Chaplin pointed out, Training is only as good as the people that own the company, and theyve given us the green light to train what we need whatever it takes. Part of the reason for that mandate comes from the fact that the Gunsauls brothers are pilots themselves, and each still flies around 300 hours a year; they understand helicopters and what it takes to fly them.
While the company used to hire experienced 10,000-hour pilots, increasingly its looking to train pilots from the ground up. I got to fly with Justin Jones, a six-year pilot for PJ who started at the company doing ground maintenance, and then worked as a fuel truck operator before finally going off to flight school. Co-owner and chief pilot Mike Gunsauls met Jones through the small-town network of Red Bluff; Jones was sweeping floors at the local supermarket when Gunsauls recognized his work ethic and offered him a job he couldnt refuse. With his established history at the company, Jones was offered a flying job as soon as he obtained his commercial helicopter certificate.
Bringing pilots up through the ranks has brought PJ stability in its pilot corps and ensured the skill level and ability of each pilot. This has worked out so well that the company hired another local from Red Bluff with the same success, and even Mark Gunsauls son Kyle entered the pilot ranks in the same fashion.
Maintaining a Standard
Of course, at PJ Helicopters, the training doesnt stop once a pilot is licensed. For example, the company has a nearly full-sized transmission tower behind its hangar, complete with conductors, to train its pilots for powerline work. Chaplin said he even has his pilots climb the towers themselves, so they can appreciate the perspective of the lineworkers and understand their needs. This kind of innovative, hands-on training has helped ensure that PJs pilots are equal to their highly skilled and specialized flying tasks.
Terry Daniels, a 15-year PG&E foreman and construction veteran agreed: We have a few vendors, I know these guys [PJ], theyre the best at what they do; I can say that. Were comfortable with what they provide and theres a lot riding on it. Daniels works out of Chico, Calif., some 40 miles southeast of Red Bluff, and requests PJ by name for his jobs.
When I met Daniels, he was on a worksite in a remote area east of Red Bluff in Caribou Canyon. There, he and his seven-person team were at work on a year-long project replacing 400 wooden, 60-kilovolt power poles notorious for breaking during winter storms with 3,000-pound, steel versions. On the day I visited, PJ flew in with its MD 520N, and a Bell 214B piloted by Mike Gunsauls. The first order of business was for Gunsauls to drop water on the worksite to prevent excessive dust from getting airborne when the helicopter was picking up and placing the poles. Then, the 520N began short-hauling PG&E workers to their respective worksites and long-lining all their tools to them so they could begin tearing out the wooden poles. At the same time, back at the staging area across Caribou Canyon, other workers laid out the steel poles.
When a wooden pole was ready to be removed, Gunsauls and his co-pilot would fire up the 214 and snatch the pole from its 20-foot-deep hole and drop it at the staging area. Then, Gunsauls hovered over the steel pole while ground crews attached it to his line. He would then smoothly lift it off the ground and take it away to its new home across the canyon. There, he would place it into the same hole previously occupied by the wooden pole, with the ground crews guiding it into place. Finally, once the new pole was secure, the 214 would electrically release the lift cable and slowly move away.
The whole process demonstrated the solid working relationship the ground crews have with PJs pilots, and the level of trust they have in them. And, it certainly validates the training Chaplin puts PJs pilots through.
Keeping It in the Family
Hard work and good relationships seem to be at the core of everything PJ Helicopters is about. Everyone is like family here, but earn their place, even actual family members. Said maintenance technician Justin Gunsauls, another of Marks sons, I have to work harder than everyone else here because I dont want them [the other workers] to think I have this job because Im the owners son. The same is true for his brother Kyle, and the owners themselves, all of whom have worked hard to prove themselves, especially in their ability to focus on each clients unique needs.
That extended-family mindset that underlies the relationships within the company and with key customers bodes well for PJs ongoing growth and success. It means that even as the company adds baskets, it hasnt lost its ability to keep a close eye on whats in them and that suggests that this northern California operator will likely continue to thrive for another 50-plus years.
The views expressed herein are those of the author and are not to be construed as official or reflecting the views of the commandant or of the U.S. Coast Guard.
Lt.-Cmdr. Bergan is an instructor pilot with the USCG at Air Station Humboldt Bay in northern California, where he flies the HH-65 Dolphin. He graduated from Navy Flight School in 2001 and since then has been involved in offshore rescue operations and law enforcement with the USCG.