Imagine knowing chip detector particle material composition details in the time it takes to fill in the label of the sample envelope prior to sending it out for overnight analysis. This is an example of the significant time- and money-saving solutions Canadian engineering company Gastops develops to transform aviation maintenance.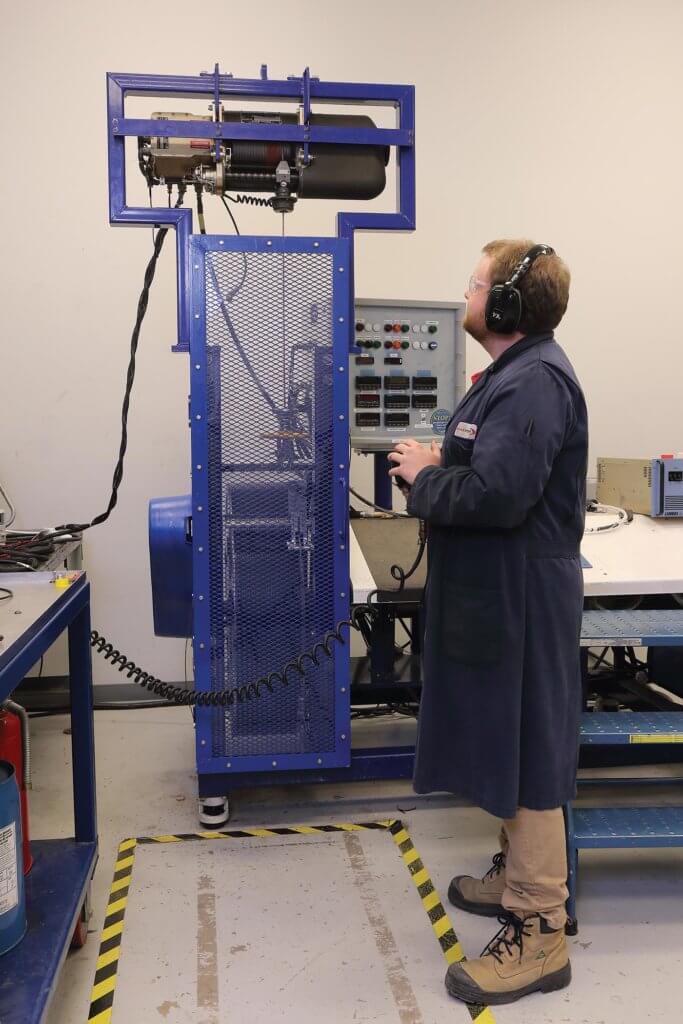 A medium-sized, 120-employee, privately-held company, Gastops provides innovative condition management products and solutions including remote monitoring; maintenance support; engineering and component maintenance; repair and overhaul (MRO) with a strong focus on legacy aircraft.
"We have a long history of supporting customers operating legacy equipment, working on cost-saving ways to extend the life of their equipment," said Shaun Horning, vice president of the defense and aftermarket business unit at Gastops. "We achieve this through strong engineering applied to design, production and aftermarket solutions, such as our revolutionary MetalSCAN, FilterCHECK and ChipCHECK products, and our growing MRO business."
Revolutionizing condition monitoring
In 1995, Gastops entered the products business after designing and releasing its flagship oil engine debris sensor, MetalSCAN. The leading real-time, on-line condition indication technology, MetalSCAN alerts equipment operators to bearing and gear damage, long before equipment failure.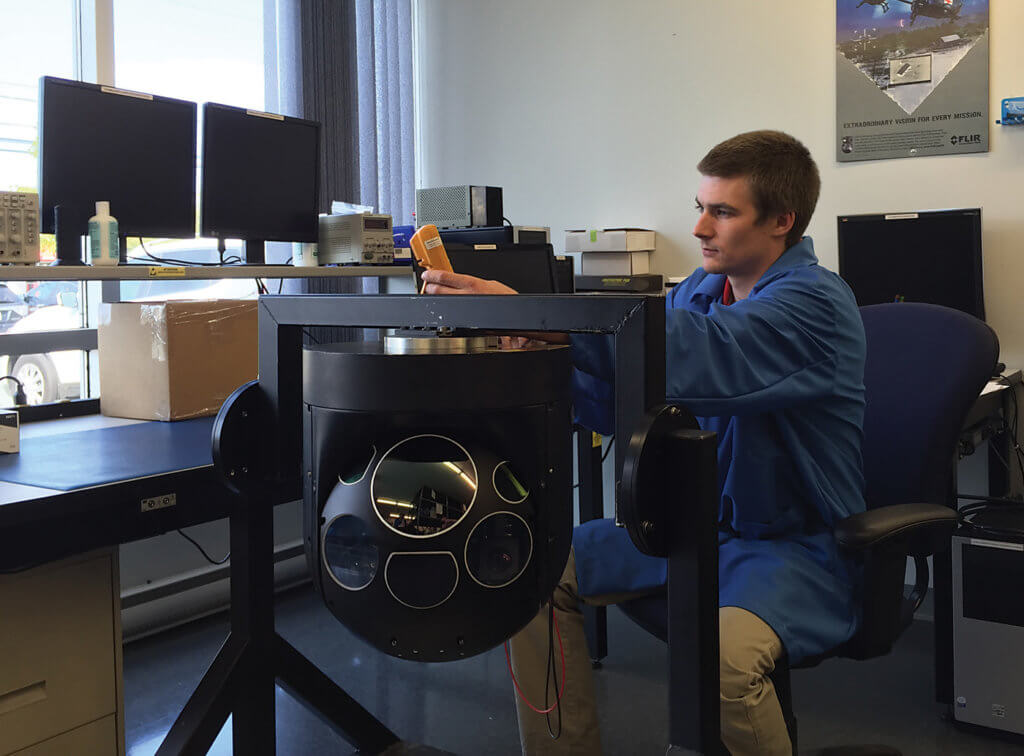 "MetalSCAN allows an operator to detect damage long before it can be identified through traditional methods," said Horning. "With MetalSCAN it is now possible to monitor the progression of damage and provide warnings to maintenance and operating staff long before an in-flight event occurs."
The success of MetalSCAN led the way to FilterCHECK to support legacy fleets that do not have MetalSCAN installed. Conventional methods of oil wetted component damage detection such as sampled oil analysis may not be able to reliably identify component damage and provide timely on-site decision support.
In these cases, the answer may lie in the lube system filter. Gastops developed FilterCHECK to automate back flushing of the lube filter, size and classify the metallic debris, and analyze them to provide a full assessment of the equipment condition. With this information, maintainers can more accurately and reliably predict failures and plan repairs before costly events occur.
Introducing ChipCHECK
This year, Gastops launched ChipCHECK on the heels of two strong products, and on the shoulders of the company's own proven equipment condition management success.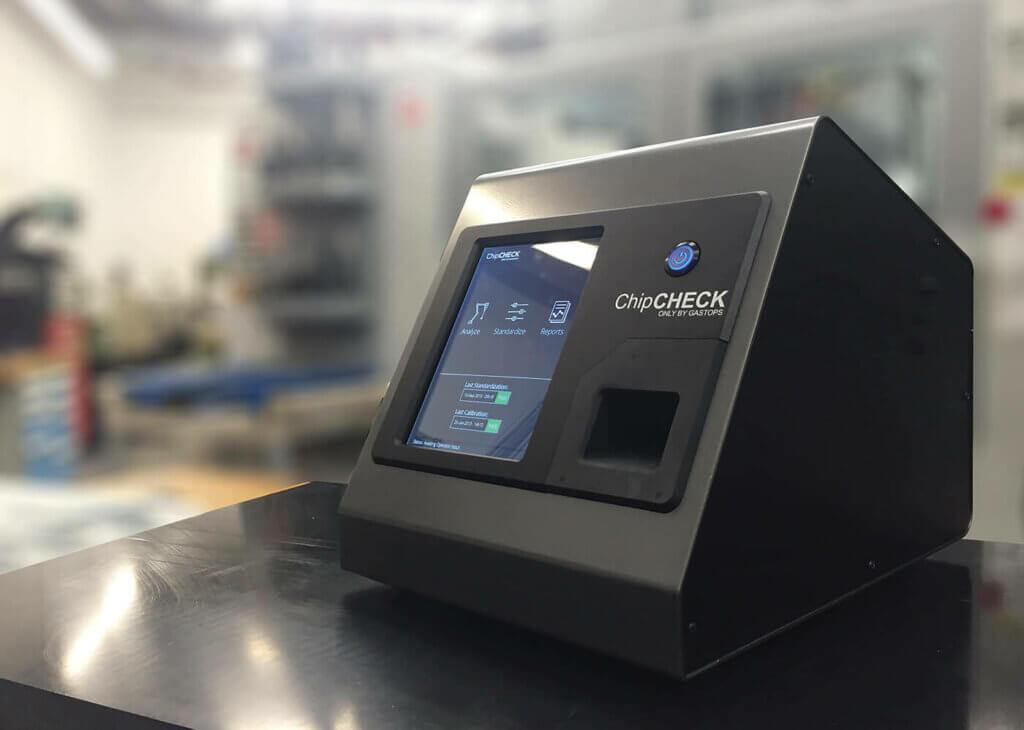 "With ChipCHECK we're bringing lab analysis to the flight line," said Horning. "Based on our experience in oil debris and filter debris analysis, we responded to the market need for at-line analysis of wear debris. Current industry practices often rely on visual inspection or remote laboratory analysis of the wear debris extracted from engines and gearboxes. This can be subjective and take a long time to get the results, causing costly down time."
ChipCHECK provides automated analysis of chips at the flight line — size and alloy type, of the individual particles found in the debris sample — within minutes and with no special technical expertise. Not much bigger than a desktop computer, this system uniquely uses laser induced breakdown spectroscopy (LIBS) technology coupled with digital imaging, to provide a faster, broader range of material identification with no vacuum requirements. In the end, the average time to analysis is less than two minutes.
"We are very excited about this new product line and are getting very positive feedback from the users, including a major commercial airline, engine OEM [original equipment manufacturer] and the U.S. military," said Horning.
"We have completed field trials and are now taking orders for theChipCHECK CC120, and will begin shipping to customers in the fall."
MRO business
Augmenting its innovative equipment condition management approach, Gastops maintains a strong MRO business built from more than 20 years of experience supporting military and paramilitary organizations.
A Transport Canada Approved Maintenance Organization (AMO) with European Aviation Safety Agency (EASA) Part 145 approval, Gastops is a sales and service center for Breeze-Eastern and FLIR Systems, holding authorized repair station certificates from both component OEMs.
Gastops' 22,000-square-foot facility houses mechanical, hydraulic, and avionics shops, including a non-destructive testing (NDT) facility, refinishing shop, and fluids analysis laboratory, serving customers around the world with OEM-qualified and factory-trained personnel.
Gastops maintains relationships with key OEMs, allowing it to tap into supply chains for preferred pricing and quicker turnaround.
"We strive for quality and cost-effective repairs," said Gastops director of business development Pat Smith. "And we follow that up with individualized customer service."
"Gastops provides first class support to our FLIR customers and we are very happy to have them as part of our global support network," said Glen Rowling, director of international sales for FLIR Systems.
The MRO side is growing as Gastops identifies opportunities to better serve its customers.
"We focus on building long-term relationships with our customers," said Smith. "Our goal is to maximize the service breadth, flexibility and quality we bring to our customers, enabling them to get the most from their equipment. Presently we are working on adding to our MRO lines to better serve our customers' needs."
613-744-3530
If you would like to see your company featured in Insight, contact sales director Frank Sargeant at [email protected]